If someone were to refer to the most handsome man in the industry a couple of years back, it would without doubt be Ashton Kutcher. Not that he isn't attractive anymore. But just that he has fallen a bit out of sync with the rest of the industry. Despite starring in a solitary film over the past four years Kutcher's popularity remains intact. The female attention that he drew still effervesces strongly. His next-door guy like attitude and boyish charm still work their magic on the screen like before. Kutcher's entrance into various other fields of work, though, has served as a distraction, taking him away from his core responsibilities. Rummaging over some of his movies, we sensed his majestic touch that made him so loved. Here's the list of top 11 movies and TV shows of Ashton Kutcher! Happy reading!
11. Killers (2010)
The film sees the union of the king and queen of romantic-comedies. Katherine Heigl and Ashton Kutcher assume the roles of Jen and Spencer, two very eligible bachelors who meet in an elevator. Attracted to each other, they together connive to bring forth destruction and obliteration upon those who threaten to go against them. Invigorating new energy in the vilified genre, the film experimentally takes out taboos and stereotypes, filling the narrative in with innovation and a bold urge to be incongruous. These tactics pay off, as the film opened to a warm reception by the critics and the audiences. Praising the leads for their convincing efforts, the consensus did question the lacklustre narrative, bereft of thrills or discernable laughs.
10. Spread (2009)
Kutcher's iconic look from the movie stays on years after watching it. I still remember the disheveled hair, the funky earrings, and the high-up jeans, beautifully rolled to showcase the shining boots. He plays Nikki, a thirty-something homeless man, who uses his looks and tactics to woo wealthy women. While dating Samantha, one of his hapless victims, he has an affair with Heather, a waitress. Samantha soon finds out about his betrayal. Chaos follows as the beleaguered Samantha vows to extract revenge. Agonisingly close to pulling off the perfect heist, Kutcher is let down by an uninspiring script that lacks imagination and ambition. A character tailor-made for him, Kutcher manages to a mere semblance of his mighty personality, much through the fault of others around him.
9. Valentine's Day (2008)
Another intersecting crossroad of romantic fables, 'Valentine's Day' is a decent effort. Clad in all-pinks, Kutcher inhabits the character of Reed, a hard-working florist, who proposes to her long-time girlfriend Morley. The happiness is short-lived, as she quickly changes her mind and wanders off, leaving him heart-broken. He eventually finds his way back, romantically falling for his friend Julie (Garner), who reciprocates his feelings. The film, like any other rom-com, hinges on the performance of its cast and the quality of its writing. While the latter condition isn't met, the former exceeds expectations, with Kutcher leading an affable assault on love and relationships.
8. New Years' Eve (2011)
Interweaving six different stories, 'New Years' Eve is a noble and efficient effort by an exorbitantly talented cast. Kutcher finds his place in the narrative as Randy, an introverted comic illustrator, who hates the Eve by the virtue of his girlfriend leaving him on the day. He gets stuck on an aesthetically decorated elevator with a back-up singer, Elise, for the concert at Times Square. Stop-start conversations bring the two close, who cement their relationship with a passionate kiss at the event. As a part of the ensemble, Kutcher stands out at the top, easily camouflaging himself in yet another simpleton role.
7. Guess Who (2005)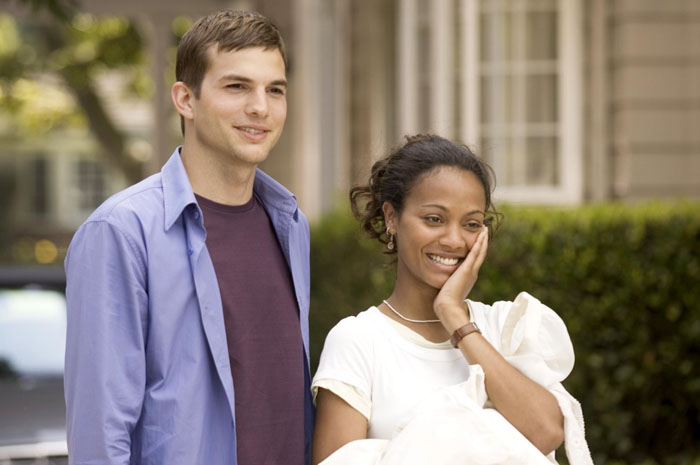 'Guess Who' is a sincere and heart-felt exposition of interracial relationships, told through the story of a young white man falling for a black girl. Theresa and Simon are madly in love and are engaged to-be married. Not so fast chums, as the narrative brings the former's traditionalist family into the play, with Theresa's father critically skeptic of Simon's credibility. The movie brings out the hidden agendas and fears that people usually keep to themselves, but harbour them with utmost loyalty, to an extent where they grow cantankerous and poisonous. Kutcher is delightful in his restrained and victimised avatar, gleefully managing to create a perfect "blackhole" in the Jones' household.
6. That '70s Show (1998-2006)
Kutcher's glorious emergence in the television and film arena credits its provenance to this brilliant TV show. 'That '70s Show' is a glorious throwback to the golden eras of the '70s, enchantingly refreshing our memories of the times. The period sitcom follows a group of erratic teenagers, and their daily struggles to fight the war that is adolescence. Relatable and highly pertinent, the show became a cult classic, and is endearingly remembered for its catch theme song and colourful characters. Kutcher's Michael Kelso even today remains the ladies' favourite and the mens' envy. Relive the magic on-screen. A must watch!
Read More: Dakota Johnson Movies and TV Shows