Loosely based on a true story, Netflix's 'Barracuda Queens' follows a group of five girls from affluent and privileged backgrounds, who commit a series of burglaries of their wealthy neighbors, eventually drawing the interest of the police. Louise "Lollo" Millkvist (Alva Bratt) is effectively the group's ring leader. The quintessential party girl, she discovers that she has been charged 100,000 kronor on her credit card for a wild weekend with her friends, Klara Rapp (Tindra Monsen) and Mia Thorstensson (Tea Stjärne), and Klara's sister, Frida (Sandra Strandberg Zubovic).
Almost simultaneously, Klara discovers she owes the hotel they were staying in 75,000 kronor for water damage. As asking their parents for help turns out to be no longer an option, the girls decide to rob the houses of their neighbors. They get recognized by their first target, Amina Khalil (Sarah Gustafsson). But instead of informing the police, Amina joins them. If you are wondering whether Lollo is based on a real person, we got you covered. SPOILERS AHEAD.
Is Lollo Millkvist Based on a Real Person?
As mentioned above, 'Barracuda Queens' is loosely based on a true story. It's an original series that the creator Camilla Ahlgren wrote with Veronica Zacco, Tove Forsman, and Sofie Forsman. Ahlgren and series producers Fatima Varhos and Frida Asp of the Asp Varhos production company developed the idea from a conversation they had.
"We were having dinner with Camilla Ahlgren and the three of us started to brainstorm ideas. Fatima said she liked heist series, with girls in the lead. Then a year ago we chatted with Netflix – they said we'd like to do a heist type of series and we said – we have something!" Asp stated in an interview with the Nordisk Film & TV Fond.
'Barracuda Queens' is based on a series of real-life burglaries committed in the Stockholm neighborhoods such as Lidingö, Djursholm, Östermalm, and Danderyd. This group, known as the Lidingöligan, was most active in the late 1990s and comprised exclusively of male members from privileged backgrounds. In contrast to this, the burglars are young women in the show.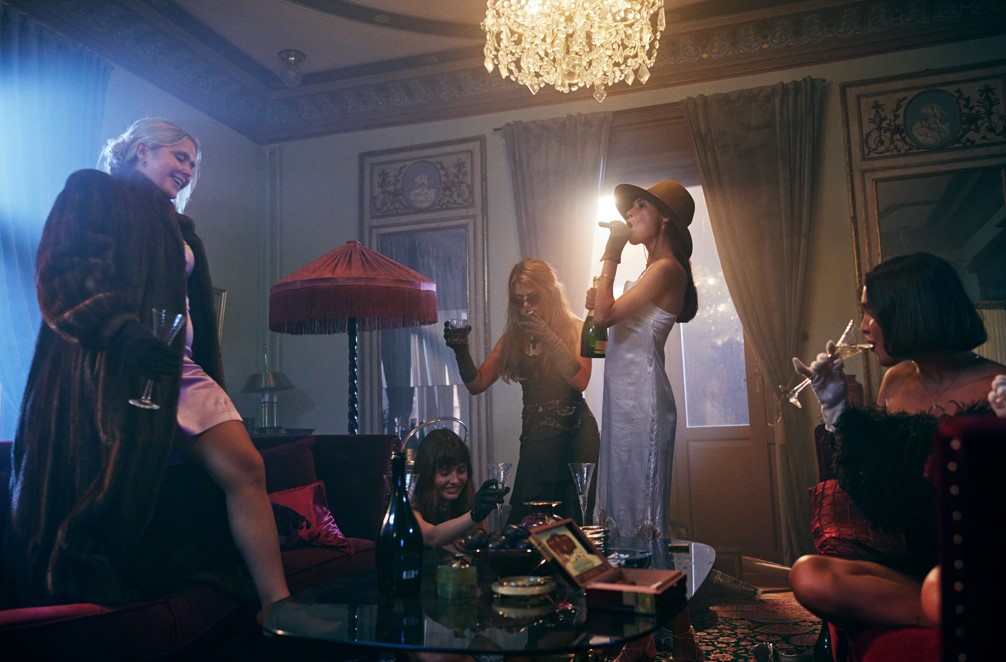 This makes Lollo ultimately a fictional character. After she learns Klara stole her mother's watch and sold it, Lollo comes up with the idea of robbing their neighbors. Even though the first plan doesn't go well, the group gains a new friend in Amina. When Lollo encounters Tobias, a friend of Lollo and her brother since childhood, she develops an interest in him. They sleep together, but Tobias starts to ignore Lollo afterward. This prompts the girls to turn him into their first target. Lollo seems to share certain aspects of her personality with the mysterious head of the Lidingöligan.
In 2000, this man was reportedly convicted for using a false document, false representation, and weapons offenses and was sent to prison for four and half years. In the ensuing years, the man, who has since become a successful entrepreneur, continued to have legal troubles. In 2014, he faced a trial for embezzlement when the authorities discovered a stolen car in a barn he owned in Tidaholm.
In 2016, the same entrepreneur was arrested in a drug smuggling case. The Lidingöligan gained widespread prominence after Jan Guillou published his book on the subject, titled 'Tjuvarnas marknad, in 2004. Six years later, people broke into Guillou's home and stole his Hamilton medals and several bottles from his wine collection. There was even the typical Lidingöligan calling card where the burglars left behind an empty bottle of champagne. After he completed the book, Guillou dedicated a copy to the Lidingöligan leader. "I sign several thousand books a year. The fact is, however, that this book was at the leader's home with a dedication, where I thanked him for the tips and help," the author told Expressen.
Read More: Barracuda Queens Ending, Explained: Do the Women Go to Prison?