Filmmakers have been doling out animated movies by the dozen for over a 100 years now, and ever since, the genre has only gone on to become one of the most popular and most loved ones. With the colorful backdrops, the cheerful stories that touch the heart and the life lessons they teach, animated films have amused the young and old alike across generations.
Production houses go to all lengths to make sure that the films they bring out please their target audiences. Each year, a fair share of animated films are released, which have not only won our hearts but also found a special place in our memories. So, here's a list of ten animated films released in the year 2015, which have been much appreciated, applauded and honored with awards.
10. Capture The Flag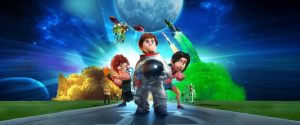 When a 12-year-old surfer, son and grandson of NASA astronauts, finds out that a billionaire is about to sabotage the American flag planted on the Moon in a bid to bring back Helium-3 – the alternative to clean energy and a weapon of mass destruction – he goes on a mission to the moon with his grandfather to stop the tycoon, capture the flag and unite his family. The space-race movie, which was a Spanish film originally, was distributed by Paramount Pictures and surprisingly, was made in English and then dubbed in Spanish. Although the movie did not fare well at the box office, its family-friendly theme did manage to leave a mark on young minds.
9. The Little Prince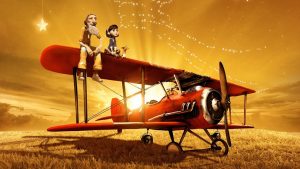 The English-French stop-motion animation film distributed by Paramount Pictures was based on a titular French novella for kids. It narrates the multi-layered story of an over-scheduled girl, who befriends her elderly aviator neighbor, who amuses her with his adventure stories. One of his stories about the Little Prince takes the girl on an adventure of a lifetime, unbeknownst to her mother. The critically acclaimed film was very imaginative and had a heart-felt message in it, which parents need to show to their children at least once.
8. Pixies
This Canadian feel-good animated film was based on a novel of the same name, meant for the entire family. It tells the story of how a group of Pixies living in Joe Beck's backyard, curse him for his misdeed he had done years ago, thus separating him from his lady love as punishment. The mischievous Pixies also curse him and then their worlds collide, turning Joe's life upside down. He needs to find out a way to get to his girl and undo the bad deed to free himself of the Pixies' curse. The fantasy film boasted of talented artists in the voiceover department and helped bring home a couple of awards too.
7. Hell And Back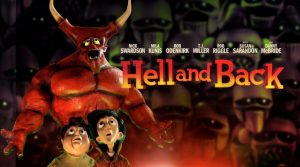 When one among three best friends, accidentally gets sucked into Hell at a carnival, the other two embark on a bloody journey to rescue him and bring him back home safely. What the threesome encounters deep down under, where devils and demons reside, is for the audiences to watch. This stop-motion animated film, strictly for adults, was one 'helluva' film even grown-ups abhorred! 'Hell And Back' had sexual references, foul language and potty humor, which obviously, like the film, was not meant for little ones!
6. Open Season: Scared Silly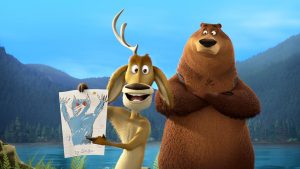 When a domesticated Boog, at a summer camp with his friend, the one-antlered Elliot, hears the story of a legendary Wailing Wampus Werewolf, he is scared silly. To help him overcome his fear, Boog's friends at the camp, scare him more, eventually uncovering the mystery of the imaginary creature they had been hearing of all along. The fourth installment in the 'Open Season' series was well received, with some critics even calling it a fun-tastic adventure film for children. The buddy-comedy movie had a theatrical release worldwide in 2015 but it premiered as a direct-to-video in the US only a year later.
5. Hotel Transylvania 2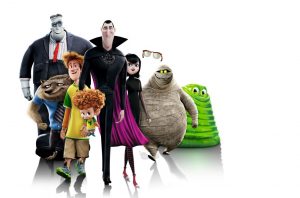 After Count Dracula finally agrees to get Mavis and Johnny married, Drac's daughter delivers her first son Dennisovitch, who the Count thinks, will never be able to grow fangs and have vampire powers like him. So when the couple leaves to see Johnny's human-parents, Drac employs his monster friends to look after his grandchild. A film by Johnny Bravo-maker Genndy Tartakovsky, 'Hotel Transylvania 2' was a gothic family movie, which had something for everyone. The sequel to one of the most loved monster movies, this vampire camp film, although predictable, lived up to the monster mash.
4. Home
Based on Adam Rex's book 'The True Meaning Of Smekday', Tim Johnson's 'Home' was one movie, which was out of this world! When the Gorgs are against them, the Boovs decide to invade Earth, a place they can finally call home. A sci-fi animation, the film starring Jim Parsons, Rihanna, Steve Martin and Jennifer Lopez in the lead, 'Home' deals with how a timid misfit alien Oh befriends Tip Tucci, who is out to find her mom as a result of Boov relocation. The movie with a good concept, ample quick-witted humor and great voiceovers made for a delightful watch.
3. Minions
Projected as the sequel to the 'Despicable Me' franchise, 'Minions' narrated the story of how these yellow-colored, pill-shaped, bespectacled creatures actually came to be. Overwhelmed by the feeling of not having a boss, the minions live through civilizations, toppling some over, finally landing in America, where they meet history's most despicable villain Scarlet Overkill, and taking her as their master. Pierre Coffin's adorable film became the highest grossing film of 2015 and the gibberish-speaking characters instantly made a way into our hearts!
2. The Good Dinosaur
Set in an alternate history, 'The Good Dinosaur' narrates an unlikely tale of friendship, love and loss from the point of view of an Apatosaurus. When the runt of the litter Arlo, fails to stand up his family's expectations, his father Henry helps him overcome his primal fears. And when Arlo loses his dad in a flash flood, consumed by guilt, it is now up to him to show his family his true stature. The adventure movie stirred up intense emotions with its touching tale and with two Disney films back-to-back in the same year, 'The Good Dinosaur', although was the weaker one, did teach great life lessons!
1. Inside Out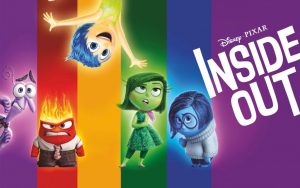 Who could have thought that the emotions inside people could actually be central characters and even tell a tale! With five core emotions – Joy, Sadness, Fear, Anger and Disgust – at play in eleven-year-old Riley's head, the creatively and aesthetically filmed and Academy award winning 'Inside Out', directed by Pete Doctor, tops the list without a doubt. The very lovable characters in this unusual and poignant story are dealt with sensitivity and the film lingers on in the minds for a long time. With a definite repeat value, 'Inside Out' is one of the few movies that made 2015 a great year for animated movies.
Read More: Best Adult Animated Movies