Bollywood has a long history of movies entertaining all generations. Even today, there are certain movies which the people of the 60s and 70s can watch with fun. Rajshri Productions has made a name for itself as the production house which continues to give family movies. Since the art of making family movies is not the one to master so easily, filmmakers generally prefer to stay away from this genre. This kind of movies can be considered all-in-one for they have something for everyone. While kids get to see some comedy, the youth gets to have some action. The middle-aged manage to find some romance and the elderly get to have some old-style content on social stigma.
While it is really difficult for family movies to leave a mark, some of these movies have really turned into memories for us. Here is the list of 20 such movies which you can watch with your family on the weekend and share the entertainment.
20. Lakshya (2004)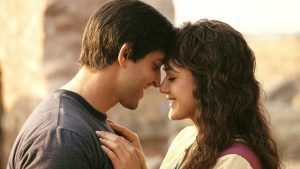 'Lakshya' is one such film which can let a person rediscover himself and know his true passion. It shows how on this tedious path of self-discovery, a man named Karan struggles with maintaining his various relations. But it also shows that with the support of family and the confidence to achieve anything, a person can touch any peak in life. Infused with patriotism and a great soundtrack, 'Lakshya' is a film which can be watched by a family on Sunday brunch.
19. Munna Bhai M.B.B.S. (2003)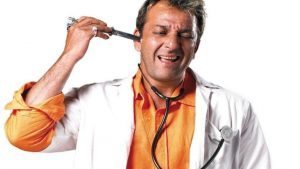 Who thought that a film with gangsters can be termed a family film? Rajkumar Hirani proved everyone wrong and came up with this classic. The film travels through the reformation of a gangster Munna who tries to regain his father's respect by becoming a doctor. This involves him adopting some really revolutionary treatment techniques like laughter therapy. It went on to win the National award for its story and also the hearts of many families around the country.
18. Chupke Chupke (1975)
This Hrishikesh Mukherjee directorial is literally a laughter-riot for all the old-school jokes it has. Parimal (portrayed by Dharmendra) has all the characteristics of a lover from envy to care as he tries to impress the love of his life. Dharmendra rules the whole film with his strong comic act while Amitabh Bachchan plays an abled sidekick dropping a hint of what was about to come (their next film together was Sholay). A thoroughly entertaining film, this is the film to watch to break the barriers in any family.
17. Maine Pyar Kiya (1989)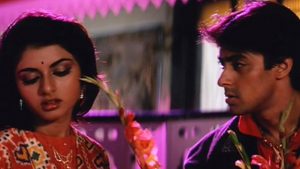 The debut film of Salman Khan, 'Maine Pyar Kiya' gave him a perfect launch in Bollywood. Still remembered for the amazing chemistry between Salman Khan and Bhagyashree, 'Maine Pyar Kiya' gives goals on love and friendship to all. Sooraj R. Barjatya is known for directing family films but this particular romantic musical is something unexpected yet refreshing from him.
16. Rang De Basanti (2006)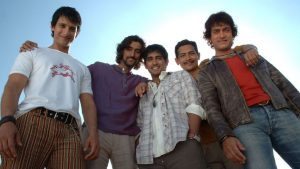 'Rang De Basanti' shall be remembered for filling youth with patriotism and reminding them of their responsibility towards the nation. But it also depicts the innumerable sacrifices made by the families of the soldiers to ensure the country's safety. Telling the story of a group of men who get so touched by the revolutionaries they portray for a documentary that they choose to do whatever is necessary to make the nation perfect.
15. Kal Ho Naa Ho (2003)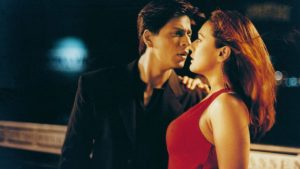 'Kal Ho Naa Ho' could have been an ordinary love-triangle film but it chose to delve into the families involved. Aman, the angel tries to take away all the sadness in Naina's life. More than his love and sacrifice for Naina, what's more heartening is his son-mother relationship with Jennifer, Naina's mom. Throughout the film, you see how Aman is the ideal family member to tear down the differences and bring people together.
14. Purab Aur Paschim (1970)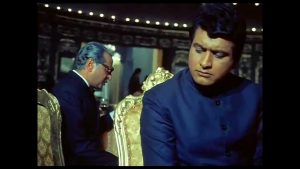 'Purab Aur Paschim' is the conventional patriotic film which reminds us of the greatness of India. Through Bharat, we see the India which we can all be proud of while through Preeti, we get to know how the world observes our nation. Set in the 70s, it's a film beyond its times as we can still connect to the film. With an inspiring soundtrack, 'Purab Aur Paschim' is a film which can make all the NRIs head right towards their motherland.
13. Jab We Met (2007)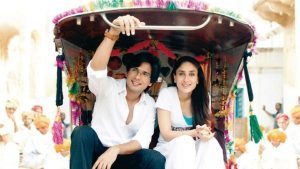 Other than showing some great landscapes and giving some good melodies, 'Jab We Met' also shows how love is what holds a family together. Due to Geet's (Kareena Kapoor Khan) antics, Aditya (Shahid Kapoor) realizes how he has to forgive the mistakes of his mother and give her the respect she deserves. Kareena gives her best performance as Geet while we get to see a new, better Shahid Kapoor as well.
12. Piku (2015)
Shoojit Sircar's previous project wasn't a family film by any means but this one is. Although it deals with an issue as gross as constipation, it gives a refreshing take on father-daughter relationships. It shows how a girl does anything and everything to take care of her father. 'Piku' is just the film to watch if you wish to understand your children and how much care they take of you in your old age.
11. Padosan (1968)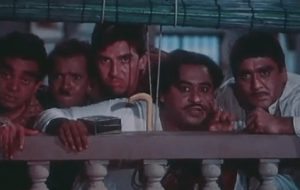 'Padosan' is widely renowned as one of the few films which showed the acting caliber of Kishore Kumar. He received a lot of praise for this particular role as he plays Vidyapati who helps his friend Bhole win over the love of his life. Filled with terrific comedy scenes and songs, 'Padosan' packs plenty of punches and can entertain all the members of a family. Mehmood stole all the praises for his laughter-triggering performance.
10. Lagaan (2001)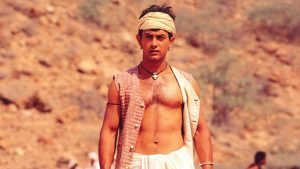 'Lagaan' is probably the first film in Bollywood based on sports. It not only gave a peek into Indian history but also put an excellent cricket match on the show. While it does give a lot of thrills and comedy, 'Lagaan' serves a take on untouchability and many other evils prevalent in the society which makes up for a good film to be watched along with the family.
9. Hum Saath Saath Hain (1999)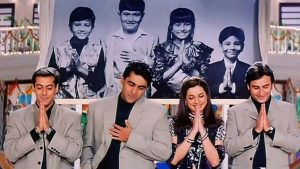 Another one of the Rajshri family films, this one probably has the best cast of the lot; a cast which can't be imagined together in the present times. Salman Khan again leads portraying the naughty chocolate boy with Mohnish Behl playing the elder son. For the ups and downs of a family that it shows, it finds itself on this list at the tenth spot. One can only wonder the number of films in which Salman Khan's character's name was Prem. 'Hum Saath Saath Hain' is not one of the conventional films as it restricts to depicting a single family and its members.
8. Dilwale Dulhania Le Jayenge (1995)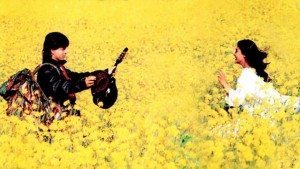 DDLJ is mostly popular for how it gave us 'The King of Romance' and the most memorable love story of all time. The climactic train scene is particularly the most iconic of them all. But 'Dilwale Dulhania Le Jayenge' also showed how despite love, families have to be respected and convinced. How Raj chooses to marry Simran only with her father's permission is truly heart-warming and proves how this film is not just about romance.
7. Sholay (1975)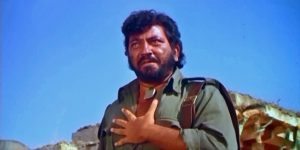 'Sholay' is full of comedy and iconic scenes but if one truly studies the plot, a large part of the film is about family. It revolves around a man with no hands who hires two small-time crooks to exact revenge on the dacoit who totally destroyed his family. With cracky punchlines and engaging music, 'Sholay' deserves to be one of the best films ever made in Hindi cinema history.
6. Anand (1971)
'Anand' is one of the saddest films ever made. It shows how a cancer patient conceals his true agony behind a charming smile and doesn't let his condition affect the happiness of those around him. With an emotional-to-the-core performance from Rajesh Khanna and equally good supporting job by Amitabh Bachchan, 'Anand' is not just one of Rajesh Khanna's many blockbusters but also a film which may draw tears out of your loved ones.
5. English Vinglish (2012)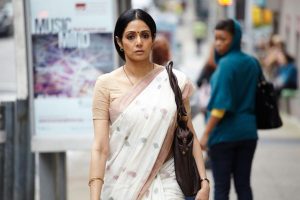 One can argue that 'English Vinglish' is a film about a woman's quest of becoming self-reliant in a foreign country. But more intricately, it is a film about a woman's quest to find respect within her own family. Her husband continuously taunts her inability to speak English while her children speak with equal disregard. As a result, a strong and resolved Sridevi sets out to astound them. 'English Vinglish' is not just a film but a lesson for all those who underestimate the women in their families.
4. Atithi Tum Kab Jaoge? (2010)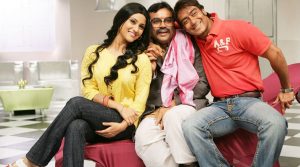 This Ajay Devgan starrer has plenty of quirky and laughable scenes but it also speaks the true meaning of family. In Indian culture, people welcome guests like gods and so, sometimes guests come uninvited too. But one has to realize that these uninvited guests can be blessing-in-disguise and become family to you. People learn that one should respect their culture and welcome anyone with both hands.
3. Hum Aapke Hain Koun..! (1994)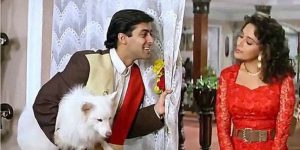 'Hum Aapke Hain Koun..!' has everything from comedy to romance to drama but in overall, it centers on a family where the daughter-in-law dies and two lovers get tangled in the mess. Both the lead actors give convincing performances in their characters showing how family stands above love. Their sacrifice for the sake of family is really saddening but the makers ensure that the film doesn't become dull. All-in-all, it has everything for everyone in the family.
2. Kapoor & Sons (2016)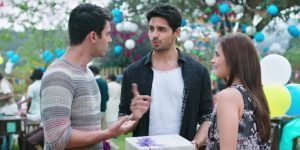 'Kapoor & Sons' is so high on the list because it provides a truly dark side to a dysfunctional family's problems. The daily arguments and the permanent feeling of being loved less really knocks the emotions out of a person. A person is certain to be teary-eyed at the end of the film as it gives a strong message on how one should forgive mistakes and let go of any hatred. A truly emotional film to be watched immediately if you want to understand the importance of family.
1. Taare Zameen Par (2007)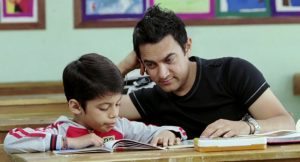 As this film centers on children and children are literally the center of a family, it can be considered as a family drama. The directorial debut of Aamir Khan, 'Taare Zameen Par' is a masterpiece for how wonderfully it shows the plight of a child when he is separated from his mother and has to live alone. The emotions are perfectly captured and for once, Aamir Khan is not the perfectionist when it comes to acting. The film gives insight into the Indian education system and the mindset of the families. Due to this, this film really is the best one to watch with family and hence, it lies on the top of this list.
Read More: Best Hindi Horror Films