The Polish screenwriter and filmmaker Krzysztof Kieslowski was one of the most popular filmmakers in the international circuit during his heyday, He has won numerous prizes throughout the top film festivals during his career. Born in Warsaw, Kieslowski left college while working as a theatrical tailor. He enrolled himself in an art college to avoid being drafted into the army.
Kieslowski started off his filmmaking career by making documentaries about the common Polish workers, soldiers and city dwellers. His first feature film Personnel, made in 1975 won him the first prize at Mannheim Film Festival. An icon of modern cinema, here's the list of top movies of Krzysztof Kieslowski.
10. Short Working Day (1981)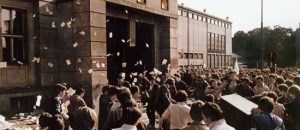 This movie by Kieslowski is based on the events of June 1976 in Poland where workers protested against decisions of the government. Though the movie is based on real events, the characters are fictional. The movie is seen from the perspective of the secretary of the Polish United Workers' Party. Short Working Day did not receive any theatrical release and only premiered on television in 1996, before which it was shown mainly in film clubs.
9. Blind Chance (1987)
Witek, a young medical student is unsure if he wants to join his medical school, or join the communist party, or turn anti-communist. In this film by Kieslowski, a man's choice of boarding a train or not will result in three possible scenarios based on his choice. The Polish actor Boguslaw Linda played the lead character in this film, and both he and Kieslowski won the Best Actor and Best Director awards for this film at Polish Film festival respectively.
8. Camera Buff (1979)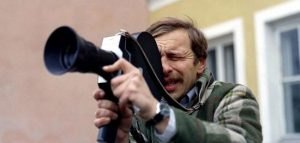 When a factory worker finds an obsession in the form of a movie camera which he had bought to record the birth of his daughter, his contended and modest life is changed forever. Such is the backdrop of Kieslowski's 1979 feature starring Jerzy Stuhr. Camera Buff was widely praised by critics and was a film festival darling, winning the FIPRESCI Award, the Golden Lion at the Polish Film Festival and Golden Prize at the 11th Moscow International Film Festival. The movie deals with the idea of censorship in Communist Poland and the state's repression of individual expression.
7. A Short Film About Love (1988)
An expanded film version of Dekalog: Six, A Short Film About Love is about a young post office worker whose favorite pastime is spying on his neighbor, Magda who is an artist. This film shows traces of how Kieslowski's aesthetics would develop in his later films and the subtle performances by the two lead actors, Grażyna Szapołowska and Olaf Lubaszenko were highly praised by critics from all over the world. The film also has a Hindi remake, Ek Chhoti Si Love Story which released in 2002.
Read More: Roman Polanski Movies