One of the greatest American cultural icons of the 20th century, Marilyn Monroe was much more than a movie star. Her popularity and cultural impact can only be compared to Elvis Presley and Mickey Mouse. Monroe defined what a sex symbol means and to this day is considered one of the most beautiful women to ever grace the silver screen. From high-profile marriages with Joe DiMaggio and Arthur Miller to substance abuse, depression and anxiety, she went through everything in her short life of 36 years. Here is the list of top Marilyn Manroe movies you can't miss.
12. Bus Stop (1956)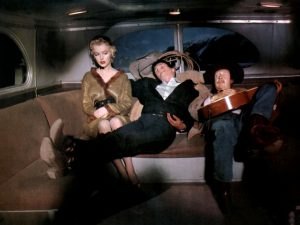 This 1956 musical comedy-drama starring Marilyn Monroe and Don Murray was directed by Joshua Fox. It tells the story of a naïve cowboy who falls in love with a beautiful singer (played by Monroe) who he wants to marry against her will. It was the first movie Monroe was a part of after studying at the Actors Studio, her performance being highly praised by critics. This movie was based on a play of the same title by William Inge.
11. Don't Bother To Knock (1952)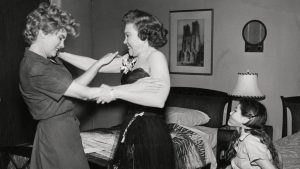 Roy Ward Baker directed this film noir thriller based on the 1951 novel Mischief by Charlotte Armstrong. Monroe here plays the role of a babysitter whose suspicious behaviour makes a pilot (Richard Widmark) wonder if she is fit for the job. He is staying at the same hotel where Monroe is doing her job and he notices her from the opposite room. What follows makes up this amazing movie rated 100% fresh on Rotten Tomatoes.
10. Monkey Business (1952)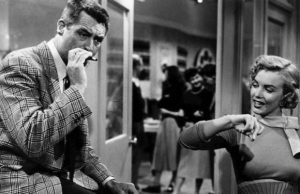 Boasting of an enviable star cast, Monkey Business is a 1952 romantic comedy film directed by the legendary Howard Hawks. It stars Marilyn Monroe, Cary Grant, Ginger Rogers, and Charles Coburn in major roles. Dr Barnaby (Grant) is a scientist who has managed to make the elixir of youth, a potion which can turn adults into children. Consumption of such a potion gives rise to hilarious situations in this critically acclaimed screwball comedy.
9. River of No Return (1954)
In this Western adventure film by Otto Preminger. Marilyn Monroe stars with Robert Mitchum who plays a recently released prisoner who comes to a bar looking for his son. He had left his son in the care of a barroom singer (Monroe) whose boyfriend turns out a rogue gambler who would not hesitate to leave her within a few seconds if need be. The movie was well-received by both critics and audiences, also being showered with praises by all the famous American magazines.
8. The Prince And The Showgirl (1957)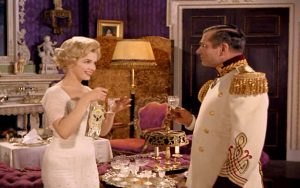 Originally called 'The Sleeping Princess', this 1957 British-American comedy stars the great Lawrence Olivier and Marilyn Monroe in leading roles. Sir Olivier plays the role of a Hungarian prince who arrives at London to attend the wedding of King George V, where he is smitten by a musical performer Elsie Marina (Monroe) with whom he falls in love and invites her over for a private dinner. The movie was Monroe's first production and was directed by Olivier himself.
7. The Misfits (1961)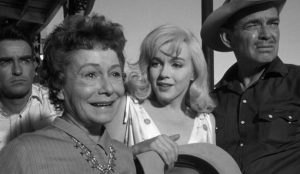 Armed with a story and screenplay by the revered playwright Arthur Miller (Monroe's then-husband), the legendary John Huston directed this 1961 drama starring Monroe, Clark Gable, Elli Wallach and Montgomery Clift. This would be the last film of both Monroe and Gable as they would pass away a month and a week later respectively after the shooting of the film ended. At the time of its release, The Misfits was a commercial failure, but as time has passed, the film has gathered positive reviews for its script and performances.
Read More: Charlize Theron Movies
6. Niagra (1953)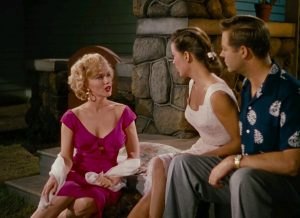 This 1953 noir directed by Henry Hathaway was one of the highest-grossing films of that year. It stars Monroe, Joseph Cotten, Jean Peters and Max Showalter. The movie is about two couples who meet at a resort near the Niagara Falls. Geroge and Rose (Cotton and Monroe) are one of the couples and they share quite a volatile and loveless relationship, with Rose's lover already in the vicinity. What George doesn't know however is that Rose and her lover are willing to murder him. Newspapers like The New York Times were impressed by the film and it boasts of an 83% Fresh Rating on Rotten Tomatoes.
5. The Asphalt Jungle (1950)
This highly rated noir and heist film is among the best in its genre and is directed by John Huston from the novel of the same name by W.R. Burnett. Monroe stars in this film along with Sterling Hayden, Louis Calhern, and Jean Hagen. Hayden plays the role of a criminal mastermind who plans to rob jewels worth a million dollars and is successful until one of his teammates gets killed by a stray bullet. This film was well-received from all quarters and is popularly considered one of the best films of its genre.
4. All About Eve (1950)
The only film in Oscar history to receive four female acting nominations, All About Eve is an iconic movie in the history of American cinema. Directed by Joseph L. Mankiewicz from the short story 'The Wisdom of Eve', the film stars Bette Davis, George Sanders, Anne Baxter and Marilyn Monroe. Bette Davis plays the role of Margo Channing, a highly regarded but ageing Broadway star who appoints Eve as her personal secretary without realising that Eve wants to take over her career. Nominated for 14 Academy Awards, All About Eve won 6. It has been voted the 16th greatest American film of all time by the American Film Institute.
3. Gentlemen Prefer Blondes (1953)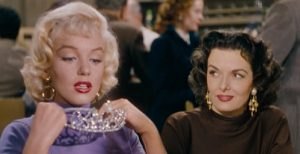 When the showgirl Lorelei and her friend decide to go visit Paris before her wedding, most unbeknown to her, her father in law sends in a private detective to keep an eye on the duo. Directed by the great Howard Hawkes, and starring Charles Coburn and Jane Russel along with Monroe, this film was both a commercial and critical darling. Monroe's performance is what the movie is most remembered for, her performance of "Diamonds Are A Girl's Best Friend'and a pink dress she wore became pop culture icons, to be emulated later by numerous others.
2. Some Like It Hot (1959)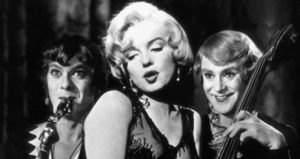 Tony Curtis and Jack Lemmon star in this iconic film along with Monroe. Directed by Billy Wilder, the story revolves around two musicians who witness a mob hit and thus decide to flee town dressed as two women in an all-girls band. It is here they meet the singer Sugar Kane (Monroe) and hilarious situations follow. This movie is considered one of the best movies of all time and has been voted the best American comedy ever by AFI. Roger Ebert called this film "one of the enduring treasures of the movies, a film of inspiration and meticulous craft."
1. The Seven Year Itch (1955)
Based on a play of the same name by Geroge Axelrod, this 1955 romantic comedy was co-written and directed by Billy Wilder. One of the most iconic stills of the 20th century, the picture above, is from this movie. The title refers to the staleness that comes into a monogamous marriage after seven years. Tom Ewell stars as Richard Sherman, a publishing executive who meets an actress (Monroe) and gets attracted to her while his son and wife are at Maine spending the summer. The movie was praised widely and its name is so a part of popular culture that the phrase 'The Seven Year Itch' is used by psychologists as well.
Read More: Cate Blanchett Movies