"Greed is Good" earned him an Academy Award. Michael Douglas over the years has continuously proven his acting reinventing talents with massive cinematic work.
Rising in the ranks with 'The Streets of San Francisco' (1972-1976), the actor slowly grasped the cinematic universe. With the passage of time, Douglas' production nuances helped the actor understand and comprehend the art of movie making, earning him his first breakthrough in Robert Zemeckis' 'Romancing the Stone'.
Since then the actor has amassed couple of brilliant performances to establish him as one of the leading men in Hollywood. Here is the list of top 13 Michael Douglas Movies.
13. Basic Instinct (1992)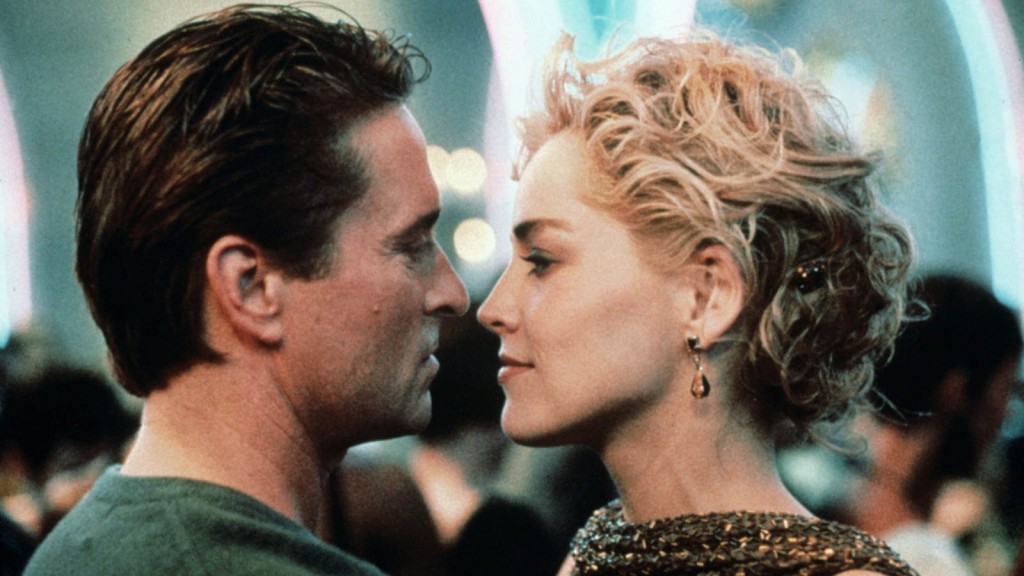 A violent, suspended police detective investigates a brutal murder, in which a manipulative and seductive woman could be involved. 'Basic Instinct' is famous for Sharon Stone's leg-crossing scene, but that doesn't mean that the film itself is not good. Without going too overboard, let's just say that the film keeps you hooked till its climax (that's masterfully left open-ended). And yes it is still regarded as one of the iconic sex movies that has a phenomenal performance from Douglas.
12. Fatal Attraction (1987)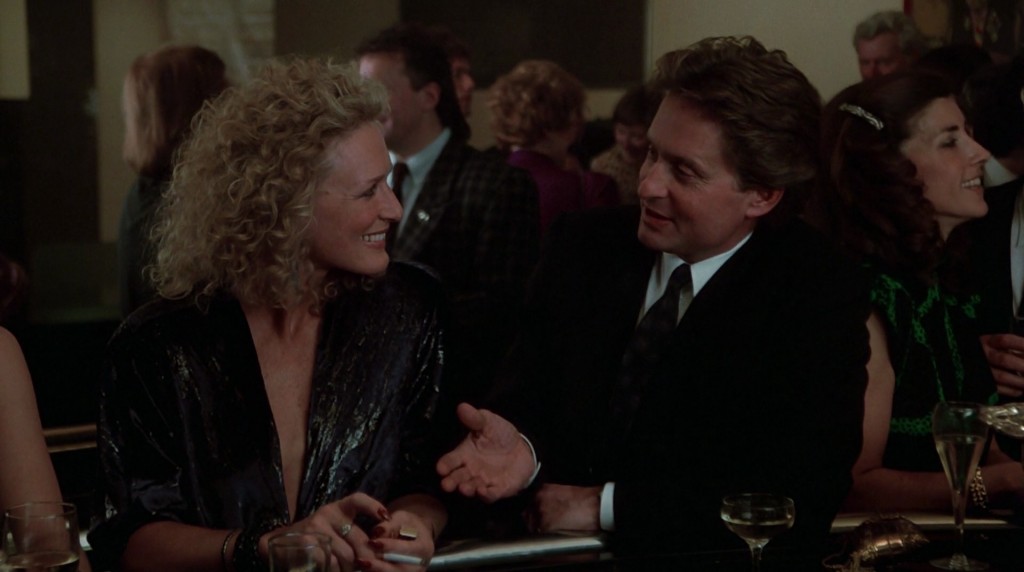 A massive box office hit, 'Fatal Attraction' stars Michael Douglas as Dan Gallagher, whose one-night stand comes back to haunt him when his lover, Glenn Close's psychotic Alex Forrest, begins to stalk him and his family.
While both Glenn Close as the adulteress and Anne Archer as the suspicious wife are phenomenal, Douglas quietly shapes the plot with his morally choked character that's extinguished in a cat and mouse like situation.
Directed by Adrian Lyne, Dan Gallagher's character is divided with two distinctive positions – a cheating husband and a man shadowed by a psychopath.
11. King of California (2007)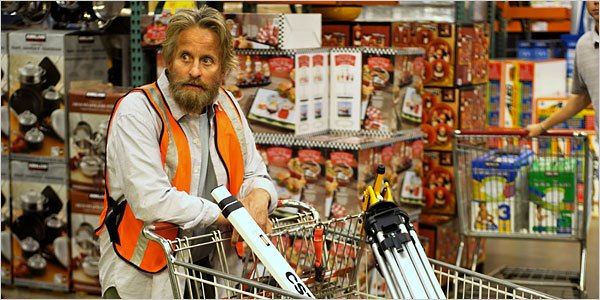 With a limited release, 'King of California' has gone quite unnoticed. Michael Douglas stars as Charlie, a mentally unstable father who after getting out of a mental institution is convinced of a Spanish gold buried somewhere under suburbia. Douglas' performance is brimming with an inspirational essence. He excels at portraying the emotional vulnerability which makes his so susceptible to the outer world. The actor showcases maturity in grasping the expressive emotionalism with a fatherly principle.
10. Falling Down (1993)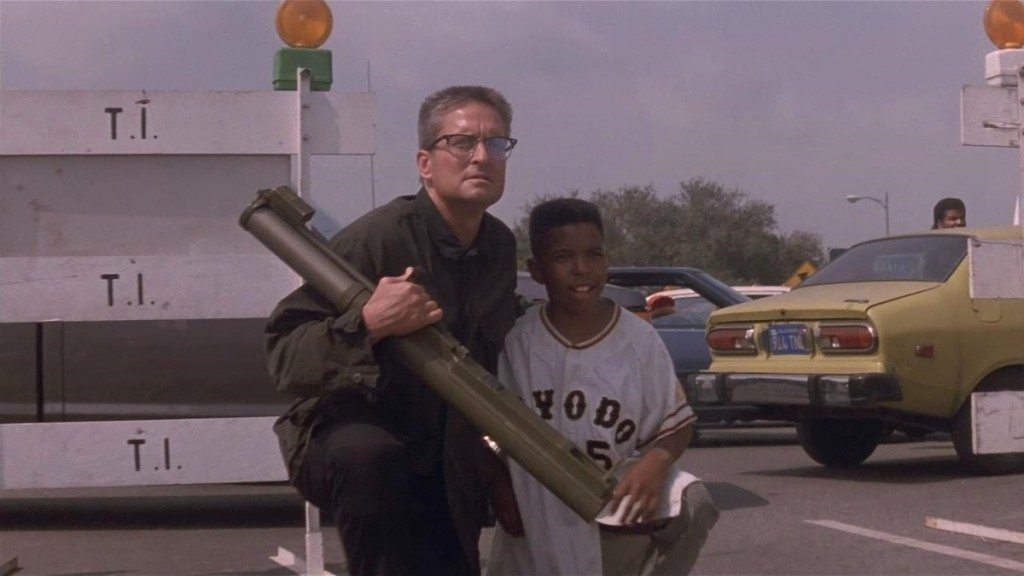 A commercial entertainer, Michael Douglas stars as William Foster, an unemployed defence worker, who upon being frustrated with the corrupt in the society, takes the law in his own hands and begins to psychically and brutally lash out against them.
Directed by Joel Schumacher, this 1993 thriller deals with poverty, the economy and commercialism, and Douglas transcends the thematic allegory into a tangible concertizing element. The actor brought out sadness and an uncertainty, which is embroiled in the mind's menace.
9. The American President (1995)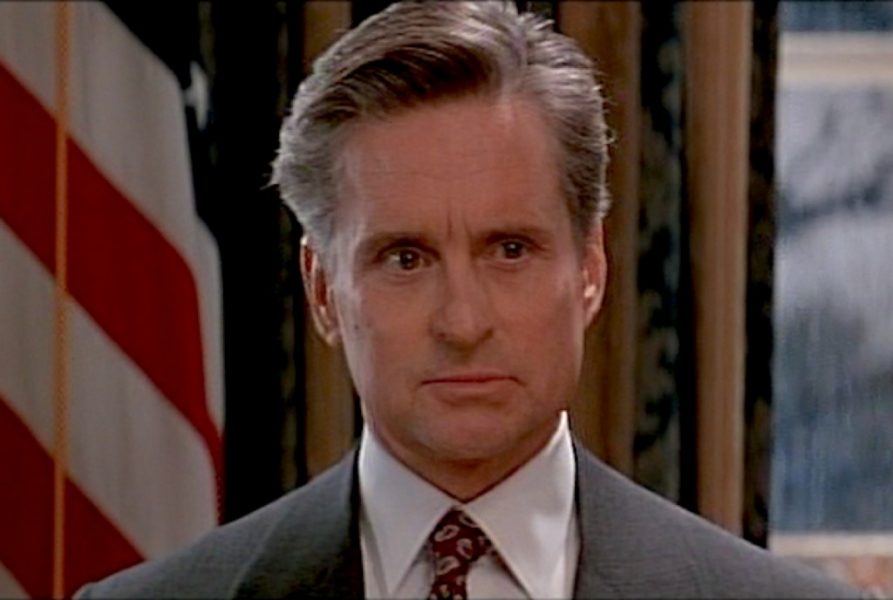 'The American President' built its foundation on a brilliant amalgamation of Rob Reiner's politically influenced direction and a classic Aaron Sorkin character writing.
Starring Michael Douglas and Annette Bening as the romantic leads, the film is the story is about a widowed U.S. President played by Douglas, who falls in love with a pretty and charming lobbyist, essayed by Bening. Things seem merry and cherry until the president has to answer to his duties in the messy world of politics and his relationship becomes the bone of contention in the election campaign.
The aforementioned screenplay established the actors' prowess and uses it to his writing capabilities. The director, famous for his political adaption works with Sorkin's sharp script and adds a layer of emotionalism and sophistication to Douglas' Andrew Shepherd.
Douglas' holds his ground with confident maturity, standing out in a cast consisting of the talents of Martin Sheen, Michael J. Fox and Richard Dreyfuss. Considered among one of the most endearing love stories, the film was quite successful at the box office, with Douglas' performance being specially appreciated. The actor's efforts earned him quite the critical praise. Among its several nominations, the engaging chemistry of Douglas and Bening earned the film a spot in American Film Institute's "100 Years… 100 Passions."
8. Romancing the Stone (1984)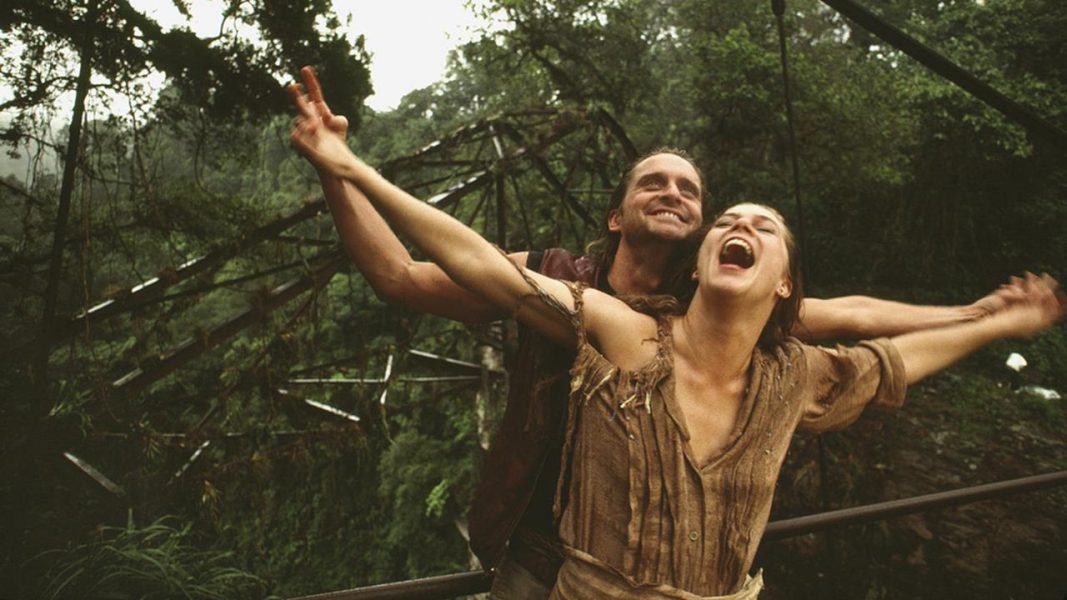 Working with the "one of the greatest visual storytellers in filmmaking" Robert Zemeckis, stardom had to come.
The film which propelled Michael Douglas into star recognition, 'Romancing the Stone' introduces us to American exotic bird smuggler Jack T. Colton, who lends hand in a lonely romance writer, Joan Wilder played by Kathleen Turner and her dangerous adventure in Colombia save her kidnapped sister, and deal with a barrel of life threatening problems.
Considered among the best films of 1984, much of its credit goes to Douglas' point portrayal of the character. While Turner swept away critics with her agility, Douglas held his own and kept up to the pace with absolute ease. While Douglas did not earn any accolades for his efforts, 'Romancing the Stone' elevated his star power and acted as a podium for the yet to come success.
7. The War Of The Roses (1989)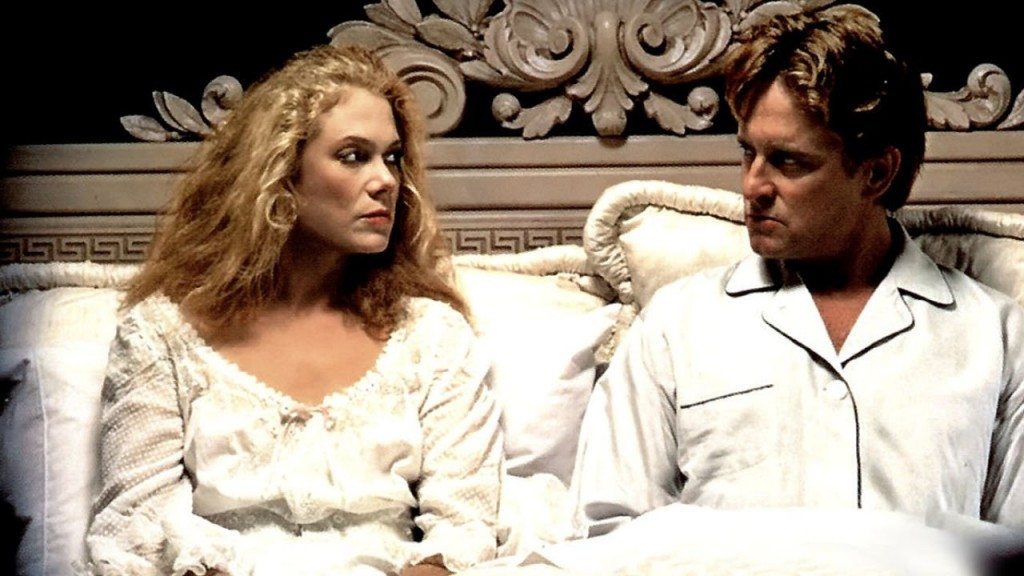 A perceptively well written black comedy, 'The War of The Roses' draws the image of a seemingly happily married couple who are willing to go to extreme lengths to have each other leave the house in a rancorous divorce battle.
Adapted from Warren Adler's novel of the same name, the film bases itself of the narrative development of the characters. Directed by the brilliant Danny DeVito, this 1989 black comedy introduces us to a shrewdly hilarious and violent Oliver Rose who, like his wife, tries to sabotage her in every way possible. The actor balances the subjectivity of human emotion with ripeness. While Rose showcases the beauty of marital bliss in the beginning, he slowly transcends into a disturbing darkness reflecting the failing marriage.
Read More: Blake Lively Movies and TV Shows
6. The Game (1997)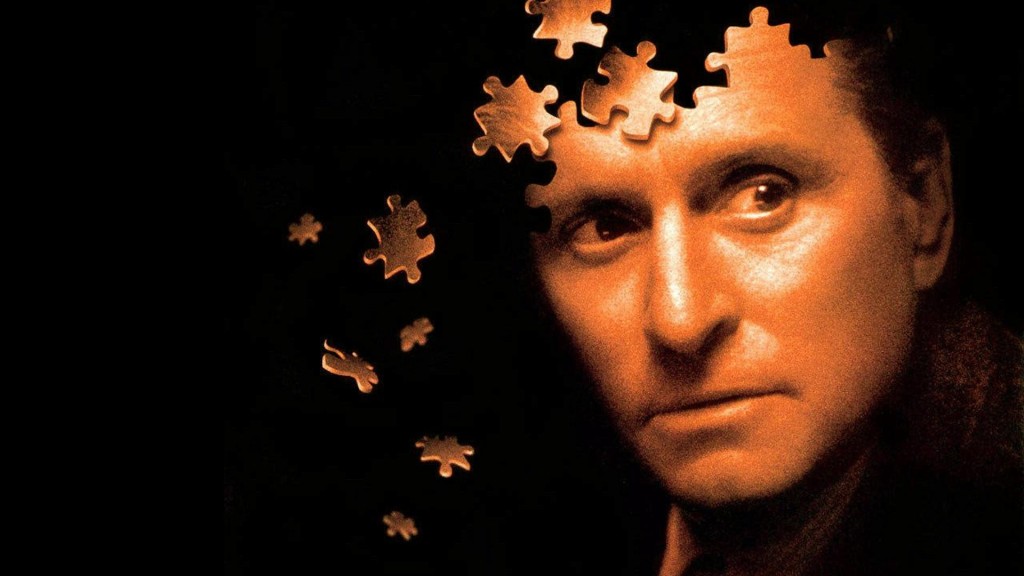 A team consisting the directorial genius of David Fincher, and the acting propensity of Michael Douglas and Sean Penn; 'The Game' had to seed several critical applauds.
Douglas stars as Nicholas Van Orton, a wealthy yet morally estranged investment banker, who is given an opportunity to participate in a mysterious game which ultimately embroils him in a complex maze where is incapacitated to distinguish between reality and illusion.
Fincher has a particular forte of filmmaking which requires actors to charge their inner darkness and portray the grey side of the world. Douglas along with co-actor Penn adroitly moulded their persona to shape Fincher's directorial ideas. Douglas' Nicholas Van Orton is suave, sophisticated and smart, and yet has a putrefied and decayed exposition. Manipulating the classic thrillers driven by a psychological vehicle, Douglas handsomely established the abstract thoughts of the director and concreted it with his settled illustration.
5. Traffic (2000)
A remake of British television miniseries 'Traffik' (1989), this 2000 film explores the illegal drug trade. Exploring the drug cartel from a variety of perspectives, the film chronicles the story of drug users, enforcers, politicians and traffickers, and deals with their experiences.
The Steven Soderbergh directed flick stars Michael Douglas, Don Cheadle, Benicio Del Toro, Dennis Quaid and Catherine Zeta-Jones, and moulds them into different characters dealing with different aspects of the drug cartel. Douglas is cast as a part of the "Wakefield" storyline, with him essaying the role of a conformist Ohio judge Robert Wakefield. While Wakefield is appointed as the Head of Office of National Drug Control Policy, in a purist of taking down the cartel; he deals with his own devilish challenges when he learns that his daughter is herself a drug addict.
The actor is just sensational in his role, showcasing certain vulnerability as a father and a conviction as a righteous practitioner. While his performance went quite unnoticed with Del Toro's Academy Award winning performance, he certainly proved as to why he had become one of the leading men in Hollywood.
4. Wonder Boys (2000)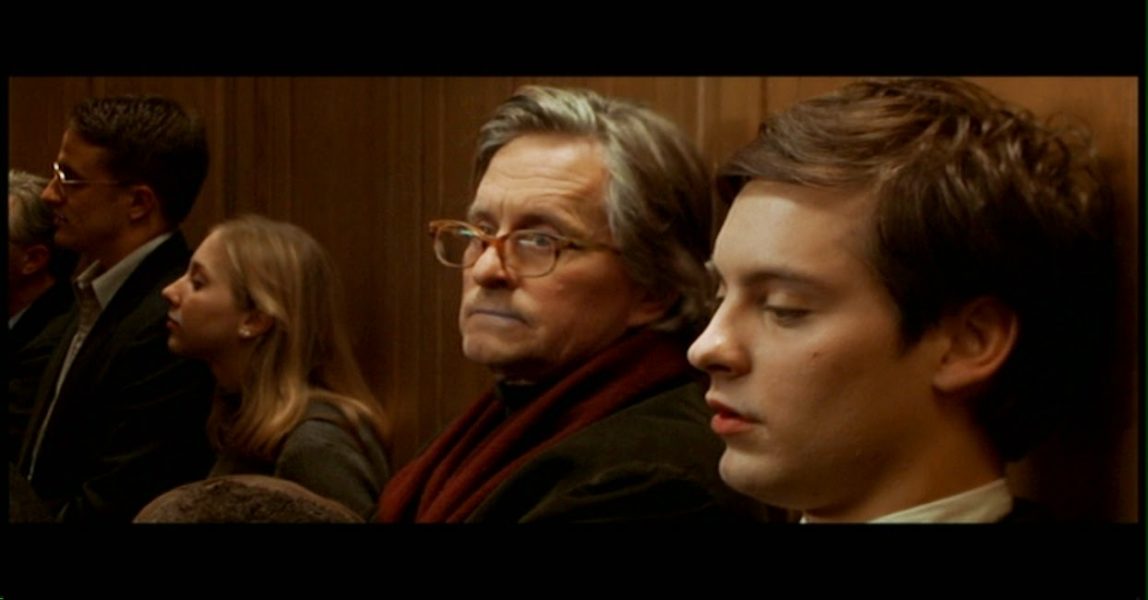 An unsung masterwork, 'Wonder Boys' is brimming with genius of the talents of Michael Douglas and Toby Maguire. Directed by Curtis Hanson, this 2000 film stars Douglas as English Professor Grady Tripp, who amongst a crumbling life, tries to deal with an author's worst nightmare – writer's block. With an exceptional performance by Maguire as the emotional foil, Douglas pulls off an excellent performance, exposing his vulnerability with a slight essence of character decay.
Steve Kloves adapted Michael Chabon's novel, maintaining a narrative quintessence which elevated the character development of a full length narrative.
The comedy-drama earned him scathing appreciation, with veteran critic Roger Ebert praising the endowed duo of Douglas and Maguire. The film's critical success earned him several awards for "Best Actor" at the Los Angeles Film Critics Association, Satellite Awards, Southeastern Film Critics Association and several esteemed nominations at the Golden Globes, BAFTA Awards and Chicago Film Critics Association to name a few.
3. Solitary Man (2009)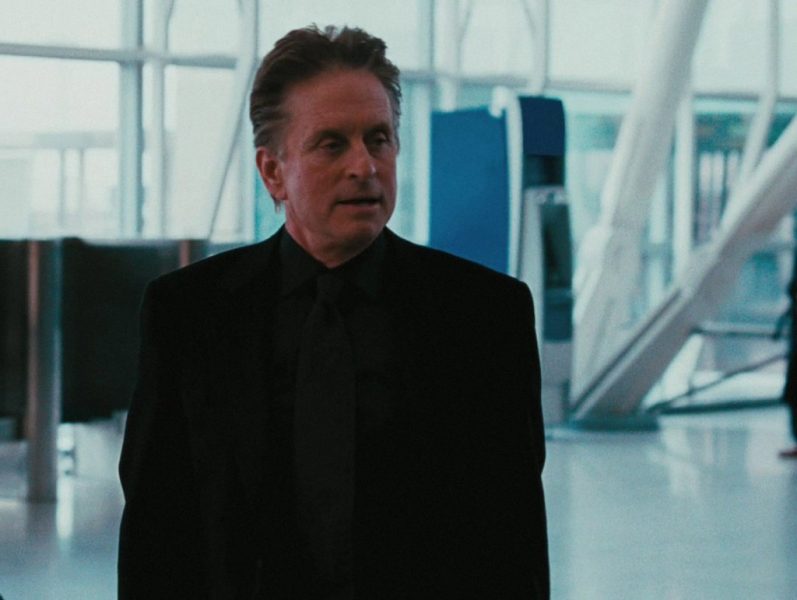 With Roger Ebert saying, "Here is one of Michael Douglas' finest performances", much of the critical praise is quite well sufficed. Directed by Brian Koppelman and David Levien, the film narrates the story of a car mogul, who glacially watches his personal and professional life descent because of his business and romantic incautions. A role which required him to channel his inner demonic tendencies, Douglas is plain horrible. With so much scrutiny on his character, the actors pulled an astonishing performance. Written by Brian Koppelman, the film has a bookish narrative essence to it which helped to build an indulging experience for the audience and critics alike. The film needed a central piece to effectively knit together the thematic representation, and Douglas left no stone unturned.
2. Behind the Candelabra (2013)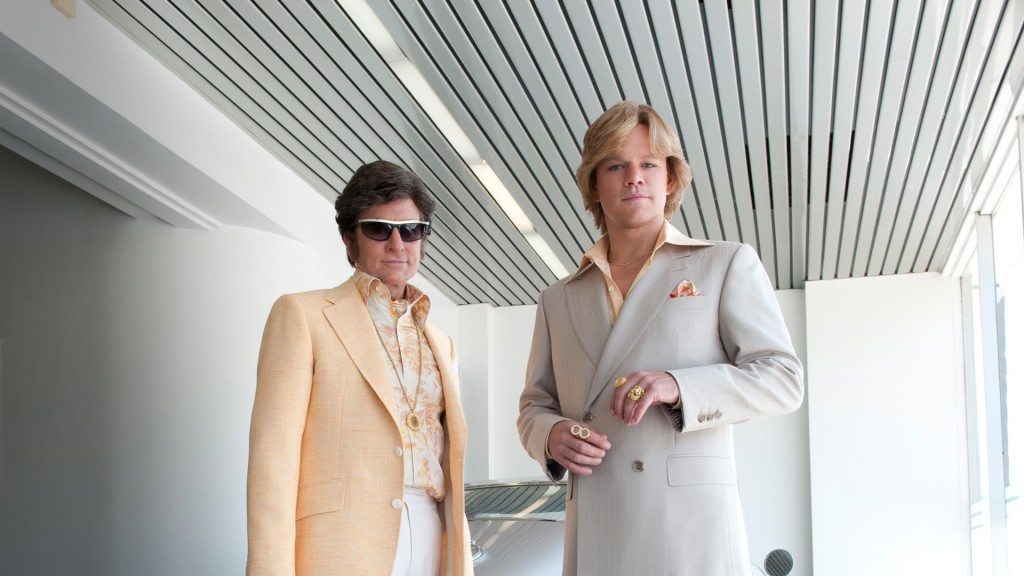 Based on Scott Thorson's and Alex Thorleifson's memoir, 'Behind the Candelabra: My Life with Liberace', this 2013 film chronicles the life of Liberace and his relationship with young Scott Thorson.
Michael Douglas luminously captured the pianist's behavioural conduct and voice modulation with soulful ease. He articulately collaborated with Damon and formed a booming duo showcasing their acting expertise. Portraying the iconic Liberace is quite unnerving, with a balance of the working class mentality and a moral recognition of stardom passionately required, Douglas masterfully brought out the characteristics. He composed a comical yet essayed a serious undertone and made the character his own creation.
The Steven Soderbergh directed flick earned the film critical praise in the Cannes Film Festival. Among the movie critical lauds, Douglas won the "Outstanding Lead Actor in a Miniseries or Movie" at the Primetime Emmy Awards, the "Best Actor – Miniseries or Television Film" at the Golden Globe Awards and "Best Actor in a Miniseries or TV Film" at the Satellite Awards. The actor successfully reinvented his career and his art.
1. Wall Street (1987)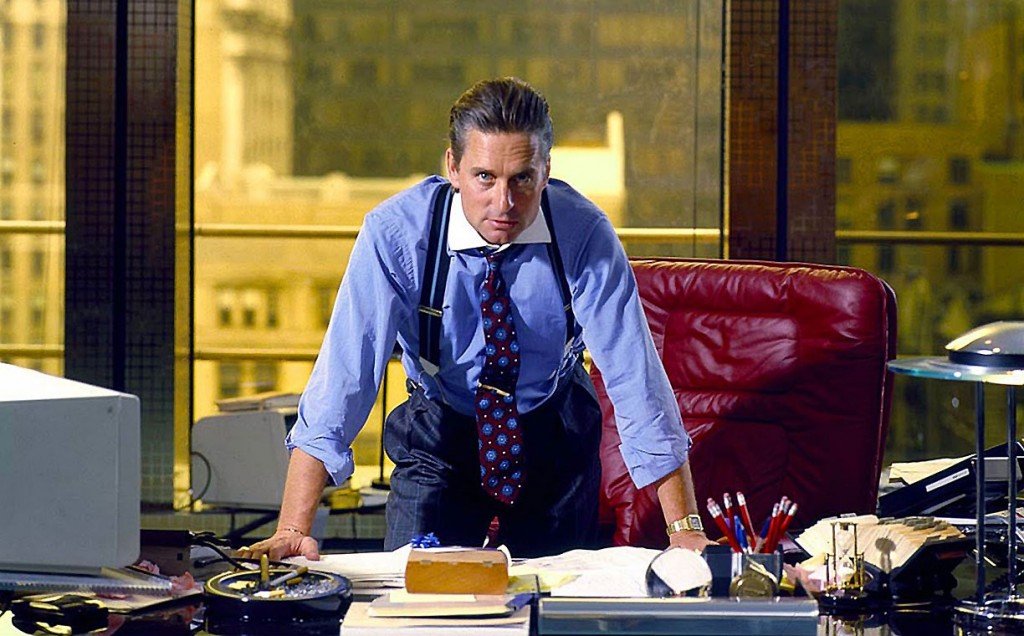 A cerebrally intense take on the unscrupulous world of the Wall Street, this 1987 film stars Michael Douglas as the deceitful and devious corruptibly wealthy corporate raider Gordon Gekko. Co-written by director Oliver Stone and screenwriter Stanley Weiser, the character is inspired from several financiers of the depression era.
The actor brilliantly captured the villainous essence of Gekko, heightening narcissism and psychopathy to showcase the iniquitous corporate animal.
Oliver Stone has a niche of portraying the brutalities of power and crafts characters fitting in perfectly like a missing piece of puzzle. Douglas is the product of this dexterous craft work. Ranked 24 in American Film Institute's "Top 50 movie villains of all time", Gekko is unsettlingly hideous and devious who can go to any lengths to get the dollars. He represents the greed of market economy.
Douglas' immaculate interpretation and rendering of the cocky raider earned him enormous praise. Gordon Gekko since has had a gigantic impact on pop culture, with his market analysis and financing views often quoted, referred and paraphrased. Douglas' "greed is good" earned him the "Academy Award for Best Actor" and has since spawned archetypal characters of cynicism and distrust.
Read More: Kurt Russell Movies