Telugu movies, after Bollywood, are definitely the most released, cherished, recognized and entertaining Indian gems of the art-verse, typically known for their raunchy scintillating dance numbers, rib-tickling comedy scenes, tear-jerking drama and captivating yet sometimes funny fight scenes – all in one single piece of a movie. With an average of 100 small and big budget Telugu films releasing every year in India (at least for the past two years), the number of viewers for Tollywood movies has skyrocketed as well, thanks to the dubbed versions of Telugu movies in various other regional languages.
The 'Baahubali' saga has been a wonderful example of that and a typical game changer in Tollywood's movie making arena. It has been an amazing catalyst and ice-breaker in terms of introducing Telugu films to the non-Telugu audiences and it has certainly opened up more avenues for an inclusive filmmaking and upped our game. Also, it brought in an exponential change in the popularity, culture and tourism dynamics of the respective Southern Indian states, especially those of Andhra and Telangana.
Conjuring up a list of the top Telugu movies of the 21st century is a daunting, herculean task with endless possibilities. Summarily, this list would largely be subjective – to surprises, disappointments, and opinions and be more or less next to impossible.
Here goes, with most of my blabbering done now, the list of the greatest Telugu movies of 21st Century. While I was compiling this list, I was mindful not to include any Telugu movies that were remakes (from other languages or regions), were "inspired" or plagiarised in any manner. So, good luck finding the likes of Oopiri, Pilla Zamindar, Nuvvostanante Nenoddantana, Maryada Ramanna, and many other similars as a part of this list, despite however great, popular, timeless or successful they might have been (with no offense to anyone). Also, my apologies if any of your favorites didn't make the list.
24. Gamyam (2008) | "Destination"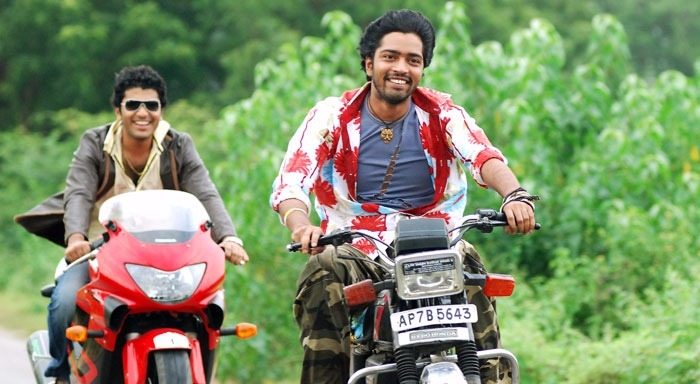 Director: Radhakrishna Jagarlamudi
Genre: Drama
Featuring: Allari Naresh as Gaali Seenu, Kamalinee Mukherjee as Janaki, Sharwanand as Abhi
Not that 'Gamyam' is really great as a movie, yet it is a unique uncompromising story. A lesson of self-realization learned the hard way, 'Gamyam' is the journey (rather than a destination) of a spoilt brat Abhi from lust and indulges to self-awakening. This movie is all about the transition from what "is" to what "could be". Comprising of few emotional scenes and some superb performances (Allari Naresh deserves a special mention), at least for Tollywood, this movie remains one of its kind till date, which was later remade into several languages.
23. Happy Days (2007)
Director: Sekhar Kammula
Genre: Drama
Featuring: Varun Sandesh as Chandu, Tamanna Bhatia as Madhu, Nikhil Siddharth as Rajesh, Sonia Deepti as Shravs
We might have seen many Bollywood movies depicting college days featuring glorified actors as college kids, but sadly none could portray themselves as done by 'Happy Days' cast, to this day. It is a film with a true to the heart portrayal of the transition from teenage to adulthood, with a bunch of engineering students who find their lives entangled with mundanity and careers. It is when friendship, love, and emotions erupt, we have a wisely executed college melodrama as the outcome. 'Happy Days' will be cherished for its songs, naiveness of its characters and the memories it brings along that are reminiscent of our own college days.
22. Leader (2010)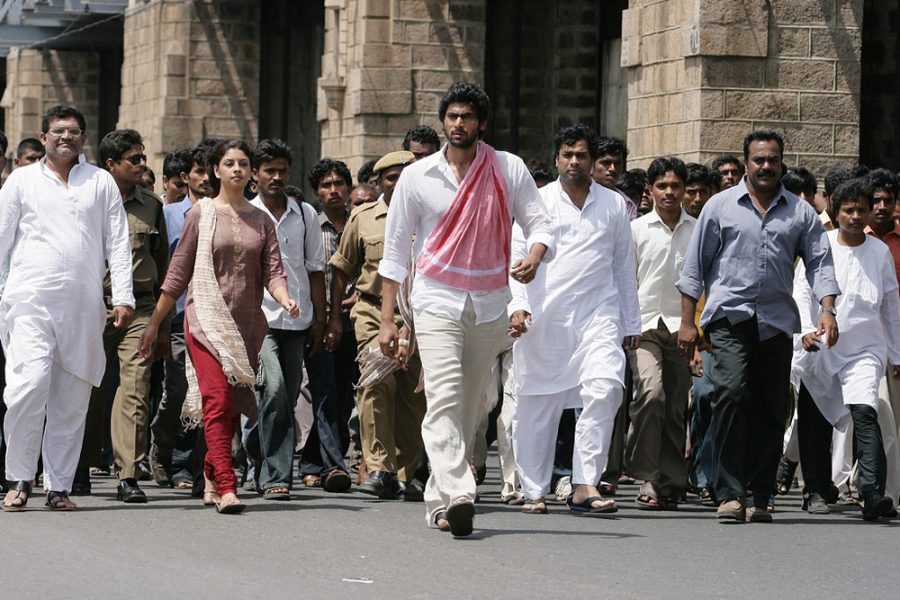 Director: Sekhar Kammula
Genre: Drama
Featuring: Rana Daggubati as Arjun Prasad, Richa Gangopadhyay as Archana
A story that revolves around power and politics, Leader is all about the power play between Arjun, a CEO turned CM after his dad's demise and his cousin Dhananjay. The film revolves around the social issues and how Arjun overcomes the idea of becoming a politician and turns out to be a leader and a hero of the commons instead. A relevant, well-written film on the then existential issues of Andhra Pradesh's politics, coupled with some marvelous performances (including that of Debutante Rana Daggubati) steals the show.
21. Srimanthudu (2015) | "Wealthy Man"
Director: Koratala Siva
Genre: Drama, Romance
Featuring: Mahesh Babu as Harsha Vardhan, Shruti Hassan as Chaaruseela
The story mainly revolves around Harsha and his paternal village Devarakota, which also happens to be Charuseela's native village, who is Harsha's love interest. One thing leads to another and 'Srimanthudu' turns out to be a beautifully rendered family drama with both Harsha and Chaaruseela's parental history converging to Devarakota. A movie which signifies the importance of one's roots and why relationships always win over money and material things. 'Srimanthudu' is one of the best efforts of Mahesh Babu in terms of his acting, with bouts of emotions and fight sequences emanating sporadically. A story of reconciliation and self-realization, 'Srimanthudu' reminds us of the fact that falling in love isn't easy, even for a billionaire scion.
20. Arya (2004)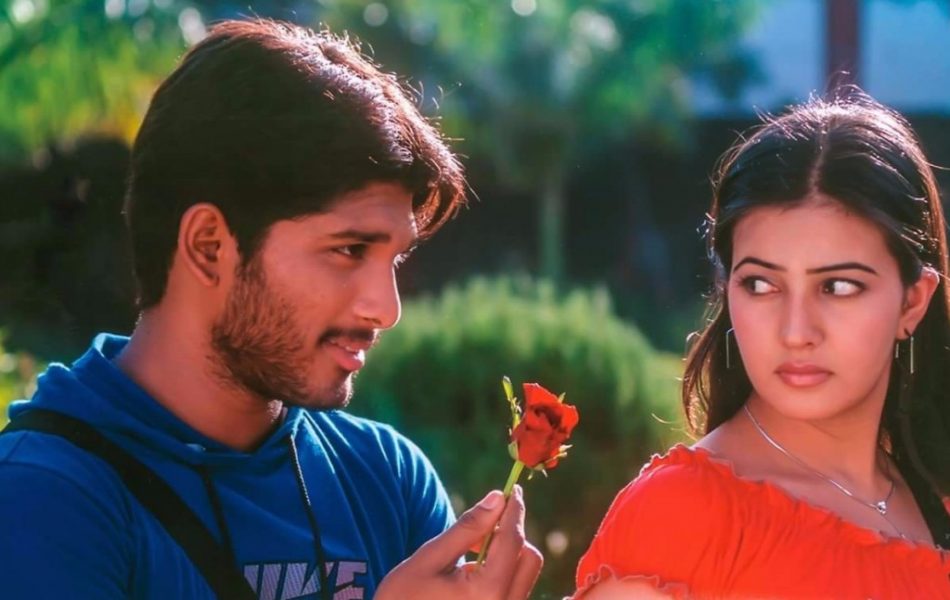 Director: Sukumar
Genre: Drama, Action, Romance
Featuring: Allu Arjun as Arya, Anuradha Mehta as Geetha Reddy, Siva Balaji as Ajay
If not for the timeline, it could have been a very ordinary movie. Ajay and Arya fall for Geetha, however, the former expresses it and the latter doesn't. Geetha initially likes Ajay but later realizes Arya is the right person for her. 'Arya' was the movie that gave us the song "Aa Ante Amalapuram" which won millions of hearts and was the leading item song of its time, filmed in a similar way as Shahrukh Khan's 'Chaiyya Chaiyya'. 'Arya' was perhaps the first big commercial success any Allu Arjun's movie had and catapulted his career graph to new heights as we know today.
19. Okkadu (2003) | "The One"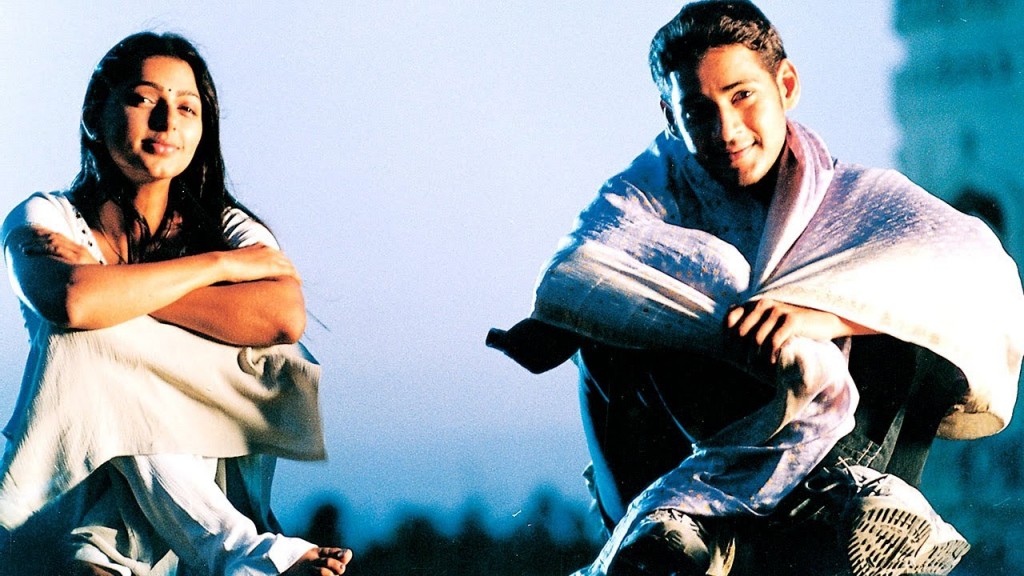 Director: Gunasekhar
Genre: Action, Romance
Featuring: Mahesh Babu as Ajay, Bhumika Chawla as Swapna, Prakash Raj as Obul
Okkadu, owing to its huge success, was remade into almost every language including Hindi, Tamil, Odia etc. But sadly, none could match the penchant and intensity of Mahesh Babu as the protagonist and Prakash Raj as the antagonist. For a few of us who have watched Tevar (2015), we all know the premise. An ace Kabaddi player Ajay falls in love with a girl Swapna who is on the run from Obul, a local goon with his higher up connections and his intent to marry Swapna. Runs, chases, and confrontations constitute the spine of this movie, which also turned out to be a major milestone in Mahesh Babu's acting career.
18. Bommarillu (2006) | "Doll House"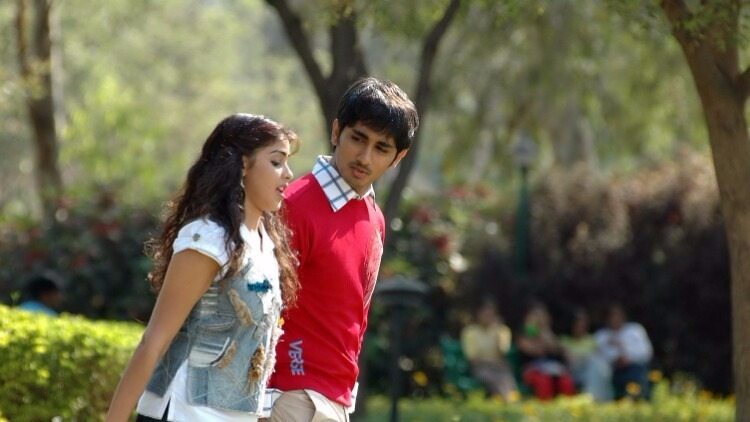 Director: Bhaskar
Genre: Drama, Comedy
Featuring: Siddharth as Siddharth/Siddhu, Prakash Raj as Aravind, Genelia as Hasini
No, this isn't a horror movie. Neither it is a cheap spoof of a similar Hollywood movie. Probably one of the few handful movies featuring an overly possessive and concerned father, a happy-go-lucky brat who's part-angered by his father and wants to go places on his own and a story of families coming together towards the end, 'Bommarillu' is true to its literal meaning. A light-hearted film which encircles around Siddhu, his life choices and his dad's adamance and clinginess, 'Bommarillu' reminds us of every parent who refuses to let go of their children at the right time. With a subjective ending, the viewers are usually left with awe and an overall enduring experience.
17. 1: Nenokkadine (2014) | "I Am Alone"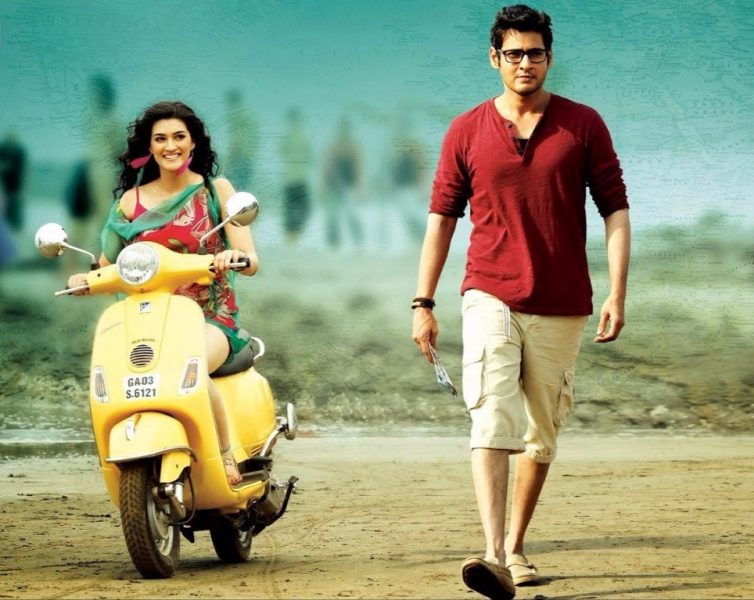 Director: Sukumar
Genre: Thriller
Featuring: Mahesh Babu as Gautham, Kriti Sanon as Sameera, Nassar as Businessman
The movie revolves around a popular rock-star Gautham who's also schizophrenic, owing to missing gray matter in his brain. He constantly hallucinates about his parents' murder and keeps fighting imaginary bad guys while going places to find more about his parents' whereabouts. Sameera, who's a journalist, finds about Gautham and assists him in finding his parents' assailants by accompanying him to London, where they both fall in love. The whole plot then moves forward with a hallucinating Gautham who gets parts of his memories back in flashes, along with a romantic side-story. '1: Nenokkadine' gives you a 'Memento' kind-of a feeling while you're watching it. Perhaps, script-wise, Nenokkadine has the best premise among all of Mahesh Babu's movies till date, save the other factors like background score and screenplay. If it helps, at a point in time, '1: Nenokkadine' even surpassed 'The Dark Knight' on IMDB with a 9.2 rating. Only if the songs were slightly better.
16. Kanche (2015) | "The Fence"
Director: Radhakrishna Jagarlamudi
Genre: History, Drama
Featuring: Varun Tej as Dhupati Haribabu, Pragya Jaiswal as Rachakonda Sitadevi, Nikitin Dheer as Eeshwar Prasad
Apparently, the only Telugu film that has the subject of Second World War and set in the 1940s, 'Kanche' is the story of two friends, Eeshwar and Haribabu, who turn enemies owing to a failed relationship between Haribabu and Sitadevi, Eeshwar's sister and also due to the ever widening casteism. Due to prevailing caste-based segregation prevalent back then, Eeshwar accidentally kills his own sister during a confrontation against Haribabu and a fence is eventually erected between the people of lower and upper castes. Both Eeshwar and Haribabu enlist for the WWII to fight against the Axis powers. Hostile circumstances lead to reconciliations during the war, with despite all the animosity, Haribabu saves Eeshwar's life by sacrificing his own. A story many could have envisaged but was made into a movie by the genius behind 'Vedam', 'Kanche' was well-deserving of the prestigious National Award for the Best Feature Film in Telugu.
15. Pokiri (2006) | "Rogue"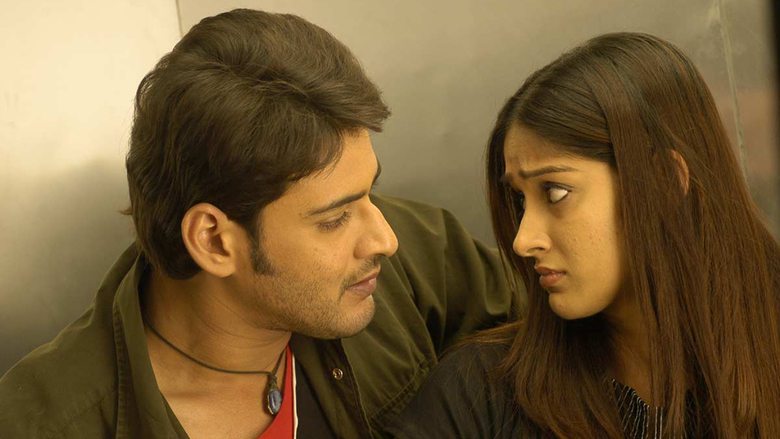 Director: Puri Jagannadh
Genre: Action, Romance
Featuring: Mahesh Babu as Krishna/Pandu, Ileana D'Cruz as Shruti, Prakash Raj as Ali Bhai
Again, another Mahesh Babu's smash hit, which was remade in three other regional languages including the popular Salman Khan's Wanted (2009), Pokiri is the story of an undercover IPS officer Krishna a.k.a. Pandu, who cohorts between various crime syndicates of Hyderabad, to get access to Ali Bhai, a Dubai's mafia don, culminating with the killing of the latter. Pandu falls for Shruti, with an ensuing side-story of romance and some seriously good comic punches in between, that were also replicated as is in the remade versions of 'Pokiri'. The entire movie is all about "Okkasari commit ayyite, naa maata nene vinanu", meaning "Once I've made up my mind, I won't even listen to myself". So, do it then, and go watch it.
14. Arya 2 (2009)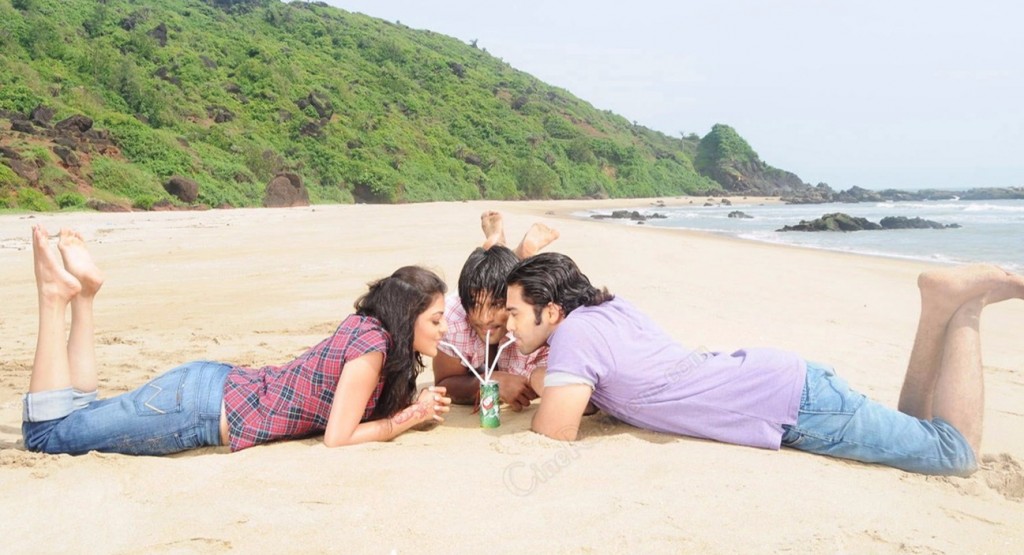 Director: Sukumar
Genre: Action, Drama, Romance
Featuring: Allu Arjun as Arya, Kajal Aggarwal as Geetha Reddy, Navdeep as Ajay
The "Mr. Perfect" Allu Arjun reprises his role as Arya in this sequel made with the same fervor as was the first installment. Though the story is not related to 'Arya' (2005) in any manner whatsoever, this too is a love triangle involving Arya, Ajay, and Geetha, wherein both Ajay and Arya leave no stone unturned to prove their affection for Geetha. As always, Geetha's father wants her to marry someone else, but only one lad succeeds in the end. While most of the movie involves bits and pieces of deadpan humor and the same old side-story of conservatism, Allu Arjun's performance, some kickass dance moves, and the songs are show-stealers of this movie. One shouldn't call themselves a diehard fan of Allu Arjun without watching 'Arya 2'.
13. Simhadri (2003)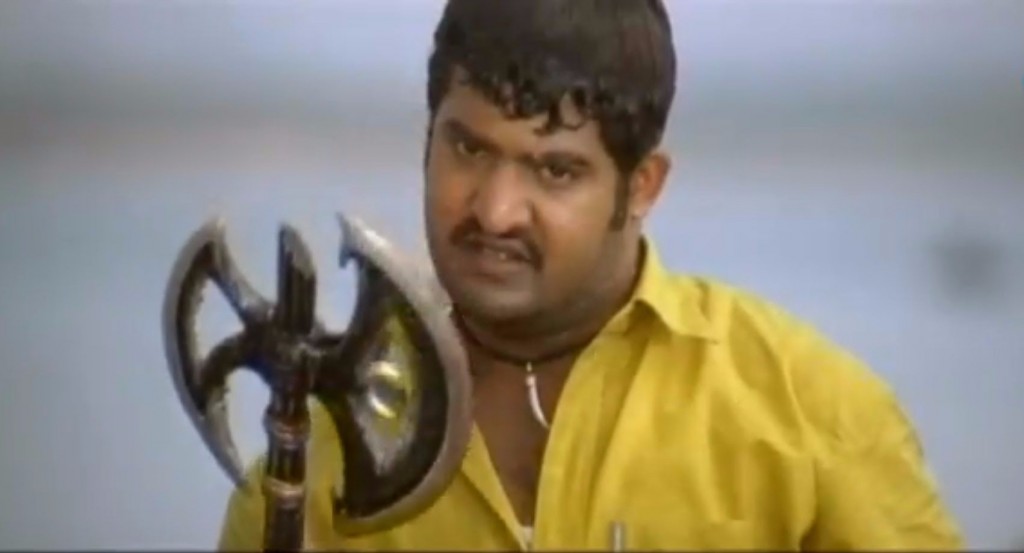 Director: S. S. Rajamouli
Genre: Action, Drama
Featuring: Jr. NTR as Simhadri/Singamalai, Bhoomika Chawla as Indu, Brahmanandam as Talupulu, Nassar as Ram Bhupal Varma, Ankitha as Kasturi
The only noteworthy mention of Jr. NTR on this list, 'Simhadri' excels in terms of its story, yet lags behind in many other departments, if I were to draw a comparison among all of Rajamouli's movies. Yet, 'Simhadri' figured in this list because of the originality of the script and the direction to start with. An adopted orphan turned hero, Simhadri embarks on a quest to unite his foster parents with their daughter and during the process, earns the nickname of Singamalai in Kerala. For those who love action, there are quite a few immensely satisfying bits of blood and gore. The rest of the stuff is merely tolerable I must say.
12. Vikramarkudu (2006)
Director: S. S. Rajamouli
Genre: Action
Featuring: Ravi Teja in dual role – Athili Sathi Babu and DCP Vikram Singh Rathod, Anushka Shetty as Neeraja Goswami, Brahmanandam as Duvva Abbulu, Baby Neha as Neha
Most of us might be rendezvous with 'Rowdy Rathore', the Hindi remake of 'Vikramarkudu' featuring Akshay Kumar. An all-in-all action movie, it is all about a petty thief named Athili Sathi Babu who looks exactly similar to DCP Vikram Singh Rathod, thus creating moments of confusion among goons, police and allies alike. As the movie progresses, Sathi Babu ends up masquerading as the DCP himself in order to fight crime and put a cap on all the mishappenings. Watch it for some powerful dialogues, bloodshed and fist fights, and intense confrontations – basically everything that Ravi Teja specializes in.
11. Seethamma Vakitlo Sirimalle Chettu (2013) | "The Jasmine Plant in Seethamma's Courtyard"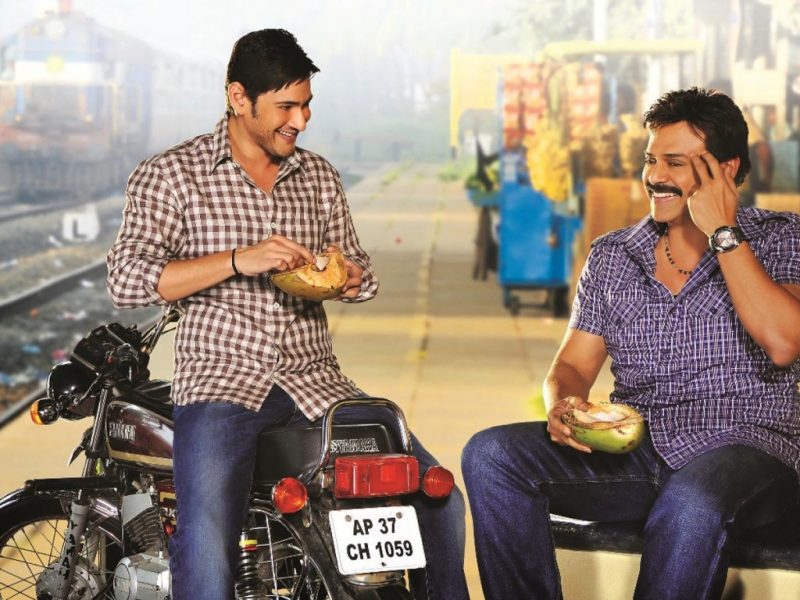 Director: Srikanth Addala
Genre: Drama, Romance
Featuring: Venkatesh as Peddodu, Mahesh Babu as Chinnodu, Samantha Ruth Prabhu as Geetha, Anjali as Seetha, Prakash Raj as Relangi Mavayya (Uncle), Tanikella Bharani as Kondala Rao, Kota Srinivas Rao as Brahmananda
A "Hum Saath Saath Hain" of Tollywood, but a few thousand notches better, SVSC comprises of a bunch of lengthy star cast entwined together in this unforgettable drama. Peddodu and Chinnodu (Literally meaning The Elder and the Younger one respectively), who are the unemployed sons of Relangi Uncle live with their mother, grandmother, Relangi Uncle himself, younger sister Chinni and niece Seetha in Relangi village. Like always, there's a side-story comprising Seetha's uncle and his well-to-do family, who can't stop boasting about his wealth and success and is jealous of the kindheartedness that Relangi Mavayya has. Overall, story or no story, SVSC is a saga of relationships, sharing bonds and why "good things happen only to good people".
10. Attarintiki Daredi (2013) | "Which path leads to my aunt's house?"
Director: Trivikram Srinivas
Genre: Drama, Comedy, Musical
Featuring: Pawan Kalyan as Gautham/Siddhu, Samantha Ruth Prabhu as Sashi, Pranitha Subhash as Pramila, Nadhiya as Sunanda, Brahmanandam as Baddham Bhaskar, Boman Irani as Raghunandan
The largest commercial success of Telugu cinema in terms of its BO collections until 'Baahubali: The Beginning' happened, 'Attarinktiki Daredi' is also Pawan Kalyan's biggest blockbuster till date. The premise revolves around an ailing, old businessman who regrets his life's choices and the consequences as a result. Gautham, his grandson promises to bring back Sunanda, Raghunandan's estranged daughter and his aunt, who was disowned by Raghunandan because of her marriage against the former's wishes. The storyline that follows is full of some good dialogues and tickling comic scenes, coupled with moments of flirt and romance and songs that were shot in exotic locations. 'Attarintiki Daredi' is more like an elongated alternative comedy with a few songs in between. A definite watch for Pawan Kalyan fans and a good to watch for those who want a taste of Telugu cinema in the comedy-musical genre. Kevvu Keka, people!
9. Athadu (2005) | "Him"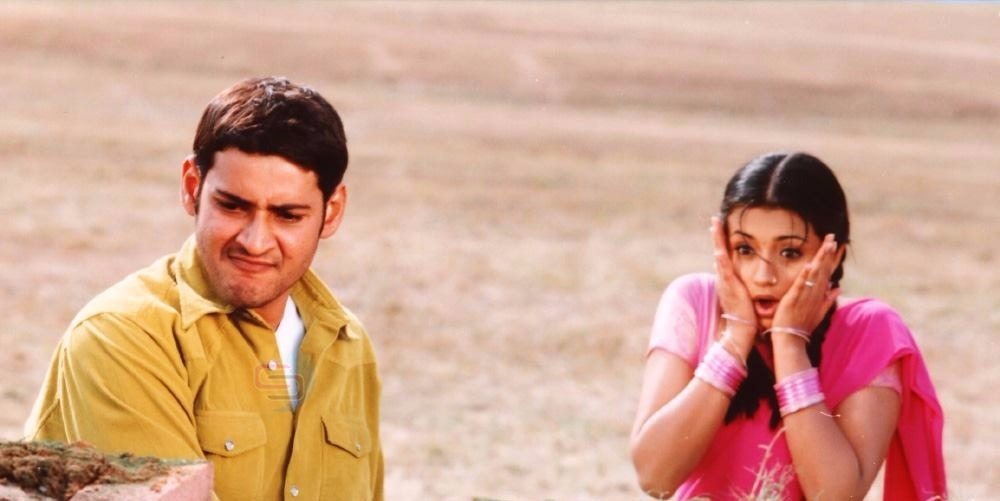 Director: Trivikram Srinivas
Genre: Action, Romance, Comedy
Featuring: Mahesh Babu as Nandu/Pardhu, Trisha Krishnan as Poori, Sonu Sood as Malli, Prakash Raj as Anjaneya
Definitely, 'Athadu' one of the timeless classics of Telugu cinema and my favorite movie of Mahesh Babu. An assassin Nandu, who's on the run, masquerades as Pardhu to the latter's family, in the event of Pardhu's death. Pardhu reveals his whereabouts to Nandu while they were on a train, on their way to Devarakota, Pardhu's native. Nandu decides to stay with Pardhu's family as Pardhu and deals with all of their troublemakers with an iron hand. CBI officer Anjaneya does his best at being a detective, adding a few tense moments in between. Malli, the antagonist, is apt at being the only match against Nandu's aggression and his no-compromise attitude. Add a naive Poori and an over-expecting family, 'Athadu' becomes one of the best action-comedy-drama films of Tollywood, with some really good songs and pleasantly satisfying action sequences. In the end, it is all about Him.
8. Bhale Bhale Magadivoy (2015) | "You're a strange man"
Director: Maruthi
Genre: Comedy, Romance
Featuring: Nani as Lucky, Lavanya Tripathi as Nandana, Murali Sharma as Panduranga Rao
A forgetful fickle-minded Botanist Lucky falls for Nandana, a dance teacher. His forgetfulness gets more chronic with time and he ends up being exceedingly good and giving with strangers and forgets everything as he moves on. As the saying goes "Do good and forget about it", so it happens with Lucky. Nandana's father Panduranga, who initially did not like Lucky because of his amnesia and was also the victim of it, ends up consenting for their marriage, after realizing about Lucky's honesty and kind heartedness, which he had been knowing all along. A perfectly executed comedy of errors, the title 'Bhale Bhale Magadivoy' has been derived from a 1978 song of the same name, which is also the ringtone of Lucky's phone in the movie. A light-hearted movie with the right script and right set of cast.
7. Magadheera (2009) | "Warrior"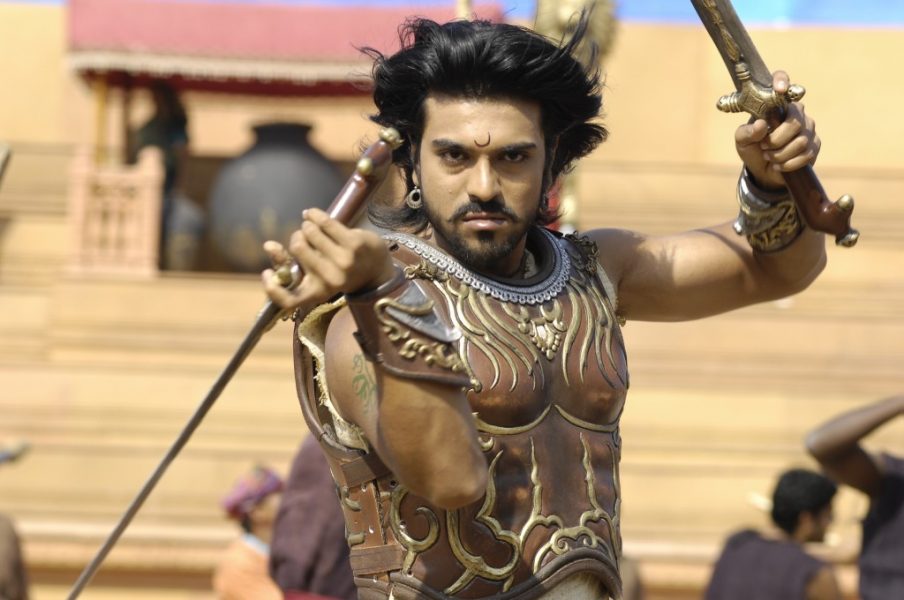 Director: S. S. Rajamouli
Genre: Fantasy, Action, Romance
Featuring: Ram Charan as Kala Bhairava & Harsha, Kajal Aggarwal as Mithravinda Devi & Indu, Dev Gill as Ranadev Billa & Raghuveer
Prior to 'Baahubali', 'Magadheera' was the only mentionable film in the Tollywood's 21st Century fantasy genre that's worth your time. Involving some decent CGI and some marvelous fight and battle scenes accompanied with a never-heard-before kind of story, 'Magadheera' primarily revolves around a stunt biker Harsha who gets to know about his past life of Kala Bhairava, the commander-in-chief of the army of Udayghad. Same goes with Indu who was the princess of Udayghad called Mithravinda and the love interest of Kala Bhairava. The antagonist Ranadev was the cousin of Mithravinda in the past life and also her murderer. The relationships and love-interests maintain their status quo in the present, with the only change being the backdrop and the means of war. 'Magadheera' truly pioneers some of the most rememberable breathtaking action sequences, humongous sets and is reminiscent of a wonderful storytelling. Rajamouli proves his true strengths with this one, like a trial run before 'Baahubali'.
6. Baahubali 2: The Conclusion (2017) | "The One with Strong Arms"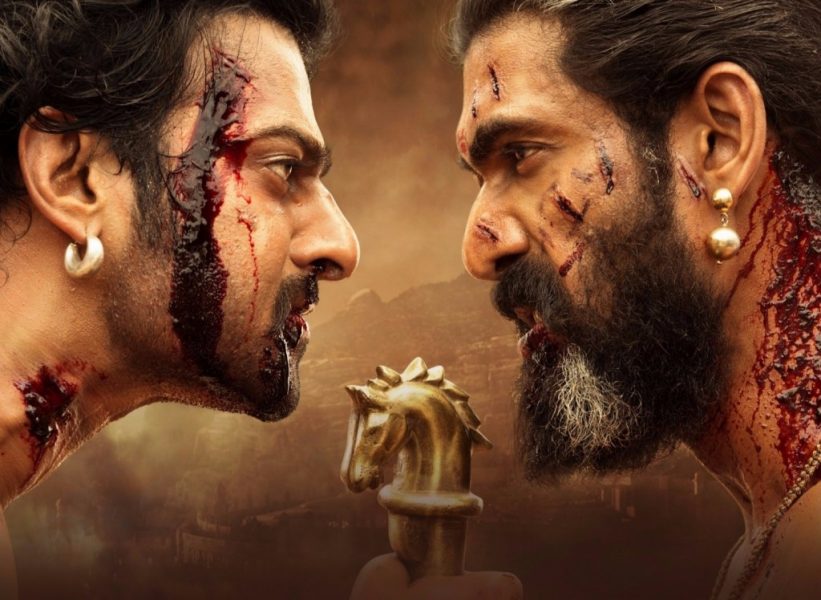 Director: S. S. Rajamouli
Genre: Fantasy, Action, War
Featuring: Prabhas as Amarendra Baahubali & Shivudu, Rana Daggubati as BhallalaDeva, Anushka Shetty as Devasena, Sathyaraj as Kattappa, Ramya Krishan as Shivagami, Tamannaah Bhatia as Avantika, Nassar as Bijjaladeva, Subbaraju as Kumara Varma, Meka Ramakrishna as Jayasena
Frankly, 'Baahubali 2' was Baahubali overdone at many places. Be it the action scenes or story, we do see some of those unnecessary overweening moments which we expected to be different or straightforward otherwise. Moreover, the reason why Kattappa killed Baahubali was prophecised by millions and one of them had to be true, even if almost entirely predictable.
With umpteen moments of cinematic blunders that were defying the laws of science and logic together, if 'Baahubali 2' deserves to be a part of this list, it is only because of the direction, the performances, the colossal sets and the music. Towards the end, the scene of Baahubali's murder answers all the "whats" and "whys" and doesn't leave us "completely" disappointed after all. Overall, even though a compromise, the movie brings closure to many long-overdue questions in a very subtle way, which was a good thing. 'Baahubali 2' is a rather passable watch as compared to its predecessor, unless you've been desperately longing for the second installment and for the reason behind the records it has made in terms of popularity, thus becoming one of the highest grossing Indian movies of all time
5. Vedam (2010) | "Chant"
Director: Radhakrishna Jagarlamudi
Genre: Hyperlink Cinema, Action, Drama
Featuring: Anushka Shetty as Saroja, Allu Arjun as Cable Raju, Manoj Bajpayee as Rahim, Manoj Manchu as Vivek, Deeksha Seth as Pooja, Saranya Ponvannan as Padma, Lekha Washington as Lasya
In terms of its storyline, 'Vedam' is beyond doubt a cinematic marvel and a milestone of Tollywood. Belonging to a very unique genre and standing tall among the likes of Dunkirk (2017), 21 Grams (2003), Pulp Fiction (1994) etc., 'Vedam' interrelates, touches, and drastically changes the lives of several people on one fateful night, with everyone, mainly the five primary characters ending up at the same place – a hospital, where a terrorist attack ensues. With an efficient screenplay and realistic portrayal of characters, 'Vedam' gets as captivating as it unfolds. A spellbinding experience, 'Vedam' definitely deserves to be on your must watch list of Indian movies, if you haven't watched it already.
4. Manam (2014) | "Us"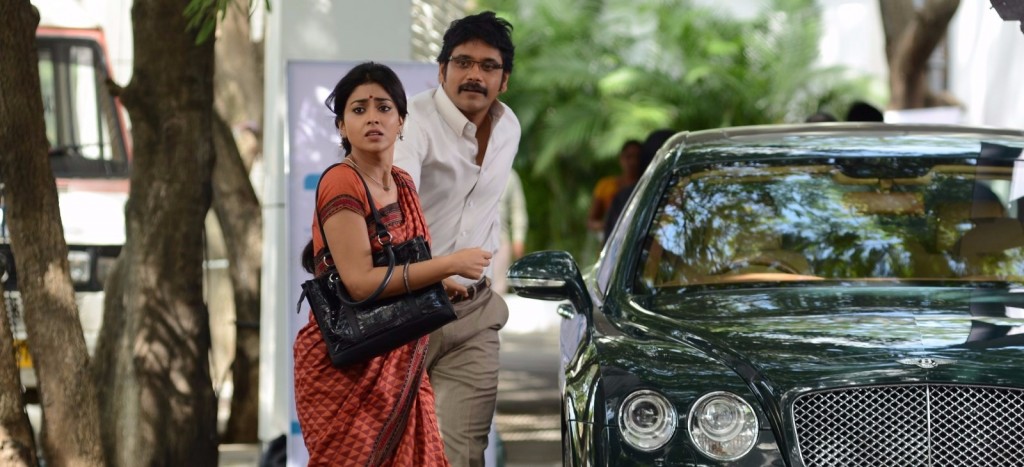 Director: Vikram Kumar
Genre: Drama, History, Fiction
Featuring: Akkineni Nageswara Rao as Chaitanya, Akkineni Nagarjuna as Bittu & Nageswara Rao, Akkineni Naga Chaitanya as Nagarjuna & Radha Mohan, Shriya Saran as Ramalakshmi & Anjali, Samantha Ruth Prabhu as Krishnaveni & Priya, Brahmanandam as Girish Karnad
A one of its kind movie that features real-life grandfather-father-son trio, with their real names swapped amongst one another in the movie for the characters they were playing, 'Manam' is a periodic film that dates back for three generations, with very unique characterizations and almost everyone except Nageswara Rao playing dual roles – one in the present and one in the past, with a lookalike in one timeline or the other. The entire movie runs across three different timelines, in three different years – 1924, 1983 and 2013 respectively, culminating by meeting with the same fate. Despite having so many characters and portrayals, 'Manam' won't confuse you at all, at any point in time – something that's indicative of wonderful storytelling and coherence. The highlights of this movie are obviously the characterizations, and the music, which stays with you eternally. 'Manam' is perhaps the best Tollywood historic family drama there is, till date. And an extremely tear-jerking at that.
3. Eega (2012) | "The Fly"
Director: S. S. Rajamouli
Genre: Fantasy, Action
Featuring: Nani as Nani/The Fly, Sudeep as Sudeep, Samantha Ruth Prabhu as Bindu
The special effects, even though rudimentary, deserve a special mention for this masterpiece. Perhaps only Rajamouli can make a fly (correction "The" Fly) act, behave, and avenge like a human. The plot, that starts with a father telling a bedtime story to his daughter, consists of a "reincarnated" fly, which seeks revenge against its own murder as a human. The human part is played by Nani, a fireworks expert. 'Eega' established Rajamouli as the ultimate storytelling wizard, and the movie became an undying example of how more could be achieved even out of fewer resources, thus paving the way to 'Baahubali'.
2. #Pelli Choopulu (2016) | "Matchmaking"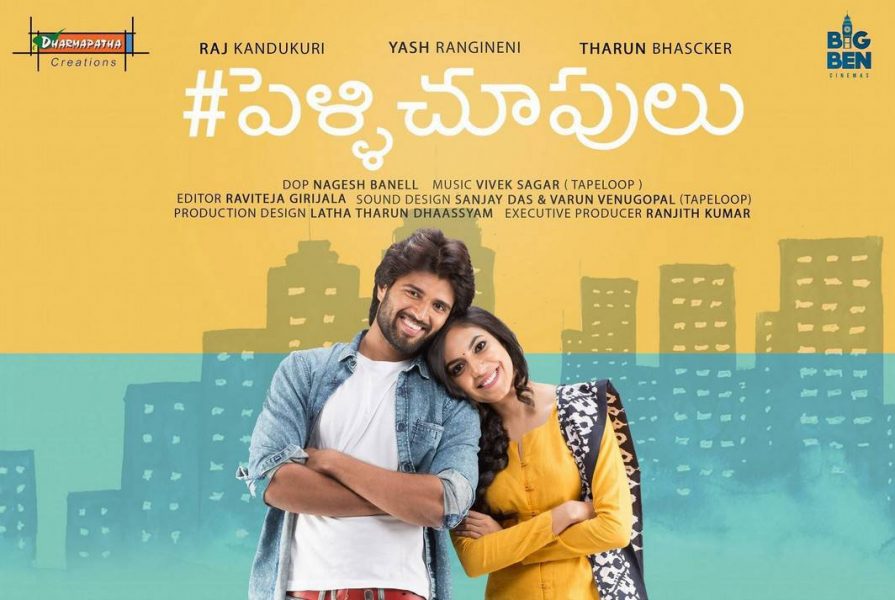 Director: Tharun Bhascker Dhaassyam
Genre: Romance, Comedy
Featuring: Vijay Devarakonda as Prashant, Ritu Varma as Chitra, Kedar Shankara as Prashant's father
A timeless gem of a movie, very well deserving of the National Award for Best Feature Film in Telugu. 'Pelli Choopulu' is intriguing, inspiring and refreshing, all at once, be it the script, the exemplary performances or the outstanding comedic moments, with a brilliant message towards the ending. Prashant, a jobless prospective groom, and a failed engineer, who is passionate about cooking, meets Chitra, an MBA, business-oriented prospective bride at a matchmaking at the latter's house, which should have happened elsewhere. Things don't work out on their career fronts because of lack of support from both of their families, which forces them to join hands and start a food truck business. Prashant does it to get married to a girl for a fat dowry paycheck from an affluent prospective father-in-law and Chitra does it to follow her passion to become a successful businesswoman.
As events unfold, we witness one of the most beautiful and practical love stories ever filmed on screen, while their business goes places with flying colors. The emotional impact this movie has is everlasting, in a happy, optimistic way. Special kudos to the supporting actors for their stupendous comic timings. My personal favorite on this entire list, this movie is a must watch to be party to a tearful, cheerful yet mind blowing venture. And mind you, 'Pelli Choopulu' isn't just about matchmaking.
1. Baahubali: The Beginning (2015) | "The One with Strong Arms"
Director: S. S. Rajamouli
Genre: Fantasy, Action, War
Featuring: Prabhas as Amarendra Baahubali & Shivudu, Rana Daggubati as BhallalaDeva, Anushka Shetty as Devasena, Sathyaraj as Kattappa, Ramya Krishan as Shivagami, Tamannaah Bhatia as Avantika, Nassar as Bijjaladeva, Prabhakar as Kalakeya's Chieftain
The first ever Telugu-language movie to win the prestigious National Award under the "Best Feature Film" category in 2015, 'Baahubali' truly brought Telugu filmmaking at the World Arena and proved itself to be a strong contender in an otherwise largely underrated film industry. Baahubali taught us many lessons ranging from filmmaking and mythology to CGI and screenplay. What was utterly pleasing was the cost-effective CGI, the scale of the sets and the action sequences including the battle scenes, which were comparable with many Hollywood counterparts, to a larger extent. The cliffhanger in the end and the storyline, when put together, 'Baahubali: The Beginning' stands out to be one of the most successful, stylish and significant magnum opuses ever made. Thanks to Rajamouli and his team of creative geniuses, no other filmmaker can reach the zenith of this marvel for some time to come. Now repeat after me, "Jai Mahishmati !!!"
Read More: Best Telugu Actors