5. Goodbye Michael (Season 7 Episode 22)
Steve Carrel left the show after season seven. Beleive you me, the show ran for two seasons more and it almost felt hollow inside. To commemorate his departure, the creators made an episode depicting Michael's emotional goodbye. While he doesn't disclose it to anyone, Jim and Pam get a wind of it and bid goodbye. I literally cried during his end, and his parting words ("That's what she said") just made me die with laughter. It is how much Michael loves the office and more importantly the people in it is what brings the viewer to tears. The ending of the previous episode too was really special when Michael proposes to Holly and she accepts.
4. Company Picnic (Season 5 Episode 26)
Michael and Holly meet at the annual company picnic after their forced separation. Holly arrives with her boyfriend, making Michael uncomfortable, while in the background there's a competition between corporate and the Scranton branch in a game of volleyball. The episode is reminiscent of Holly and Michael's relationship and in many ways shows how much Michael loves her. Filled with amazing one-liners and weird introductions, the episode entertains and is certainly one of the best.
3. Finale (Season 9 Episode 24)
How can a final episode of any television show that's been running for nine seasons not be emotional? All things said it was Michael's two-minute cameo and his entry with "That's what she said" which became the highlight and stole the show. The story behind it is even more emotional and amazing. No one on the cast knew that Steve Carrel was making an appearance apart from John Krasinski (Jim Halpert). Dwight's reaction is the actor playing him, Rainn Wilson's actual reaction to seeing his old castmate again. Just Dunder Mifflin things!
2. Stress Relief (Season 5 Episode 13)
This episode is often cited as one of the best of the series. And for good reason too. Dwight, fed up with his colleague's ignorant behavior towards his safety demos, intentionally starts a fire in the building. Chaos and destruction follow as the people are caught unaware of Dwight's plans. Stanley, in the process, suffers a heart attack and prompts corporate to reprimand Dwight and Michael. Everything the characters do is special and insanely funny. Certainly one of the best episodes!
1. Frame Toby (Season 5 Episode 9)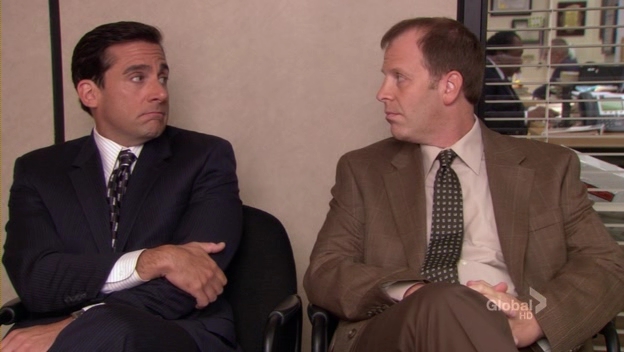 Oh, this one. That moment when Michael sees Toby again is a meme that's immemorial. The show starts off with Toby's unexpected arrival in the office two weeks prior to Michael delivering it. The background sees Pam stand up to a person who leaves the microwave unclean and Jim buying his parent's house without Pam's approval. 'Frame Toby' is special, not only for Michael's famous reaction and the general feel of the show but also for the moments that the people share and make it vulnerable. The fifth season remains the best seasons not only in 'The office's history, but also an example for modern sitcoms to follow and try to emulate what this wonderful show did.
Read More: Best Rick and Morty Episodes