In the process of filmmaking, directors across the globe take cinematic liberties to narrate their stories so as to give them a realistic feel. Since filmmaking is a very lengthy process, sometimes there are obvious mistakes in the continuity of scenes and at other times, these cinematic liberties turn out to be factual errors that stare right in the face of the audience!
Some filmmakers have such glaring mistakes in the narration that it is impossible to let them go. So, here is the list of 15 Bollywood movies that committed mistakes and we failed to notice at first.
15. PK (2014)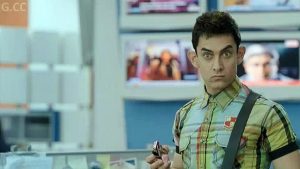 This Rajkumar Hirani film was replete with mistakes, which we simply couldn't ignore. But the one that was hard to digest was when Aamir Khan's character is taken to a whorehouse, where he learns the common tongue from a sex worker. PK holds her hands for a good six hours so that he could transfer her language into his own database. He learnt the Bhojpuri language alright, but a while later he is unable to comprehend what a condom is! Does a sex worker not know why a contraceptive is used? We need answers, Mr. Hirani!
14. Bhaag Milkha Bhaag (2013)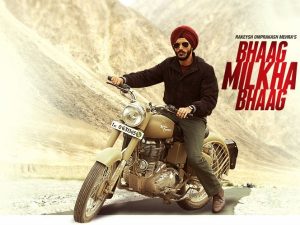 This biopic, based on India's sprinter and multiple gold medal awardee, was set between the late 40s and early 60s. Director Rakeysh Omprakash Mehra made sure every character, along with the background, gave the film an aura of the era gone by, yet there are certain glaring mistakes that cannot be forgiven. While Milkha Singh in reality has only broken his personal running record, he has never set an Olympic or World record as implied in the film. Also, the Royal Enfield that Milkha rides in one of the scenes is a 2012 model. Wonder how they time travelled in the future to get a bike to take back in the 60s?!
13. Krrish (2006)
While we all loved the franchise and rooted for India's very own superhero Krrish, we cannot forgive director Rakesh Roshan for coming up with such a huge blunder that even a school-going kid could point out. The film shows Hrithik Roshan's character in Singapore for two years, busy developing a program for Naseeruddin Shah to see the future. Back home in India, his mom Rekha breaks the news of his wife's pregnancy to him over the phone. We wonder how the 'supermom' Nisha managed to be pregnant for two full years! I'm guessing either Nisha was cheating on Rohit or may be Jadoo was at play here too!
12. RA. One (2011)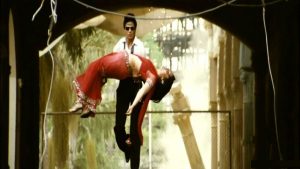 This Shah Rukh Khan movie narrates the story of a Tam-Bram game designer, who accidentally creates an arch nemesis that is difficult to tackle. While the Anubhav Sinha directorial had some easy-on-the-eyes VFXs, there were a lot of loopholes in the screenplay that did not go down well with us. When Ra. One kills Subramanium, his wife gives him a Christian funeral but later we see Kareena doing an asthi visarjan! How is that even possible? Also, in the climax scene, the local train starts off from Bandra, chugs on to reach Vile Parle and then stops at CST, reducing it to a pile of dust. Did you not learn your Geography well, Anubhav?
11. Dilwale Dulhania Le Jayenge (1995)
The cinematic masterpiece too has its fair share of bloopers. Remember the scene when SRK is stuck in a train compartment with Kajol? When the seemingly miffed Simran's luggage falls open, she makes sure she picks up every tiny bit of thread she can find, yet we see the flirty Raj pulling out a bra from underneath! Also, before Tujhe dekha song comes on, we see Simran standing in a lush green field of grass, yet in the immediate next shot, we see the duo romancing in a mustard field! And did you notice towards the climax, just before the iconic train scene, the name of the station behind reads Apta, a place close to Mumbai. And all this while we thought they were in Punjab… our whole life was a lie!