NBC's 'Dateline: Someone Was Watching' chronicles how a former cop, Blair Christopher Hall, murdered his 46-year-old wife, Cristi Hall, on their Calimesa, California, property in June 2007. The authorities arrested him immediately, but it took over five years and two trials before he was brought to justice. If you're interested in knowing more about the case, including how the killer was caught and his current whereabouts, we've you covered. Let's dive in then, shall we?
Who Is Blair Christopher Hall?
Cristi Lynne Carlton Hall was born to Phyllis and William Carlton in Fort Lauderdale in Broward County, Florida, on November 30, 1960. She grew up in Southern California with three brothers — William Jr., Scott, and Lance — and one sister, Cathy. After graduating from Pacific High School in San Bernardino, she fell in love and married Blair Christopher "Chris" Hall at 17. Together they raised three daughters — Courtney, Briana, and Ashtin Hall — and resided in Calimesa, California, in June 2007.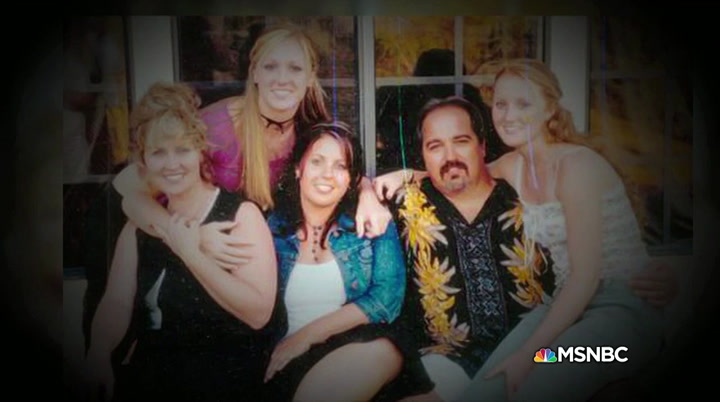 According to reports, Chris resigned from the San Bernardino police force in 1994, citing an accidental gunshot wound in his leg amidst an undercover operation. Since then, he had worked for two police departments in Idaho and was convicted of embezzling $19,000 from a drug task force fund in 2000. He reportedly did not serve any time for the felony and returned to the Inland area to run a private records search company. Meanwhile, her spouse worked hard to become a radiologic technologist and worked for Arrowhead Regional Medical Center.
Cristi's colleagues and community members regarded her as hardworking, outgoing, and family-oriented. Cristi's family claimed she had a wonderful marriage and a fabulous relationship with her husband and daughters. On any day, one could find her decorating her home and garden or traveling with her husband to support any of their daughter's numerous events. However, 46-year-old Cristi's life met a tragic end when her husband, Chris, alleged she accidentally slipped and drowned in a hot tub on June 7, 2007.
According to Chris, he and Cristi were using the hot tub behind their Calimesa home to wash because their master bathroom was being renovated. The prosecution argued he grabbed her and slammed her head twice into the tub's cement edge, causing two deep lacerations. Chris allegedly pinned her elbows and hands behind her back and plunged her underwater. However, the next-door neighbor and witness, Lindsay Kay Patterson, testified Cristi screamed once, leading her to peer through a hole in the 6-foot wall separating the two properties.
Lindsay testified she witnessed Chris pressing his wife's back and head with her head underwater and initially thought the married couple was being intimate. However, she decided to peep once more to see whether everything was fine and alleged seeing Chris leaning back in the water, seemingly relaxed. Lindsay claimed Cristi was not in sight until he allegedly dragged his wife's dead body out of the Jacuzzi a few minutes later. Chris alleged he entered the house to use the bathroom and returned to find his wife unconscious in the water.
Where Is Blair Christopher Hall Now?
Blair Christopher Hall claimed he performed CPR, but Cristi was unresponsive. He dialed 911, and the medical respondents rushed her to a Banning hospital, where she was pronounced dead on arrival. The prosecution's forensic pathologist, Dr. Mark Scott McCormick, testified Cristi suffered from a "constellation of injuries," indicating foul play. He noted the hemorrhaging in her eyes and mouth, the lacerations, abrasions, and contusions on her head, face, and arms were consistent with homicidal drowning.
While Chris' defense attorney differed about the injuries, the prosecutors contended his DNA found under his wife's fingernails and scratches on his body were consistent with defensive injuries during a struggle. Deputy District Attorney Burke Strunsky claimed, "With spousal homicides, essentially the only people who know what happened are the killer and the victim. It's hard for a jury to believe this was a victim of misfortune. The prosecution alleged the motive behind the murder was her $800,000 life insurance policy.
Chris was tried for first-degree murder in 2010 but ended in a mistrial when jurors deadlocked 8-4 in favor of guilt. He again went on trial in 2011 and was found guilty of first-degree murder on May 31, 2011. The former police officer, free on $1 million bail, was immediately taken into custody by Riverside County sheriff's deputies. A judge sentenced the 52-year-old to 25 years to life on July 22, 2011. He proclaimed his innocence and stated, "Cristi was my lover, wife, and best friend, and I miss her terribly. I never hurt Cristi."
He continued, "As much as I wish and know I shouldn't be sentenced here today, the worst day of my life has already happened. That was June 7, 2007." His three adult daughters publicly stood by him, and the oldest, Courtney Hall, stated, "We know this man, our dad, better than anyone. His wife and children were his whole world. We have been astute jurors ourselves and wholeheartedly disagree with the verdict. We lost our mother. Now we're losing our father."
However, Cristi's brother, Billy Carlton, agreed with the sentencing and described the family's feelings after losing Cristi. He claimed, "But it could never equal the suffering my sister must have gone through at the hands of Chris Hall. She died a horrible death. Chris Hall deserves no leniency." Chris' defense filed an appeal in 2017 but was turned down. According to official court records, the 68-year-old is serving his sentence at the Richard J. Donovan Correctional Facility. His inmate records state he will be eligible for parole in September 2028.
Read More: I-70 Killer: Who Were His Victims? How Many People Did He Kill?