War Movies have always been a special niche liking of Bollywood's mainstream audience. Well, that and India Vs. Pakistan cricket match. On a serious note, there have been plenty wars — more often than not with our neighboring countries — that have left their marks on the soul of this country. There have been deep sociological as well as psychological impacts of these on the popular consciousness of the Indian society. Naturally, Bollywood has picked up on these trends and tried to portray these wars on the silver screen. Some have been good, some bad, and some brilliant. Today we present to you the list of best Bollywood movies based on war.
15. Ab Tumhare Hawale Watan Sathiyo (2004)
Starring Amitach Bachchan, Akshay Kumar, and Bobby Deol this movie is an ensemble production based on a fictional terrorist attack on the famous Amarnath temple. It has various plotlines happening concurrently and parallel to the main plotline of some terrorists planning to attack the holy temple. Major Rajeev Singh (Akshay Kumar) an officer of Indian Army is Missing in Action leaving behind a newly wedded Shweta Singh (Divya Khosla). Captain Kunal (Bobby Deol) grandson of a war veteran falls in love with Shweta, planning on leaving everything for her including his duty to the country. Revolving around a disappointed grandfather, a choice selection of love stories, and a sinister plot to induce political unrest in the country this war movie is a full package of entertainment.
14. Deewar (2004)
A story not about what war entails but what it leads to. Welcome to an army prison in Pakistan where Indian soldiers from the 1971 War have been held captive. Major Ranvir Kaul (Amitabh Bachchan) and 30 of his fellow Prisoners of War face off every day with the jailor Sohail (Kay Kay Menon) who despises the Pakistani government for keeping them alive. A ray of hope comes in the form of Major's son Gaurav (Akshay Khanna) who informs them of a plan to take them out of prison secretly. What ensues is a brilliant prison break plan and an equally entertaining movie. A different movie with a focus on the untold repercussions of war.
13. Tango Charlie (2005)
An unorthodox film on quite a few fronts. Firstly instead of focusing on a contingent of the Indian Armed Forces, Tango Charlie weaves the story of one soldier Tarun Chauhan (Bobby Deol) who gets stationed on four different battlefields around the country. Secondly, instead of concentrating solely on the Indo-Pakistan Border as every other war movie does, it tells of many other battles being fought across the country. Alongwith the Pakistan border, Tarun is stationed to serve amidst Naxalites in Andhra Pradesh, handle Hindu-Muslim riots in Gujarat, and fight rebels in the North-East. The moral: There are many anti-social groups in India aside from the terrorists who end up on the wrong side of the law, resulting in a country getting torn from inside.
12. War Chhod Na Yaar (2013)
One of the few movies to take a comedic stance on the India-Pakistan issue. Starring Sharman Joshi and Javed Jaffrey, this war movie tells the tale of two battalions each of Indian and Pakistani army stationed on the Line of Control. The film uses witty jokes, dark humor, and spot-on comic timing by the two protagonists to throw a spotlight on the issues of War. To solidify its point and moral henceforth it shows how the battalions of the two nations, however different, deal with day to day matters in a similar way. And ultimately get betrayed by the true villains: the bureaucrats and politicians.
11. The Ghazi Attack (2017)
Almost every war movie made in India and perhaps the world focuses on the Army perhaps for obvious reasons; they are the most involved ones in a war situation. This offbeat but brilliant movie proves itself an exception and focuses on the Indian Navy. Set during the 1971 India-Pakistan War, it is based on the mysterious sinking of PNS Ghazi, a submarine owned by Pakistan navy. Starring Kay Kay Menon, Rana Daggubati, and Taapsee Pannu although this movie didn't run that well on the box office, it was widely appreciated by critics all over especially for the exquisite acting portrayed by the lead three.
10. Rangoon (2017)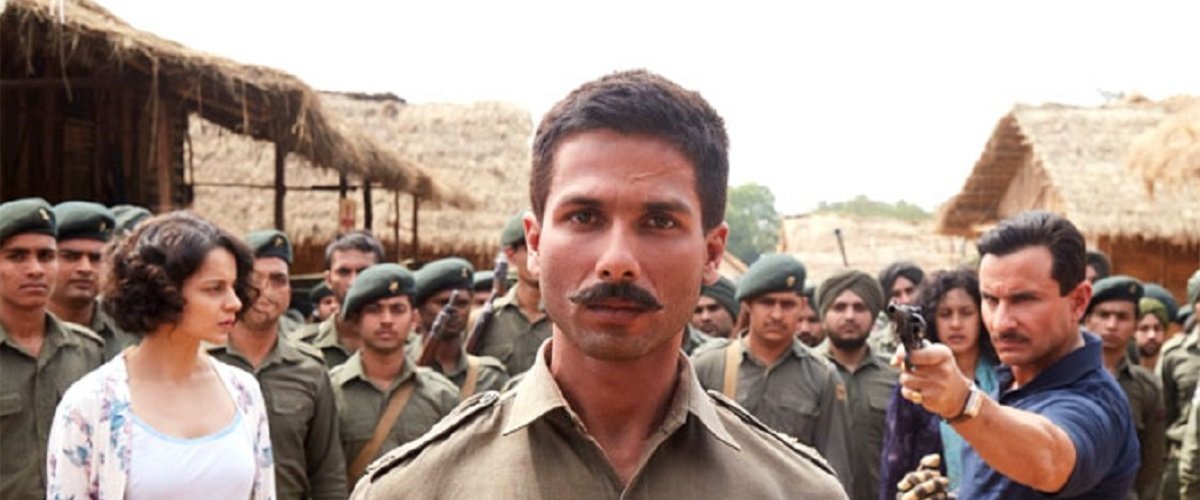 Vishal Bhardwaj's 'Rangoon' may not match up to his other films but it is still quite a respectable effort considering the film required such an epic storytelling. If you have an eye for aesthetics, detailing and a taste for overlooked history then 'Rangoon' is just the right film for you. The virgin locations of Arunchal Pradesh, a haunting background score and excellent cinematography lends the film a melancholic tone which works in its favour as it tells a tale of love, betrayal and war. Definitely most ambitious Vishal Bhardwaj film to date.
9. LOC: Kargil (2003)
A true rendering of the 1999 India-Pakistan battle, this war movie portrays a step by step account of how the Kargil War happened, the reasons behind it, and how it ultimately played out. Consisting of a plethora of famous Bollywood superstars including Sanjay Dutt, Ajay Devgan, Sunil Shetty, and Saif Ali Khan it intricately describes when two nations fall into war; how it affects the residents as well as the smallest members of the army. The film weaves a beautiful story of martyrs like Captain Vikram Batra and Manoj Pandey, who didn't flinch in front of death for their country.
8. Yahaan (2005)
Gone are the days when Kashmir was called 'Heaven on Earth'. This movie tells the ugly truth which exists in today's era. On one side are the terrorists who are bent on destroying the peace of the valley and fulfilling their selfish intentions. On other side is the Indian Army who are bound by duty to go to any extent, when it comes to extracting valuable information about the enemy. In the middle constantly struggling with their life are the Kashmiri residents who are harmed regardless of which side they choose. In between all this, we see a love story between an army official Aman (Jimmy Shergill) and a local Kashmiri resident Adaa (Minissha Lamba). A story about the constant tussle between two fundamental forces of society: freedom and patriotism.
7. Mission Kashmir (2000)
Terrorists are always viewed as people with wrong purposes and misdirected thinking. This war movie tries to display the other side of the coin by showing how a terrorist is created. The film starts with a perfectly happy family in Kashmir who lose all they have leaving behind a defenseless child. This child is then brain washed by a man with evil intentions. He grows out to be an adult with misdirected anger. Planning on redemption for his family's death but acting as a puppet in a sick man's plan, he attacks Kashmir in a hope to escape the perils of his past. The only hope to stop him is to remind him of the family he still has left.
6. Shaurya (2008)
Inspired by Tom Cruise's 'A Few Good Men', the movie Shaurya focuses on the bureaucracy and corruption that exists in the Indian army. When Captain Javed Khan (Deepak Dobriyal) of the Indian Army kills his commanding officer Major Rathod, there is a Court Martial initiated against him. For his lawyer Major Siddhant Chaudhary (Rahul Bose) the issue seems very straight forward, but as he delves further he finds that there is a greater controversy at work. As he investigates further and gets to the bottom of the issue we get ourselves a brilliant courtroom drama with a backdrop of the Kashmir conflict and some relentless acting by Kay Kay Menon.
5. Airlift (2016)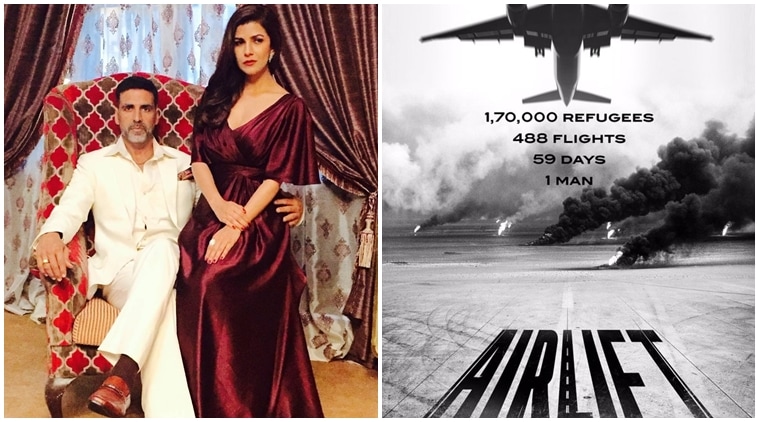 One of the recent movies of Akshay Kumar which mark his latest and perhaps most successful career stints, Airlift gives a new definition to the phrase 'War movie'. Based on the 1990 invasion of Kuwait by Iraq and thematically similar to Ben Affleck's Argo, this film portrays how two lakh Indians were stuck in a war zone after the Kuwait invasion ensued. It revolves around a true story about the trials and tribulations of those Indians with a particular focus on the ones who were instrumental in safely extracting those people out of Kuwait. Airlift weaves a story out of the largest and the most successful evacuation done by a country in the event of a crisis.
4. 1971 (2007)
The film is based on true story of 6 brave soldiers who escape from the clutches of the Pakistan Army and risk death with honour and courage with sacrifice towards their journey home. One of the underrated war films, '1971' deserves the place so high on this list due to its gritty execution and solid rendering of a heartbreaking story of sacrifice.
3. Haqeeqat (1964)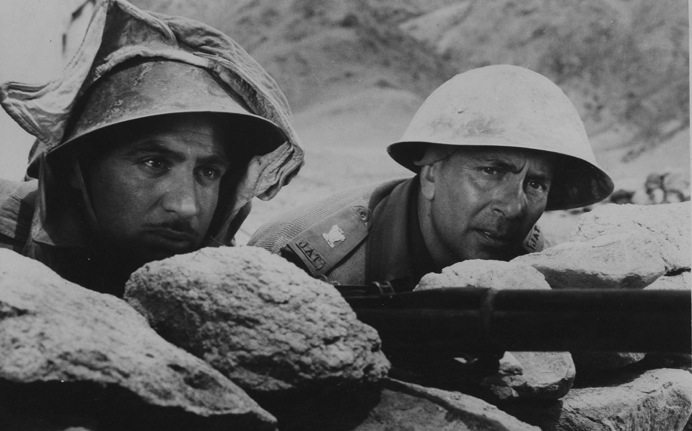 Set against the Sino-Indian War of 1962, Haqeeqat revolves around a small platoon of Indian soldiers in the hilly terrain of Ladakh who are considered dead but are rescued by Ladakhi tribesmen and by a Captain of Indian Army. They are asked to retreat from their post (chowky) as the Chinese have surrounded them. In the end all of them die fighting for their country. Haqeeqat is well known for its patriotic songs. The film itself also holds up quite well even to this day.
2. Lakshya (2004)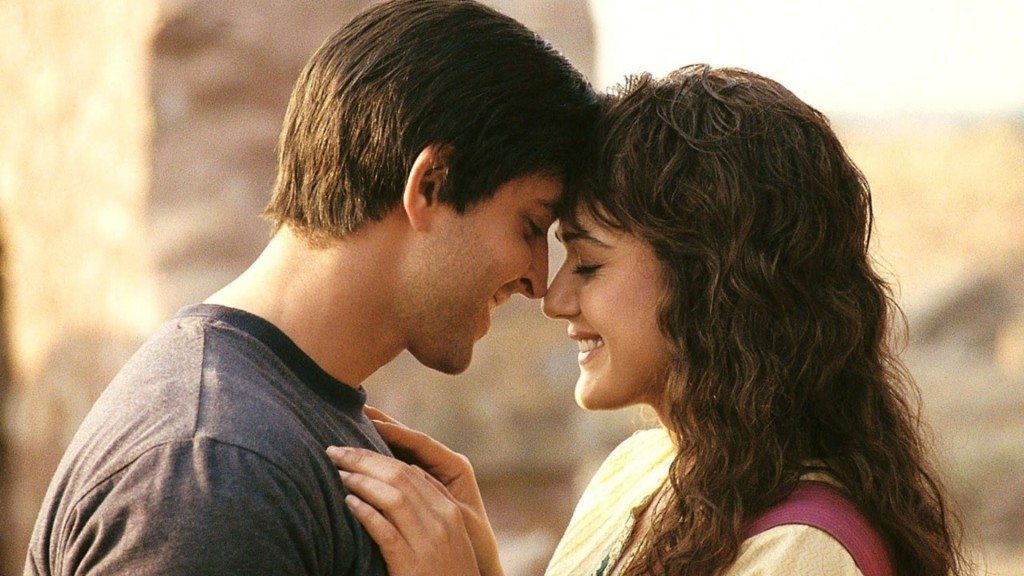 Lakshya tells the story of Karan Shergill (Hrithik Roshan), an aimless and irresponsible man who is confused about what he wants to do in his life. A careless joke and a bitter breakup makes him steel his resolve and join the Indian army. After that, he doesn't stop. He sets off with a target, a Lakhsya in his mind: saving his motherland from any one who would see it harmed. The acting portrayed by Hrithik Roshan and Preity Zinta in this movie mixed with soulful music and a fictionalized backdrop of the 1999 Kargil War makes this film a complete package for any fan of the genre.
1. Border (1997)
Based on the real story of Kuldeep Singh Chandpuri (Played by Sunny Deol) and the famous Battle of Longowala of 1971 fought between Indian and Pakistan, this movie erases the boundaries between war, love, and compassion. The plight of a soldier sitting on the border thinking about his family and that of his family waiting for their only child to come back; this movie encompasses it all. The entertainment quotient of this film rests on the spectacular acting portrayed by early Bollywood giants like Sunny Deol, Sunil Shetty, Akshay Khanna, and Jackie Shroff, as well as some soulful music by Anu Malik and Aadesh Shrivastava. This one is sure to bring the patriot out of you.
Read More: Best World War II Movies