Season 7 of 'The Great British Bake Off' whisked up excitement in the world of baking. With the dynamic duo of judges Paul Hollywood and Mary Berry and the ever-entertaining hosts, Sue Perkins and Mel Giedroyc, it featured a fresh batch of 12 amateur bakers. These contestants brought their A-game to the tent, facing a medley of scrumptious challenges. The seventh season was a true test of skill and creativity, making it a delightful watch for baking enthusiasts. Ultimately, Candice Brown emerged as the victor of the season, capturing the title with her exceptional baking talents and innovative flavors. If you're eager to delve deeper into her journey and sweet triumph on the show, we have all the details for you.
Candice Brown's The Great British Bake Off Journey
Candice, hailing from Barton-Le-Clay in Bedfordshire, had a lifelong affinity for cooking that began in her childhood. As a young girl, she would eagerly pull her chair alongside her grandmother whenever she was in the kitchen, offering her assistance and soaking in the culinary knowledge. Her passion for cooking, especially baking, persisted throughout her formative years and early adulthood. However, it had always remained a cherished hobby rather than a career aspiration. Her life took a significant turn when she decided to audition for the sixth season of the show. Before this pivotal moment, she had been working as a PE teacher for children with special education needs, a demanding and challenging job.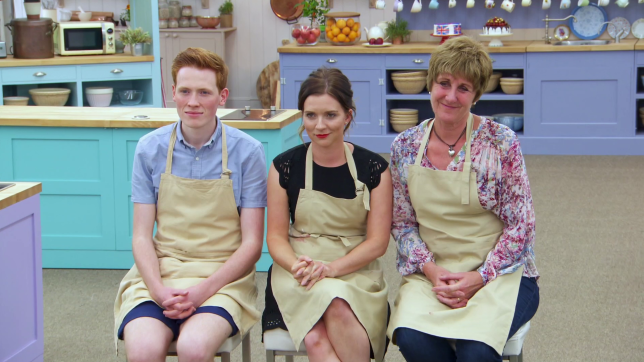 Cooking had always provided her with solace and a creative outlet amidst the rigors of teaching. Her decision to audition marked a transformative step in her journey, and since then, Candice has soared to new heights in the culinary world and has not looked back since then. In the opening episode of her memorable season, Candice showcased her baking prowess by crafting a delectable Raspberry and Rhubarb Drizzle Custard Bundt Cake and a visually stunning Mirror Glaze Cake. Her talent and creativity immediately left a mark on the judges and viewers alike.
Candice's impressive run continued into the third episode, where her Chocolate, Salted Caramel & Pecan Brittle Brioche Loaf and Italian Light and Dark Rye Twist garnered high praise from the discerning judges. What truly set her apart was her unwavering dedication and consistent performance throughout the competition. Her focused and determined approach became her hallmark, allowing her to shine brightly on the show. Her breakthrough moment came in the eighth episode of her season, where she had the chance to shine brightly among her fellow competitors.
She captured the coveted "star baker" title with her impressive creations, including the Cheesy Cheeky Fish Pies and a show-stopping Peacock 3D Marchpane Cake. Her remarkable journey continued into the finals, which revolved around the theme of a royal picnic. Candice's imaginative and skillfully executed creation, a Picnic for Pearly Kings and Queens, caught the judges' attention and secured her the title of the season's winner. She emerged triumphant, leaving Andrew Smyth and Jane Beedle as worthy runners-up. Candice's consistent dedication and creative flair made her a standout contestant on the show.
Where is Candice Brown Now?
Following her triumphant victory on the show, Candice Brown decided to leave her job and wholeheartedly pursue a full-time career in baking. She channeled her culinary expertise into authoring two cookbooks, 'Happy Cooking' and 'Comfort: Delicious Bakes and Family Treats,' which have been well-received by fans of her delicious creations. Her talents found a platform on television, as she showcased her baking skills on programs like 'This Morning' and 'Christmas Kitchen.' Candice's culinary influence extended to her role as a contributor to the Sunday columns of The Times, where she continued to share her culinary insights and recipes.
Candice's captivating presence in the entertainment world led her to make appearances on shows like 'The Great New Year's Bake Off' and 'Dancing on Ice' in its tenth season in 2018. She also participated in and triumphed in 'Celebrity Mastermind.' Candice even ventured into the world of panel discussions as a guest panelist on 'Loose Women.' Additionally, she expanded her horizons by starring in the 2020 film 'Love Sarah,' alongside acclaimed actress Celia Imrie.
Beyond her culinary pursuits, Candice has become a vocal advocate for mental health, bravely sharing her struggles with conditions like depression and PTSD. In an interview, she emphasized the importance of openness and kindness in addressing mental health challenges, stating, "I have days where I don't want to get out of bed because of depression and PTSD and triggers and things like that. But I'm very good at giving advice and talking to people, and it's so important to be yourself and be kind. I've started speaking about it recently and it's started opening up these conversations. I think that's how times are changing now. People are having more open conversations now."
Candice has embarked on an exciting venture by co-running the Green Man pub in Eversholt, Bedfordshire, alongside her brother. This endeavor is nothing short of a dream come true for her, allowing her to explore her passion for food and hospitality. On the personal front, Candice went through a significant life change when she split from her husband of less than two years, Liam Macauley, in 2020. She has since found love and fulfillment in her relationship with Nicky Merce. As she continues her journey, we wish Candice all the best in her endeavors and hope that she finds everything she is seeking in the years to come.
Read More: Frances Quinn: Where is The Great British Bake Off Season 4 Winner Now?