Netflix's 'Tiger King' is unlike anything you will ever watch. The seven-part true-crime docuseries centers the rise and fall of Joe Exotic, the former owner of G.W. Exotic Animal Memorial Park, who once claimed to be the biggest tiger-breeder in the country. While the gun-toting, mullet-sporting, Joe Exotic, is certainly amongst the most eccentric people you'll ever come across. It was in Carole Baskin that he found his fiercest and most vocal rival. After all, she was one the who ultimately dethroned the Tiger King.
Carole Baskin, labelled "the Mother Theresa of Cats", is an animal activist, and the owner of Big Cat Rescue. The heated feud between Carole and Joe is one of the focal point of the series. But the series also explores so much more about each individual with its expansive portrayal of private ownership of big cats. So who is Carole Baskin really? And where is she now? Read on to find out.
Who is Carole Baskin?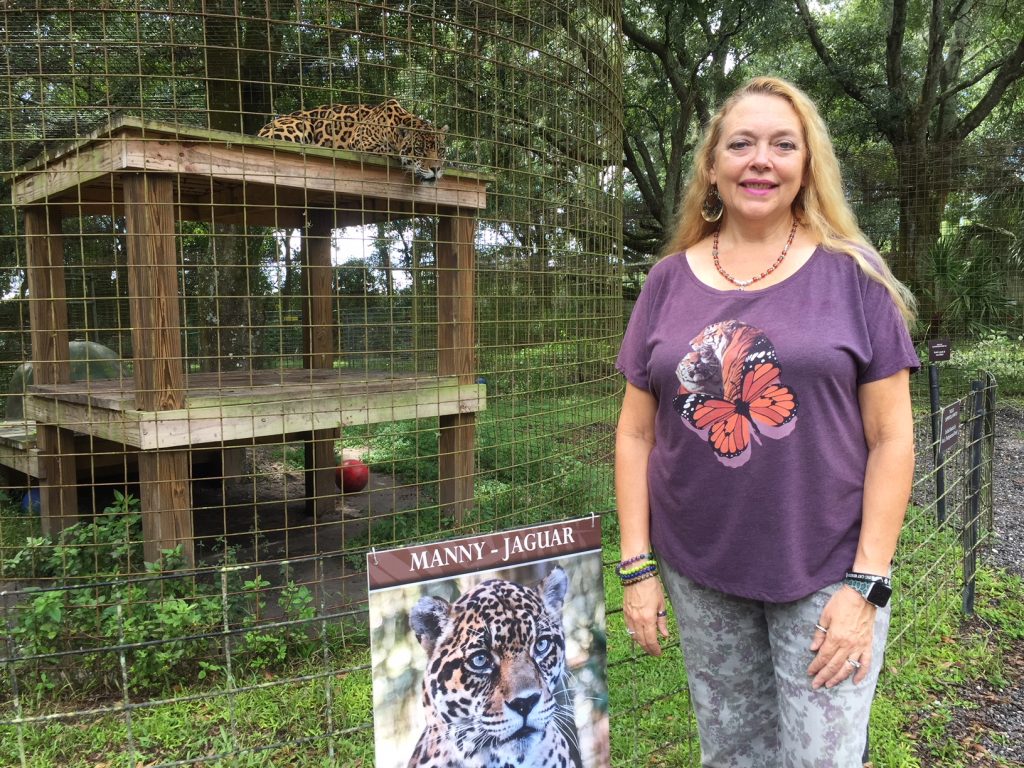 Carole Baskin was born as Carole Stairs in San Antonio, Texas, and raised in Florida, in a not so well-off household. She always loved cats, and took care of several strays while growing up, and dreamt of being a veterinarian someday. The third episode of 'Tiger King', titled, "The Secret" focuses on Carole's past. In it, Carole reveals that she was raped at knife-point by three men when she was 14. Coming from a "fundamental Christian" family, she was shamed for it, and eventually ran away from home at 15.
Carole then started working in a department store in Tampa, where she met Mike, her husband. At the age of 17, she got married to him, and had her daughter Jamie with him. But Mike turned out to be extremely abusive towards her. In order to earn for herself, she started breeding Persian and Himalayan cats. Carole also started taking care of injured bobcats and rehabilitating them.
Carole and Don Lewis
In January 1981, when she was around 20, she had an intense argument with Mike, and in order to escape him, ran out barefoot. This was the time she met Don Lewis for the first time, who was at the time in his early 40s. It is believed that Lewis pulled over next to her, and asked her if she needed a ride. She declined, so he pulled over once more with a revolver, and told her to hold it to his head if she didn't trust him.
Carole and Don spent the night riding in the car and talking. Later, the two spent the night together, where they just slept. And it was at this point that Carole believed that she had fallen in love with him. Don at the time was already married with kids. The two left their respective spouses and got married in 1991.
The two soon bought their first bobcat, while looking for a playmate for her, ended up rescuing 56 bobcat kittens that were being bred for fur. By mid-1990s Don and Carole rescued over 100 cats and build a 40 acre sanctuary that they called "Wildlife on Easy Street". But over the years, the two began to have fierce clashes over how the facility should be run. While Don wished to breed and sell the cats, Carole was against it.
In June 1997, as the tension between the couple grew, Don Lewis filed a restraining order against Carole. It was believed that Carole had threatened to shoot him, but the police rejected the petition. In August 1997, Lewis suddenly went missing. Don's daughter publicly accused Carole, but the police never found any evidence against her. The case remains unsolved till date.
Big Cat Rescue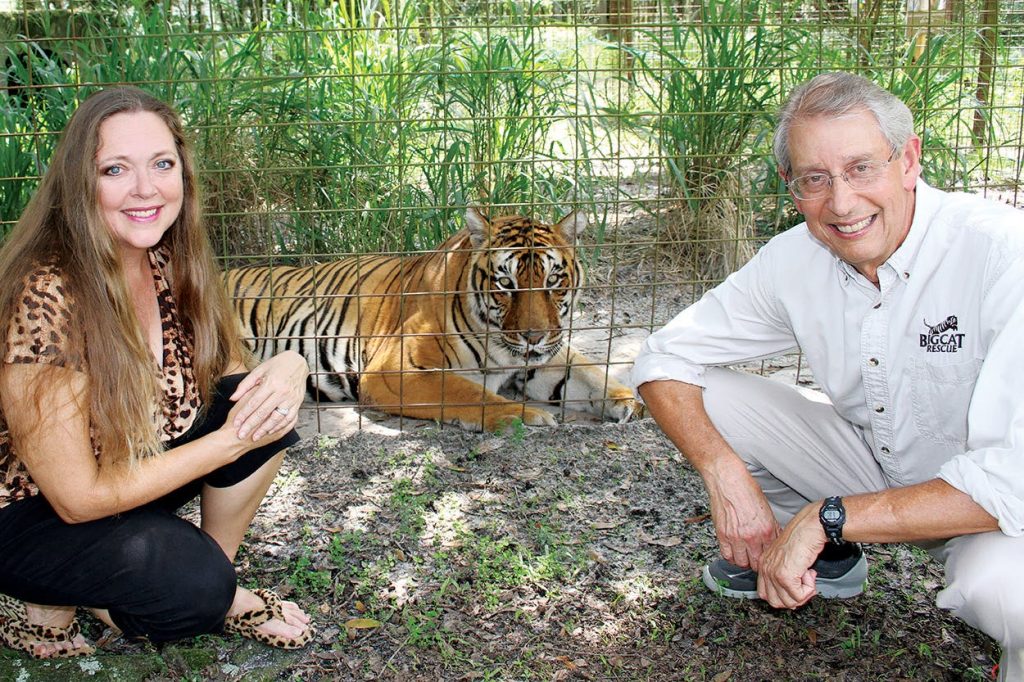 Carole Lewis inherited Wildlife on Easy Street and reconstructed the sanctuary by building larger enclosures for all the cats. She then started working actively towards ending the captive ownership of big cats in America. Her goal was to put an end to breeding and selling of these cats by 2025, while also putting an end to zoo-like institutions in the country. It was also around this time that she had met her current husband, Howard Baskin. The two got married in 2004.
The two began to rebuild Wildlife on Easy Street as Big Cat Rescue, and focused on raising funds and building an online presence. The sanctuary soon had a mass-following. Carole at this point started working on actively ending cub-petting, and called out animal-abusers on her site. The team behind Big Cat Rescue began contacting places that hosted cub-petting operations.
It was in 2009 that Carole Baskin first came across Joe Exotic, and soon became his most vocal critic and rival. She got her team to track him down and all the shows he was performing. Carole even contacted the places where he was meant to perform, and convinced her followers to bombard them with complaints. Eventually, hundreds of these places stopped hosting Joe Exotic's performances.
Carole Baskin vs. Joe Exotic
Well, the rest is history, at least for those of you who have watched the Netflix docuseries. Since 'Tiger King' focuses on the rivalry between Carole and Joe, I wouldn't delve deep into that. But what followed was a heated war between the two that started from the interested, and eventually found its way out.
Joe posted videos on his youtube channel where he attacked Carole, and even read from her diary. On one occasion, he shot a blow-up doll that he had named Carole. On another, he put snakes in her mailbox during her birthday. But things took a turn for Joe when he decided to use her logo, and began touring as "Big Cat Rescue Entertainment" to get back at her. The Baskins faced an outrage from their followers who questioned why they were supporting club-petting.
But in 2011, Carole filed a $1 million lawsuit against Joe for trademark infringement that they won, eventually leading Joe to bankruptcy. Over the years, Joe got so consumed in his hatred for Carole, that he began fantasizing about her murder, eventually hiring someone for it.
Where is Carole Baskin Now?
Joe Exotic got arrested and convicted for a murder-for-hire plot in 2018. He was eventually sentenced to 22 years in prison on 19 accounts, ranging from murder to hire and animal cruelty in January 2020. While Carole had been informed that her life could have been in danger, the plan never got carried out as the FBI became involved.
Carole Baskin continues to work towards ending the trade of big cats. She lives in Tampa, Florida with her husband Howard, and takes care of the cats in Big Cat Rescue. While 'Tiger King' looks at the rise and fall of Joe Exotic, it also looks at Carole's actions in an unbiased manner – both critically and with a sense of sensitivity.
As Saff and Dial mention towards the end of the docuseries, what started as a noble fight against cub-petting and selling, turned into a personal court-battle. No animal really benefited from any of it. So was it all really worth the millions spent on court? Maybe if it reduced breeding in some way. But as the series reaches its conclusion, one realizes the problem is far from over.
Read More: Where is Joe Exotic Now?