The transition from adolescence to adulthood is one that always takes place naturally. No one can force this change. There are no discernable scientific measures to bring about the change. It is therefore one of the toughest job for a film-maker to capture this beautiful process. Unlike Richard Linklater, whose 'Boyhood' is an unprecedented accomplishment, other directors find themselves in a hard place. Bollywood, as critiqued and ridiculed it is, has churned out some of the best coming-of age movies which have truly mesmerised and captured the essence of this metamorphosis. There's no specific film which started the trend, which bodes well for the genre, as it shouldn't be a conscious effort.
Coming-of age isn't necessarily someone subtracting years from his life and growing old. It is about maturing and developing a moral conscience that allows you to make judgements for yourself and be a strong, independent individual. So here is the list of best Bollywood coming of age movies. Happy reading!
12. Rockford (1999)
A young and naive kid moves to a boarding school to pursue his education. Insecure and uncomfortable due to the lack of known faces, the kid gradually befriends fellow students, and becomes romantically involved with a girl. The cliched story isn't full of surprises. Even though the cast gives a valiant effort, the irresponsible direction was a big let down. All in all, a fine piece of artistic work, that tells the story of every kid ever-moving away from home.
11. Zindagi Na Milegi Dobara (2011)
ZNMD is more than just a film about three friends bonding over a road trip. It is also about finding one's truest self. Rarely you will find a film that celebrates the spirit of life the way ZNMD does. What is also creditworthy about ZNMD is that it's brainchild of a woman: writer-director Zoya Akhtar. She captures the insecurities and the inner desires of men as beautifully as the gorgeous landscapes of Spain.
10. Gippi (2013)
Karan Johar hit all the right spots with this adorable and endearing feature. Gippi, an overweight teenager, struggles to handle the physical and social changes that come with her age. Soon, she learns to let go of her insecurities and love herself for exactly who she is. The film's bold take on girls getting fat-shamed and ridiculed for their body is both admirable and efficacious. The light-hearted movie promised a lot of emotional sequences, interspersed with passive comedy and sarcasm. it delivered just that, taking the conventional story of every girl ever and making us realise how special each and everyone is in their own way.
9. Highway (2014)
Alia Bhatt truly won my heart and respect with this sublime display in Imtiaz Ali's 'Highway'. Her exquisite showcasing of resilience, muffled screams against molestation earlier in her life, and the general restrictions that bound her like an imprisoned perpetrator to chains, wholly humbled and intrepidly inspired to challenge these inequities. Her treacherous abduction at the hands of fleeing goons gradually turned out to be her liberation from her comfortable but confined life. Imtiaz has a penchant for creating such layered plot-lines, and 'Highway' was no different. A true accomplishment in terms of acting and honest direction.
8. Sixteen (2013)
Now this was one that challenged the people and put CBFC in a moral quandary. Without showcasing nudity or vulgarity, the board was in a conundrum as to approve this aggravating yet mindful piece on adolescence and how young girls today have to cope up growing in this highly patriarchal and prejudiced society. The narrative uses three girls as the conduit to its will to vilify and bring to light the egregious taboos that the society is so nonchalantly and unflinchingly wrapped in. Their attempts to act like grown ups and explore their sexuality sure deserve our appreciation and commendation. The low-budget film is an unrefined jewel in the eclectic bag of diverse movies in Bollywood.
7. Rang De Basanti (2006)
A group of young college students seek to recreate India's freedom struggle in the form of a play. Initially unconcerned about its significance and sanctity, an epihphanuous moment of self-realisation strikes them, turning them into politically aware and responsible citizens of the nation. Not a conventional coming-of age story, 'Rang De Basanti' was and still remains a phenomenon in the ever-changing contours of Hindi cinema. The film reeks of national sentiments and relays a patriotic urge to the beguiled citizens of the country to take initiative and return India to its golden days of glory.
6. Lakshya (2004)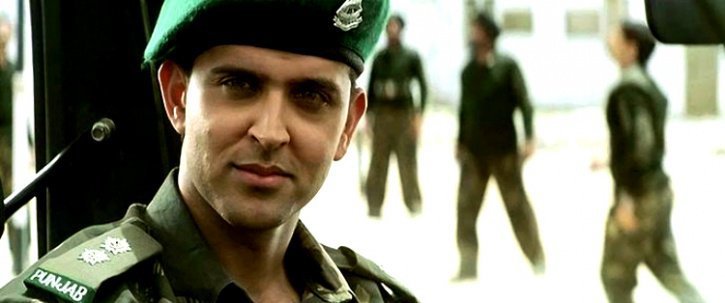 Hrithik Roshan realised his true potential with this hearty war-drama. 'Lakshya' became a sensation when it first came out, glorified for its courageous and apt portrayal of a fictionalised account of an army man, set against the backdrop of the Kargil war. It incited patriotism and national integrity, with some of its songs still hummed proudly by soldiers and citizens alike. Karan Shergill is a pampered and spoilt brat, who decided to leave his luxurious life to join the army, and prove to his father his true mettle. The beautifully constructed story will leave you in tatters, as despite knowing what is coming, you still won't fail to empathise. Akhtar does a superlative job in directing the film, carefully layering each brick to perfection. But it is Shankar-Ehsaan-Loy's music that makes it the success it is.
5. Dil Chahta Hai (2001)
How could the list have been replete without the mention of this modern masterpiece? 2001 was a year that gave India and Aamir Khan the two best films ever made in Bollywood. 'Dil Chahta Hai' was one of them. An unconventional and never-seen before take on the modern and changing lifestyles of people, moving briskly from languid and restricted to fluent and liberated, the film set standards for others to emulate which is yet to happen. Serious relationships trust the foundations and bonding of three vest friends and leaves them dissatisfied and discontented with life. The layered narrative employs and tries to explore certain "taboo" themes which directly are in contravention to the societal norms. A brilliant film of self-realisation and trust.
4. Jo Jeeta Wohi Sikandar (1992)
Best and Bollywood is synonymous with Aamir Khan. Without the mention of the perfectionist's name, any list that breathes best and Bollywood in the same cadence is incomplete. The narrative magnifies and brings under scrutiny the carefree and indifferent attitude of Sanjay (Khan) towards life in general. A rich and spoilt brat, his life metamorphoses with his strong will to compete and win the annual bicycle championship. Relinquishing all the worldly pleasures from his comfortable life, he devotes himself to winning the trophy. He goes through the entire arc of a bratty teenager to an ideal champion and it is nothing but a pure joy to tag along on this journey.
3. Wake Up Sid (2009)
Ranbir Kapoor truly and utterly redeemed himself with this fun coming-of age drama. After the debacle of 'Sawaariya', Kapoor's innocent and at times self-absorbed turn as Sid, a rich, lazy, and selfish college kid, truly humbled. Sid is as insouciant to life as our hand is to our body when we sit on it. Ignoring that horrible analogy, his life completely changes, so does his perception of it, with the introduction of Aisha, a bright and independent writer from Kolkata. Konkana Sen Sharma is one of the most underrated and under-appreciated actresses in the industry, and this film is just one of the reasons why that should change. A heart-felt effort that needs your attention!
2. Udaan (2010)
'Udaan' pretty quickly became one of my favourite movies at the time. The film chronicles the return of Rohan, a teenaged boy, who got expelled from his school, to his strict and unyielding father, who bears no mercy on him. Under his strict purview, Rohan grows frustrated, his muffled indignations against his father's dogmatic and undermining authority falling on deaf ears, lest his helpless uncle. For his own freedom, and the life of his little brother, he decides to run away to another city and live a dignified life. A truly amazing cast does justice to a beautifully written script. What most resonated with me was that this tirade Rohan had, was against the harsh methods of his father, but not him. His tussle with his lifestyle and primitive view of societal norms isn't a fight directly against his father. The director tried to implicate the point through several stand-alones in the movie. A brilliant embodiment of courage and determination.
1. Pather Panchali (1955)
India was blessed to have a visionary auteur like Satyajit Ray born in it. His exemplary dexterity at handling the camera and chalking out scenes is truly inspirational and grossly uncontested, even in contemporary times. His 'Apu' trilogy is widely regarded as one of the greatest that the world has seen, and indubitably India has ever produced. 'Pather Panchali' was coincidentally Ray's directorial debut, also constituting the first of the trilogy. It acquaints us with Apu, a quaint and noble simpleton, and his impoverished family, facing the macabre scourge of poverty. This miasma of helplessness and hopelessness augments in stature when Apu's father, and the head of the family leaves for city to earn more, and his elder sister dying of fever. It falls upon the timid shoulders of the six-year old to trudge the life of his family back on track. The astounding direction gave us some chilling and stunning visuals. Some of the shots of the film are so beautifully captured, that it aches my heart the film didn't win the Best Foreign Film award.
Read More: Best Bollywood Movies on Netflix