'Dilwale Dulhaniya Le Jayenge', popularly referred to as 'DDLJ', is, perhaps, the National romantic movie of India. I mean our grandfathers swore by 'Mughal-e-Azam' in their good days and our fathers by, say, 'Aradhana' with Rajesh Khanna singing in a Jeep moving along a mountain road. We swear by 'DDLJ', a much-needed acronym for a movie from the decade famous for its long movie titles. I have 'experienced' the movie twice in my short life. Once as a kid from the 90s and once as an adult, horrified by the way the movie gave Shah Rukh Khan a license to act in films with their own twisted and ridiculous notions about love and romance.
I have to admit that I like the film still and it would be improper to say that the movie is ridiculous or insane. Saying so would be hurting the judgement of the audiences that have shown so much love for the movie over the years. It would be proper, however, to say that its notions are ridiculous and insane. But before exploring its bizarre notions two things need to be said.
First, the movie is overrated. And Shah Rukh Khan is not be blamed, ignorantly, for that. He acted and acted well in a movie that was offered to him at a point in his career when he was happy doing Anti-hero roles in movies like 'Darr', 'Anjaam' and 'Baazigar'. I believe that a lot of undeserved praise is heaped on 'DDLJ' while films like 'Dil Se', from the same artist, have been underrated. And it is the audiences' perception that needs to blamed, if at all we choose to blame anyone. As far as the artists of the movies are considered they are to be praised at all costs because while they were working on both kinds of movies, they had no idea what the future held for them. It could be a fact that Shah Rukh Khan is as surprised as me at the fact that 'DDLJ' has made it so far. It is still running in Maratha Mandir, a cinema hall in Mumbai suburbs, while some of his far better works have been 'arthouse-esque' relics, which serve his critics well when they feel like panning 'DDLJ'.
Second, the movie's success has a lot to do with the music of the film than its lead pair's acting skills or the direction and screenplay. I give a huge credit of its success to Jatin-Lalit, Kumar Sanu, Udit Narayan and Lata Mangeshkar. When I watched the movie as a kid, I liked the movie locales and the songs of the movie. Raj (Shah Rukh Khan), wearing a Harley Davidson Jacket, with Simran (Kajol) in his arms in a beautiful mustard field to the tunes of 'Tujhe Dekha Toh Yeh Jaana Sanam'. I was awestruck with the European locations, the songs and the colorful clothes of the actors, the wedding scenes. I was a kid back then and had no idea about how screenplay works in movies. I did not suffer much because 'DDLJ' didn't have much of both. When I grew up and watched it again I had mixed feelings. I had a 'feel good' feeling after hearing those classic songs as well as the locales and a little bit situational comedy. But at the same time I could clearly see that why despite the acting as well as writing having notable flaws, 'DDLJ' is not only a hit but enjoys massive cult following.
The 'feel good' feeling.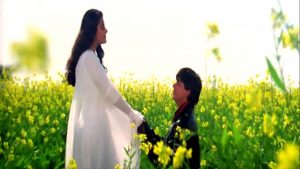 [Spoilers ahead!, *lame laughs', It is anti-national if anyone born in India hasn't seen it yet]
I do not understand to this day that what filmmakers like Aditya Chopra mean when they bring India into their movie theme. Are they filmmakers or salesmen? It is okay if Ashutosh Gowariker brings India into a film like 'Swades' because he means something, a change in people's perspective. But 'DDLJ' seems to me like a product sold under the garb of patriotism to Indians and, significantly, Non Residents (NRIs) to just appeal to more crowds than the film could attract otherwise. And the justifications which the film provides for its 'Indian-ness' are laughable, at best.
Let me elaborate a little. What exactly are Raj's father Dharamvir Malhotra (Anupam Kher) and Simran's father Baldev Singh Chaudhary (Amrish Puri) doing in London? Well, Dharamvir Malhotra is a millionaire businessman (apparently a high-school dropout) and Baldev Singh is a shop-owner. Both of them are making money. But we hear them rambling almost a hundred times about the greatness of India, the greatness of its soil and its rivers. And not just them, almost every other actor, Raj and Simran especially, are blabbering some vague notions about 'Indian-ness'. I say that why leave India if one loves it so much. It is clear that both of them left it to make more money, an unlikely proposition in India.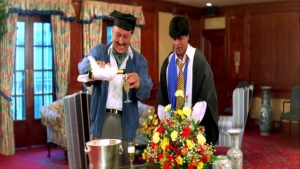 Raj and his father drink expensive champagne on his failing to pass the University exams. They playfully dismiss people who study hard and enjoy the wealth they have made in London. But to marry off his son, Malhotra wants an Indian bride. Thames seems a distant second to Ganges for him but he has lived in his mansion in London, a city by the Thames, his entire life. Raj apparently has seen a lot of women, is a drunkard, even cheats on a shopkeeper to buy beer, but does not touch a drunk Simran to prove his 'Indian-ness'. He could have done better. 'India-ness' has a lot more to it than what Raj thinks. Baldev has a family in London but does not take well to the western culture. He wants to preserve his culture by deporting his daughter forcibly to India to marry her off to his friend's son, whom she has never even met once. He calls it an Indian tradition. It is hypocrisy, by the way, for the lack of a better word.
Despite these twisted perspectives, these people wear 'Indian-ness' as a badge on their sleeves. Enjoying their lives in a different country and trying to justify their hypocrisy by labelling every ridiculous thing they do as 'Indian'. As I said, it is a good way to strike a chord with the NRI audience as well as residents by fondling with their insane notions about 'Indian-ness'.
Creepy is the new cool, since 1995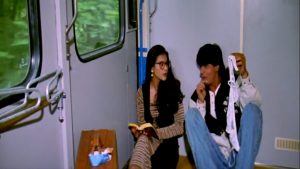 We all have blown whistles when Raj lets out his hand to Simran to help her board the train. But what happens next is not something worth whistling. How does one behave with a woman one just met? By flashing her bra in front of her and then practically wriggling into her. Raj almost has his head in Simran's lap when her friend comes to her rescue. How cool is that? People might call it the way 'it' happens but clearly Raj sure proves that he is an 'Indian' by doing that. I would expect a better Raj had DDLJ been made with just a little more thought.
Love is blind and 'stupid' too
I sometimes wonder what the scriptwriter had in mind when he was writing the movie. Raj nags Simran for marrying a man whom she has barely met. It is completely understandable. It is quite obvious, from the way he nags her, that he is attracted to her. What puzzles me here is that how has he fallen in 'love' with a stranger he met a few days before and has spent one or two days with. That is basically the same thing he has been nagging about to Simran. Raj is no better than her father's choice. Additionally he is a proven pervert. And the way Simran responds by turning back when Raj expects her to, is equally psychic. How love happens in this movie, is as messed up as its other parts.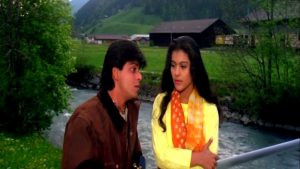 On top of that, Raj's psychic instincts do not just go away like that. When he decides to go back to see Simran and tell her about his love, he finds that she has left for India. It is interesting to see how he finds that Simran loves him back too. He finds a bell hanging outside her house, the one he had given her when they had parted after their holiday. He takes it as a symbol of her love.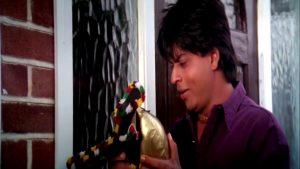 Really! I mean she could have left it just outside her house thinking it was useless to take back to India. How intelligent of Raj to fly back all his way to India just because he found a bell outside her house. It is no wonder that the audiences choose to ignore all of it. Because they have the 'feel-good' feeling.
The Convenient Ending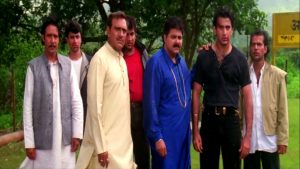 The climax of the movie is too much dramatic when Simran's father lets her go with Raj on the train. But I do not get the hang of it. This is because what they both leave behind is equally messy as their supposed 'Happily ever after' lives would be. Let us think about Kuljeet (Parmeet Sethi). A happy man about to be married. Everyone in his family is excited, all his relatives have come to attend his wedding. Enter Raj, his friend whom he has brought home. Only to l realise later that the same man betrays him and runs away with his bride. He ends up beaten, dejected and humiliated.
Baldev, a man of Indian values who has come to India to marry his daughter off only to let her run away with a stranger who had earlier lied to him to buy beer from his store in London. Preeti (Mandira Bedi), who, though mistaken, likes Raj and finds herself cheated not because Raj does not like her back but because he was an imposter looking to grind his own axe. The list goes on. Not even a convincing end to the story.
Final Word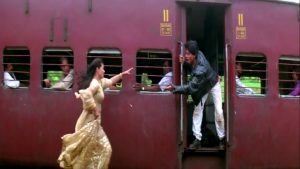 The movie lacks realism and is notional in its conceptualization of everything: love and India, for example.The reason for its immense popularity is perhaps its music and its 'lack of realism.' An average cine-goer goes into the cinema hall with an expectation to watch something over-the-top and not something realistic. Realism is perhaps sought by the intelligentsia who have the time and resources to debate over movies. The common man, perhaps, wants a relief from his already sad 'realistic' life, he doesn't want the same life depicted on the celluloid screen. He wants some magic. 'DDLJ' does that and more. It gives him the 'feel good' feeling.