On his way to the podium to pick up his Oscar for Best Director for his biographical work Gandhi (1982), British director Richard Attenborough would make a stop at the side of Steven Spielberg and whisper to the younger man, "This belongs to you", before carrying on to accept his Oscar.
It sure did.
In one of the travesties of Oscar history, 'Gandhi' (1982) would win eight Academy Awards including Best Film, Best Director, Best Actor (Ben Kingsley) and Best Screenplay. Steven Spielberg's dreamscape of a film E. T. – The Extraterrestrial (1982) would win four, losing Best Director and Best Film to an inferior film. Many critics at the time pointed out that Attenborough's film was an old fashioned Hollywood biography, one that focused entirely on the character's goodness and great achievements rather than dare to show anything remotely negative about him.
Partway through watching the film back in 1982, I would not have been shocked had Gandhi walked on water, such was the story the director was telling. And please, I mean no disrespect to Mahatma Gandhi nor his sublime accomplishments, it is the film of his life to which I object and the shameless manner the Academy chose to honor Gandhi the man, rather than the film. One year after the film had collected Best Picture there were essays popping up in film journals and magazines challenging the Academy's choice, and noting that Gandhi (1982) by that time out on video was already old fashioned and out of touch with modern cinema.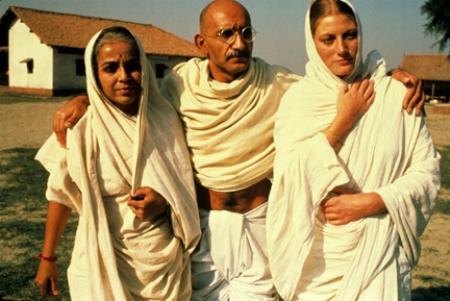 It marked the third consecutive year than an actor had won the Oscar for directing, Robert Redford winning for Ordinary People (1980) besting Martin Scorsese for Raging Bull (1980), Warren Beatty deservedly wining for Reds (1981), and now Attenborough. That each had also won honors from the Directors Guild of America (DGA) must have been a double sting for long time directors losing to actors at the helm.
Spielberg's E.T. – The Extraterrestrial (1982) or Sydney Pollacks's hysterically funny Tootise (1982) were each better choices for the litany of awards Gandhi (1982) would win. How it happened, why it happened, we all know, just as we know it should not have happened. Spielberg made a magnificent fantasy film in which the leading man was a special effect. A four foot tall chunk of latex with Einstein eyes, no visible nose, a neck that could be elongated at will, skin that was sort of damp and slimy, hands with long fingers that could heal, and feet that were, well, ugly. Voiced by actresses in post, operated by a dozen or more men with with remote controls and cable controlled switches, the little alien came to life on screen.
Spielberg rested the entire success of his film on the fact this effect had to work, without it, there is no film. And then he went a step further by placing the film on the shoulders of ten year Henry Thomas, a young actor who would be seen in many emotional scenes with the alien, meaning the young actor would have to come up with the emotional energy of the other "actor" on his own. What Thomas did was astounding, perhaps the finest child performance ever given, as he captured the raw anguish of having to say goodbye to his best friend forever at the films conclusion. And then the director made it work, like a dream in fact, with startling cinematography, visual and sound effects that were perfection, a score that was soaring and beautiful, and a story that was both funny and dramatic, ultimately deeply moving, one of the great accounts of friendship seen on screen.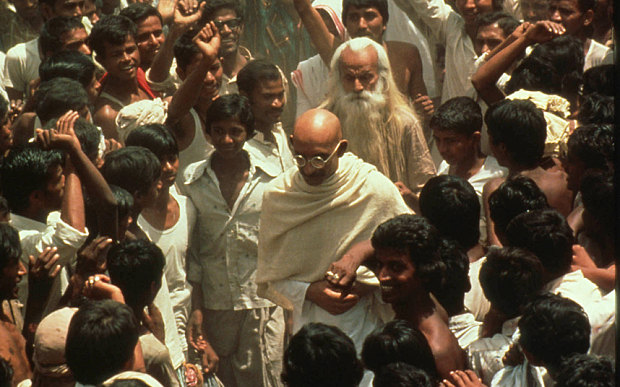 The film was a major box office titan, becoming the highest grossing film of all time within months of its release, surpassing Star Wars (1977), earning rave reviews from the major critics, and drawing tears from grown men in the cinemas. It was a film borne of love, that celebrated love and friendship throughout, exploring how loyalty and goodness, with no agenda could make the oddest of friends the closest. By the years end it seemed a natural for nominations for Best Picture and Best Director, topping many ten best lists, but then the academic naysayers came crawling out of the wood work wondering if all that money was not enough for Spielberg, as if that had anything to do with his achievement. Comments suggesting a film adored by the mainstream could not possibly be a great film, or that a film making as much money did not need awards were simply sickening at the time and remain so years later. It seemed many of these academic critics held success in contempt, quite forgetting that no film is a success until discovered by an audience. Reading their attacks on E.T. at that time it seemed they held in equal contempt anyone who had been moved by the film. I remember being appalled.
The Los Angeles Film Critics Association voted Spielberg Best Director and his film the years Best Picture, while the National Society of Film Critics voted tootsie (1982) the years best film, but Spielberg took Best Director. At the Golden Globe awards, E.T. (1982) won Best Film (Drama) leaving the path open, barely for the Oscar win for Spielberg. By then however Gandhi (1982) had won Best Film honors from the New York Film Critics Circle and Attenborough had collected the DGA Award as Best Director, besting Spielberg for the honor. Oscar night came, with predictable results.
In the years since, time has been not at all kind to Gandhi (1982) which has continued to age and look like what it always was, an old fashioned, very generic bio picture that concentrates on the good Gandhi did in his lifetime. That is fine, but by showing the character warts and all, they then make him human, something we can understand. This Gandhi is barely human, and everything that comes out of his mouth is meant to be written down or inspire awe.
Where is the man who slept between two teenage girls to test his celibacy late in life? Or the man who was abusive to his wife, refusing to allow her potentially life saving medicine while they were both imprisoned late in life? He was a man of peace, but no man is perfect, and for me at least, these demons that roiled within him would have added a dimension to the character that was oddly absent. The great genius of Oliver Stones Nixon (1995) was that the director had the courage to show Nixon warts and all and in doing so created a deeply flawed human being. Attenborough's Gandhi (1982) plays like Gandhi's Greatest Hits, a standard Hollywood bio pic, the worst thing a biography can be.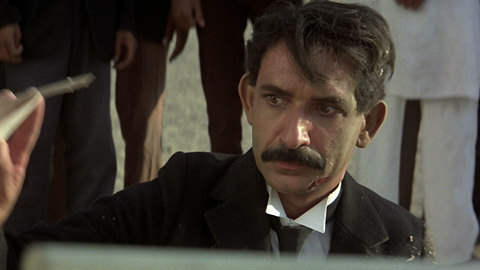 The single aspect of Gandhi (1982) I cannot dispute is the central performance of Ben Kingsley in the lead role, he is superb. Yet as good as Kingsley was in the film, what Dustin Hoffman accomplished in Tootsie (1982) was nothing short of miraculous, as the actor, in astounding fashion brings his audience to forget they are watching a man, and accept him as the woman, Dorothy Michaels, the character he has created to find work as an actor (or actress). Hoffman, a spiky actor at best, gives himself over to the role, and brings to the screen his finest performance, not to mention one of the finest performances put on celluloid. There is a moment in the film when the camera come sin close on him and all trace of Hoffman and Michael Dorsey are gone…he has become woman. Not only is Tootsie (1982) the finest American comedy ever created it is also the finest film about the art and craft of acting, of inhabiting the character in every possible manner.
I wonder if Gandhi (1982) were made today if it would have a chance against these two films. I doubt it.
Read More: The 10 Worst Best Picture Winners in Oscars History