Can you feel it?
There has been a huge shift in the Oscars headed to awards night, where what once was a sure thing is no long anything of the kind.
The SAG Awards could have a profound impact on the Oscars, they have in the past, but some of the winners last night were not supposed to be such, nor win Oscars. Today they are without question frontrunners, or being taken much more seriously as potential winners.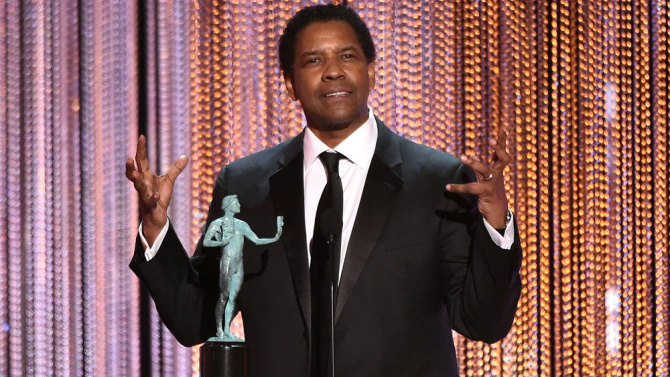 Denzel Washington winning Best Actor for Fences was a huge shock, even for him who thought "that young guy" would win. Going into the SAG Awards, Casey Affleck has won more than thirty awards for his shattering performance for the ages in 'Manchester By the Sea', but with Washington winning it could change the outcome. There is no question of the love for Affleck in the business, but within SAG it was clear the love for Denzel was more. Incredibly he had not ever won an SAG Award before, which may have tipped the scales in his favor considering the array of great performance he has given throughout his career. In addition he directed the film, making his performance a greater accomplishment. His blistering, raging performance is an "actorly" performance, throwing everything into the pot, whereas Affleck is a quieter more internal performance, making the greatness harder to see.
Read More: Full List of SAG Award Winners
The Guild and the Academy has disagreed on the Best Actor choice four times, beginning in 2000 when Benecio Del Toro won SAG's Best Actor, though the Oscar went to Russell Crowe in 'Gladiator'. Oddly Del Toro did win the Oscar for Best Supporting Actor for 'Traffic'. In 2001, when Russell Crowe won Best Actor from SAG for 'Beautiful Mind', seeing Denzel Washington win the Oscar for his dirty cop in 'Training Day'. It happened again in 2002 when Daniel Day-Lewis won SAG for Gangs of New York only to see Adrien Brody win the Oscar for 'The Pianist', and finally in 2003 when Johnny Depp won SAG for The Pirates of the Caribbean while Sean Penn won the Oscar for 'Mystic River'.
Affleck has won so many award it is difficult to imagine him losing the Oscar at this point, but Washington is much loved, gave a performance that was stunning, and is nominated in a year celebrating diversity among artists. I hope, truly, no one voting for these sort of awards sees skin color, and SAG has always been better at this than the Academy. Needless to say there has been a shift.
In addition the ensemble award, SAG's version of Best Picture went to the box office hit Hidden Figures, the lovely study of the African American mathematicians who helped launch John Glenn into orbit, and subsequently, history. The picture has done very well since being released, is a critics favorite, and well liked by seemingly everyone who sees it. The performances within are superb, in particular Taraji P. Henson, Octavia Spencer, Janelle Monae, Jim Parsons, and Kevin Costner, all who took home an award for their efforts.
'Hidden Figures' is a Best Picture nominee and gaining momentum on 'La La Land' which could not win the SAG ensemble award because it was, wait for it… not nominated for it. Since its release in late December, 'Hidden Figures' has become beloved by all who see it, and the actors are everywhere, doing talk shows, daytime shows, present, present, present.
Emma Stone took Best Actress for 'La La Land', topping Natalie Portman's 'Jackie', seeming to be headed for an Oscar win, though I believe Portman could still take it. Viola Davis won Supporting Actress for Fences, just as she was supposed to, making her the biggest sure thing of the Oscars, and as expected Mahershala Ali won Best Supporting Actor for his kind hearted drug dealer in 'Moonlight', meaning three of three of the four acting awards went to actors of color, and the ensemble award went to a film dominated by artists of color.
SAG heard the call about the issues of diversity and answered. I just hope that does not mean one of the screens greatest ever performances, Affleck in 'Manchester By the Sea' is over looked.
Read More: Full List of SAG Award Winners