Nina Chase (Shantel VanSanten) is an important supporting character in 'FBI,' the first entry in Dick Wolf and Craig Turk's 'FBI' franchise. In the fourth season of the series, Nina makes her first appearance as a replacement for Maggie Bell in the New York field team after the latter's exposure to sarin gas. In the real world, Missy Peregrym, the actress who portrays Maggie on the show, went on maternity leave after becoming pregnant for the second time. Peregrym eventually returned to the cast, and VanSanten's character seemed to have been written out. If you are wondering whether VanSanten ever returns to 'FBI,' we got you covered.
Did Shantel VanSanten's Nina Chase Ever Come Back?
When Chase became part of the team, it was always meant to be temporary. Within the narrative of the series, Maggie wasn't dead, but her character underwent a terrible ordeal and needed her time to heal. And as mentioned above, Peregrym was on maternity leave.
However, during her short stay, VanSanten left an impression on both the audience and series creators. "We may see Nina moving onto a new office or a different unit. But she was a great asset during Maggie's absence, and I think we can expect her to stay connected to the team in an interesting way," showrunner Rick Eid said during an interview with TV Insider. At the time, VanSanten also didn't have any idea about what the future held for her character. "The plan was always to do these 10 episodes while [Missy] got to have her baby and recover, and then she'll be back. I think the door is open, and I'm excited to see where that might lead," the actress told TVLine.
In season 5 episode 6, titled 'Double Blind,' Nina goes to see a doctor and learns that she is pregnant. The child's father is revealed to be Special Agent Stuart Scola (John Boyd). He and Nina have a candid conversation, during which she says she doesn't know what to do and needs some time to think. After that, Nina transfers to the white-collar division.
After her apparent departure, VanSanten posted a heartfelt message on her Instagram, but it seems that she is no longer active on the platform. The actress did make her return to the FBI universe in the 2023 crossover event known as 'Imminent Threat.'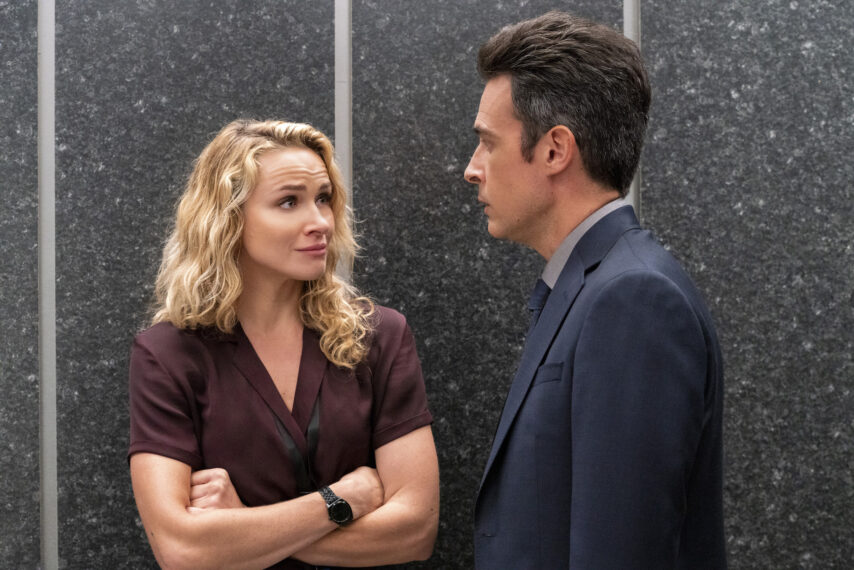 After the daughter and subordinates of Belarusian general Lenkov are killed in a drone attack orchestrated by the Ukrainian forces using American technology, the man swears vengeance on America. As the FBI in New York gets wind of an impending terrorist attack, Scola goes undercover as a C-4 seller. Meanwhile, a structural engineer of American origin is kidnapped in Italy, and his partner is killed. While investigating the case, Forrester and his team deal with uncooperative local authorities and later realize that this is the direct result of the attack in Belarus.
Nina arrives in Italy with Jubal Valentine to help with the case. She is already a few months pregnant at this point. Nina gets shot during a raid to find the structural engineer. Although when the agents finally get to the engineer, he is already dead, Nina is taken to the hospital, where the doctors save both her and her unborn child's lives. As their part in the hunt for the Belarusian general and his men are over, Forrester stays by Nina's bedside.
Meanwhile, Scola's superior officers initially decide not to tell him about Nina, but he eventually finds out, and the quiet and efficient agent suddenly becomes a personification of fury. As the investigation intensifies, Scola lets his emotions get the better of him. Lenkov's target is revealed to be John F. Kennedy International Airport. The FBI and Most Wanted teams work together to neutralize the threat and take Lenkov into custody. Afterward, Scola flies to Italy, where he is reunited with Nina. One of the final scenes of the crossover event involves the two of them professing their love for one another.
Read More: Will Nina and Stuart End Up Together on FBI? Theories