Loria Stern has enjoyed eating and cooking edible flowers since she was introduced to them. However, she was disappointed to learn that they were underrated in the United States, as few people knew about them. Determined to find a solution to this issue and introduce one of her favorite ingredients to the public, Loria launched her own company, Eat Your Flowers.
As the name suggests, Eat Your Flowers produces several confectionary items, all of which include some form of edible flowers. Besides, interest in the company multiplied once Loria introduced it to the Sharks on 'Shark Tank' season 14 episode 16. Hence, with the fans now clamoring to know more, here's everything we learned about the company.
Eat Your Flowers: Who Are They and What Do They Do?
Originally from the town of Ojai in Southern California, Loria Stern has always been interested in the culinary arts. She discovered her passion for cooking at a young age and even helped out in the kitchen from time to time. Even though her parents always encouraged her to follow her dreams, Loria fell in love with Tennis when in school, and by the age of 12, she was ranked first in her age group. Subsequently, she carried on with the sport even in college and played Division 1 games as well as professional tournaments before deciding to turn her attention elsewhere.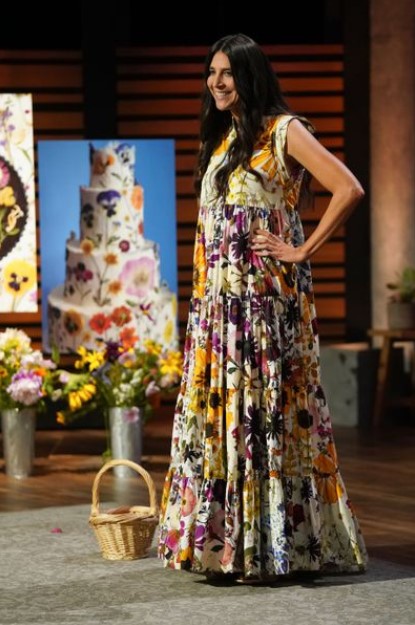 Rediscovering her passion for the culinary arts, Loria then decided to take up employment in several restaurants and hotels, which allowed her to learn through experience. Although she has never attended culinary school, Loria grew up to be an incredible and sought-after chef in just a few years. Interestingly, the entrepreneur mentioned that she even discovered her love for nature during her school days, so she was thrilled to pursue a course on Medicinal and Edible Plants.
The course familiarized her with numerous edible flowers she could use in her cooking, and soon she turned them into an everyday ingredient in her work. By 2016, Loria was well-known for using edible flowers in her cooking, and her work was featured in Vogue Magazine. This gave her the breakthrough she needed, and sources mention that the chef increased her followers by almost 30,000 overnight. Since most of these people wanted to know where they could purchase the things Loria made, she realized the business potential and soon established her own company, Eat Your Flowers.
Eat Your Flowers is a bakery that sells several confectionary items, including tarts, pies, cookies, cakes, and the like. While each item features several kinds of edible flowers, the bakery also sells dried flowers which home cooks can use in their creations. On top of it, Loria even published a cookbook with her original recipes and tries her best to popularize the still underrated cooking ingredient.
Where Is Eat Your Flowers Now?
Since Loria was already featured in Vogue Magazine and had a massive online following before starting Eat Your Flowers, her business grew at an unprecedented pace. In fact, sources mentioned that on the very first day she began selling her products, she received over 20 orders. Besides, even though Loria primarily marketed on social media, a lot of her posts went viral, earning her customers from all around the United States.
Once her customer base multiplied, Loria set up her headquarters in Los Angeles and even hired four employees to help her with the increasing demands. On top of it, she even came up with new recipes and products, which kept her relevant and made her even more popular. People interested in tasting Eat Your Flowers products can find them on the company's official website and on the online retail giant Amazon.
While most of Loria's edible products are pretty pocket-friendly and range between $24 to $55, she even sells a botanical press kit, her cookbook, flower notebooks, spices, candles, and cocktail cubes, with the prices varying from $2 to $125. Moreover, Eat Your Flowers currently ships to all corners of the United States, and we are confident that the company will witness further success in the years to come.
Read More: Cup Board Pro Shark Tank Update: Where Are They Now?