Finally, the day has arrived for which we have been laying ground all these months. DGA announced its line-up today, and that made it a little easier to predict Best Director — though it is not certain that all five will make the Oscar line-up too. Over the last few weeks or so, several other industry guilds (SAG, PGA, ACE to name a few) have also announced their nominations, and even though they do help in making the Oscar predictions, the truth is they can't be trusted 100%. Ultimately, one has to rely on two things: past history of nominations and more importantly, one's gut instinct.
Anyway, as you all know, we here at The Cinemaholic do our best to bring to you the most accurate Oscar predictions. (We can officially claim to be most accurate predictors on internet considering we have consistently and correctly predicted at least 85 nominees out of 106/107 in 21 main categories for the past three years — a feat no publication, other than us, can claim to make). But each year is different. And this year, I have realized, is particularly difficult to predict. Except for a few categories — which are more or less settled — every category has too many borderline players, any of which can make into the final five. Even the Best Picture category has seven films that are sure to make the nomination list, but the last one/two spots are very difficult to predict.
With that said, take your time to go through the predictions of all the 21 categories (we don't predict the 3 shorts categories). It is a long list and will need some time to go through one by one. You can also come back, after the nominations are announced, to check how many correct predictions we made. Oscar nominations announcement will happen on Thursday, 14th January.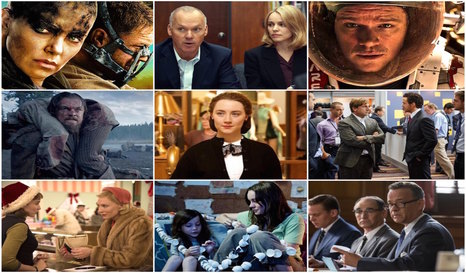 All the nominees are listed in alphabetical order.
Best Picture
The Big Short
Bridge of Spies
Brooklyn
Carol
Mad Max: Fury Road
The Martian
The Revenant
Room
Spotlight
Straight Outta Compton

Potential Spoilers:
Sicario
Star Wars: The Force Awakens
Trumbo
Best Director
Adam McKay, The Big Short
Alejandro Gonzalez Inarritu, The Revenant
George Miller, Mad Max: Fury Road
Ridley Scott, The Martian
Tom McCarthy, Spotlight
Potential Spoilers:
Todd Haynes, Carol
Steven Spielberg, Bridge of Spies

Best Actor
Bryan Cranston, Trumbo
Leonardo DiCaprio, The Revenant
Matt Damon, The Martian
Michael Fassbender, Steve Jobs
Eddie Redmayne, The Danish Girl
Potential Spoilers:
Steve Carrell, The Big Short
Michael Keaton, Spotlight

Best Actress
Alicia Vikander, The Danish Girl
Brie Larson, Room
Cate Blanchett, Carol
Charlotte Rampling, 45 Years
Saoirse Ronan, Brooklyn
Potential Spoilers:
Jennifer Lawrence, Joy
Charlize Theron, Mad Max: Fury Road
Best Supporting Actor
Christian Bale, The Big Short
Idris Elba, Beasts of No Nation
Mark Ruffalo, Spotlight
Mark Rylance, Bridge of Spies
Sylvester Stallone, Creed
Potential Spoilers:
Benecio del Toro, Sicario
Michael Keaton, Spotlight

Best Supporting Actress
Helen Mirren, Trumbo
Jennifer Jason Leigh, The Hateful Eight
Kate Winslet, Steve Jobs
Rachael McAdams, Spotlight
Rooney Mara, Carol
Potential Spoilers:
Alicia Vikander, Ex Machina
Alicia Vikander, The Danish Girl
Best Original Screenplay
Bridge of Spies
Ex Machina
The Hateful Eight
Inside Out
Spotlight
Potential Spoilers:
Straight Outta Compton
Sicario
Best Adapted Screenplay
The Big Short
Carol
Brooklyn
Room
Steve Jobs
Potential Spoilers:
The Martian
The Revenant
Best Cinematography
Carol
The Hateful Eight
Mad Max: Fury Road
The Revenant
Sicario
Potential Spoilers:
Bridge of Spies
The Martian
Best Editing
The Big Short
Mad Max: Fury Road
The Martian
The Revenant
Spotlight
Potential Spoilers:
Sicario
Bridge of Spies

Best Costume Design
Brooklyn
Carol
Cinderella
The Danish Girl
Mad Max: Fury Road

Potential Spoilers:
Crimson Peak
Star Wars: The Force Awakens


Best Makeup and Hairstyling
Black Mass
Mad Max: Fury Road
The Revenant

Potential Spoilers:
Mr. Homes
Concussion

Best Production Design
Bridge of Spies
Cinderella
The Danish Girl
Mad Max: Fury Road
Star Wars: The Force Awakens

Potential Spoilers:
The Martian
Carol

Best Original Score
Bridge of Spies
Carol
The Hateful Eight
Inside Out
Star Wars: The Force Awakens
Potential Spoilers:
Spotlight
Mad Max: Fury Road

Best Original Song
"See You Again", Furious 7
"Til It Happens To You", The Hunting Ground
"Simple Song #3", Youth
"Love Me Like You Do", Fifty Shades of Grey
"Writings on the Wall", Spectre
Potential Spoilers:
"Earned It", Fifty Shades of Grey
"I'll See You in my Dreams", I'll See You in my Dreams

Best Sound Editing
Mad Max: Fury Road
The Martian
The Revenant
Sicario
Star Wars: The Force Awakens
Potential Spoilers:
The Hateful Eight
Jurassic World
Best Sound Mixing
Bridge of Spies
Mad Max: Fury Road
The Martian
The Revenant
Star Wars: The Force Awakens

Potential Spoilers:
The Hateful Eight
Straight Outta Compton

Best Visual Effects
Ex Machina
Mad Max: Fury Road
The Martian
Star Wars: The Force Awakens
The Walk
Potential Spoilers:
The Revenant
Ant-Man
Best Animated Feature
Anomalisa
The Good Dinosaur
Inside Out
The Peanuts Movie
Shaun the Sheep Movie
Potential Spoilers:
The Prophet
Boy and the World

Best Foreign Film
The Brand New Testament (Belgium)
Mustang (France)
Labyrinth of Lies (Germany)
Son of Saul (Hungary)
Theeb (Jordan)
Potential Spoilers:
A War (Denmark)
Viva (Iraland)
Best Documentary Feature
Amy
Cartel Land
The Hunting Ground
Listen to Me Marlon
The Look of Silence

Potential Spoilers:
Winter on Fire
Going Clear


Final Tally:
Mad Max: Fury Road: 8-10 nominations
The Revenant: 7-9 nominations
Carol: 7-9 nominations
The Martian: 6-8 nominations
Bridge of Spies: 5-7 nominations
Spotlight: 5-7 nominations
The Big Short: 5-6 nominations
Star Wars: The Force Awakens: 4-5 nominations
Brooklyn: 4-5 nominations
The Hateful Eight: 4-5 nominations
The Danish Girl: 3-4 nominations
Room: 3-4 nominations
Steve Jobs: 2-3 nominations