'Frozen in Love' is a romantic comedy that follows the life of Mary, a snorty bookstore owner in Denver, who is sparing no effort to make sure the store stays up and running past its 40th anniversary. Her brother Tyler suggests they start selling coffee to modernize the café and boost the sales but Mary pays no heed to it. Enter Adam, a hockey player who gets suspended by the team's GM/ ex-girlfriend Erica, after getting kicked out of his third game, following a scuffle with the referee.
Mary and Adam, both happen to see the same PR agent, Janet (Erica's friend), who suggests they work together to improve their public image. To serve the purpose, the two start spending a lot of time, as they sponsor a kid's game, donate books to the library, and attend book signings. Will the animosity slowly turn into attraction? What happens when Erica's lifts the suspension order and calls Adam back?
The movie has been lauded by fans for its breath-taking visuals and chemistry between the leads. If you are wondering, where Frozen in Love was filmed? Don't worry, we have got your back.
Frozen in Love Filming Locations
In 'Frozen in Love,' the actors are based in Denver, Colorado, but in reality, that's not the case. The production unit scouted for locations throughout British Columbia, Canada, and settled on a winter wonderland, Revelstoke, which also served as a primary filming location for Hallmark's 'Marry Me at Christmas.' The film was shot in November, through early December, 2017. Here are the details.
Revelstoke, British Columbia
Revelstoke is a quaint town located in British Columbia, Canada. It lies on the banks of the Columbia River, and is surrounded by the mighty Mount Mackenzie and Monashee Mountains.
The bookstore scenes were filmed on a set that was specifically created for the film.
https://www.instagram.com/p/BcYzdQjl-0U/?igshid=10nxhu0kx1nf
Downtown Revelstoke was transformed into a movie set for shooting 'Frozen in Love.' Though the crew filmed in December, Mackenzie Avenue didn't have enough snow to satiate the film's need, therefore the production department had to lay down faux snow, i.e., multiple layers of cotton carpet to replicate the snow. Check out the post from a local newspaper, Revelstoke Review.
Another one, where snow is being shoveled on the sidewalk outside The Modern Bakeshop, Mackenzie Avenue.
Here's a movie scene from the film, featuring Racheal Cook (Marie) and Sandy Sidhu (Janet). It was filmed opposite Grizzly Book & Serendipity Shop, Mackenzie Avenue.
Also, the owner of one of Kelowna's famous YLW Tacos Food Truck, ditched his plans of a brief winter hiatus, to grab the sales opportunity when he learnt the filming crew of 'Frozen in Love' was in town.
Although it's famous for its lip-smacking Tacos and Quesadillas, the truck can be seen serving coffee in the film at Grizzly Plaza.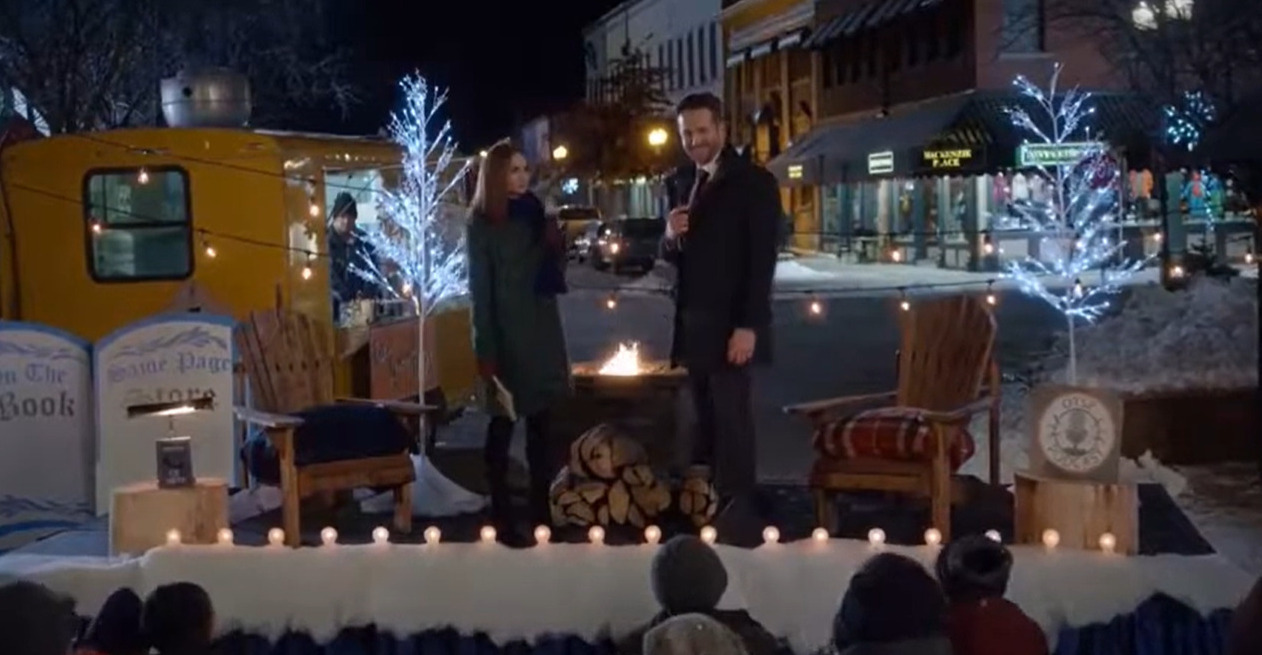 You see that yellow truck at the back? Yeah, that's the one.
Several scenes were filmed at famous Revelstoke landmarks like Grizzly Plaza, Revelstoke Forum (December 4), Grizzly Bear Square (December 6 and 7), the lane behind Everything Revelstoke, etc. A public notice was issued by the City of Revelstoke, regarding road closures due to filming.
The whole hockey sequence, including the scene where Rachael falls while celebrating her first shot, were shot at the popular Revelstoke Forum.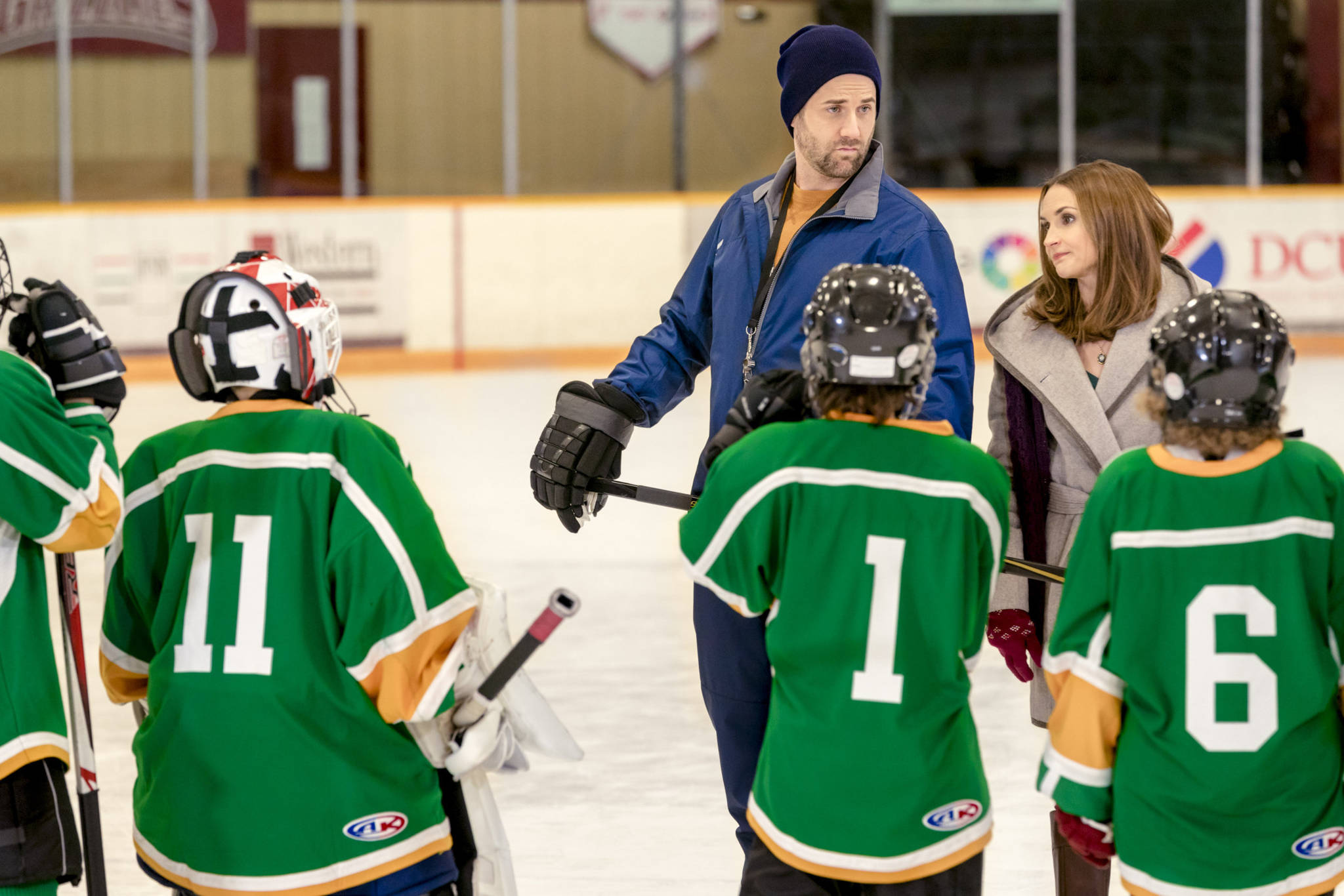 Here's a fun behind the scenes picture posted by Rachael on her Instagram profile.
https://www.instagram.com/p/Bb3TiFqlJar/
Revelstoke Mountain Resort served as the filming location for the skiing scenes. It holds a reputation of being one of Canada's toughest ski slopes, situated at the Kootenay Rockies, it is a popular skiing destination for all the adrenaline junkies.
Here's an on-location picture posted by Rachael.
https://www.instagram.com/p/Bc84c1RlMYX/
Tammy Gillis, who plays Erica, also posted a selfie with Niall, from the set.
https://www.instagram.com/p/BccqiwSlRjG/?igshid=qnzp18mjzwrg
If you happen to visit Revelstoke, you can try out a variety of adventure sports, like snowmobile trails, white water rafting, dog sledding, snowshoeing, paragliding, helicopter and cat ski/snowboard, etc., or explore the Nordic trails and enjoy live music at Grizzly Plaza.
Vancouver, British Columbia
In an interview with a local newspaper, Rachael revealed that half of the filming took place across the scenic city of Vancouver. While the bookstore scenes were shot on a set, Maple Ridge Public Library served as the filming location for the library.
Check out the pictures that Madison Smith, who plays Tyler, posted on his Instagram profile.
https://www.instagram.com/p/BcDq9bUBhM9/?igshid=1ka58h8s1vlof
The dinner scenes were shot in Abbortsford, Greater Vancouver.
https://www.instagram.com/p/BcAaUSplJPd/?igshid=10o1qlvuwcdtw
Frozen in Love Cast
The Hallmark Winterfest movie features Rachael Leigh Cook as Mary Campbell, a bibliophile from Denver who is struggling to keep her bookstore business afloat. A hallmark regular, Rachael is known for 'Summer in the Vineyard' and 'Autumn in the Vineyard.' Her other works include 'The Baby-Sitters Club,' 'Psych,' and 'Perception.'
Joining her as the wayward hockey player Adam Clayborn is Niall Matter. You may recognize him from 'The Predator,' 'The Good Doctor,' 'iZombie' and 'Supernatural.' Madison Smith stars as Mary's brother, a business school student, Tyler Campbell. Sandy Sidhu plays the PR agent, Janet Dunleavy, while Tammy Gillis essays the character of Erica Parker, the manager of Denver Royals and Adam's ex-girlfriend. The cast also comprises Victor Zinck Jr. as Chuck, Keith MacKechnie as Mary's father Paul Campbell, Jessie Fraser as Sarah, Mason McKenzie as Noah, and Sebastian Billingsley-Rodriguez as Graham.