The concept of villain is slowly dying in Bollywood. But let's not forget the glory that they have had for so many years during the last century. This list is made on a single premise: A villain is so much more than his mere act. A villain is not only known for his sticky lines but also his vengeance. Being a villain is a very tough job and we will see that in this list of the top Bollywood bad guys of all time.
20. Kesariya Vilayti aka BAD MAN (Ram Lakhan)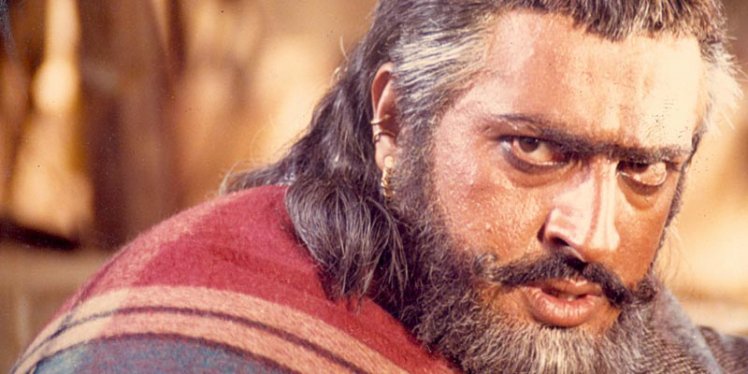 In a movie filled with villains of the stature of Anupam Kher, Amrish Puri and Paresh Rawal, every one remembers the scene of Badman aka Gulshan Grover. The scene where he he slanders Anil Kapoor aka Lakhan is a scene of sheer magnitude. Gulshan Grover always added a stroke of virility to a scene, to make things black and white. The grind of his voice still echoes in anyone who tries to voice the word Badman.
19. Lothiya Pathan (Tezaab)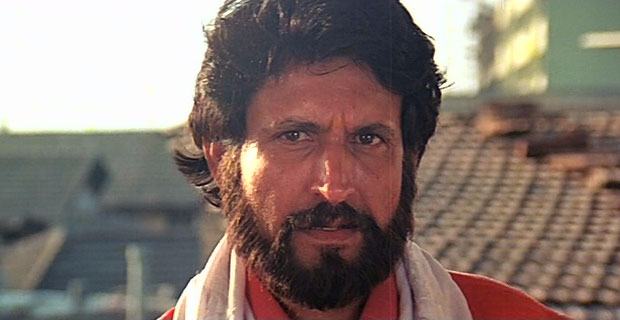 Being the son of iconic Villain Jeevan, he always had it in him to make a mark as an actor. He is a street fighter, knows no style, no bounds and no mercy. Lothiya kills like he breathes, in a swift rhythm. The eyes never flicker, every scene, every single scene where he is in focus the eyes rips through every scene and even without the cacophony of the backdrop honks, he would still have that menacing grab. He never could grip the same effect in the subsequent movies offering similar roles but this movie is enough to grant him the position in the list of the greatest villains.
18. Lion/Din Dayal (Kalicharan)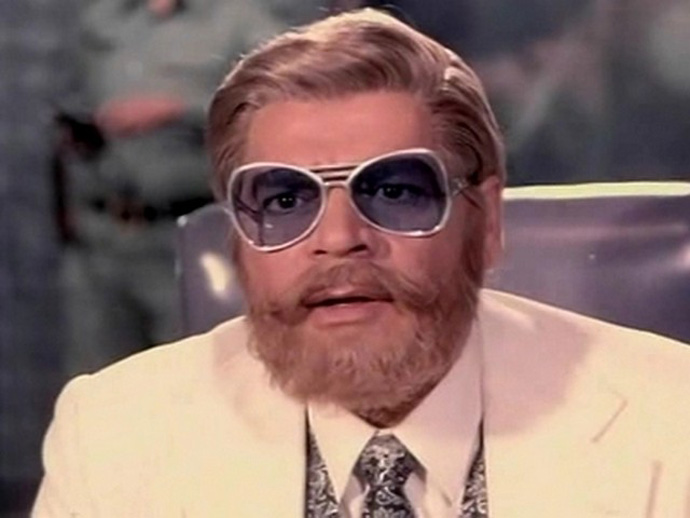 He was always the well groomed actor, in his well crafted suit, the very important sunglasses and the heartless outlook. He never jumped into any dialogue and always delivered every sentence in laid back stretch and ease. Lion/Loin is remembered for some of the most iconic lines like 'Mona darling'(Yaadon Ki Baraat), 'Lily don't be silly'(Zanjeer) and 'Lion' in (Kallicharan). He always had an astounding presence, among the smokes of his cigars and through the shards of his scotch glasses, you could always see the brutality of Ajit, every single time. The most significant attribute of his dialogue delivery was the sound that accompanied his words, it gave it the symphony of evil touch. These things can never be taught, he understood the persona of a Villain and things that could give his characters a menacing touch.
17. Sir Juda (Karz)
We always remember the iconic villains by the their monologues, one liners that stick with us years later. Then we have Premnath and his role as the mute Sir Juda in the movie 'Karz' where he never speaks but only communicates by his soft knocks which is translated by his right hand Mac Mohan; never utters a single word and yet looks terrifying in every single scene. More than that he looks wicked, like he knows ways to strangle without even laying a hand. He gives you the shrills and the chills. Surprisingly, for a major part of his career he played the Good Guy but he is still known for his negative tints in the latter part of his career.
16. Ranjeet
We haven't mentioned a film for a reason. He was Ranjeet in any and every movie, he was synonymous with being The Rapist. There was a time in the 70s and 80s, where if the Hero had a sister, she was bound to the raped by Ranjit. Ranjit was very handsome and his venomous string to attack women became a feature of his roles. Ranjeet was a sinister slick, a ravage waiting for his next prey, who could have been easily defeated in a fight but was always protected by his influence or power. He sketched a character of a sex hungry villain, echoing his lust in simmering sounds which became synonymous to being 'Ranjit in the house'.
15. Robert and Lala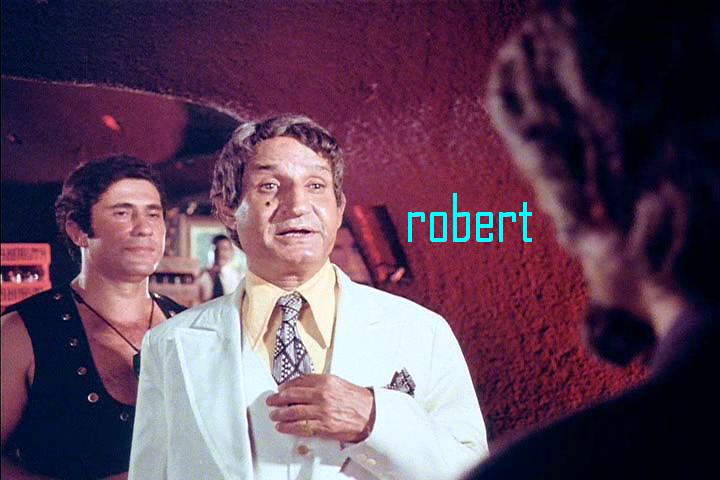 Again, we thought it is better not to mention one single movie name. Jeevan was the go to guy in the 60s and the 70s for the role of villain. He was either the Robert in a Dev Anand movie or a Lala in a story depicting a village uprising. Jeevan is known for his over the top enactment of Robert and the knavish Lala: the landlord. He got into the skin of both these polar opposite roles with ease. To witness his subtle brilliance, watch his scene as the Master in the movie 'Gambler' where he plans against Dev Anand, it is a small monologue but every sentence that comes out of him exudes hate and wrath. That was the quality of his acting, crafting genius out of thin air.
14. Akbar (Mughal-e-Azam)
Prithviraj Kapoor plays Akbar with such domineering presence that as an audience you hate him as much as you are in awe of his powerful persona. Akbar is not a villain in the traditional sense of Bollywood. He is painted more with shades of grey than black. But that doesn't mean he, is a likeable character by any stretch of imagination. He might be trying to protect his legacy but his stand against his son and the whole idea of love makes him one of the most memorable villains in Hindi cinema's history. In the end, Akbar does try to redeem himself, but by then it is too late for him to not appear evil.
13. Birju (Mother India)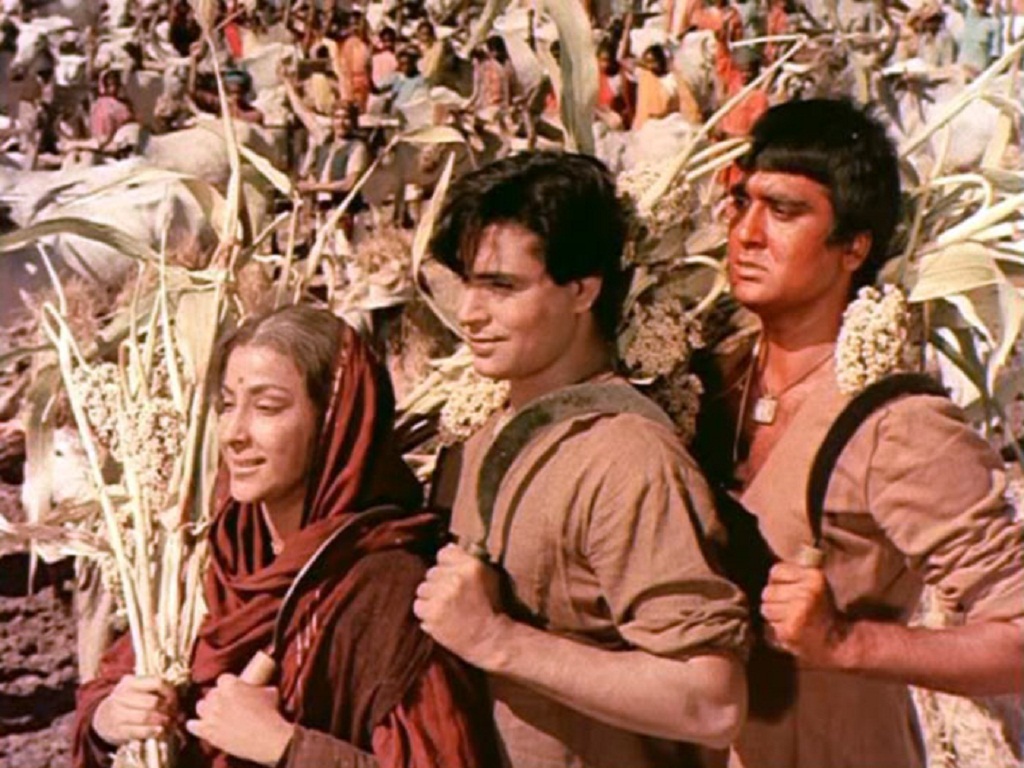 Many consider 'Mother India' to be greatest Hindi film ever made. While that is arguable, what is not contentious at all is the fact that watching 'Mother India' is such a cathartic experience because of its actors, mainly Nargis and Sunil Dutt. At a time when there was a clear demarcation between the actors who played hero and the ones who played villain, Sunil Dutt chose to take the risk of playing Birju, an unlikely villain. And boy did he make an impression! It's an amazing transformation when you compare Birju with the typical guy-next-door that Dutt was so adept at playing. Without a doubt, the single best performance of his career.
12. Dr Dang (Karma)

For a man who has five Filmfare awards for a actor in a comic role, it is difficult to fathom the fact of him being here, in this position, among such brilliant villains. So why do people remember him as one of the greatest villains even in the myriad of his so many comic roles. Well the answer is simple, Dr Dang(Karma). He looks menacing, for he has a strategy, a deep rooted hate and all the money in the world to execute his master evil plan. Dr Dang is the scientist, the evil master that looks well beyond tomorrow and plans every move. He doesn't fight with his fists; he battles with his wit. The scene where he is slapped, is so intense and gritty that it gives an idea that bad things will happen to Dada Thakur (Dilip Kumar).
11. MahaRani (Sadak)

A gem discovered in the lanes of Marathi Theatre, he has helmed some very antagonising roles in Hindi movies. He was a frail looking villain, always under the radar, scheming his plans in the darkest of hours and prosecuting them in circumlocution. There are two films that made Sadashiv the number choice one for villainous acts- 'Sadak' and 'Ardh Satya' yet Sadak edges ahead. In the movie he portrays the role of a eunuch, whose known as the queen of the brothel. When a man has to play a role of a woman or even a eunuch for that matter, it is very easy for things to get comic, unintentionally. And that defeats the purpose. Not only Sadashiv took hold of his character but looked grimacing and perturbing. He wildly handles women and lead his men twice and sometimes thrice his size. He is a slime little character but every dialogue packs a punch. His role is the masterclass of acting embedded with negative shades.
10. Subedaar (Mirch Masala)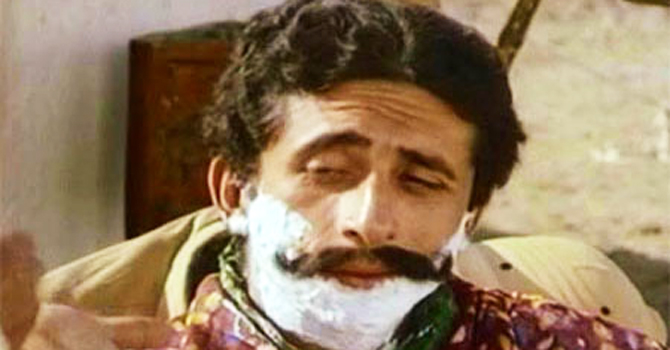 Well he is a great actor, so it is only fair that he makes into every list including the list of the super villains. He never got an award for his role and not a lot of people witnessed his movie. Yet it is one of the most gruelling portrayal by an actor on the celluloid. The opening sequence when he enters the village on his horse, there isn't a chaos that ensues trifling everyone from their screen space yet it triggers restlessness, the audience is rendered by his relentless greed and the moment he lays his eyes on Sonbai (Smita Patil), his acting goes well beyond the frame. The audience witness shade of greys they never thought existed. He is lustful but he carries it with a finesse, like a painter carries his art. He is a villain's dream charade. Even the climax scene, where everything is stacked against him, he holds his deteriorating character with strength.
9. Prem Chopra (Bobby)
Prem Chopra was as handsome as they come.He could have easily been The Hero . But his fate had other plans. He got roles where he was always trying to force himself on women or trying to destroy her love. There are so many movies, opposite Rajesh Khanna where he has helmed the negative role and simply nailed it. He was naturally good at being bad i.e villain. The only reason Bobby deserves a mention because it was the start of his act of 'Prem naam hai mera, Prem Chopra'. Prem Chopra never had to built any character, it always seemed like he took off from his last role and he did it seamlessly.
8. Gokul Pandit (Dushman)

Ashutosh Rana is a rare gem. I don't think anyone has the magnitude of destroying the will of an audience by his/her sheer expressions like he does. He makes the audience scream by his mere eyes and is the master of the grotesque. It is not easy to influx a mentally disturbing character in the minds of the audience. It needs the understanding of camera. A fine coordination with your artists and an engaging interplay with the audience. He makes the hardship of playing a villain a mere ordeal. He not only acts, he creates a dungeon of pain and the audience in it's all naivety succumbs to it. In the movie Dushman, he rides on a cheap bicycle, in his frail self and yet is able to creep the audience out. If someone can paddle into a scene and rule it, he deserves this position.
7. Raka (Jis Desh me Ganga Behta Hai)
Pran is the canvas which depicts Bollywood. His villainous portrayals, were not only menacing but had a touch of intelligence. He has sketched so many characters, from a dacoit to Halaku. He inculcated "method acting" even before people knew, acting had a method to it. No director or an actor, has put so much work into their roles like Pran did. He used to add a little touch to his characters by subtle nuances in speech, make up and especially in his walk. Pran was not just a great Villain or an actor, he was a great artist. There are so many of his roles which can single-handedly stand the test of the number one position. There are millions of people who gush over the brilliance of movies of the west. Well they need to see the world of Bollywood through the lens of Pran. So that they can cherish the beauty of Hindi Cinema.
6. Langda Tyagi (Omkara)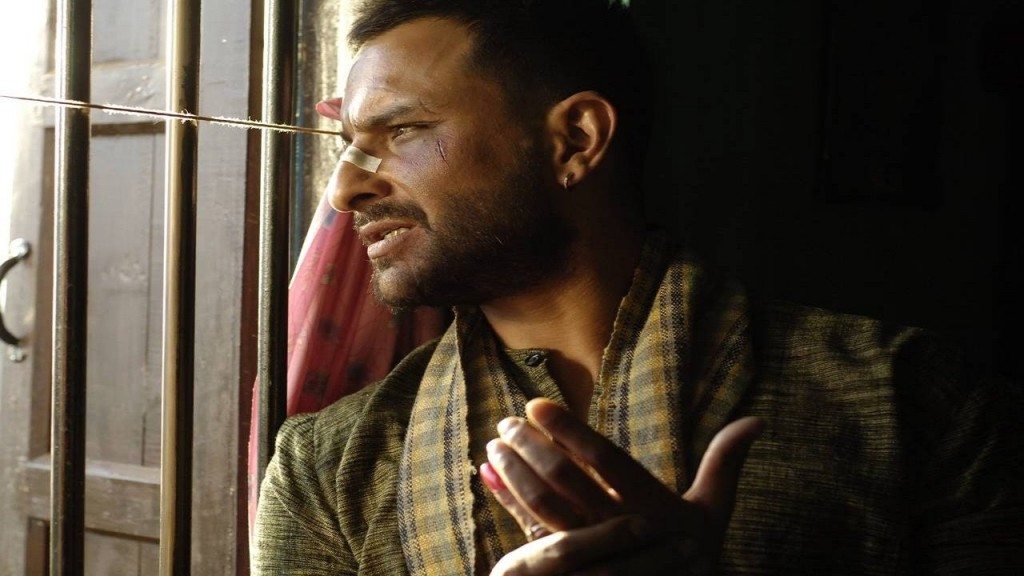 Possibly, the last great villain of Hindi cinema .. at least for a while. Saif Ali Khan completely transformed himself to play a character that was not just vile and cunning, but also raw and rustic. It is testament to his acting prowess that despite being in the midst of many talented actors, he rose to occasion and created one of the most memorable characters of recent times. Langda Tyagi will always remain the crowning achievement of his acting career.
5. Kaancha Cheena (Agneepath)

Danny is simply a very good actor irrespective of the shade at his helm. Before the production of 'Agneepath' had started, he had done quite a few villain roles, the only downside was it all looked they same. The same caves, the same costumes, the same henchmen, the names of the movies differed yet Danny's role and his casted shadow always were on the same lines. But then he got the offer of Kaancha Cheena on the recommendation of Pran, and he just dug his teeth into that role. The suave, the smooth trickster was a new and refreshing dimension of Danny and the audience fell in love with it. He was poignant and gruesome in the same breath.
4. Shakaal (Shaan)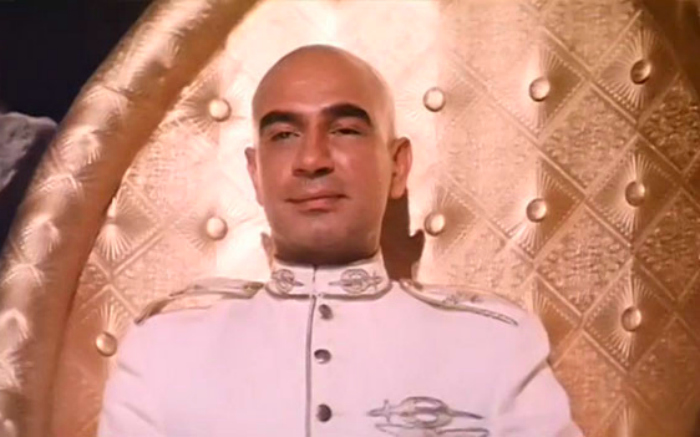 The eccentricity, the bald look, the vengeance, everything was a subtle carry of a role that had been carried before. Yet there were a lot of things that he added in his character that has made it stick in the minds of his viewer till date. His slump look, his resounding shrill, his order to destroy, to create chaos, every etching was astounding. Also, another significant notch of his portrayal was that he played a role of a much older character and he did it with utmost ease. For the blinded he was a revelation and for the ones who had an eye for movies, he was still a powerful character.
3. Crime Master Gogo (Andaz Apna Apna)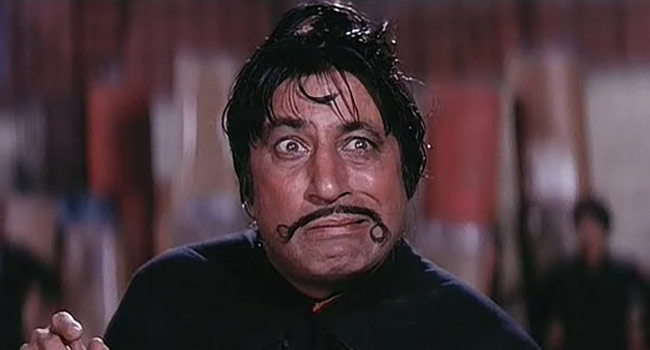 Villains come in various shapes and sizes. They also come in Shakti Kapoor made a career out of paying the devil. Little did he know that his most iconic role will come playing a clown. Crime Master Gogo is possibly the only villain on this list who is not menacing but rather adorable. Even now, more than 20 years since its release, there are more memes of Crime Master Gogo on internet than any other villain. He claims to be the nephew of Mogambo, who befittingly follows him on this list.
2. Mogambo (Mr India)
A deep shrilling voice, a well built physique to complement that and a great Hindi diction to effect. He has played a bad guy in so many roles that every role has its notion to be crowned but the only reason of Mogambo being up there is the fact that he is dressed in golden beats in velvet. He has blonde hair to go with that. Also, he sits on a crown and asks people to jump into a shark tank on his will. This sketch of a character could have easily gone into doldrums if not for Amrish Puri. He takes the role of Mogambo by the scruff of its neck and acts like no one could. Amrish Puri is the reason, we see so many shades of negative role, he has been the master of guises and there is no one better at it.
1. Gabbar (Sholay)

Yeah, no surprises! Gabbar became the notion of a Villain. Sholay was an iconic movie and one of the reasons of it being iconic was Gabbar. Gabbar doesn't have any shades, his presence dictates his terms. The reason his dialogues reverb because Amjad Khan could understand its frequency and react accordingly. Words aren't enough anymore to describe the brilliance of Gabbar. Gabbar is not only the greatest villain, but possibly the most iconic character ever created in Bollywood.