(*Spoilers Ahead*)
Academy Awards are the highest honor a film or a person who contributed to the making of it can receive. It's an obvious assumption for every moviegoer, that a film with a movie along with an Oscar tag is worth a watch. But sometimes, people don't seem to share the same thoughts and they only have one place to let that frustration out…User Reviews. So here is a list of 15 Oscar-winning movies, destroyed by angry IMDB users.
Some will definitely make you go like…."Seriously?"
1. Gravity (2011)
At 86th Academy Awards, 'Gravity' won 7 Oscars out of 10 nominations, including Best Director for Alfonso Cuarón. Critics quote the movie as "technically dazzling…", "inspiring awe among critics and audiences….", and "a glorious imaginary creation that engulfs you utterly…". But it looks like some IMDB users (an army of them) shares an opposite disastrous opinion on the film.
For example…this guy…
this one went on to shout for his refunds….in space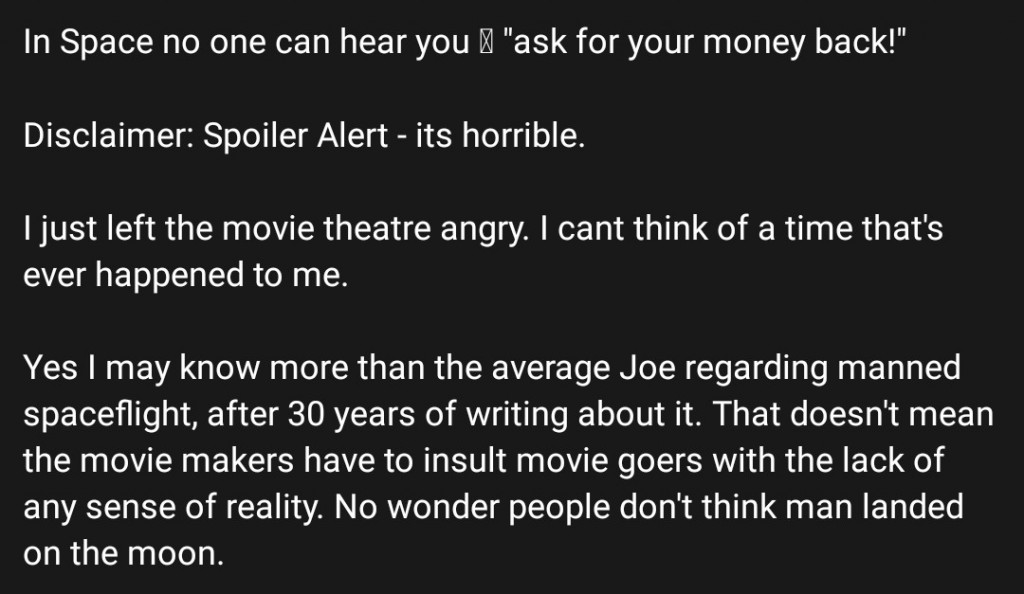 and, to my surprise, Sandra Bullock is a 'klutz'…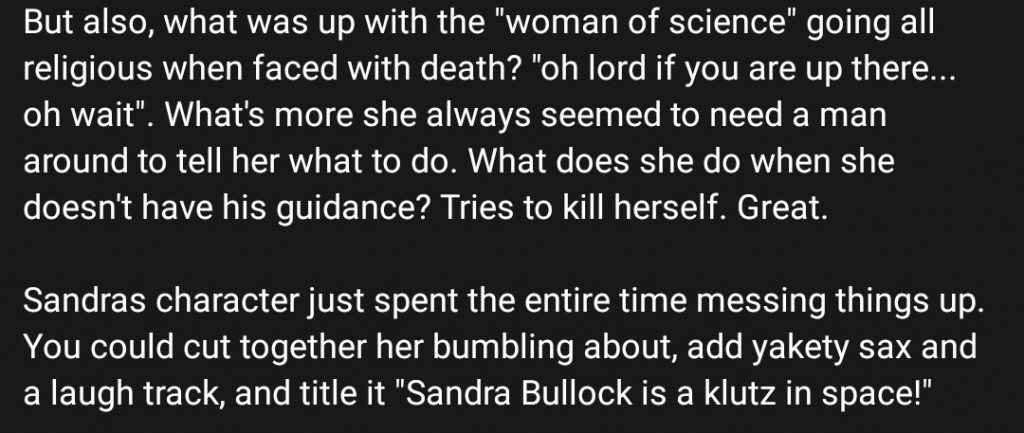 2. Birdman (Or The Unexpected Virtue of Ignorance) (2015)
This highly acclaimed project directed by Alejandro G. Iñárritu, starring a talented and widely recognized ensemble is an extraordinary cinematic workpiece powered by a layered story, outstanding acting, and impressively written screenplay. Winner of 4 Academy Awards including Best Picture, 'Birdman' was one of the best movies of that year.
But this guy fell short of 'pages' to show his dissatisfaction…

this one is "arty-farty angry"…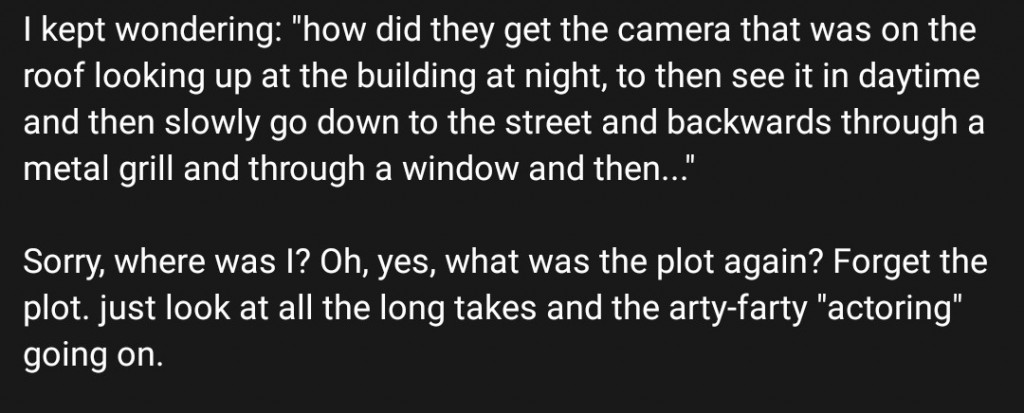 his friend fell asleep and he didn't…why is he angry then?

3. La La Land (2016)
This musical romantic drama set the record for highest Academy Awards Nominations (14) and went on to win 6 out of them, including Best Director, Best Actress, Best Original Score and Original Song. A pleasurable entertainment, 'La La Land' was both a critical and commercial success and was praised on every level.
Ryan Gosling & Emma Stone received Best Actor and Best Actress Nomination respectively which the latter won…but he found Gosling 'pathetic' and Stone's voice a disastrous disease
this one is very very frustrated…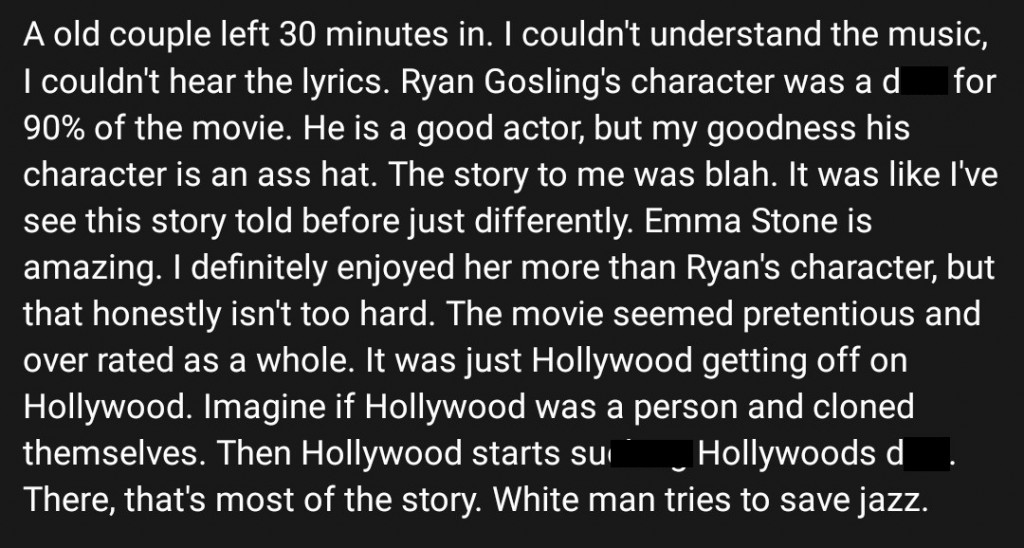 well, this one actually praised the movie
4. Mad Max: Fury Road (2015)
The reboot of the famous Mad Max Franchise had a record win at the 88th Academy Awards Ceremony winning 6 Oscars for Production Design, Costume Design, Sound Mixing, Sound Editing, Film Editing & Makeup & Hairstyling. A commercial success, Mad Max earned enough money and acclaim to set the motion for a possible sequel. But a few audiences can't handle the first.
Like he doesn't like the action in an action movie…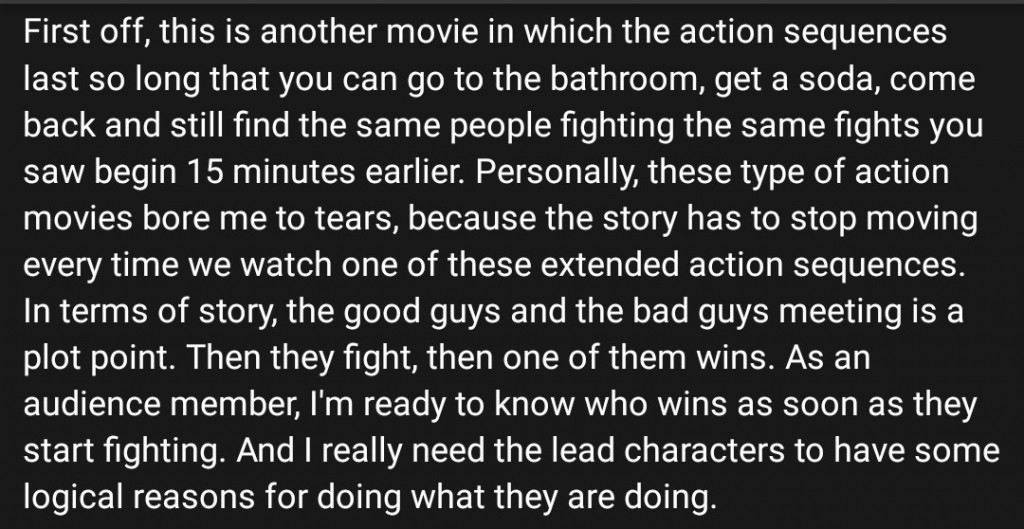 and he seems he was definitely not "KOOL" with anything in the movie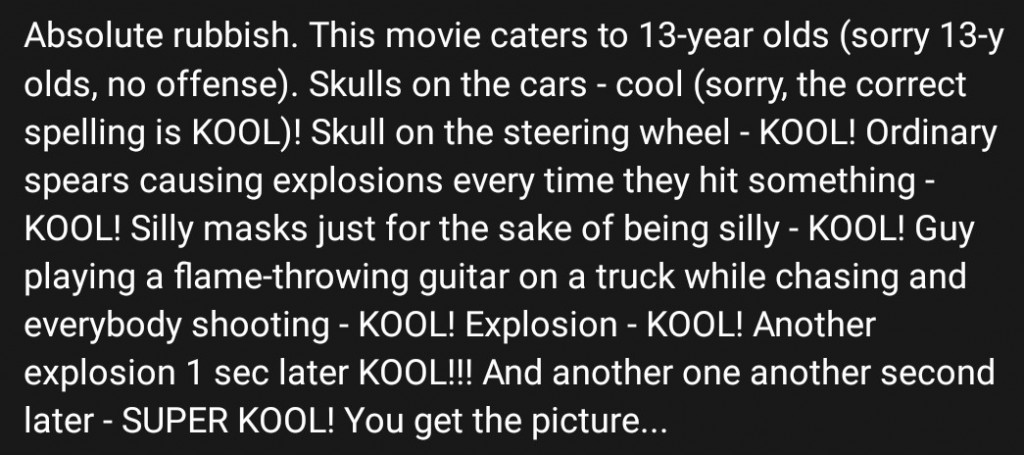 5. Suicide Squad (2016)
DCEU's third installment in their growing franchise, 'Suicide Squad' was actually a big downfall. Negative ratings, zero critical acclaims, the backlash from fans etc…but still an Oscar in the bag. Yep, the movie actually won Best Makeup & Hairstyling Award surprisingly defeating 'Star Trek: Beyond'. This actually came as a shock and this guy described everything wrong in the movie in one single review…