Indian Cinema witnessed a revolutionary change during 1950s and 1960s. The films made during this time period achieved a fine balance between artistic sensibilities and pertinent social message. Each department of film-making was acutely aware of the responsibility vested in them and they produced some enviable work in these decades, be it innovative cinematography, songs laced with emotional undercurrents, stories which not only connected but also represented the existing condition of the society.
Whether the current crop of filmmakers consider these classics as their reference points remains a matter of debate. Nevertheless, we bring you the list of top Hindi classic movies from that era that will remain timeless for ages. You can also watch online some of these classic Bollywood movies on Netflix, Hulu or Amazon Prime.
1. Pather Panchali (1955)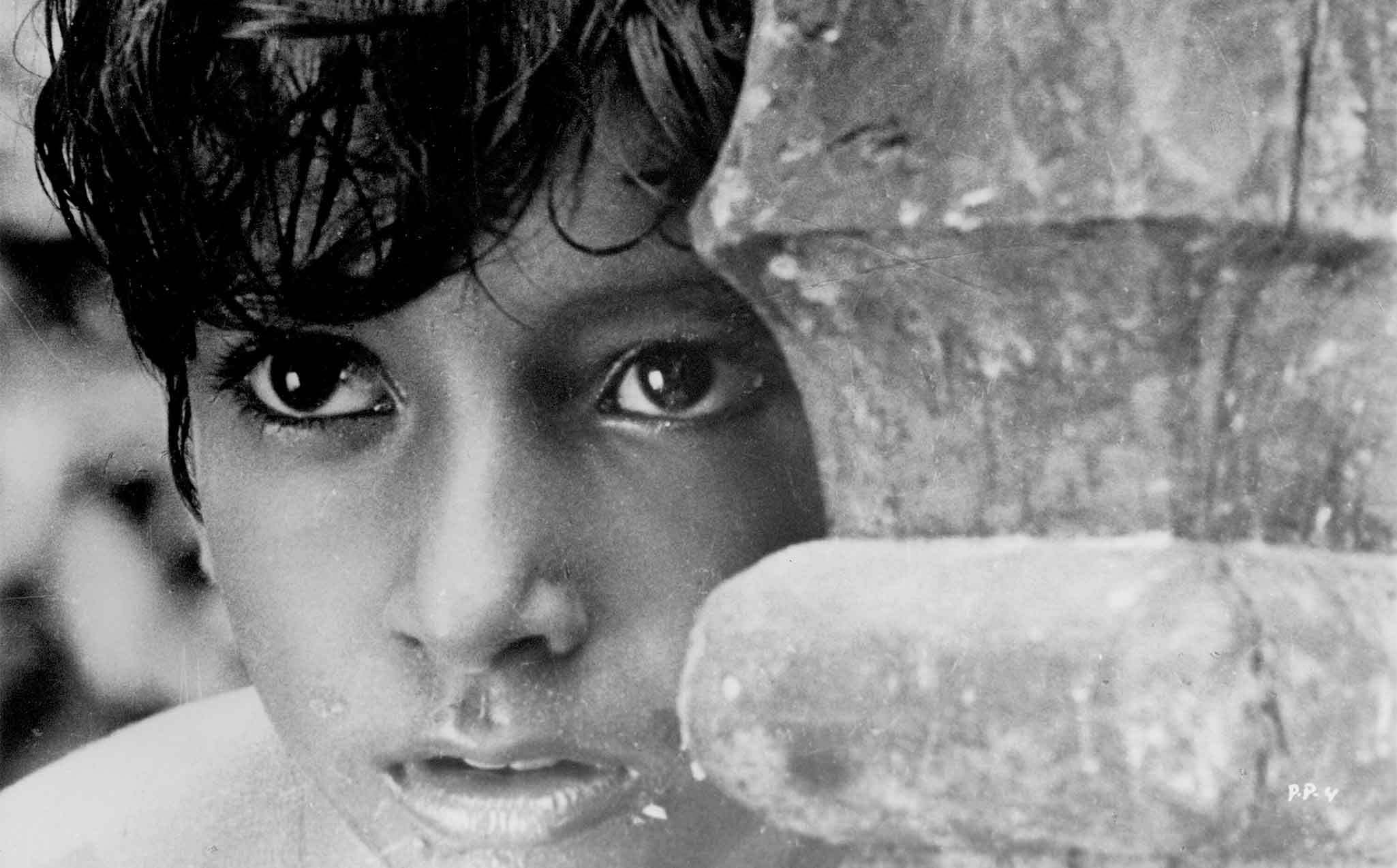 Satyajit Ray's first in the Apu Trilogy depicts the desolate consequences of debilitating poverty. 'Pather Panchali' is a story of a poverty-stricken family, struggling to make ends meet and its members trying to find joy in little things and events. For instance, Grandma's face glows up when she finds a guava in her fruit basket, Apu runs with all his might to witness magic unfold in front of his eyes, i.e. a whistling train, and people of the village derive extreme happiness by getting drenched in the first rains of the season. 'Pather Panchali' offers few moments of innocent happiness here and there, but largely it remains true to its central theme – depiction of stark reality of most of the families in India just after Independence – destitution. Despite being a difficult watch for some, 'Pather Panchali' remains a rare achievement in film-making, a feat accomplished with shoestring budget and amateur actors.
2. Pyaasa (1957)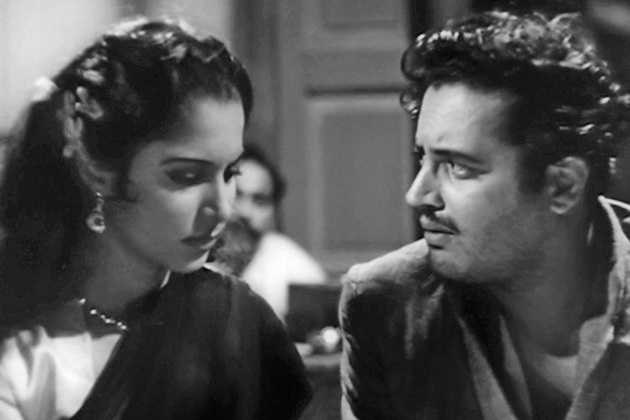 The film fraternity in particular–and the entire country in general–should feel immense pride in the fact that such a fine film came out of India. More than its perfection, what makes 'Pyaasa' a timeless classic is the relevance which it holds and will continue to hold. In the Post-Independence India, we meet a poet who hasn't succumbed to societal pressures yet. Despite countless rejections, his poetry retains its nascence and refrains from getting dictated by the substandard assumptions of numerous publishers. Unfortunately, his poetry reaches the audience it deserved only after his assumed demise. But, by then, he loses faith – in society, its people and its structures – to which he had clutched on to for so long. 'Pyaasa' is an invaluable piece of cinema because of the stalwarts associated with it: Guru Dutt – director and actor, Abrar Alvi – writer, S.D. Burman – music director, V.K Murthy – cinematographer. But, the person who lent endurance and relevance to 'Pyaasa' was Sahir Ludhianvi – the lyricist. It should suffice to say that his words will echo in eternity: "Jinhe naaz hai hind par vo kaha hai"
3. Do Bigha Zamin (1953)
"Getting into the skin of the character" is an oft-repeated phrase in current times while describing an actor's shining performance. Balraj Sahni exemplified the phrase more than 60 years back with his portrayal of Shambhu Maheto. It's about a farmer who–in order to repay a hefty loan and save his piece of land from the clutches of industrialisation–heads to the bustling streets of Calcutta in the hopes of employment. Shambhu manages to become a rickshaw puller and slogs on the streets beyond his physical capability. Odds are stacked against him of arranging the loan in stipulated time and eventually he is forced to relinquish all his claims. Balraj Sahni–clad in rags–pulled those inhuman Calcutta rickshaws barefooted on the scorching roads to provide authenticity to Shambhu Maheto. This heart wrenching drama represents countless farmers who migrated (and continue to migrate) to save their ancestral land. Throughout the run-time, you assure yourself that Shambhu will make it but Bimal Roy lands the final blow in the last shot where Shambhu is not even allowed to take away a fistful of soil from his land. With this, Roy dispensed away with the compulsion of delivering a "happy ending" and instead, provided us with a glimpse of gritty and unsettling realism. It won the International Prize at the 1954 Cannes Film Festival.
4. Guide (1965)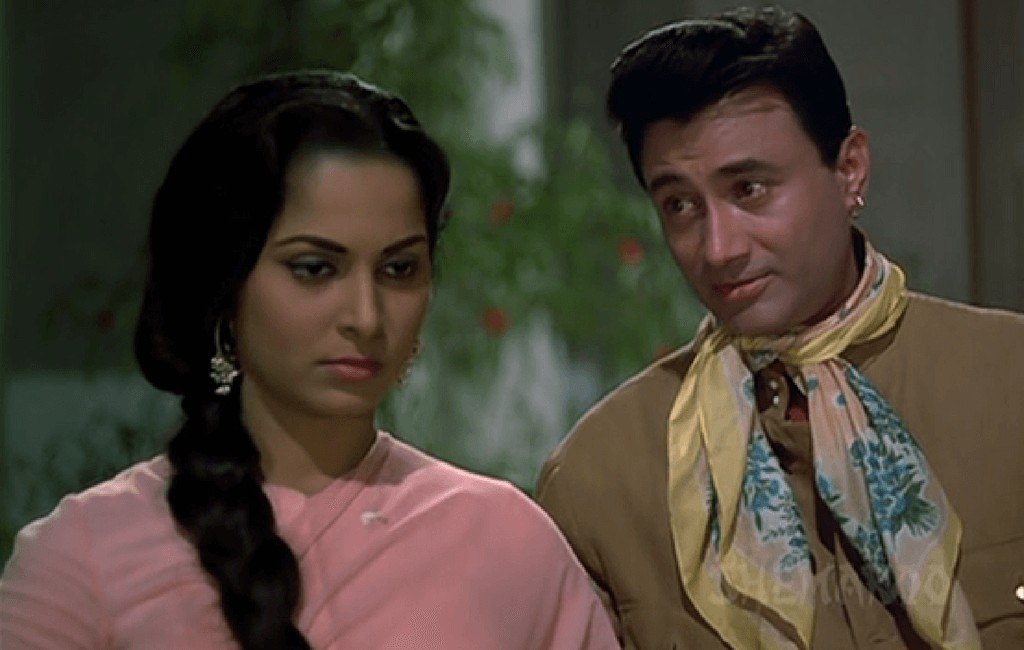 R. K. Narayan's deeply moving story needed sensible and adept hands for its onscreen translation and it found them in Vijay Anand – one of the most significant directors in Hindi Cinema. Essentially a love story, Guide delves much deeper into the society and its practices in which that love germinates, prospers and decays. A skilled guide falls for a woman who is troubled with a hollow marriage and an unsavoury past. He liberates her with his progressive attitude towards life, its meaning and the purpose it holds. Both continue to live happily amidst resistance by his folks until the inevitable happens. Wealth gets to him and the growing mistrust creates a chasm. He forsakes everything and takes shelter in a remote village where the folks begin to deify him and their obsession takes a toll. Guide offered us a Dev Anand–sans trademark wrist flicks and nods–who was sincere and understated. Waheeda Rehman matched steps with Anand and delivered a striking performance. Fali Mistry's exceptional cinematography constituted neatly staged lengthy shots (quite uncommon nowadays). But, what elevated Guide's timeless charm were its songs. S.D. Burman's soulful compositions offered a life to Shailendra's golden words and Vijay Anand blended those songs seamlessly into the narrative. For instance, 'Tere Mere Sapne' is a love song which proclaims and later reinforces Raju's promise for Rosie. In 'Piya Tose Naina laage' we see Rosie's stupendous career rise and in 'Mose cchal kiye jaaye saiyan beiman' we see her pain and aversion towards Raju's malpractices. 'Guide' is not just another classic, it's a recourse in analyzing human behavior as well as the society in which we dwell.
5. Do Ankhen Baarah Haath (1957)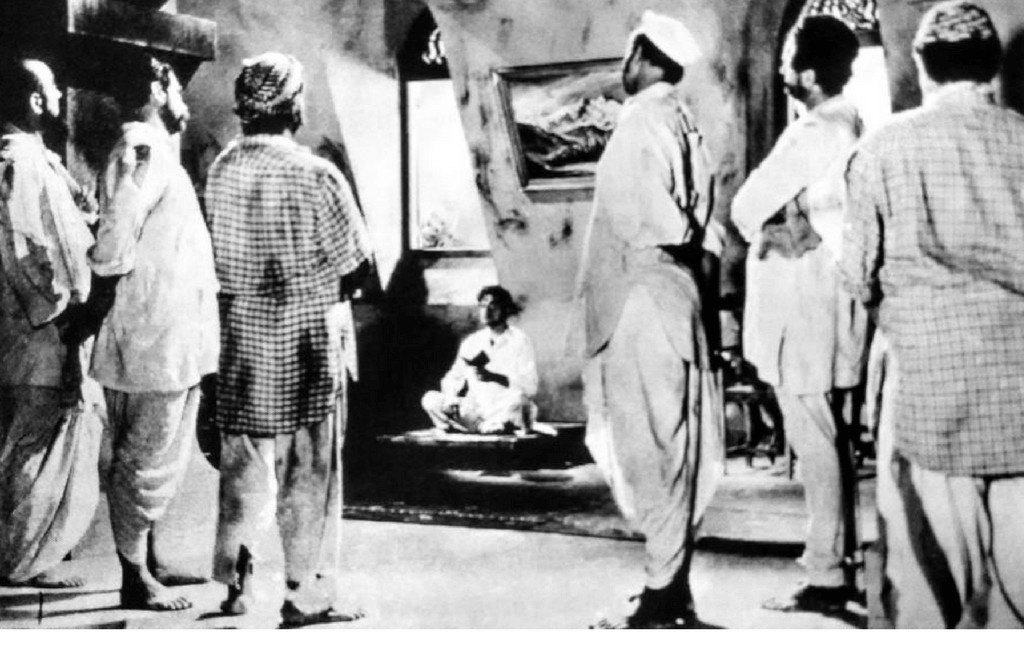 V. Shantaram has always been hailed as a visionary whose contribution to Indian Cinema is immense. 'DABH' is a worthy example of that. It is about a Jail Warden Adinath who takes six menacing criminals – serving death sentence – under his wings and hopes for their reformation with his unusual social experiment. The time of the film's release holds a special importance. It hit the theatres just a few years after India became independent – a country which was predicted by foreign analysts to be heading towards a doom without British supervision, a country still trying to find a firm footing, a country which suddenly found itself on the crossroads. In such times, 'DABH' played an unfathomable role in charting a positive direction for the people of India. With agriculture and self-sufficiency as its central theme, 'DABH' echoed the sentiments of the statesmen of those times. Apart from its themes, 'DABH' is also remembered for its realistic portrayal of the story, excellent musical compositions and impressive cinematography. For instance, the sunset and approaching night is shown by shifting the light carrier further from the focus. The female lead is accompanied by a musical contraption to justify the background score. Ahead of its times!
Read More: Best Dilip Kumar Movies
6. Padosan (1968)
'Padosan' is undoubtedly one of the finest comedy films in Indian Cinematic History. What sets it apart from other comedies is – it isn't dated. Even now, it can send its audience into fits of laughter. The film is about the rivalry between Bhola and Master Pillai who compete to woo Bindu. In his quest, Bhola is supported by a group of friends which includes Kishore Kumar playing the gifted singer – Vidyapati/Guru. Sunil Dutt's innocent, endearing and funny Bhola was nothing like anything the audience had ever seen before. Dutt was already counted as one of the bona fide actors in the industry, but, with 'Padosan' he displayed another dimension and was loved by audience and critics alike. In making 'Padosan', the timeless classic it is now, Mehmood and Kishore Kumar played significant roles. Kishore Kumar's effortless comic timing coupled with his magical voice and Mehmood's memorable South Indian music teacher will always be etched in our conscience. And who can forget the enchantress, Saira Banu. Last but not the least, the jugalbandi between Kishore Kumar and Manna Dey which is stuff of the legends now.
7. Mother India (1957)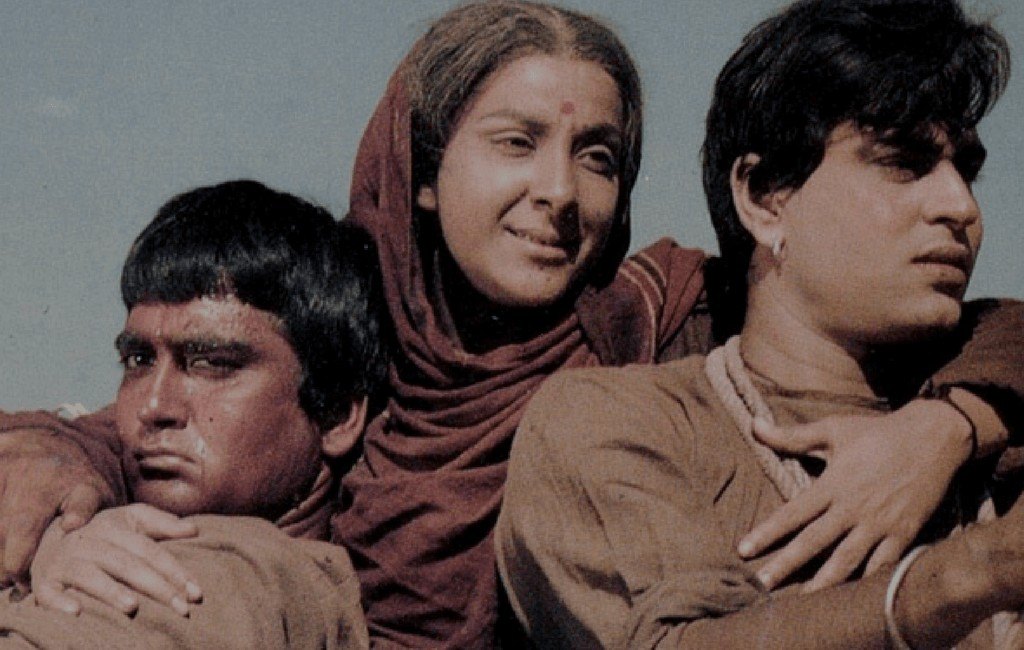 Considered to be one of the greatest films in Indian and World Cinema, 'Mother India' is a crucial milestone in film making as well as the country's history. Mother India released at a time when India, as a country, was unsure of its destiny. The freedom from foreign supremacy brought with itself a new set of challenges, primary of which were pandemonium and uncertainty. In such difficult times, Mother India became a reference point because of its themes of resolution, courage, survival and justice. Nargis delivered the performance of a lifetime as Radha, a newly married woman who is marooned by her husband in the wake of a severe injury which renders him helpless. Unfavorable circumstances continue to pile up but fail to defeat Radha's resolve. She raises her two children single handedly and sets an example for villagers. When Radha has to choose between justice and her son, she chooses the former. Apart from Nargis, Sunil Dutt won hearts as Birju, a loving but reckless son who strays from the path and goes rogue.
8. Sahib Bibi aur Ghulam (1962)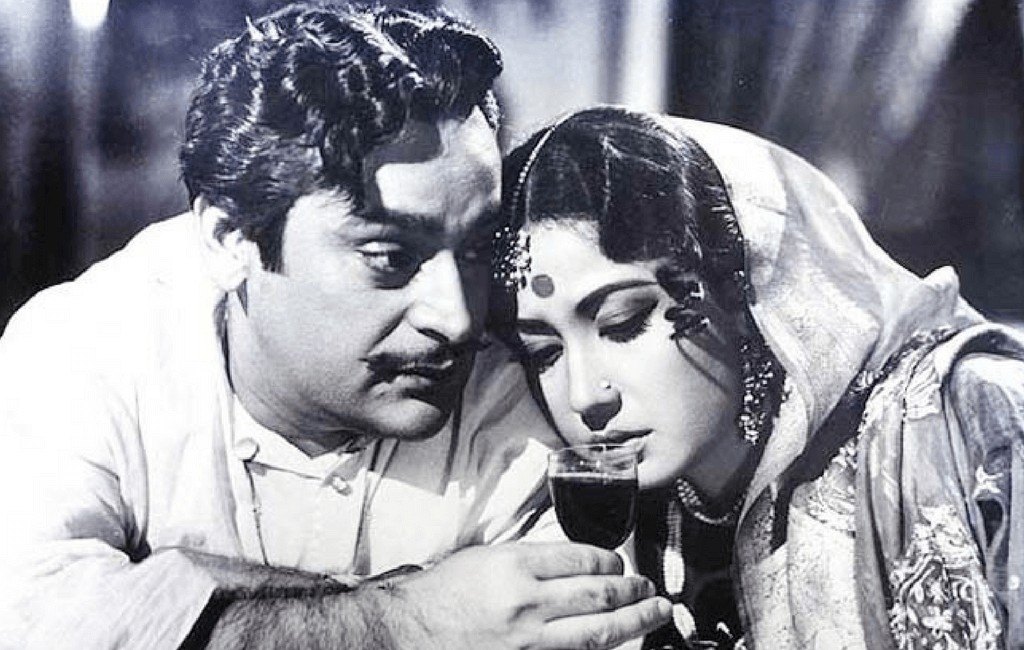 No other film captured the excesses, decadence and subsequent denial of the zamindars better than 'Sahib Bibi aur Ghulam'. The abolition of the zamindari system was the first most important step towards agrarian reform. But, zamindars' failure to mend their old ways became their eventual noose. In the film, Chhote Sarkar continues to dwell in fool's paradise while the façade of zamindari comes crashing down. Chhoti Bahu pines for her husband, takes to alcohol and finds a confidante in Bhootnath. Their platonic relationship is misconstrued by the villagers and they resort to mob justice. Every artiste in the film performed their part to a T; but, the film is largely remembered for Abrar Alvi's skilled direction and above all, Chhoti Bahu, played by Meena Kumari. Numerous actresses were considered for this role but it was decided and rightly so that only Meena Kumari can deliver the kind of maturity required for this role. She made Chhoti Bahu memorable with her art – a character which is said to have borrowed significantly from Meena Kumari's personal life.

9. Charulata (1964)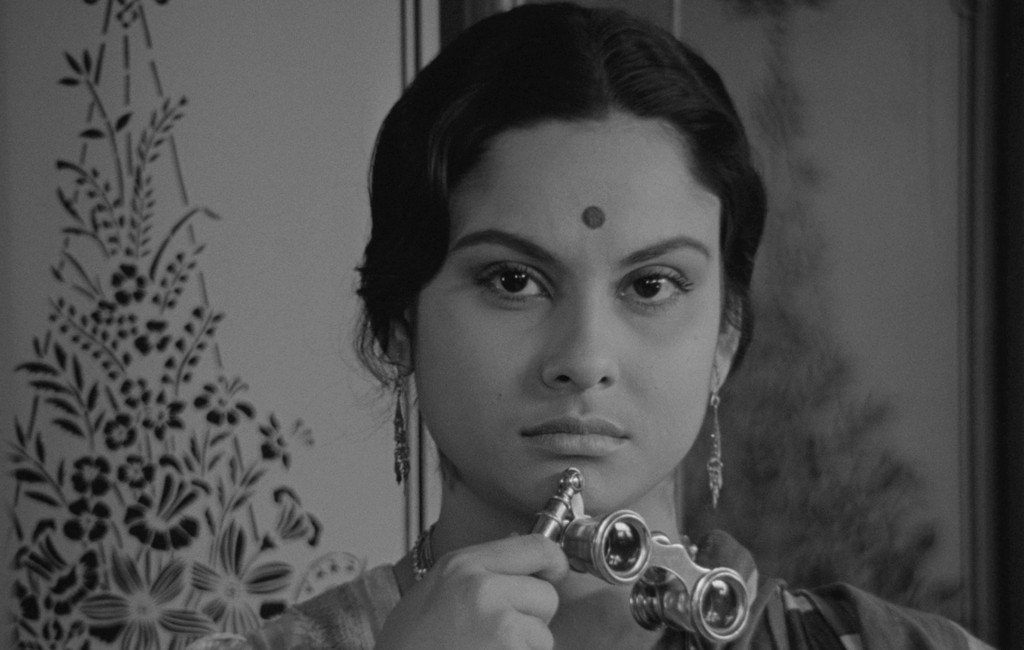 We all know that Satyajit Ray was a filmmaking genius. When you see Charulata', you realize why. It is an epitome of the subtle-but-striking quality of filmmaking Ray was known for. Based on Rabindranath Tagore's novel "Nastanirh (The Broken Nest), 'Charulata' tells the story of a lonely housewife, known as Charu (Madhabi Mukherjee), who lives a wealthy, secluded and idle life in 1870's Calcutta. Her loneliness drives her to fall in love with her husband's cousin. Obviously, things don't go down well for her when he abruptly leaves. 'Charulata's brilliance was best described by Sight and Sound critic Penelope Houston who wrote about the film: "the interplay of sophistication and simplicity is extraordinary".
10. Mughal-e-Azam (1960)
'Mughal-e-Azam' is not just a film; it's an experience. The development of 'Mughal-e-Azam' began in 1944. Production was plagued by delays and financial uncertainty. 'Mughal-e-Azam' cost more to produce than any previous Indian motion picture; the budget for a single song sequence exceeded that typical for an entire film of the period. But, inspite of everything the film went through, we are lucky that it finally got made and we got to see an epic on a scale that was never seen before — and has never been seen since. K. Asif, the director of film, didn't make any film again after making 'Mughal-e-Azam'. He didn't need to. He had already made a masterpiece; other directors strive — often, unsuccessfully — their whole lifetime to make one.
Read More: Greatest Bollywood Films of All Time