Seven minutes into the movie, the title shoots up to Vitamin C by Can in the background with its bouncy percussions hefting the soundtrack and Joaquin Phoenix staring bemusedly at his ex-girlfriend as she drives away. The disoriented look on Joaquin's face sets the tone for the rest of the movie. The plot is as bewildered as the look on phoenix's face but it is a movie which impresses even when it is trying not to impress, hence, recommended strictly for the cinephiles.
The synopsis of the movie is almost insuperable to flowchart as it lacks coherence. It is set in the early 70s of Los Angeles where Larry "Doc" Sportello (Joaquin Phoenix) wakes up to the muffled tone of his ex-girlfriend Shasta Fey Hepworth (Katherine Waterston). Doc is a private investigator and a pothead. He is not one of those customary PI's you see in other noir movies. He is an antipodal to Jake Gittes of 'Chinatown'. Doc is more of a brumous detective who solves cases intuitively. Appearance -wise he is disheveled with his afro hair-cut, hexagonal shaped glasses and dirty feet. He regularly sports a green army field jacket to go along with his embellish denim shirt.
Shasta, now the girlfriend of a real estate powerhouse Mickey Wolfmann (Eric Roberts), wants Doc to foil the plans by Mickey's wife and her lover to entrust Mickey to a looney bin. As the movie advances both Mickey and Shasta go missing; Doc is made a prime suspect by Det. Christian F. "Bigfoot" Bjornsen (Josh Brolin) for murdering one of Mickey's bodyguard; Doc is hired in a separate sub-plot by Hope Harlingen (Jena Malone) to find her husband Coy (Owen Wilson), a saxophone player who went missing and presumed not dead. What follows is how Doc tries to untangle the mysteries in this confound and gag-infested noir.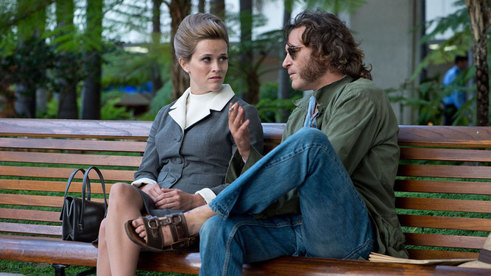 The term 'Inherent Vice' as delineated in the movie is "anything that you can't avoid. Eggs break, chocolates melt and glasses shatter". Also, the literal denotation of the words Inherent Vice as "a crime which is deeply-rooted" forges a title which is apt for the movie. The movie is an adaptation of Thomas Pynchon's novel by the same name. The adaptation itself is an act of gallantry as Pynchon's novels are known for their smoggy plot. Paul Thomas Anderson is the one and only US director to mould a film out of Pynchon's collection of hazy novels.
The movie is as stoned as its characters. Perhaps, that is how Paul Thomas Anderson wants his viewers to feel. A film which entails deciphering crimes one after the other with sundry characters like LAPDs, FBIs, Lawyers, DAs, Dopers, Suspects etc. continuously sprawling in and out that it makes you hard to keep track of who's saying what? Anderson wants us to be puzzled just as Doc is by "creating an extra layer of fog on top of the one everyone was already standing inside of". Anderson's movies have invariably been more about people-watching rather than the plot. Inherent Vice is one such movie where the characters intrigue you more than the plot. The scenes involving Doc and his adversary Bigfoot stands out with their witty one-liners and astonishing chemistry, the signature moment being the F-U-C-K-I-N-G-ING/Fucking-ing scene. Anderson has managed to showcase the Hippies vs. Squares rivalry, which was prevalent during the 1970s, to absolute perfection in these scenes. What's contiguous about their relationship is the empathy they have for each other which is depicted in the penultimate scene where Bigfoot enters Doc's house by smashing down the door only to limn in a condescending manner that how much he misses him.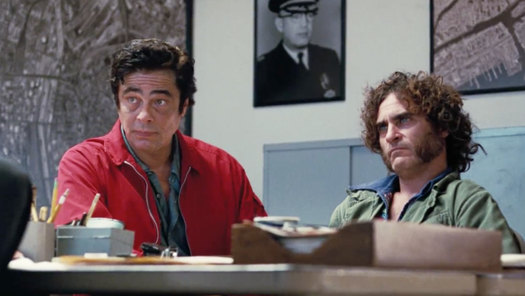 Paul Thomas Anderson, in this murky ride is strongly supported by the performance of his actors. Anderson, who is always known to be an actor's director (who can forget the performance of Sir Daniel Day Lewis in 'There Will Be Blood'), collaborates for the second time with Joaquin Phoenix after 'The Master' and Phoenix has repaid his faith by bestowing a dexterous performance. Phoenix as a dope head is as real as it can get. The stares, the temperament, the way he saunters down the streets and his woozy accent are truly authentic. Watch out for the scene where he watches Bigfoot obliviously fellate a popsicle. Josh Brolin as Christian F. Bjornsen, "a big-footed, John Wayne walk, flat top of Flintstone proportion and an evil twinkle in the eyes screaming civil rights violation" is the scene-stealer. His chemistry with Phoenix produces some of the best moments in the film. Special praise for Katherine Waterston as Shasta Fey for portraying a stoner femme fatale with unmistakable duende. Reese Witherspoon, Benicio Del Toro, Owen Wilson, Jena Malone, Martin Short and Joanna Newsom have all played their part to perfection as the supporting cast.
Final Verdict: The movie is strictly not recommended for casual moviegoers who expect the plot to be "clear as a vodka in the ice box" but for the cinephiles who consider the plot to be secondary. The ardent admirers of Paul Thomas Anderson are in for a ride here with his conventional directing style of long takes, close-ups and intense character study all at your disposal.