Portraying a harrowing tale of despair and adversity while infusing it with elements of comedy and a feel-good vibe is no easy feat. However, actor-director Michael A. Goorjian accomplishes this in 'Amerikatsi,' a comedy-drama film that revolves around the story of Charlie Bakhchinyan, an Armenian-American who willingly repatriates to Armenia during the post-World War II era, driven by a desire to connect with the land he considers his true home. Yet, upon his return, he is confronted with a series of life-altering challenges, causing him to question whether his decision to return to the Soviet country was the right one.
Michael Goorjian's portrayal of Charlie Bakhchinyan is marked by his remarkable finesse, allowing him to navigate the delicate balance of hope in the face of tragedy. Goorjian is supported by a stellar ensemble cast, including Hovik Keuchkerian, Nelli Uvarova, a celebrated Russian actress, and Narine Grigoryan, a popular Armenian actress. What makes the 2022 movie truly special is its trilingual nature, which transcends language barriers and this achievement is largely attributed to the spectacular writing by Goorjian himself. Considering all these elements, including the storyline, if you find yourself pondering whether this film is inspired by actual events, here's the information you're seeking.
Is Amerikatsi a True Story?
No, 'Amerikatsi' is not based on a true story. Nevertheless, the narrative, penned by director Michael A. Goorjian, draws inspiration from real events and the experiences of actual individuals, which contributes to the film's authenticity. In an interview with Mirror Spectator, Goorjian, who is Armenian on his father's side, revealed that the character of Charles is profoundly influenced by his own grandfather's experiences. Even though Goorjian's grandfather was not a part of the repatriation movement, he lived through the Armenian genocide, and with the assistance of a Turkish family, he escaped and sought refuge in America.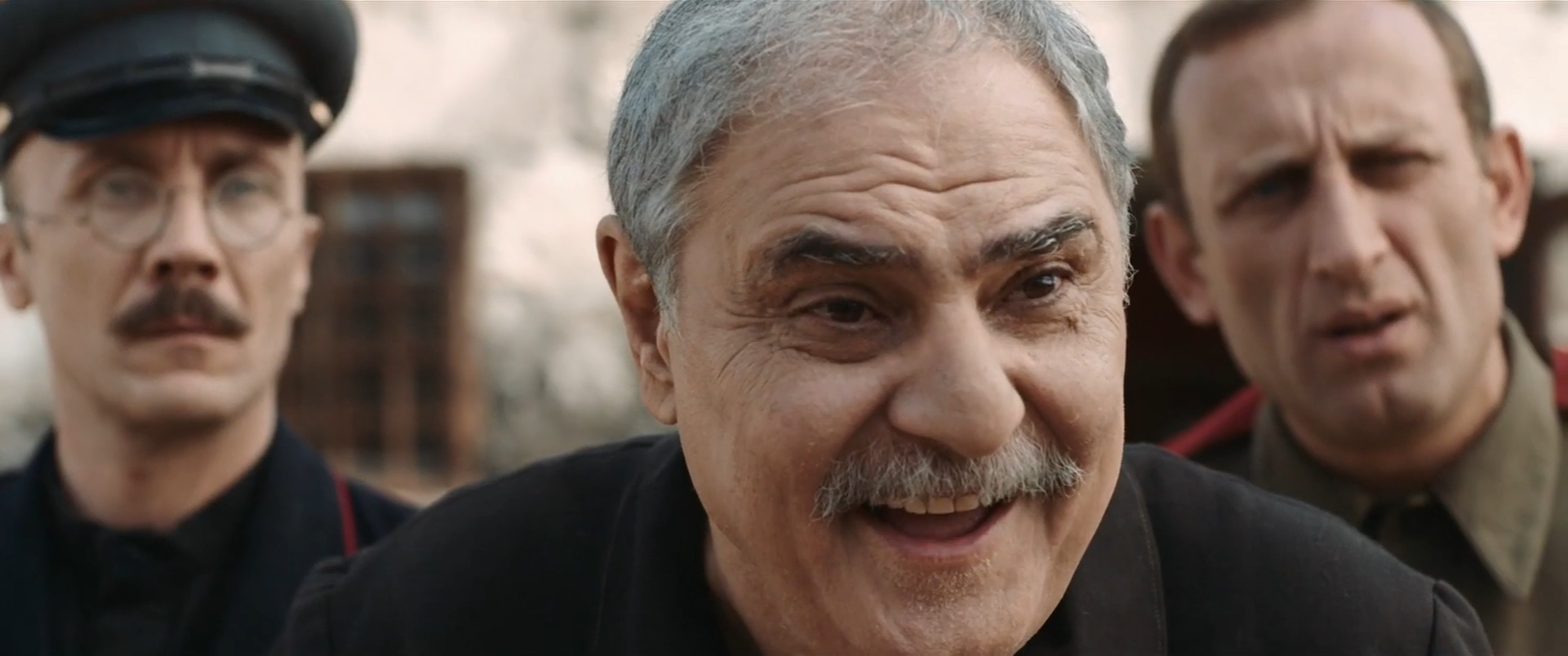 Tragically, the rest of the members of Goorjian's grandfather's family fell victim to the events of 1915 and did not survive. The narrative unfolds as Charles finds himself in prison, and an intriguing twist occurs when he discovers that he can see into the apartment of the prison guard, Tigran (Hovik Keuchkerian). It is through this distant observation that Charles becomes entangled in the lives of those he watches and begins to immerse himself in common Armenian culture, fostering a deep sense of connection. This unique premise served as the foundation for Michael Goorjian's screenplay.
Having said that, Goorjian attributes its origin to a similar anecdote he heard from a friend about an individual who was able to see into an apartment during imprisonment and found it profoundly poetic and inspiring for the development of the story. "With the script itself, I actually started out with a story which had nothing to do with Armenians. The story is about a prisoner. It was based on a real story a friend of mine told me, about a guy he knew in prison who could see into an apartment. There was a man living there, and the guy vicariously survived learning about this man's life. To me that core story is both something poetic and universal," Goorjian said in the same interview.
The character of Tigran, who is revealed to be an artist censured by the Communist Party for painting churches, is also drawn from the real-life experience of the grandfather-in-law of one of the film's producers, Robert Patrick Malkassian. However, in creating the film, Goorjian's intention was not to merely recreate history because he wanted to cater to a global audience. This is why he chose to infuse elements of comedy and surrealism into the scenes, adding layers of comedic relief and lightheartedness to the storytelling while remaining true to a mostly somber story.
In addition to being inspired by real stories, the film also offers a raw and real depiction of history. The film showcases Charles Bakhchinyan initially fleeing with his family from Armenia to America during the early 20th-century genocide. The story then resumes in 1948, a period when the repatriation movement in Armenia was in full swing, and Stalin had authorized the return of Armenians to the country. Charles is among the many who decide to return to a homeland they may not know intimately but feel a deep connection to. However, his arrest for wearing a tie in public highlights the challenges he faces due to his American and Western cultural background in the now-Soviet Republic of Armenia.
One of the reasons why 'Amerikatsi' has been able to authentically capture its Armenian roots and the history of Armenia is the involvement of individuals from Armenia. When those who have a personal connection to the culture and the history are engaged in telling their own stories, it brings a genuine and honest voice to the tone and narrative of the film. Talking about the filmmaking experience, Goorjian stated, "In addition to myself, our cinematographer, and a few others, the entire cast and crew were hired locally in Armenia. And yes, everyone was extremely professional, but also very creatively motivated…"
He added, "When everyone involved in a film really cares about how it's going to turn out, it can make an enormous impact on what you end up with." Highlighting how the inputs from several Armenian and non-Armenian individuals aided in drafting an authentic script, Goorjian said, "One of my concerns was that I did not want to wrongly portray what took place in a way that would offend people that were affected by it. I think that is why tonally this is not straight realism. It is running around with a stork egg in an earthquake." He demonstrated meticulous attention to detail in recreating the sets, costumes, and other elements to depict life in 1940s Armenia accurately.
The film has received high praise for its nuanced use of the three languages – English, Armenian, and Russian. The subtle changes in accents that correspond to each character's journey have added significantly to the film's success and acclaim. Interestingly, the screenplay for the film was crafted during the period when the Velvet Revolution was unfolding in Armenia. Michael Goorjian believes that the spirit of hope that permeated the country during this time, before the onset of both the war and the pandemic, became unconsciously embedded in the execution of the film. This universal theme of connection and hope, coupled with the ability of 'Amerikatsi' to surpass the hurdles created by a foreign language, makes it appealing and relatable to a global audience.
Read More: Best Immigration Movies of All Time