Portrayed by Adam Rayner, Douglas Strickland is one of the main antagonists of the third season 'Warrior.' He is a ruthless railroad baron who would go to any extent to realize his projects. An old friend of Nellie's late husband, he and Nellie initially share a largely cordial relationship that sours as the season progresses. He receives the contract to build a railroad up the coast of California and forces Nellie out of her property by burning down her vineyard and killing several girls who lived there. He befriends Leary to secure the San Francisco mayoral election in favor of a candidate of his choice but earns the other man's enmity after refusing to hire Irish labor. If the events of the season 3 finale of 'Warrior' has made you wonder whether Strickland is dead, we got you covered. SPOILERS AHEAD.
Is Douglas Strickland Dead?
Yes, Strickland is dead in the third season of 'Warrior.' Early in the season, Strickland approaches Nellie to ask her to sell her vineyard to him. He tells her that the government will get her land for the railroad, but she will get paid this way. Nellie refuses, prompting Strickland to return later and unsuccessfully try to blackmail Nellie for her relationship with Ah Toy and give a home to several Chinese women. When that doesn't work as well, Strickland sends his people to burn the vineyard down, during which a number of the women living there are killed.
Meanwhile, Strickland's rival, Leonard Pierce, sends Leary to threaten him, but Strickland convinces him to switch sides with the promise of power and better treatment of the people Leary represents. Under Strickland's tutelage, Leary learns how to operate in the high society of San Francisco, accompanying the other man as he goes to speak to the candidates for the upcoming mayoral election. Even though Strickland has sensitive information on Franklin Thayar, the challenger, he selects Buckley, the incumbent mayor, because the latter is more corrupt and easily manipulatable.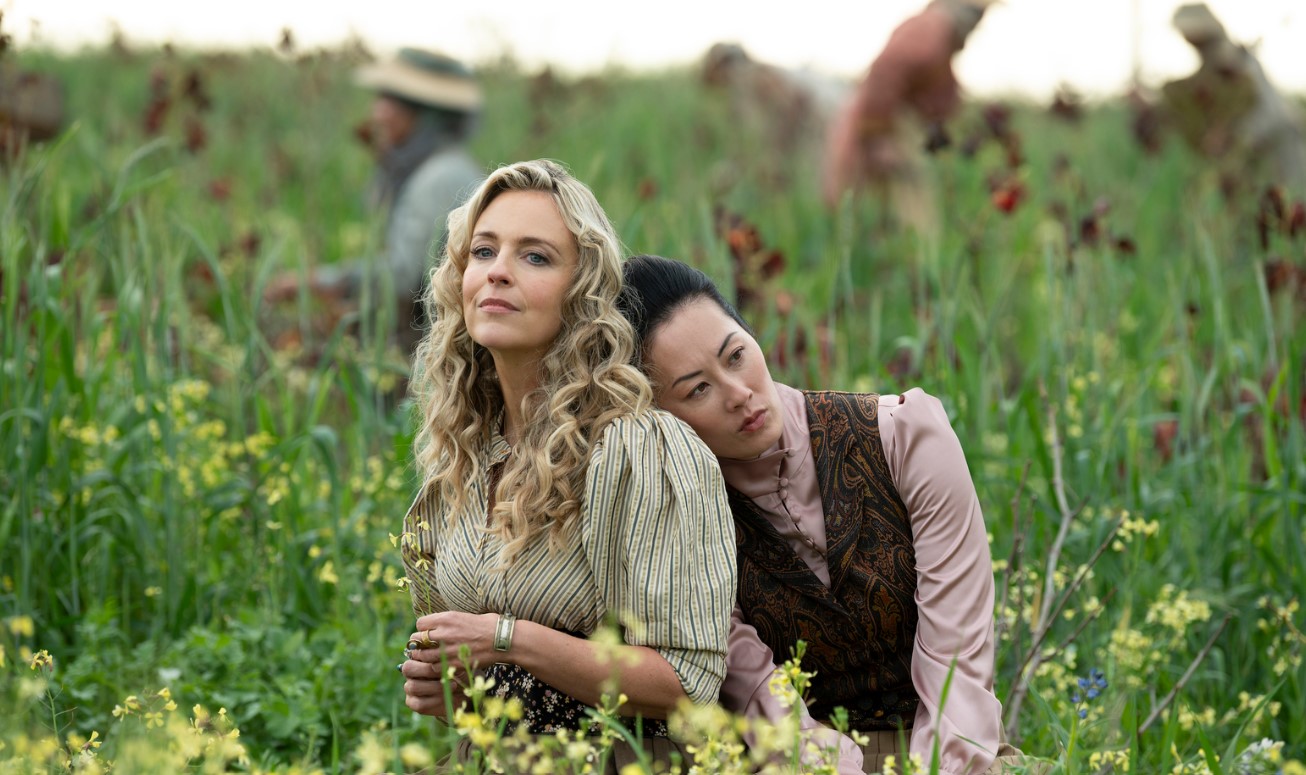 However, after using Leary and his influence on the Irish population as a political currency, Strickland refuses to hire Irish people, as he is ultimately a Capitalist and will always seek cheaper labor, which he finds in the Chinese workforce. This infuriates Leary, who blows up a bridge Strickland has built. When Strickland sends his men to kill Leary, he beats them all to death.
Lai, one of the girls who used to live at the vineyard, decides to seek revenge on Strickland. She infiltrates his home and even kills the man who carried out Strickland's order to burn the vineyard. However, Strickland is a Civil War veteran and a master of the saber. He kills Lai and sends her body to Nellie's doorstep, prompting Nellie and Ah Toy to swear they will seek justice.
Nellie and Ah Toy break into Strickland's home, and Ah Toy easily defeats him with the dao before killing him. Leary has also arrived there seeking vengeance along with Bill, who is trying to stop him. The men encounter the women, and Nellie shoots at them before fleeing the scene with Ah Toy. Leary and Bill find Strickland's body, and knowing that the authorities will come after him for this, Leary decides to get rid of it. A reluctant Bill suggests the incinerator at the cement company he works for. After the job is done, the men wonder what the repercussions of this will be. When someone like Strickland suddenly vanishes, there will be inquiries.
Did Adam Rayner Leave Warrior?
With his character dead, it's safe to assume that Rayner has left 'Warrior.' Raynar is an English actor known for portraying Tom / Fantasy David in 'Love and Other Disasters,' Dominic Montgomery in 'Mistresses,' Dr. Steve Shaw in 'Hawthorne,' Aidan Marsh in 'Hunted,' Bassam "Barry" Al-Fayeed in 'Tyrant,' Miller in 'Tracers,' Matthew Collier in 'The Fix,' and Tal-Rho in 'Superman & Lois.' Rayner is a dual citizen of the US and the UK. He is married to actress Lucy Brown, with whom he has two children.