Although many people would find it hard to believe, there is a large section of people in the world who enjoy watching videos of pimples being popped. It is the odd satisfaction of the body being cleansed off of something that has attracted a solid number of people to the TLC show, 'Dr. Pimple Popper.' The reality series follows the dermatologist and internet sensation Dr. Sandra Lee and her clinical practice.
The titular dermatologist treats clients with unusual skin conditions, some of which we might not have ever come across. This naturally brings up the question of whether or not the show is staged and if Dr. Lee is indeed a dermatologist. Here is everything that will answer these questions.
Is Dr. Pimple Popper Fake?
Since its inception in 2018, 'Dr. Pimple Popper' has helped educate people about their skin and encouraged them to follow a healthier skincare routine. But the roots of the TLC show started with Lee's online presence as she began sharing TV segments that she had been a part of on her YouTube channel around 2010. A few years later, Lee started putting up posts about her work on Instagram just to give people an idea of her professional sphere.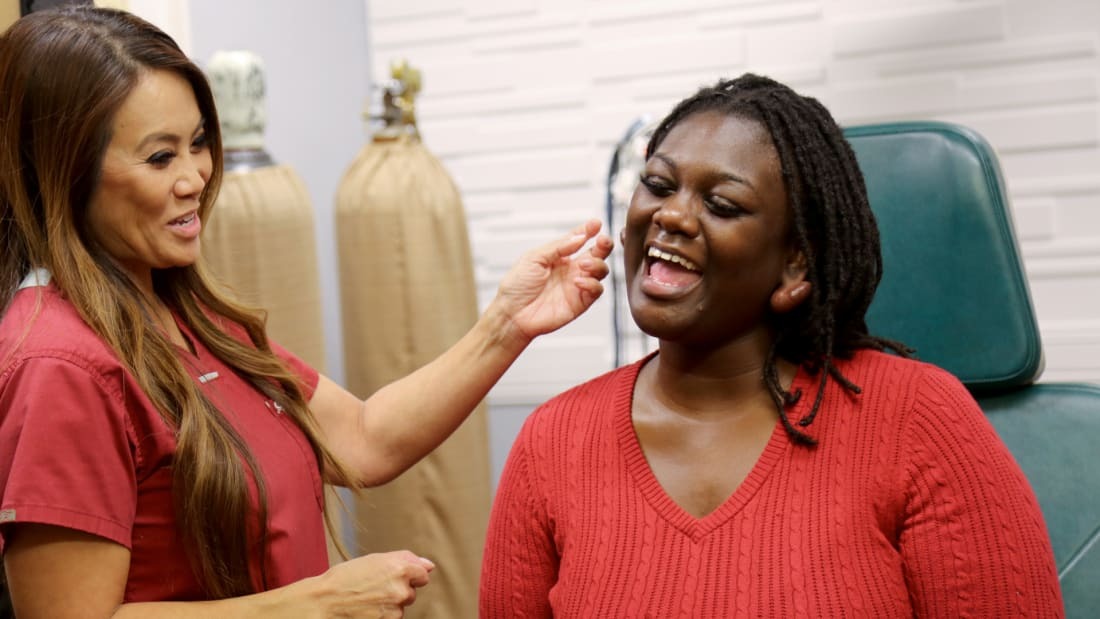 However, she noticed that the posts about popping pimples and blackhead extractions particularly attracted a lot of attention. Her number of followers on YouTube went through the roof when she started sharing these videos on the online platform. So, this establishes that Lee's work was already in the limelight way before the reality series was conceived. In the show, we see some of the most unusual skin conditions, which makes us wonder how the team finds clients for Dr. Lee.
People hoping to be on the show reportedly go through a casting process, as is the norm for most reality series. In a conversation with Refinery29, Dr. Lee explained, "There are casting agents who are hired by TLC to find potential patients for filming." She also shared that they reach out to people through platforms such as Reddit and Facebook. According to Lee, the only criteria is, "I will say, the bigger or crazier the skin condition, the better the chances."
So we know that the skin conditions are real, and the service that Lee provides is also authentic. However, there is a big difference between what we see on the show and real life. The series makes it seem like Lee's job primarily revolves around popping pimples, which is not true. What is documented on the TLC show is only a fraction of the dermatologist's work since she also provides various services such as eye lifts, liposuction, botox, and skin cancer surgery, to name a few. So, does this mean Lee is qualified enough to carry out the procedures we see on the series?
Is Dr. Sandra Lee a Real Doctor?
Although Dr. Sandra Lee gained fame as an internet sensation, she is a board-certified dermatologist based in the Los Angeles Metropolitan Area in California. Additionally, she is also a member of the American Academy of Dermatology, the American Society for Dermatologic Surgery, the American Society for MOHS Surgery, and the American Academy of Cosmetic Surgery. The highly skilled professional has been a part of numerous research studies, and her work has been published in several journals and medical textbooks.
From time to time, Dr. Lee is invited to deliver talks to other dermatologists and cosmetic surgeons on national platforms. Lee attended UCLA for her undergraduate program, after which she enrolled in Hahnemann University School of Medicine in Philadelphia, Pennsylvania. She did her residency at Southern Illinois University in Springfield, Illinois, and trained under Dr. Richard E. Fitzpatrick (Dermatology Associates of San Diego) for dermatologic, laser, and cosmetic surgery.
Dermatology was nothing new to Dr. Lee, who followed her father's footsteps and grew up loving the profession. She founded her own skincare clinic called Skin Physicians & Surgeons, which her husband, Dr. Jeffrey C. Rebish, is also a part of. You might find it interesting to know that Lee named herself Dr. Pimple Popper after noticing how people chose their usernames on Reddit. The nickname caught on and is now almost a brand in itself!
Read More: What is Dr. Pimple Popper's Net Worth?