Fargo, a conception of the Coen brothers, will have a long-lasting imprint on modern-day cinema. It has been rated as a classic of modern cinema by many established film critics. The plot compliments the film's design and exemplifies the depth of the characters. Hence it should come as no surprise that the Coen brothers were executive producers for the series.
Fargo has a character driven storyline. Billy Bob Thornton has done an exemplary job with Lorne Malvo's character. Lorne Malvo is a blend of personalities and his villainy is utter class. Malvo is a sadistic and megalomaniac personality whose craziness and purposelessness can only be compared to that of the Joker. Each one of Malvo's conversations is eccentric and interesting. And Deputy Molly Solverson, portrayed by Allison Tolman, is another fine character which works the story engine in an efficient manner.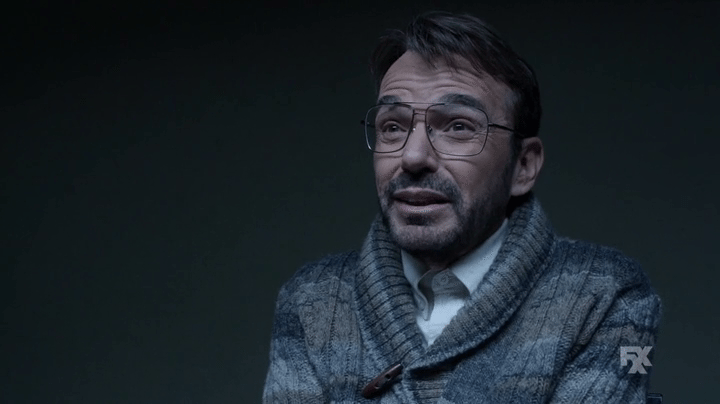 It all starts when vagabond Malvo drives into Bemidji in a stolen car with a target in the trunk and hits a deer to go off the rural highway crashing. With his forehead hurt by the steering wheel, Malvo lets the almost naked target escape from the car's trunk to a freezing and barren space, where he frosts to death. Lester Nygaard, portrayed by Martin Freeman, is an insurance sales representative who starts his day listening to his wife, Pearl, blabber about his dull life and their problematic washing machine. And to make things worse, he gets overwhelmed by Sam Hess, his former high school bully, resulting in his encounter with Malvo at the hospital.
An interesting conversation happens between the two of them, in which Malvo offers to kill Sam Hess for the humiliation faced by him. Lester is stunned and doesn't deny the offer outright. Well, Malvo impulsive as he is, goes through with killing. Meanwhile, Bemidji police chief and Deputy Molly Solverson go around investigating the matter. Lester snaps when he tries to take stock of his life and things don't go as he expects, leading his wife to irritate him beyond his toleration point. And in a moment of anger and frustration, Lester uses the hammer lying around to crack his wife's skull, instantly killing her.
Obviously he calls Malvo for guidance, and in due course, the police chief comes in to have a chat about Lester's conversation at the hospital. He is about to apprehend Lester, when Malvo uses Lester's shotgun to kill the police chief. Officer Gus Grimly (Colin Hanks) is on night patrol at Duluth, when he catches Malvo speeding in Lester's car. But on being intimidated and fearing for his life, he lets him go.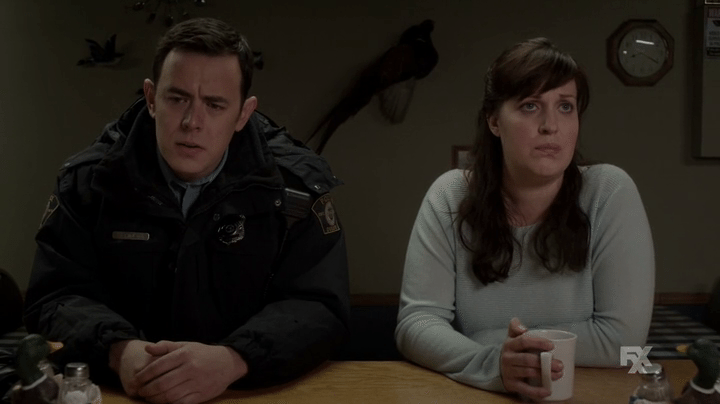 Surprisingly, this is just the beginning of the plot. Mr Numbers and Mr Wrench, on orders of the Fargo syndicate head, arrive to find Sam Hess' killer. Molly gets into her sleuth boots to find the killer, but when she discloses her suspicion of Lester being a part of all these killings, the new police Chief Bill Oswalt (Bob Odenkirk) just can't believe her. And Malvo is hired by Stavros Milos, owner of a supermarket chain to find out who is blackmailing him. This is where the plot relates to that of the movie, in the form of the money buried in the snow.
What follows is Malvo continuing his drifting, Molly still on the scent of Malvo with Gus on her side and Bill against her, the Fargo duo keen on finding who killed their syndicate member and the presumed victim Lester's fumbling adeptness in dealing with his situation. So to summarize, Fargo is an entertainment feast, with a varied course, where you will enjoy everything. This is something realistic, but is actually fiction presented to the audience in an altruistic form of cinema.
If you have seen Fargo, it's worth contemplating over! If not, go watch Fargo and experience the drifting.