Kameran "Kamie" Crawford is a multifaceted TV personality who has made her mark in the world of entertainment as a TV host, content producer as well as model. In 2018, she served as a rotating host on MTV's 'Catfish,' following the departure of Max Joseph. Kamie shone during her co-hosting gig, and her authentic personality and sound perspective, coupled with her knack for spotting red flags and "call a spade a spade" attitude, gained her widespread prominence among the fans of the show. Naturally, she was upped as a permanent co-host in July 2019, much to the delight of her fans.
Besides the MTV show, Kamie has also hosted the reunion episode of 'Sweet Life: Los Angeles,' and season 9 of 'Are You The One?' The multitalented Kamie also had quite some experience in the pageantry area. She proudly took home the title of Miss Teen USA in 2010, being the first woman to win from Maryland. Fans of the 'Catfish' host are eager to know more about her personal life. If you are curious about Kamie's personal life and are wondering if she is dating anyone, we have your back!
Kamie Crawford Age, Ethnicity, Family, and Background
Hailing from Potomac, Maryland, Kamie Crawford grew up in a loving family. Born to Victor and Carla Crawford, the 30-year-old television star is the oldest daughter among five girls, Victoria, Karynton, and twins — Kenadi and Kendal. Much like her diverse talents, she traces her ancestry to diverse backgrounds, namely Jamaican, German, English, Cuban, Indian, and African-American. When she was just 17, Kamie made her state proud after making history as Maryland's very first Miss Teen USA. She went on to attend Fordham University, where she obtained a BA in Communications and Media Studies.
With the USO touring US soldiers, Kamie spent her years as Miss Teen USA 2010 traveling to countries including Cuba, Spain, and Portugal. She acted as a spokeswoman for groups including D.A.R.E., Gilda's Club, Project Sunshine, Best Buddies, and Girl Talk. During her high school and college days, Kamie enjoyed speaking on topics that are close to her heart, as doing community service and giving speeches are two of her favorite things to do as a public figure. She became passionate about anti-bullying and boosting young girls' self-confidence after enduring bullying herself as a child.
Is Kamie Crawford Dating Anyone?
Luckily for all the eligible bachelors out there, Kamie Crawford is single. She reportedly began dating music manager Gordon Dillard in 2016. The pair seemed to be madly in love and were together at the time of her 'Catfish' debut and when Kamie got a full-time position as the host. However, as some things are not meant to be, Kamie and Gordon reportedly split up in the early months of 2022. In February of the same year, the model appeared on the 'Lovers and Friends with Shan Boodram' podcast to talk about how tough her split with Gordon had been.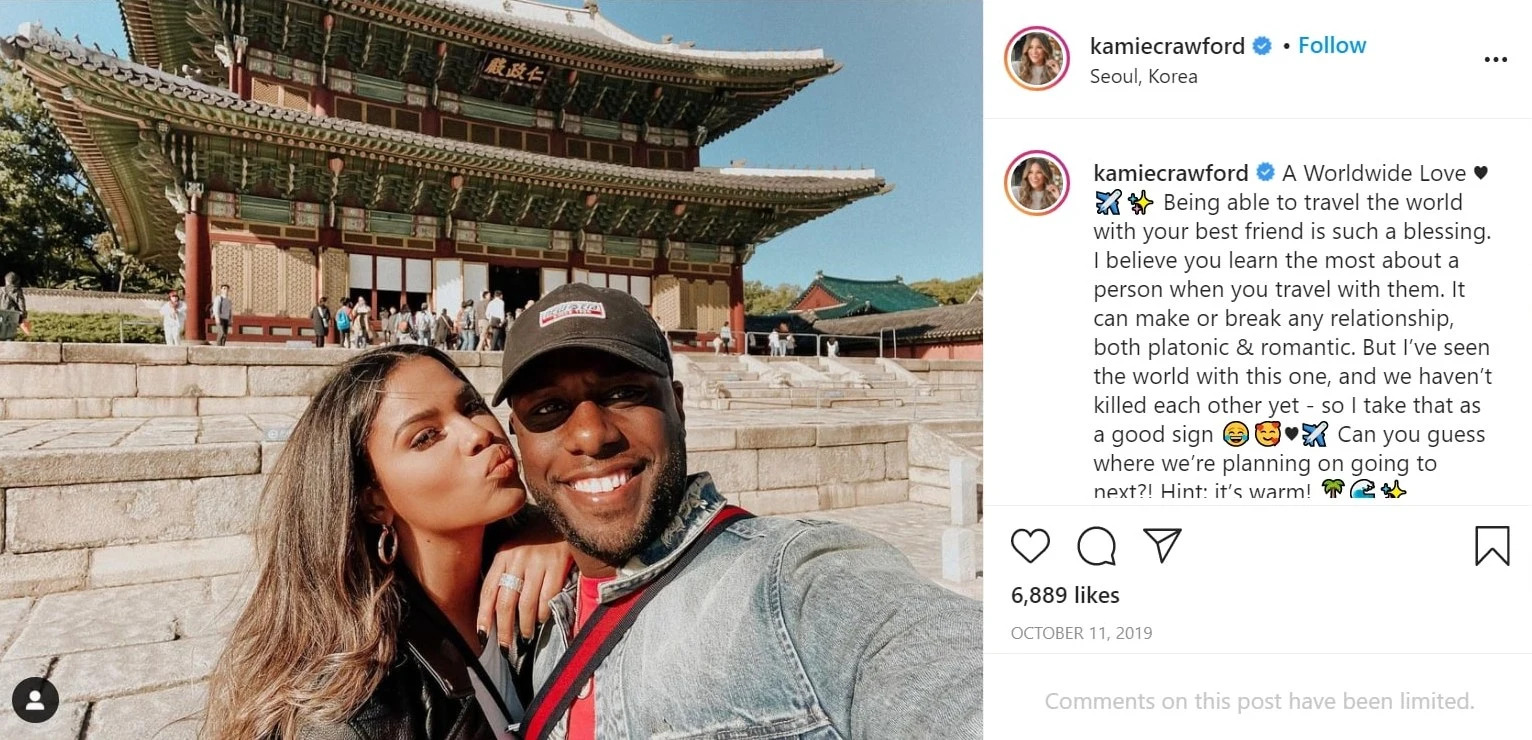 Kamie said, "This break-up was the hardest — I think it was probably the second hardest thing I've ever had to go through in my entire life… I legit thought that I was going to have to be hospitalized. I was losing my mind… You have to kind of undo and unlearn and un-think and un-fantasize about the things that your life was supposed to be with this person." She continued by stating that their relationship altered as a result of both of them evolving over time.
Kamie added, "We both agreed that we had a power shift in our relationship." Even though the MTV host claimed they were still in love, she hinted that they realized it was time to move on from the relationship. She is currently single and offers relationship advice on her own podcast, 'Relationsh*t with Kamie Crawford.' Hence, as of writing, we can say that Kamie Crawford is enjoying her life to the fullest, investing all her time and energy in building a strong career in the entertainment industry.
Read More: Which Catfish Couples Are Still Together?