I went into 'Jagga Jasoos' with a mind in a flurry of expectations and hesitation. The offbeat yet gorgeous sneak peeks had me wowed, but I also knew better than to hoist my hopes too high after the debacle which was 'Bombay Velvet'. My worry was in vain, as Kapoor is a director's actor, and this exuberant teen caper seems like the lovechild of Wes Anderson, with its idiosyncratic characters, dash of colours and brilliant production design, and Damien Chazelle, with its seamless interjection of music into life, with some hallmark Basu thrown in for good measure.
The film begins on a Barfi-esque note, as a montage of Jagga's goofs and whims as a kid dances before us. But as the story rolls on, Basu's painstaking attention to detail becomes more and more evident. Instead of rushing to the focal plot of Jagga's tale, Basu lounges on the nooks and crannies of his character, as if making a proper acquaintance of the enigma before sharing his tale.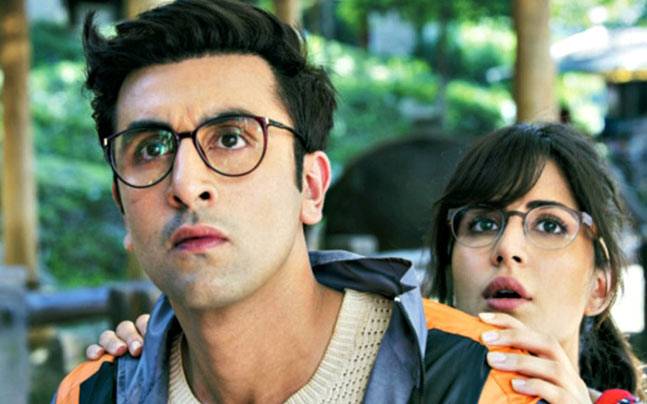 Meet Jagga, an adorkable, shy, stammering orphan brought up in a hospital he was born in. He finds a father in Tooti Footi, a jolly man prone to mishaps. Jagga, on Tooti Footi's advice to overcome his stammering, sings through life in a quaint little town in Mainpur, One fine day, Tooti Frooti drops Jagga to a hostel and vanishes, the only mode of communication between the two being a yearly tape Tooti Footi sends to Jagga on his birthday. This mystery makes Jagga is a curious cat with a sharp eye for other mysteries which he solves in a jiffy. A singing Sherlock if you may. When the tape doesn't reach him one such year, he sets out to find his father with the help of Shruti, a journalist with a penchant for bad luck similar to Tooti Footi, who he once helped solve a case. Their globe-trotting adventures form the crux of the film, unveiling the biggest mystery our teen detective has ever encountered.
The entire film is narrated in a series of comic book strips about the eponymous Jagga and is an homage to all those adventure comics drowned in the sea of nostalgia. It has its fair share of formidable motifs- arms smuggling, militants, murders of informants and whatnot. But the film doesn't ever let these themes dampen its spirit one bit as it straddles on cheerfully (another virtue of Wes which Anurag Baus seems to have imbibed). Cinematographer Ravi Varman (Of 'Barfi' and 'Tamasha' fame)'s lens turns Manipur, and later Mumbaka, into a vibrant wonderland with his inspired use of natural light, contrasting the lush greenery of the former with the stark desert of the latter finely. The film truly feels like a live-action adaptation of a long-lost comic book.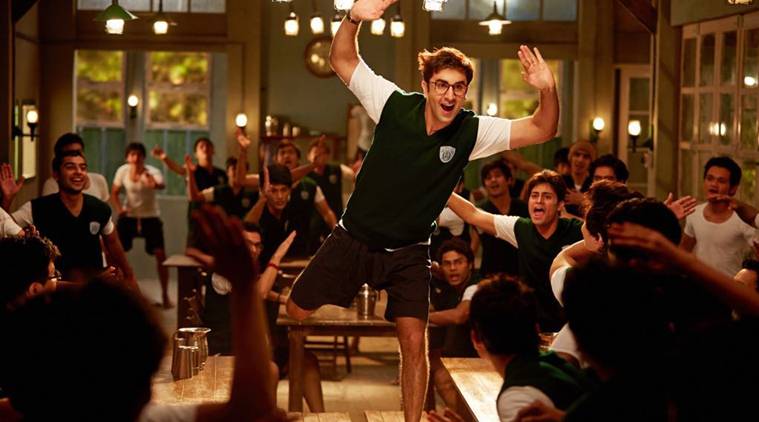 Ranbir Kapoor has been accused of playing the character of the 'lovable goof' over and over. I, for one, wouldn't mind if he played the type for all his career if he brings a fresh charm to the table each time around. Jagga's purity is infectious, his innocence melts your heart and his winsome quirks are a joy to watch. He is an ageless hero, who a kid can look up to and an adult can laugh along with. Katrina Kaif has never quite excelled at drama (to put it decently), but she can carry cheerful scenes quite well with a dainty smile. She's rarely alone in the entire film, so her chemistry with Ranbir shines forth ahead of her questionable diction. Saswata Chatterjee as Tooti Footi is endearing, while Saurabh Shukla as the primary antagonist is his usual side-splitting self.
Jagga's songs are his paramount trait. The film has 29 songs, all but 2 of which halt the narrative. Pritam's music, while not as iconic as his earlier collaborations with Basu, is a treat nonetheless, fitting the ebullient tone of the film to the T. But the real heroes here are the lyrics penned by Basu and the inimitable Amitabh Bhattacharya, hilarious and adorable in equal measure, which are our biggest insight into Jagga's noggin.
The biggest flaw of 'Jagga Jasoos' is its runtime. At an even 3 hours, the film is a tad too long by today's standards. The second half, while having quite a few droll and heartfelt moments of its own, doesn't quite match the contagious madcap energy of the film before the break. Perhaps Basu realised this; as he hurries into the climax after a slow-paced half, leaving us a little disconcerted with the half-baked outcome of it all.
Basu tackles a genre entirely new to Bollywood with a clear vision and despite its botched end, succeeds in creating something truly fresh and enduring. 'Jagga Jasoos' is unlike anything Bollywood has seen. And it could very well turn into a series of sprawling adventure films. I sure hope it does. Watch it for Ranbir's impish charm, Ravi Varman's resplendent visual illustration and above all, its novelty.
Rating: 3.5/5