James "Jim" Johnson was set to follow in his father's footsteps and serve his country honorably when he came across Kris Johnson. She soon became the love of the Army Commander's life, and the couple seemed to be in it for the long run. However, Jim's deployment in Iraq and a shocking extramarital affair turned things upside down, and he soon realized his career and future were in danger. Investigation Discovery's 'Who the (Bleep) Did I Marry: Duty, Honor, Deception' chronicles the shocking incident and follows the investigation that brought Jim Johnson to justice. Let's study the details surrounding the case and find out where Jim is at present, shall we?
Who Is Jim Johnson?
Ever since Jim's childhood, he witnessed how successful his father, Lt. Gen. James Houston Johnson, was in the United States army. This piqued his interest to follow in his father's footsteps, and Jim pursued his dream with incredible determination and eagerness. Interestingly, Jim met Kris for the first time while still in the academy.
Although the two did not get along initially, they soon realized their mutual attraction. From then on, Jim and Kris became almost inseparable, and people who knew them stated how they were each other's most significant support. In fact, the couple was quite understanding of each other, and it was pretty unsurprising when they ended up tying the knot.
Readers would be interested to know that Jim and Kris were pretty happy in the initial years of their marriage and even welcomed two children into this world. Sadly, things started going downhill once the former was stationed to serve in Afghanistan after 9/11. Living in the United States without her husband was pretty tough for Kris and her children, and they were further dismayed when he announced that the army had shifted him to Iraq in 2005. By 2007, Jim returned to the United States, but Kris soon realized that her husband wasn't the same.
For starters, Jim would start a fight even for a minor issue and appeared pretty dissatisfied with how she cared for him. Still, Kris was delighted when he was given orders to move to Italy with his family, as she believed that a shift to a new country would revive their relationship. Yet, fate had other plans, and once in Italy, Jim brought along an Iraqi family consisting of Alladin Al-Atar, his wife, and his daughter, Haveen Al-Atar. He appeared comfortable with Haveen and her daughter, making Kris suspect her husband was having an affair.
When confronted, the former Army Commander denied being romantically involved with Haveen, but Kris found numerous emails that proved otherwise. Still, she kept her husband's secret and refused to involve authorities. However, by that time, Jim was scared of facing the consequences and tried to make his then-wife's life pretty difficult. He initially used his position in the army to force her out of Italy.
Moreover, when Kris fled with their children, Jim filed a case against her in court, claiming she kidnapped them. Besides, neighbors mentioned that after she left their residence in Italy, Jim helped Haveen and her daughter move into the same house with him. Not just that, he forged his then-wife's signature on fake divorce papers, married the latter, and moved all the benefits of a military spouse to the Iraqi native's name.
Where Is Jim Johnson Now?
When Kris realized what Jim had done, she immediately reported the incident to the authorities. Subsequently, investigators looked into his life and found that he was involved in defrauding the government out of thousands of dollars through a fake contract scheme he ran alongside Alladin Al-Atar. In addition, investigators also got their hands on the fake divorce documents, the incriminating emails, as well as Jim and Haveen's sex tape, which he had saved on the army computer. Thus, with enough evidence to convict Jim on several charges, he was arrested without further delay.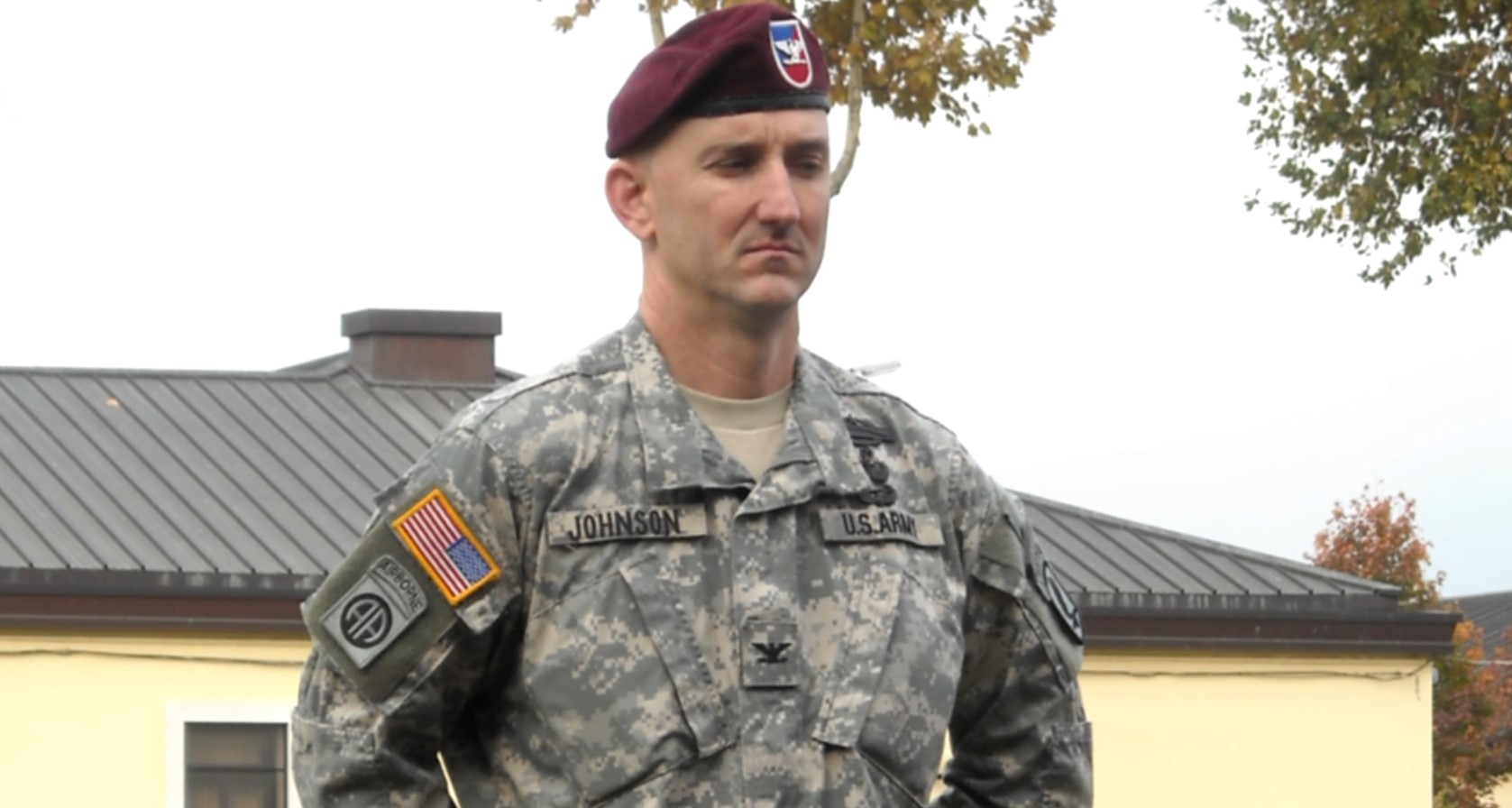 When presented in court, Jim pled guilty to 15 charges, including adultery. Furthermore, he was convicted on two counts of conduct unbecoming of an officer, and in 2012, the judge ordered him to spend five years in prison or pay a $300,000 fine. Since Jim's father had remained by his son's side throughout the trial, he decided to write a cheque for the fine; the former was allowed to walk free. Nevertheless, Kris divorced Jim shortly after the trial, and reports claim he returned to Haveen and her child, with whom he resides to this day.
Read More: Kris Johnson: Where is Jim Johnson's Ex-Wife Now?