'Feud: Bette and Joan' just finished its run and on FX and what started as a glamorous, dishy look at the legendary rivalry between Joan Crawford and Bette Davis very quickly turned out to be one of the best examinations of stardom, sexism and movie-making we've seen. It also achieved something that many never thought possible – it has helped rehabilitate the reputation of Crawford after decades of withering under the shadow of the 'Mommie Dearest'.
The eight-episode series follows Crawford (Jessica Lange) and Davis (Susan Sarandon) just before, during and after the filming of the seminal 'What Ever Happened to Baby Jane?'. It details all the battles and jealousies these two icons have been storing up for 30 years and we get the treat of watching them unfold in all their brightly colored, retro glory. But there's also more going on here – thanks to the vision of producer/director Ryan Murphy and his muse (Lange), we get to see these women as the vital, conflicted, frustrating and vulnerable people they probably were – even more so in the case of Crawford. Lange has a lot to play with here and she misses no opportunity. Sarandon is very good as Davis, but the complexity that Lange brings to Crawford is stunning. When casting was initially announced, I totally got the idea of Sarandon as Davis, but Lange as Crawford didn't seem right either visually or temperamentally. But that was underestimating Lange's abilities as an actress. Now that I've watched the series twice, I can't think of anyone else who could have pulled it off with this level of success.
Joan Crawford is an interesting case. If she's remembered at all by those under 50, it's primarily because of 'Mommie Dearest', the biography penned by her daughter that was turned into what quickly became a camp classic starring Faye Dunaway ("No more wire hangers!"). It's an unfortunate legacy for someone who managed to work regularly for almost 50 years and was a major star until her death in 1977.
I admit to having a soft spot for Crawford – it was a biography on Crawford that I read in my early teens that helped cement my fascination for films and stars of the era. She was someone who able to adapt to the styles and tastes of each decade. While not one of the great actresses of the first golden age of films, her movies were star vehicles right up until the sixties and she was the dominant presence in everyone one of them.
Visually, she was very striking and you're drawn to her no matter who she's with. She wasn't always likable – in fact she could be quite terrifying. But the Crawford "look" was memorable – the extended eyebrows, the overdrawn lips, the large eyes, the padded shoulders. As she aged, the look become more masculine and frightening, but there was also a vulnerability and I think that was the appeal that kept audiences watching. Every so often, she worked with a good director and a good script and she proved she was more than a personality or an image – she could act.
Conversely, Lange is more of a chameleon. After her initial stumble under the weight of 1976's 'King Kong', Lange has consistently been one of the top actresses of her generation. Never a box office star in the Crawford mold, Lange took more chances as an actress. In the eighties, it was Streep and Lange who ruled from the perspective of pure acclaim. After that, she took a bit of a back seat – always working (she did a terrific Blanche in 'A Streetcar Named Desire' on Broadway and TV in the 1990s) but never drawing the attention she did earlier in her career. She's now enjoying a late career flurry thanks to continued stage work (a Tony last year for 'Long Day's Journey Into Night') and thanks to Murphy and his various TV projects which have positioned Lange as the Queen of his prolific TV output.
The Essential Joan Crawford:
1. Grand Hotel (1932)
This is the first time Crawford was in a film that was given the full MGM treatment – beautiful sets, costumes, top-notch cast and a script based on a celebrated novel. She's the standout in an all-star cast that includes Greta Garbo, John Barrymore, Lionel Barrymore and Wallace Beery. Although it won the Best Picture Oscar that year, this one is tough to get through. It hasn't aged well and neither have some of the performances – that's probably why Crawford is the stand out. She comes across as surprisingly contemporary and ultimately quite touching as a young stenographer obviously willing to do more to become an actress.
2. The Women (1939)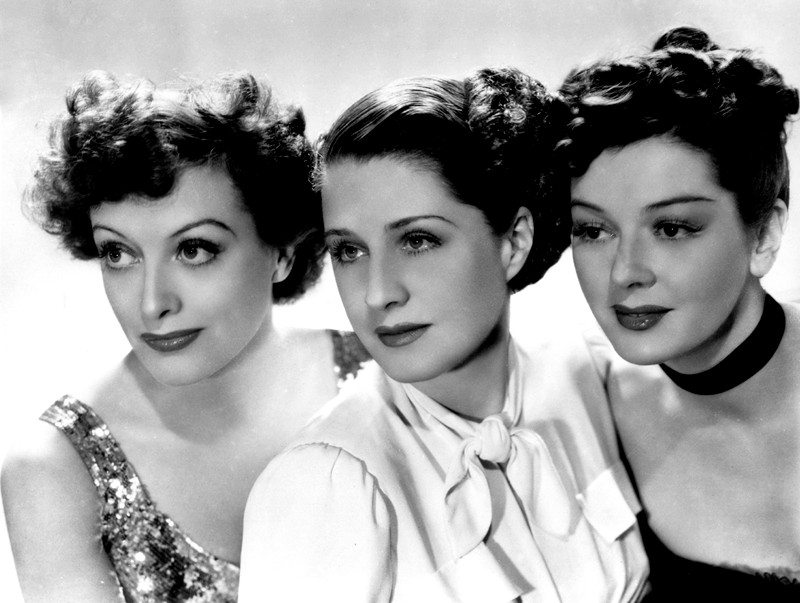 This is the ultimate women's picture and one where MGM again pulls out all the stops in terms of cast, script and production values. It's also the first time Crawford accepted a supporting role since she become a top star, but she was having some career trouble at this point and needed to refresh her image. She achieves that. Her "other woman" to Norma Shearer's perfect wife is funny, scheming and bitchy. Crawford plays nasty for the first time and she's excellent. The film itself, although it does show its age, is still a riot.
3. Mildred Pierce (1945)
This is the big one in Crawford's career as she moved from MGM to Warner Brothers. One of the best films of the decade, it's an engrossing, tense and sometime humorous melodrama that gets better with each viewing. I watched the new Criterion release recently and made a couple of converts with two first time viewers. Expertly cast and performed right down the line, it's one of her best performances. Michael Curtiz achieved a small miracle here in getting Crawford to scale it back – it's a surprisingly natural performance in heightened surroundings. Crawford won her only Oscar for this one.
4. Possessed (1947)
Another Warner Brothers melodrama, this is Crawford's most complex performance and the first one where she's playing the victim but still manages to completely unsettle the viewer. This one scared the hell out of me on first viewing. It's a true precursor to 'Fatal Attraction' in its depiction of a woman completely obsessed with her lover – but 'Possessed' takes it further. Is she completely mean or mentally ill? You find out in the last reel. Crawford got her second Oscar nomination for this.
5. What Ever Happened to Baby Jane (1962)
This is a very good film in which the humor is as essential as the horror to making it work. As Baby Jane, Bette Davis is the film's center in an over the top, fearless performance but Crawford is the source of all the tension and sympathy. It's a nicely restrained performance, but she also lets you know there's more going on with Blanche than just being the victim. The last big hit of her career, it allowed her to continue to headline films in a series of low-grade horror flicks.
The Essential Jessica Lange:
1. Frances (1982)
1982 was a big year for Lange with both 'Tootsie' and 'Frances' being released within weeks of each other. 'Tootsie' was the much bigger hit (one of the great comedies of all time) and Lange is wonderful as the slightly bruised actress who falls for Dustin Hoffman. She provides a nice balance to Hoffman and deservedly won the Best Supporting Actress Oscar. She was also nominated for Best Actress that year for 'Frances' and this is the work that really showed people what she was capable of. It's the story of Frances Farmer, an actress who came to prominence in the thirties but who led a troubled life that eventually resulted in her being institutionalized where she endured years of abuse. It's a blistering, physical performance, one of the best of the decade. But it was also the year of 'Sophie's Choice', so Lange took a bit of back seat to Streep that year.
2. Sweet Dreams (1985)
This one was a bit of a surprise for me when it came out. It's a biography of country singer Patsy Cline. Cline had shown up as a supporting character in the Loretta Lynn biopic 'Coal Miner's Daughter' a few years earlier and she was played perfectly by Beverly D'Angelo who also aced the vocals. Cline's story was ripe for its own film, but they surprisingly went with Lange over D'Angelo (and Meryl Streep, who was also in the running). It turned out to be the right choice. Although Lange didn't do her own singing, she's sensational as Cline – perfectly balancing the character's humor, lustiness and volatility. The film itself is pretty standard, but Lange is much more than that. It's probably my favorite of all her performances.
3. Crimes of the Heart (1986)
Based on a hit Broadway play, it's set in the south and is the story of three sisters (Lange, Diane Keaton and Sissy Spacek) who reunite after Spacek's character shoots her husband. The three are part of a family that seems to thrive on dysfunction – it's about suicide, nervous breakdowns, domestic violence and prejudice but it's wrapped up as a comedy. It's a little seen gem and all three of the leads are very good (although physically not really believable as sisters) but it's Lange who has the most impactful presence. She's a bit of a mystery and relays her character's demons without the histrionics of the other two. Lange plays a bruised woman well and this performance deserves to be rediscovered.
4. Grey Gardens (2009)
The protagonists of the cult 1975 documentary of the same name were the recipients of renewed attention during the 2000s with both a hit Broadway musical and this HBO drama. It's the true story of "Big Edie" and "Little Edie" Bouvier Beale, the eccentric and co-dependent relatives of Jackie Kennedy who were part of New York society in the forties and fifties, but who fall on hard times. Lange plays the mother and if you've had the opportunity see the documentary it's fascinating watching Lange bring this woman to life – both as a senior and in middle age. She nails both the flight and the flint of the woman and makes her both endearing and a little frightening. This won Lange her first Emmy. Drew Barrymore also does good work as the daughter.
5. Feud: Bette and Joan (2017)
Again, a surprise. I knew Lange would nail the camp and the bitchiness based on what she's been doing with the 'American Horror Story' series, but I wasn't prepared for her being able to make her Joan Crawford so believable and vulnerable. She has said in interviews that she based the building of the character on researching Crawford's pretty horrific childhood – and it shows. There's a desperation and sadness that Lange brings to the role – it's pretty clear this woman just wants to be respected and fit in, but her behavior kills any chance at every turn. It's a great performance and, arguably, the best thing Lange has done.