John Hughes had a quite unlikely beginning as an artist, starting off as a comedy writer for 'National Lampoon', the humour magazine. His sharp wit and penchant for garnering laughs led to the 'National Lampoon' series of comedy films in the 1980s and 90s that were very successful. He then delved into filmmaking and forever changed the teen film genre. His bildungsroman comedies had a whiff of magic realism peppered with relatable characters and honest backdrops of small towns. Hughes would also direct a few sagacious comedies which would receive wide acclaim though not the same popularity his teen movies enjoyed. This list is a celebration of one of the finest filmmakers of all time.
Here is the list of top John Hughes directed movies, ranked from good to best. In fact, his whole filmography is impressive. You can also stream some of these John Hughes movies on Netflix or Amazon Prime.
8. She's Having a Baby (1988)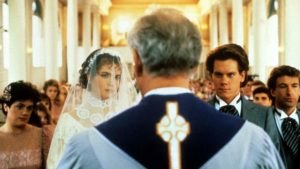 Kevin Bacon and Elizabeth McGovern star in this romantic comedy as a newlywed couple dealing with typical expectations from marriage and suburban life in the 1980s. Their mature portrayals set the stage for Hughes to explore suburbia in a more mature manner than in his earlier teen drama-comedies. Alec Baldwin and Holland Taylor are wonderful in their supporting roles as well.
7. Curly Sue (1991)
Hughes' last film as director saw a heartwarming story of a con artist providing for his adopted child because that was the only way he knew how. Jim Belushi offers a convincing act as Bill Dancer, the conman with a heart of gold, and Alisan Porter belies her young years in the eponymous role. Kelly Lynch is a great support act and while this film was Hughes' last as a director, it marked the debut of a certain Steve Carell.
6. Uncle Buck (1989)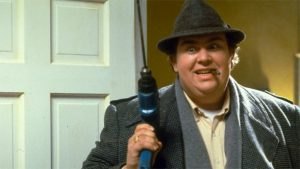 'Uncle Buck' is the story of a crass and unemployed uncle unwillingly tasked with taking care of three kids (Jean Louisa Kelly, Macaulay Culkin, Gabe Hoffmann) by their father, his brother. John Candy makes the role all his own, with his idiosyncrasies and over-the-top mannerisms imparting a uniqueness to the film, as he helps the three kids, especially the eldest Tia (Kelly), in finding their own place in the world and teach them something about life in his own way.
5. Weird Science (1985)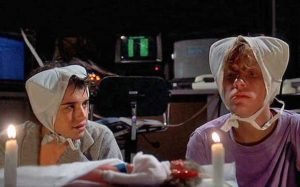 Hughes ventured slightly out of his usual themes in 'Weird Science' seeing as it was a science fiction teen comedy. It made stars out of its leads, Anthony Michael Hall, and Ilan Mitchell-Smith who starred as two geeks teaming up to create a robot, Lisa (Kelly LeBrock) to fulfil their unachievable fantasies. LeBrock delivers a classic performance of deadpan comedy and the shenanigans of the two friends liven this film up. Special mention should be given to Robert Downey Jr., starring as Ian, one of the bullies who instigate them into creating Lisa in the first place.
Read More: Best Brad Bird Movies
4. Sixteen Candles (1984)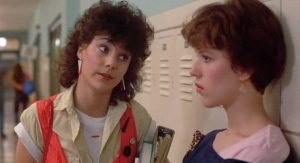 'Sixteen Candles' is one of Hughes' most well-known films, and marked the beginning of his most productive phase in his career. 'The Breakfast Club' came out just around nine months later, and 'Weird Science' released a further six months after that. This coming-of-age comedy centres around Samantha "Sam" Baker (Molly Ringwald) and her topsy-turvy journey through school, with family, friendships, and love all playing key roles. While aspects of the film do not age well today, it remains a classic and was one of many key collaborations between Ringwald and Hughes, who considered her to be his muse.
3. Ferris Bueller's Day Off (1986)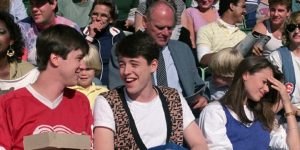 'Ferris Bueller's Day Off' was Hughes' love letter to the city of Chicago. It is evident in the cinematography and the many appearances of famous landmarks such as the Sears Tower throughout the film. Matthew Broderick stars as the eponymous Bueller whose "day off" is one he takes from school. The incorrigible slacker's use of breaking the fourth wall to explain his inner thoughts was novel for a teen comedy, and his character arc is suitably developed over the course of the film, ably supported by Mia Sara and Alan Ruck.
2. The Breakfast Club (1985)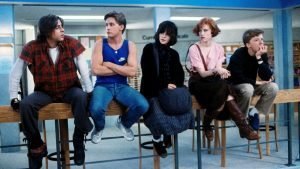 'The Breakfast Club' is arguably the most famous among all of Hughes' works, and one that solidified his reputation as a pioneer of the teen movie genre. The film focused on 5 students, or the "Brat Pack" as they later came to be called, who came from different social groups, or cliques, during a day of detention with their assistant principal (Paul Gleason). Their wonderful camaraderie and the ensuing events as they spend their detention emphasises the pointlessness of stereotypes, and how a person can be more than how they seem on the outside.
Read More: Best Teen Movies
1. Planes, Trains and Automobiles (1987)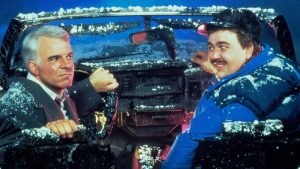 'Planes, Trains and Automobiles' was Hughes' first venture away from the teen comedies for which he had garnered so much acclaim. Instead, he looked to create films whose comedy was decidedly more mature, and where the characters were admirably fleshed out, instead of pale archetypes typical to the comedy genre. The film centres around a temperamental marketing executive, Neal Page (Steve Martin) and an extremely cheerful and babbling salesman, Del Griffith (John Candy), and how they dive into countless debacles to get Neal home to Chicago. The film has two masterful comic performers at their very best, with Hughes' power to imbibe his characters with strong, relatable values at its height. The result is a full-bodied comedy that is the very best of his celebrated oeuvre.