Most residents of Skidmore, Missouri, were relieved when career criminal and alleged attempted murderer, Ken Rex McElroy, was put behind bars. However, sources mentioned that after posting bail, Ken became involved in a bullying campaign against his own victim. Still, most people were left shocked when Ken was brutally murdered on July 10, 1981, while traveling. The movie 'In Broad Daylight' is based on Ken's life and even chronicles how he met his end. Well, let's delve into the details and learn more, shall we?
How Did Ken Rex McElroy Die?
Ken's early life was pretty challenging as he belonged to a large family and grew up alongside 15 other siblings. Moreover, his parents were not financially stable and often had trouble putting food on the table. Naturally, Ken remained neglected for most of his childhood, and he even decided to discontinue schooling after the eighth grade. Instead, the teenager turned to a life of petty crime and soon became infamous as a cattle stealer and burglar. Besides, he also gained a bit of fame as a casanova and would often charm women with his charisma and personality.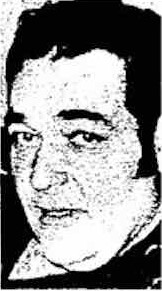 Incidentally, most Skidmore residents lived in fear of Ken as he could go to any lengths in order to stay out of prison. Reports mention how Ken raped his third wife, Trena McCloud, when she was 12-years-old, and then married her to avoid rape charges. Moreover, even though Trena's family was against the match, he burned their house down and even shot their dog in cold blood until they agreed. Eventually, Trena became pregnant at 14 years of age. While she gave away her child to foster care, Ken even threatened the foster parents in his efforts to get the kid back.
In the meantime, Ken faced around 21 charges related to thievery but was never convicted, as he would intimidate his witnesses against testifying. Ultimately, in 1981, Ken Rex McElroy was convicted of assault with intent to kill for the attempted murder of Ernest "Bo" Bowenkamp, the town's grocer. However, he did not stay behind bars for long as he appealed the conviction and was released on bail. In the days that followed, Ken spread hate against Bo and even threatened to take his life. However, all that came to a stop on July 10, 1981, when Ken was shot to death in broad daylight.
Reports mention that on July 10, 1981, Ken was traveling with his wife, Trena McElroy, in his truck when someone took several shots at him. Although only two bullets hit Ken in the chest, he soon bled to death as no one called for emergency medical help. Later, the police discovered that the victim was shot at by two different rifles, and an autopsy determined the gunshot wounds to be the cause of death.
Who Killed Ken Rex McElroy?
The initial investigation into Ken Rex McElroy's murder was pretty challenging as the police did not have a lot of leads to work with. They thoroughly searched the crime scene and canvassed the area around it but to no avail. Officers also went knocking from door to door in search of a witness but had to return empty-handed. Meanwhile, people who knew Ken insisted that his past crimes had finally caught up with him. Nevertheless, during the course of the investigation, the police were surprised to discover that around 30 to 46 people had witnessed the murder.
However, every single one of them claimed they could not spot a gunman on the scene and had no idea where the bullets came from. Naturally, the ensuing investigation revealed the allegations against Ken, and the police learned how in 1980, he shot Ernest "Bo" Bowenkamp in the neck after the latter got into an argument with the victim's children. However, Bo survived, and Ken ended up getting convicted of assault with intent to kill in 1981. Nevertheless, Ken soon got his conviction overturned and got out on bail before joining a group that ran a bullying campaign against Bo.
In fact, reports state that the victim had threatened to attack Bo once again, and the local residents were concerned about their safety. Such peculiar circumstances indicated that the entire town had a reason to kill Ken, which slowed the investigation down further. In the meantime, Ken's wife, Trena, claimed she had spotted the shooter and identified the gunman as local resident Del Clement. However, there was no evidence tying Del to the crime, and he has not been charged to this day.
Subsequently, once the District Attorney's office realized that even a federal investigation could not find a breakthrough, they refused to press charges, and the case gradually turned cold. However, readers should note that in 1984, Trena filed a $5 million wrongful death lawsuit against several entities, including the County of Nodaway, the town of Skidmore, Del Clement, Sheriff Danny Estes, and Skidmore mayor Steve Peters. Yet, this lawsuit was ultimately settled outside court, and to this day, no one has been arrested or charged for the murder of Ken Rex McElroy.