Investigation Discovery's 'Evil Lives Here: Fantasizing And Hunting' follow the police investigation that led to the arrest of Marc O'Leary, an Army veteran who perpetrated multiple rapes in Washington and Colorado between 2008 and 2011. The case caught national headlines due to the pristine manner and careful way he committed the crimes without leaving any evidence behind. So, how was Marc caught, and where is he now? Let's find out.
Who is Marc O'Leary?
Marc O'Leary is an Army veteran stationed at Joint Base Lewis-McChord, near Tacoma, Washington, between November 2006 and September 2009. According to police records, he committed the first of his many rapes in Lynnwood, Washington, in August 2008 while serving in the army. On August 11, 2008, the 18-year-old woman claimed an unknown assailant raped her. According to the victim, living in the government-sanctioned Alderbrooke Apartments, the attack seemed to continue for hours.
However, the police found several minor discrepancies in the victim's statement and learned she was an alleged attention-seeker from one of her foster guardians. Coupled with those and the incompetency of the detectives involved in the investigation, the authorities dismissed the claim and allegedly coerced the victim into admitting she concocted the accusations to seek attention and other personal benefits. On March 12, 2009, she was also charged with a gross misdemeanor and made to attend mental health counseling and pay $500 to cover the court's costs.
The case made national headlines, and Marc, emboldened by the chain of events, committed multiple rapes – one woman in Washington and four in Colorado. His second victim was a 63-year-old woman in Kirkland, Washington, in October 2008. Much like his first teenage victim, this woman also reported the same modus operandi – the rapist wore gloves and raped her at knifepoint after tying her up with her own shoelaces. She also complained she had felt she was being followed for the past two or three months leading up to the incident.
His third victim was a 65-year-old woman in Aurora, Colorado, in October 2009. She told the detectives her assailant wore a black scarf wrapped around his face and had tied her hands with a ribbon while raping her. He even took pictures and threatened to post them on the Internet if she made a sound or contacted the police. His fourth victim was a 59-year-old woman living in a blue-collar apartment complex in the northwest corner of Westminster, Colorado, in August 2010. According to police reports, her assailant wore a blue ski mask and tied her hand while raping her.
She had also alleged he stole her pink Sony Cyber-shot camera and used it to take pictures of her. He made her take a shower after the rape and even passed a snarky remark about never forgetting to close her windows again while leaving. News reports stated the woman had been recently widowed. His fifth victim was a 26-year-old woman in Golden, Colorado, on January 5, 2011. The woman reported her rapist broke into her apartment at 8:00 am and was wearing a black scarf across his face.
Where is Marc O'Leary Now?
Marc's victims complained about how he used to make them take long showers and brush their teeth while he escaped with their soiled sheets and beddings. They also gave almost a similar description of their assailant – a 6 feet tall man in his 30s with hazel eyes. However, the fifth victim also clearly remembered one physical detail about him – a dark mark on his left calf the size of an egg. The investigators teamed up and started looking for what they feared might be a serial rapist.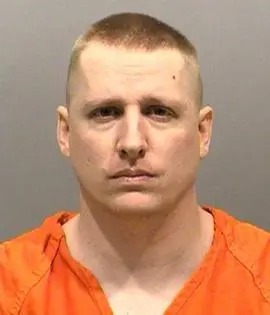 The police zeroed in on Marc after they found his 1993 white Mazda present near the home of a 46-year-old artist in Lakewood, Colorado. The woman reported how a man wearing a black mask accosted her in her home in July 2010 and tried to bind her wrists. However, the artist escaped by jumping out of her bedroom window and sustaining grave injuries due to the 7-foot fall to the ground. But the breakthrough came because her neighbor reported spotting a suspicious white pickup truck around three weeks before the attempted rape.
The officers ran the truck's number plate to find it was registered to Marc, who had no prior criminal record. He lived in Lakewood at the time, and the officers were able to obtain his DNA sample. When they ran it against the DNA retrieved from several crime scenes and found they matched, they knew he was the rapist. He was arrested in February 2011 from his residence without incident. The officers searched his home and found the victims' underwear, a black Ruger .380-caliber pistol, and images and videos of the rapes.
Marc pleaded guilty to 28 counts of rape and associated felonies in Colorado and was sentenced to 327½ years in prison on December 9, 2011. He was also convicted of the two rapes in Washington, being sentenced to 40 years for the Kirkland rape and 28½ years for the Lynnwood rape of Marie. According to official court records, Marc, in his mid-40s, is presumed to be serving his sentence at the Sterling Correctional Facility in Colorado.