Hindi Film Industry, incorrectly yet popularly known as Bollywood, is the biggest film industry as far as volume of films churned is concerned. Every year scores of films are released to wide audiences, yet only a few are able to make money rain at the Box Office. Traditionally, a considerable section of the high earners are termed in our colloquial diction as "MASALA MOVIES". A reason for the said nomenclature is the symbolic similarity of these movies to 'spices' which are known in the Hindi language as 'Masala'.
Now 'Masala' is something that we Indians use generally to enhance the savour of our otherwise dull tasting food. Similarly, a 'Masala movie' is a movie that is meant to solely entertain the audience. A splash of comedy, little showers of catchy dance numbers, plot twists, romance and drama: you put it all in a dryer, you get a 'Masala movie'. A culture that took hold in the Hindi Film Industry in the 70s and peaked in early 80s, here is a look at the list masala movies that are worth 'tasting' and enjoying.
12. Yeh Jawaani Hai Deewani (2013)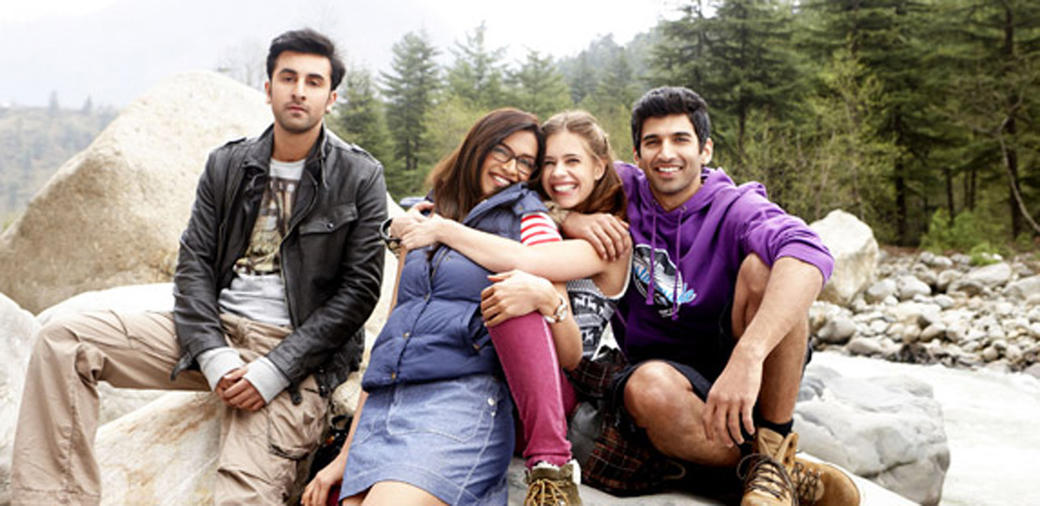 This romantic comedy drama stars Ranbir Kapoor, Deepika Padukone, Kalki Koechlin and Aditya Roy Kapur and was directed by Ayan Mukerji who had earlier worked with Kapoor in Wake Up Sid (2009). The movie went on to become a huge Box Office hit and won several awards including the highest number of nominations (9) including Best Actor, Best Film, Best Direction, Best Supporting Actor and Actress and so on at the 59th Filmfare Awards. The soundtrack of the movie is rife with chartbuster songs like "Badtameez Dil", "Dilliwali Girlfriend", "Illahi" and "Kabira". Madhuri Dixit also appears with Ranbir Kapoor in the song "Ghagra".
11. Naseeb (1981)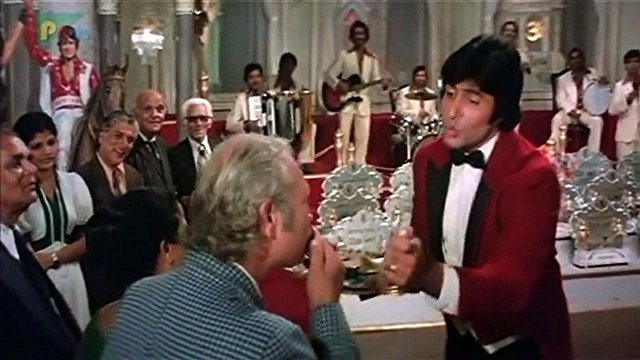 One more gem of the old masala era was this blockbuster directed again by the master of the genre, Manmohan Desai. The movie featured his regulars like Amitabh Bachchan, Kader Khan, Rishi Kapoor, Pran, Amjad Khan, Hema Malini and others. Exquisite sets, lost and found theme, brilliant music by Laxmikant Pyarelal and a diverse cast (I have never seen such a huge cast in my life), this movie has everything to hold an audience in the theatres. One of the songs in the movie "John Jani Janardhan" featured a cameo appearance by some of the biggest actors of the industry at that time including Rajesh Khanna, Raj Kapoor, Shammi Kapoor, Randhir Kapoor, Dharmendra and many others.
9. Dhoom (2004)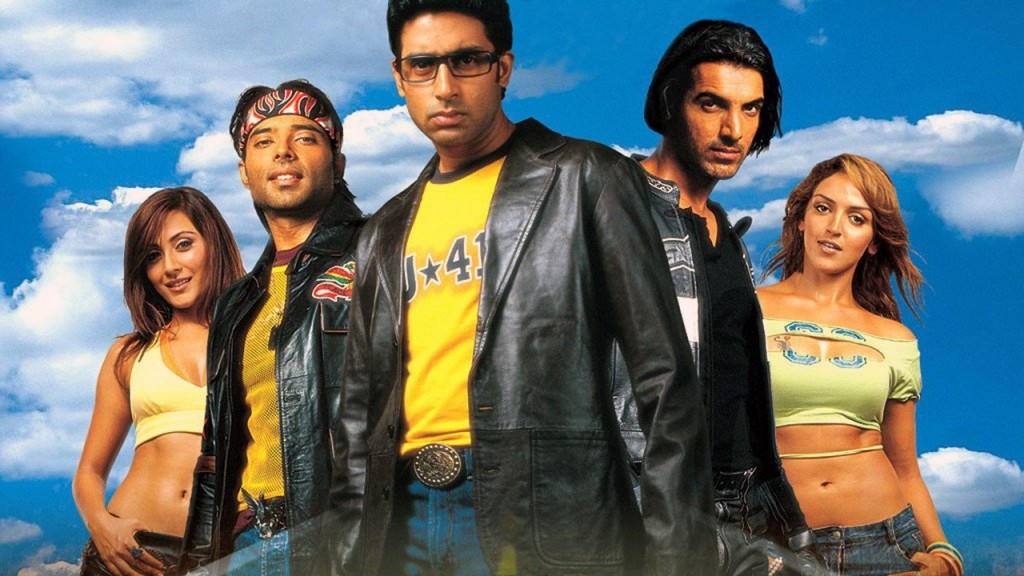 A discussion about mainstream commercial cinema cannot be complete without Yash Raj Films. Although the film house produced many great films throughout the 80s and 90s, most of them got tagged into either romantic or action films and the element of masala remained on the flipside, at best. But in 2004 came Dhoom which was to become one of the biggest hits of the decade along with two more instalments in the form of Dhoom 2 (2006) and Dhoom 3 (2013). Directed by Sanjay Gadhvi and starring Abhishek Bachchan, John Abraham, Esha Deol, Uday Chopra and Rimi Sen, the movie is about a gang of motorbike thieves which is chased by a police officer and a motorbike dealer.
8. Om Shanti Om (2007)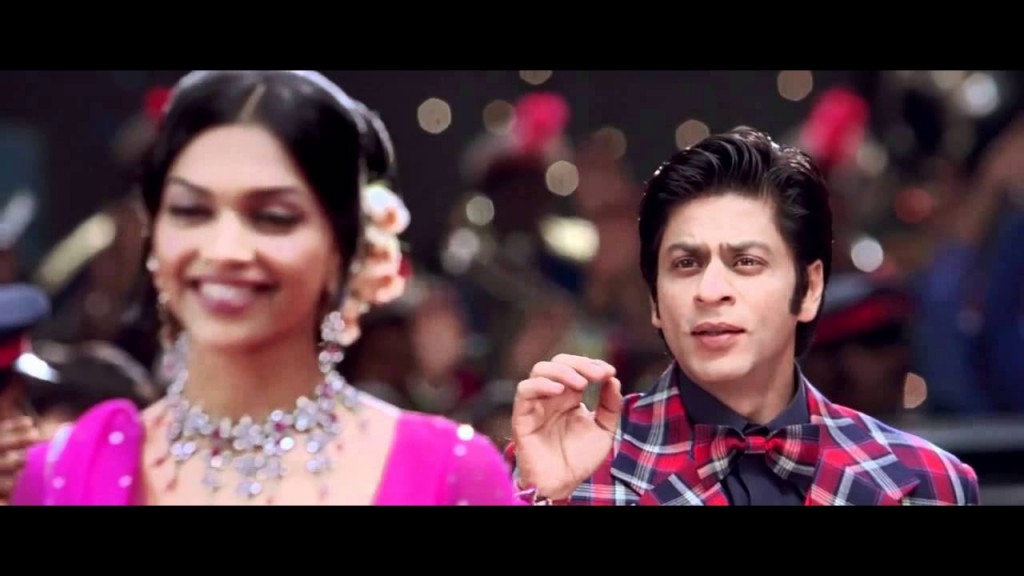 Directed and Choreographed by Farah Khan, this musical drama starred Shah Rukh Khan and Deepika Padukone in lead roles with latter in her debut role. The movie went on to become a huge blockbuster and was noted for its performances and music. The movie was also surrounded by allegations of plagiarism as well as portraying veteran actor Manoj Kumar in a bad taste. Almost 42 actors appeared throughout the course of the movie with 30 actors making cameo appearancea in its song "Deewangi Deewangi".
7. Dharam Veer (1977)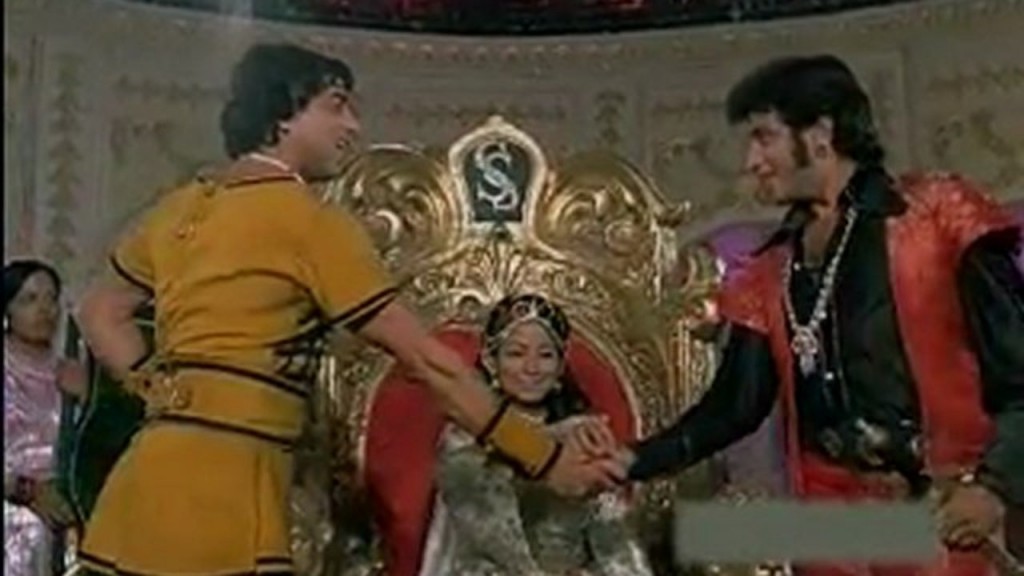 Another huge blockbuster directed by Manmohan Desai, this movie was again based on the lost and reunited theme story of two brothers, separated in their childhood, in a mythical Kingdom. Starring Dharmendra, Jeetendra, Zeenat Aman and Neetu Singh, this movie featured exquisite sets, brilliant music, catchy numbers like "O meri Mehbooba" and "Saat Ajube is Duniya mein" and good action sequences. All in all the movie defined the decade of the 70s.
6. Shaan (1980)
This movie was made by Ramesh Sippy expecting it to recreate the success of his previous work Sholay (1975). Although, it could not match up to those expectations, it did turn out to be one of the most iconic movies of that era. The movie starred Amitabh Bachchan, Shashi Kapoor, Sunil Dutt and others. Intensely stylish, mimicing the James Bond movies, the action thriller produced one the most iconic villains in Indian Cinema- "Shakaal" and catchy dance numbers like "Yamma Yamma".
5. Dabangg (2010)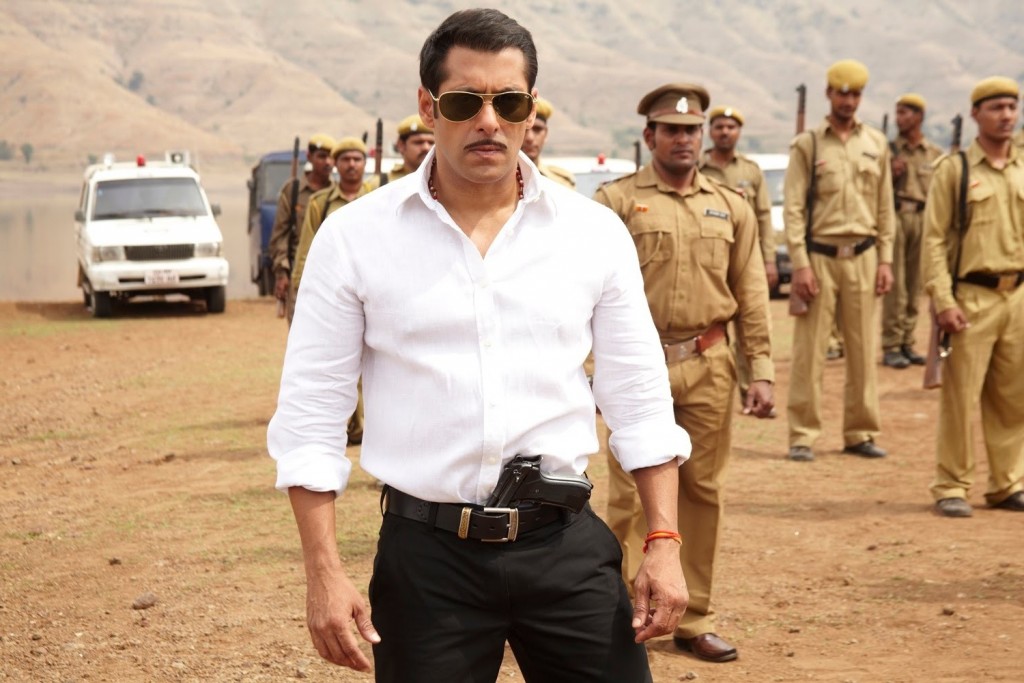 In one of the most iconic roles of his career Salman Khan dons the hat of Chulbul Pandey, a corrupt yet daring Police Inspector, with Sonakshi Sinha playing his love interest in this movie directed by Abhinav Kashyap. Full with catchy and popular songs, most prominent being the dance number "Munni Badnam Hui", the movie is rife with action scenes and drama that has been a characteristic of Salman films for a very long time now. The movie went on to become a blockbuster and also won several awards including the National Film Award for Best Popular Film Providing Wholesome Entertainment and six Filmfare Awards, including Best Film and Best Female Debut. It was later remade in Tamil as Osthe, and in Telugu as Gabbar Singh. A sequel, titled Dabangg 2 was released in 2012.
4. Hum Aapke Hain Kaun..! (1994)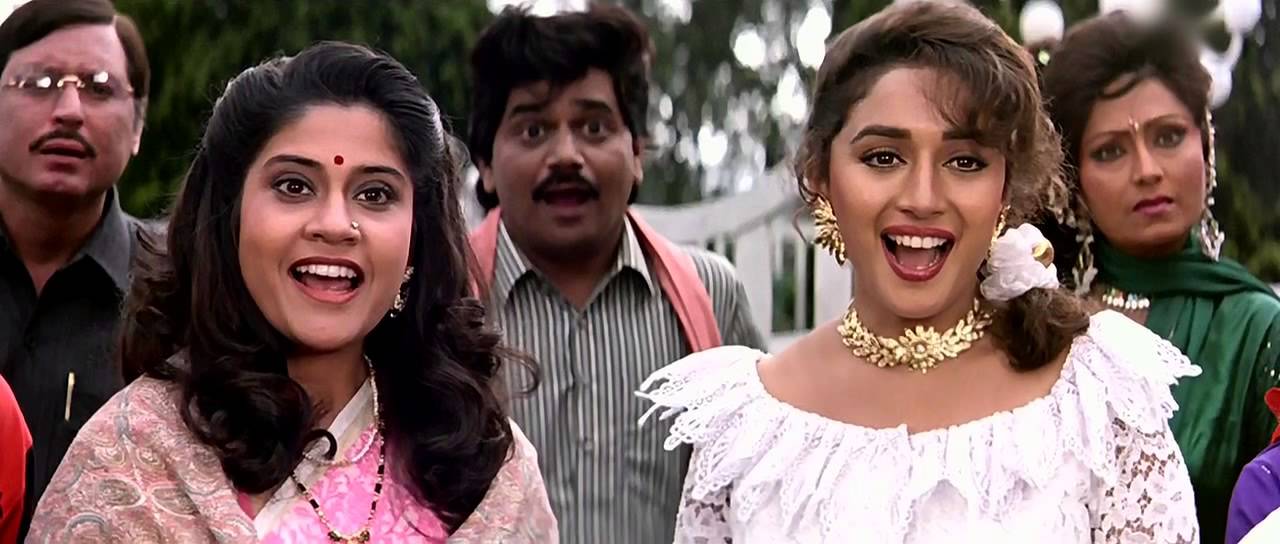 Rajshri Productions has always been instrumental in creating neatly crafted Family oriented films for Indian audiences for decades now. It is not surprising that this movie proved to be the biggest blockbuster of the 90s decade. Directed by Sooraj Barjatya, it stars Salman Khan and Madhuri Dixit. Featuring a 14 song soundtrack with most songs voiced by eminent singers S.P. Balasubrahmanyam and Lata Mangeshkar, the movie is a staple at Indian weddings with the blockbuster song "Didi Tera Devar Deewana".
4. 3 Idiots (2009)
One of the highest grossing movies of all times, 3 Idiots was directed by Rajkumar Hirani who had earlier made popular entertainers like Munna Bhai M.B.B.S. (2003) and Lage Raho Munnabhai (2006). Featuring a cast of Aamir Khan, Kareena Kapoor, R. Madhavan, Sharman Joshi, Omi Vaidya, Parikshit Sahni, and Boman Irani, the movie was inspired by the novel Five Point Someone by Chetan Bhagat. A full blown over the top comedy drama about the lives of three engineering students trying to make it through their college, the movie received universal accolades. This film was remade in Tamil as Nanban (2012) and 3 Idiotas, a Mexican remake, also was released in 2017.
3. Mr. India (1987)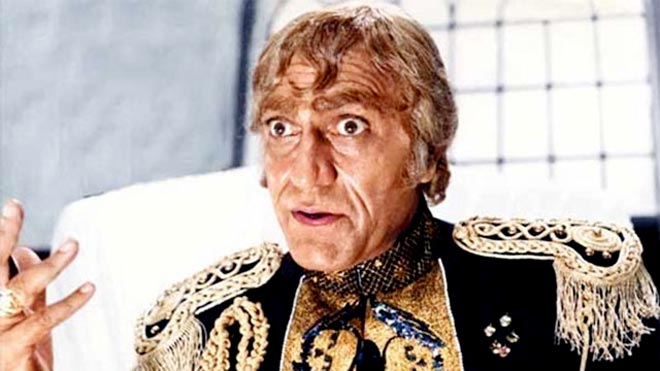 One of the most iconic movies of all times, this science fiction flick was directed by Shekhar Kapur. The movie was the highest grosser of the year and starred Anil Kapoor, Sridevi, Amrish Puri. Hailed in all corners of cinematic critique as a cult hit, the movie is famous for its iconic villain "Mogambo" whose characteristic punch line "Mogambo khush hua ( Mogambo is happy)" is one of the most quoted dialogues in cinematic history. Also notable is the music of Laxmikant-Pyarelal and the famous dance number "Hawa Hawaii".
2. Amar Akbar Anthony (1977)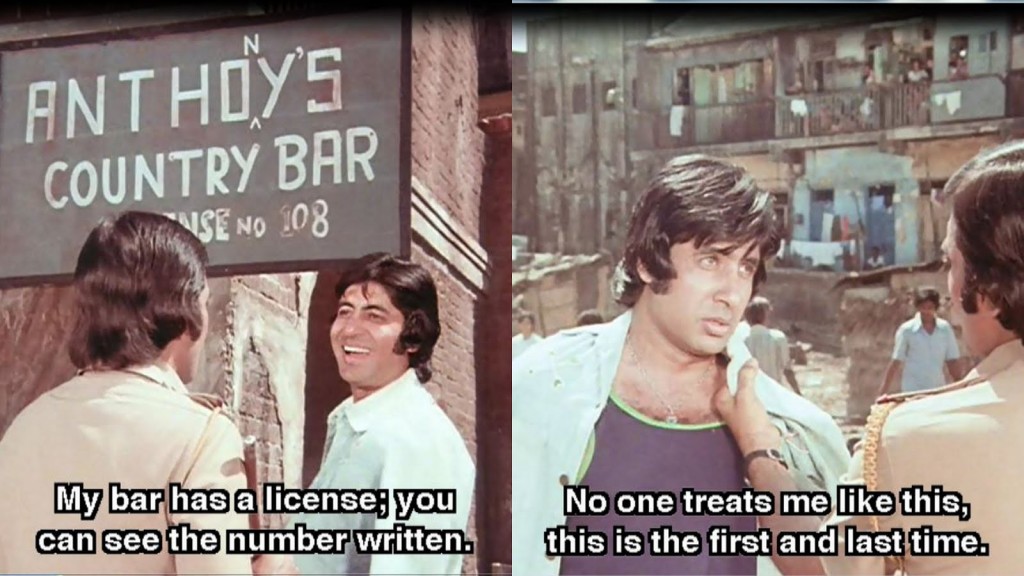 A quintessential Masala blockbuster of the 70s, this movie epitomises the Masala formula of its director Manmohan Desai who would go on to create some of the most memorable movies of his times. It features a huge cast of Amitabh Bachchan, Vinod Khanna, Rishi Kapoor, Neetu Kapoor, Shabana Azmi, Parveen Babi, Nirupa Roy, Pran and Jeevan. Based on the conventional lost and found theme, it featured some very catchy and memorable songs like "My name is Anthony Gonsalves".
1. Sholay (1975)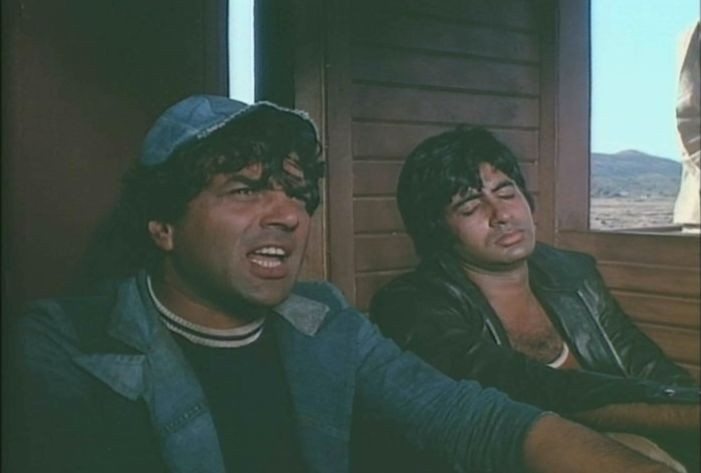 No discussion about the greatest commercial hits of the Hindi Film Industry can be complete without providing the spot to this Ramesh Sippy film. A brilliant mix of wide and diverse genres like westerns, comedy, drama, action, romance and musicals this movie follows the story of two criminals Jai and Veeru played by Amitabh Bachchan and Dharmendra respectively. Supporting them is an equally brilliant cast of Sanjeev Kumar as Thakur, Hema Malini as Basanti, Jaya Bhaduri as Radha, Amajad Khan as Gabbar Singh (arguably the most iconic villain in Indian cinematic history), Asrani as Jailor, Viju Khote as Kaalia, Mac Mohan as Sambha etc. The movie received initial tepid response but slowly recovered and went on to become the biggest blockbuster as well as the most revered movie by audiences and critics alike for decades. Notable also is the soundtrack of the film with numerous memorable songs including the Holi song "Holi Ke Din".
Read More: Best Bollywood Movies of All Time