Michael John Douglas is better known as Michael Keaton professionally and is undoubtedly a veteran of Hollywood. Born on September 5, 1951, this 67-year-old has had a prolific career in the entertainment industry. Keaton first rose to fame due to his roles on the CBS shows which include 'All's Fair' and 'The Mary Tyler Moore Hour'. His comedic film roles earned him further plaudits as he starred in movies like 'Night Shift', 'Johnny Dangerously', 'Mr. Mom' and 'Beetlejuice'. However, Keaton perhaps became a household name after his dramatic portrayal of the caped crusader in Tim Burton's Batman movies, namely, the 1989 'Batman' and the 1992 movie, 'Batman Returns'.
Following this Keaton has appeared in several roles over his career but not a lot of them went on to become very noteworthy. Some of his major appearances include, 'Clean and Sober', 'The Dream Team', 'Much Ado About Nothing', 'Pacific Heights', 'Multiplicity', 'Jackie Brown', 'The Other Guys', 'Robocop' and 'Need For Speed'. However, it was only in 2014 when Keaton appeared in Alejandro G. Inarritu's film 'Birdman or (The Unexpected Virtue of Ignorance)' that his career saw another revival. The role won him a Golden Globe, a Critic's Choice Award and also got him nominated for the Screen Actors Guild Award, British Academy Film Award, and an Oscar for Best Actor. Keaton then appeared in a couple of acclaimed films like 'Spotlight' and 'The Founder'. He has lent his voice to several notable animated films like 'Cars', 'Toy Story 3', 'Minions'. His latest performance has been as part of the Marvel Cinematic Universe where he plays Vulture. He appeared in 'Spider-Man: Homecoming'.
At this point, the question that might be circling your mind is what is the next Michael Keaton movie? Well, the good news is that we have a clear answer to that question. Here's the list of upcoming Michael Keaton films/tv shows scheduled to release in 2019 and 2020. We can only hope that the latest Michael Keaton movies would be as good as some of his recent ones.
1. Dumbo (2019)
'Dumbo' is an upcoming fantasy adventure film that is slated to release on March 29, 2019. The movie is loosely based on the 1941 Disney movie of the same name but actually borrows from the novel by Harold Pearl and Helen Aberson. The cast of the film is impressive including the likes of Colin Farrell, Danny DeVito, Michael Keaton, Eva Green, and Alan Arkin. The story follows a struggling circus owner and ringmaster Max Medici, played by DeVito, who begins to take care of a baby elephant with oversized ears. The elephant becomes the laughing stock of the circus but soon Medici's children make the astounding discovery that the elephant can use its ears to fly. This convinces an aggressive but persuasive entrepreneur, V. A. Vandevere, and a French trapeze artist name Colette Marchant to swoop in to capitalize on the rising star's fame. Michael Keaton plays the role of Vandevere and as his previous roles have shown us, Keaton can pull off an intimidating role quite easily.
2. Spider-Man: Far From Home (2019)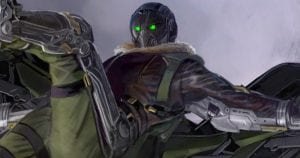 'Spider-Man: Far From Home' is the first movie that the Marvel Cinematic Universe will see after 'Avengers: Endgame' releases on April 26, 2019, and marks the end of the current phase of superhero movies. 'Spider-Man: Far From Home' is set to hit theaters on July 5, 2019, and will see Tom Holland reprise his role as Peter Parker or Spider-Man, While on a school trip to Europe, Parker comes in contact with Nick Fury, the head of SHIELD, played by Samuel L Jackson. Fury effectively hijacks his trip and gets him back into hero action. Spidey has to stop a new threat which appears to be the Elementals and might be teaming up with Jake Gyllenhaal's Mysterio, although it is just as likely that Mysterio is also Spider-Man's foe. Amidst all this Michael Keaton reprises his role as Adrian Toomes or Vulture. The last we saw Toomes in 'Spider-Man: Homecoming' was in prison where he met another character, Scorpion, who will eventually become one of Spider-Man's most notorious villains.
Read More: Upcoming Isla Fisher Movies
3. What is Life Worth (TBA)
'What is Life Worth' is an upcoming drama film that is in pre-production stages and does not have a release date yet. Variety reported that Michael Keaton will be playing the role of Kenneth Feinberg in the movie that is based on Feinberg's own memoirs. The plot revolves around Feinberg's efforts as a powerful Washington attorney who is tasked with the September 11th Victim Compensation Fund or the 9/11 fund. In three years of pro bono work on the case, Feinberg fights against cynicism, bureaucracy, and politics that is always associated with the administering of government funds and begins to discover what life is really worth, in the process.
Read More: Upcoming Christopher Meloni Movies
4. King of the Jungle (TBA)
'King of the Jungle' is a comedy-drama that is in pre-production and does not have a release date yet. The movie stars Michael Keaton and Seth Rogen and is based on the Wired article 'John McAfee's Last Stand'. It must be evident by now that the plot revolves around John McAfee, played by Keaton, who created the McAfee Antivirus software. He then sold everything and retired to a jungle in Belize, leaving civilization behind. When Ari Furman, the Wired magazine investigator played by Rogen, takes the presumably normal assignment to interview McAfee, he finds the man living in a Colonel Kurtz style compound in the jungle, only with guns, sex, and madness. The film will show how Furman was drawn into McAfee's world of paranoia, loss of reality and even murder. The news of Keaton's casting was first reported by Deadline.
Read More: Upcoming Gina Rodriguez Movies