The Minions existed before everything else on the Earth; way before the beginning of time and these yellow-coloured, pill-shaped, odd-looking creatures that developed from a single cell, evolved and made their way directly into our hearts! Although one story states this, the other hints at Felonious Gru making them in his own lab. Well, whatever story they tell us, Minions have become one of the most loved and unforgettable movie characters ever created in films.
Such is their charm that apart from being Gru's sidekicks in the 'Despicable Me' series, the Minions also had a movie all to themselves and what's more, a sequel to it has also been announced in the coming years. And if that is not enough, Minions are also the official mascots of Illumination Entertainment! They speak a combination of different languages but what they say is gibberish and it doesn't matter to us as long as these banana-loving creatures keep entertaining us with their movies. Having appeared in four feature films, with various shorts and two sequels in the pipeline, here's the list of all Minion movies, ranked from worst to best. How many minion movies are there? Answer is below.
4. Despicable Me 3 (2017)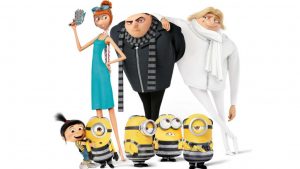 The recent one in the series (since the fourth installment has been announced), released in 2017, 'Despicable Me 3' saw Gru mending his ways, and along with his wife Lucy, working for an anti-villain league. When the couple is fired from office for being unable to stop a child-actor-turned-villain from stealing a gem, some of the Minions desert them, while Gru also learns of his long-lost twin Dru. As events unfold, amidst a lot of whacky twists and turns, everything comes back to normal and Gru finally brings situations under control. The film with the lowest ratings on most websites had too much happening in the screenplay all at once, which made it chaotic more than fun. Although it did manage to entertain its target audience – the kids – for its colourful visuals and slapstick proceedings, it failed to amuse the elders.
3. Minions (2015)
As the story goes, these bespectacled creatures evolved from single-celled organisms and became the Minions as we know them today. Leading a disorderly life and overwhelmed by the feeling of not having a boss, the Minions live through civilizations, toppling some over, finally setting foot in modern-day America, where on behalf of the rest of them, Bob, Kevin and Stuart meet Scarlet Overkill and take an instant liking to the most despicable super villain in history. While Scarlet eyes the Imperial State Crown and the royal throne, the three Minions inadvertently wreak havoc in London, turning events funnier as they play out. Although the Pierre Coffin film, which was projected as the prequel to the 'Despicable Me' franchise, was welcomed with open arms and paved way for merchandise and collectibles, it did not generate the kind of interest it was supposed to from a standalone film.
2. Despicable Me 2 (2013)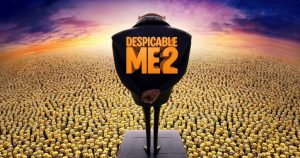 When Felonious Gru gives up his villainy and becomes a devoted father to his adopted girls, a wicked Mexican restaurateur Eduardo Perez, who Gru suspects to be super villain El Macho in disguise, starts kidnapping the Minions, injecting them with a serum and turning them evil, hoping to rule the world. Gru, then with the help of his partner Lucy Wilde, tracks down Macho and turns the tables on him, eventually bringing peace in the region. The second installment in the franchise, 'Despicable Me 2' earned two Academy nominations and won several other awards, including an Annie and a BAFTA. What appealed to the kids was how the lovable, little, yellow Minions turned purple and played mischief, creating chaos everywhere they went. 'Despicable Me 2' won favourable reviews and still entertains us with its repeat value.
1. Despicable Me (2010)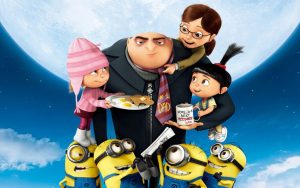 With a 7.7 rating on IMDb and an 81% aggregate on Rotten Tomatoes, 'Despicable Me' wins hands down in the series. But it is not just the numbers that count, the movie, which first introduced the Minions to the world, had a story that touched us and entertainment value that kept us giggling every now and then. Felonious Gru, who is the most despised super villain in the whole wide world, has everything that his heart desires. But when a talented, young lad steals the Pyramids of Giza, Gru starts planning to steal the moon, to be one up above him. His attempts at doing things none had ever imagined before fails, until he spots three orphan girls, who he then adopts to set his plans in motion. As the story progresses, Gru warms up to the girls and starts turning over a new leaf, while still harbouring dreams of being the super villain. The clash of emotions in a heartwarming story and the Minions' zany antics kept the audiences in splits, making the family-friendly 'Despicable Me' one of the most loved animated films of all time.
Read More: All Spider-man Movies, Ranked