Since the execs at WB managed to single-handedly ruin the ongoing course of the DCEU, given what they did with 'Justice League' in 2017, I can imagine them having a hard time picking straws from either older properties when they used to be the singular voice in the game, or acquiring new properties and investing in them. As the DCEU continues to pick up after 'Aquaman' and 'Shazam', WB thankfully is focusing towards reviving older properties, principal (and commendable) among them being 'The Matrix' trilogy of films, the rumour of a sequel to which, a fourth part had long been doing the rounds on the internet. However, following some concrete confirmations from the Wachowskis, and the recent press confirmation from WB that sent the entertainment world in a frenzy, we know that a 'Matrix 4' is surely happening, and more importantly, what it will bring to the front when it hits theatres a couple of years from now. You can check back later on the same write-up which we will continue updating as soon as new information surfaces.
I wouldn't be too wrong in stating that 'The Matrix' is a revolution disguised as a film. It is a monumental film in my opinion: since its release close to two decades ago, action and science fiction movies have never been the same. When I consider action movies and sci-fi movies today, and of the yesteryears, I always tend to see them in a pre-matrix phase and a post-matrix phase, which, I believe is a testament to the impact the film has had on modern sci-fi and action films; an ingenious, clever idea rendered on screen by the Wachowskis, resulting in a film that made many viewers grow wary of the very reality they found themselves in.
It is true, once 'The Matrix' was made, there was no going back, it changed things. Not only did the film break somewhat new ground in its story, it also revolutionized the way science fiction and action movies came to be conceived thereafter. The success of 'The Matrix' as a movie also lies in how it masterfully dabbles between themes including existentialism, religion and gender, all the while wearing the guise of an action and sci-fi flick. Neo's ability to manipulate the simulated reality to perform seemingly impossible feats and the use of "bullet time", an action technique that is nothing short of iconic now, adds to the film's ingenuity. The genre may be overstuffed now, but when it came out first, it's safe to say the audience hadn't seen anything like it.
The Matrix Trilogy Premise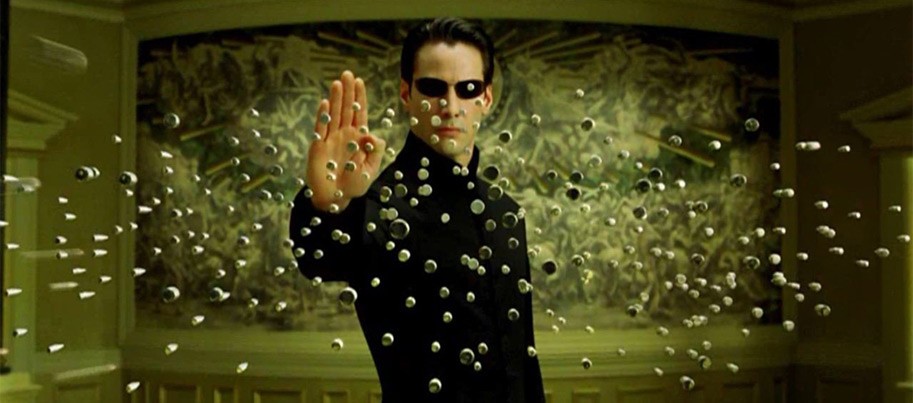 'The Matrix' follows Thomas Anderson or Neo (Keanu Reeves) as he discovers that the seemingly normal world he lived in is actually a shared simulation of human minds, and that the "real" world was a technological ruin ravaged by war between humans and sentient beings. Aided by Morpheus, a human who initially escaped the Matrix and is now leading the revolution against it, and his crew of rebels, Neo sets on a path to fulfill his destiny as "The One", with his understanding of the Matrix allowing him to bend the laws of Physics in the simulated world. He and the other rebels, including Trinity, Neo's love interest, fellow crew member and part of the resistance, are relentlessly pursued by the ruthless Agent Smith and his team of other sentient agents whose job is to keep humans from escaping The Matrix. What starts from Neo coming to realize his destiny and fulfilling it escalates to a full blown war between the humans and machines for the fate of Zion.
Matrix 4 Crew: Who is behind It?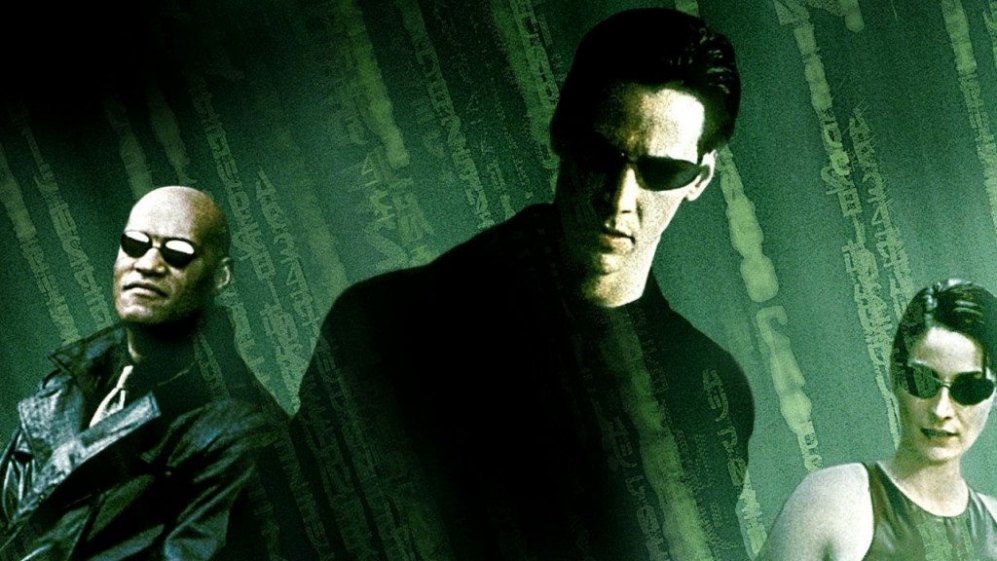 There are a lot of interconnected variables right now on who is going to be involved with this much-anticipated sequel, but primary among them, most definitely, are the Wachowskis. As I stated earlier, it was their involvement, even if in a writing/producing capacity that was absolutely essential and instrumental in deciding the course that this franchise would take. Even Keanu Reeves, who played the role of Neo in the original trilogy was keen to return for a fourth part, but only subject to the Wachowskis returning to direct. 'The Matrix' series de facto transformed his status in Hollywood into A-list action star, so much so that his name is almost synonymous with the high concept franchise. His involvement would clearly have meant nothing but greater, better things for the franchise. On both those fronts, we are happy to be the harbinger of good news, since Lana Wachowski is all set to write, direct and produce the fourth Matrix film, with Reeves returning in his iconic role. In the press confirmation announcing the same, Toby Emmerich, Chairman, WB Pictures said, "We could not be more excited to be re-entering The Matrix with Lana. Lana is a true visionary — a singular and original creative filmmaker — and we are thrilled that she is writing, directing and producing this new chapter in the Matrix universe."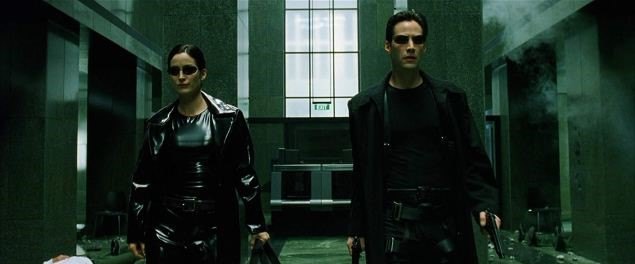 Lana Wachowski has worked closely with screenwriters Aleksandar Hemon and David Mitchell to pen a suitable script for the project, that, dismissing earlier rumors considering the film to be an expansion of the same universe or a prequel focussing on Morpheus, is a direct sequel and will pick up a certain number of years after the original trilogy ended. Warner Bros. was reportedly setting up a 'writer's room' earlier too, of which Zak Penn was rumoured to be a part, something that has now become a commonality for films with a shared universe. Penn's earlier credits include full or partial story credits on 'X2', X-Men: The Last Stand', early drafts of 'Hulk', 'The Incredible Hulk', and even 'The Avengers'. For me, his most credible work would be writing the screen adaptation of 'Ready Player One' for Steven Spielberg and WB. However, no confirmations on the writers' table beyond the early stages of ideation have yet been received. It has also been reported that John Toll has been in talks to join the sequel as DoP. The Oscar-winning cinematographer has earlier worked on other projects with the filmmakers including 'Cloud Atlas', 'Jupiter Ascending' and 'Sense8', the Netflix series.
Matrix 4 Theories: What is it about?
Well, even the script is in the ideation stage right now, so most of it as of now is hearsay. Some interviews and public statements indicated that Warner Bros. was interested in going the spin-off prequel way, working on a script that would have Morpheus at its centre, and would explore his journey from being trapped inside the Matrix to escaping from it and leading the revolution against it, a brief history of Zion, his discovery of 'The One' and more. Reports later also surfaced that claimed that the 'Matrix 4' would be set in the same universe but would be a completely original, new story. Ofcourse, all of these were put to rest when the film was announced and we now know for sure that the fourth Matrix film will be a direct sequel and will pick up a few years after the events of 'The Matrix Revolutions'. Since Reeves and Carrie-Anne Moss are already attached to star and reprise their roles from the original trilogy, it would be prudent to assume that it would be "their" story, given Reeves' massive star power in 2019 leading him to occupy nothing less than centrestage. All details about what the movie could be about, ofcourse apart from what has already been divulged, are being kept under wraps until any further progress is made on the project. This is also augmented by the fact that none of the other original cast members have been confirmed yet, as you would read about in the next section.
Matrix 4 Cast: Who is in it?
Interestingly enough, both Keanu Reeves and Hugo Weaving had earlier expressed significant interest in returning for a sequel, albeit only if the Wachowskis were involved in a significant capacity in the new project. Following certain confirmations only last week, we know that both Reeves and Carrie-Anne Moss will be returning to reprise their roles in the new film as principal cast members. Numerous sources earlier stated that WB were eyeing Michael B. Jordan, their current 'Creed' favourite and fresh from the success of Marvel's 'Black Panther', for the role of young Morpheus in the new film(s). While that still seems highly unlikely, this is the 'Matrix' universe we are talking about. The possibilities are uniquely endless.
Matrix 4 Release Date: When will it premiere?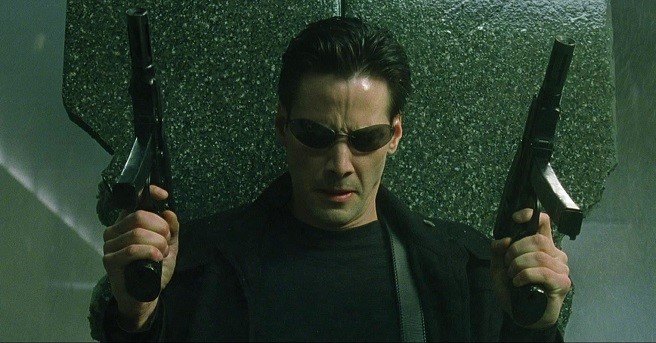 It is very clear that the next Matrix film is happening, and the producers, WB might even have given a greenlight to the screenwriting trio's draft, but it will be quite some time until we hear any official news or confirmation on this, leave alone a first look, trailer or official release date. However, given the current progress and considering completely optimistic timelines, if the draft of the film is ready by the end of this year, the film might go on floors any time as soon as the second half of next year, aiming for at least a 2022 release. Given the abundant swell of technology we have right now, recreating the iconic "bullet time" and physically impossible sequences might not be too much of a task right now. All that matters is getting a working script in place that doesn't rip off the originals, neither disrespects the source material in any sense. Fans of the franchise deserve that.
Read More: Movies Like Matrix