When one works for a certain period of time with somebody else, it is obvious that the two people will never share the same point of view. Colleagues are bound to have differences of opinion; and when one talks of an industry like Hollywood, where the process of filmmaking takes a very long time to complete, two people working together on a film do not necessarily get along.
While it may seem to us that when an onscreen couple gets intimate and shoots for intense romantic scenes, they share a great bonding with each other; but the stories that come from behind the scenes, tell us a different tale. Here's a look into such stories of ten onscreen couples that featured in romantic roles together but didn't really gel well with one another.
10. Julia Roberts and Nick Nolte (I Love Trouble)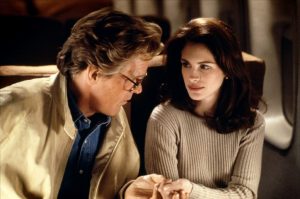 Julia Roberts, who is said to be one of the most easy-going actresses in Hollywood wasn't really on good terms with co-actor Nick Nolte and it was evident when they shot for their 1994 romantic film 'I Love Trouble'. Both gave each other a hard time on the sets and had a mutual disliking for each other, so much so that they disagreed to shoot romantic scenes together. Tired of it all, director Charles Shyer had to bring in stand-ins to create their onscreen chemistry. Julia once said that working with Nick was really a very disgusting experience. Looks like there was too much "trouble" in paradise!
9. Sharon Stone and William Baldwin (Sliver)
The makers of erotic thriller 'Sliver', which featured femme fatale Sharon Stone and William Baldwin, who was out to prove that the Baldwins had another pretty face in the family apart from Alec, had a tough time completing the entire movie. The couple who shared a sizzling chemistry on the screen was in an icy relationship off it. They couldn't stand one another and even hated shooting together. Baldwin was heard saying that Stone wasn't as pretty as she appeared in 'Basic Instinct' and Stone, who was a star by then, gave her co-actor difficult times. She was even reported to have bitten his lips hard while filming an erotic scene! There has been no "sliver" of hope between the twosomes ever since!
8. Marilyn Monroe and Tony Curtis (Some Like It Hot)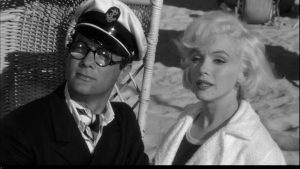 Tony Curtis, who was a very popular actor between the 50s and 60s, had already established himself when he signed 'Some Like It Hot' opposite sex goddess Marilyn Monroe. But he didn't appreciate the pop culture icon's habitual unpunctuality. Monroe was in a state of semi-retirement and didn't want to return to acting, and that led her to always arrive late for shoots. That was one of the reasons the onscreen couple found it difficult to adjust with each other on the sets. Curtis even went on to famously state that kissing Marilyn (for scenes) was like kissing Hitler!
7. Teri Hatcher and Pierce Brosnan (Tomorrow Never Dies)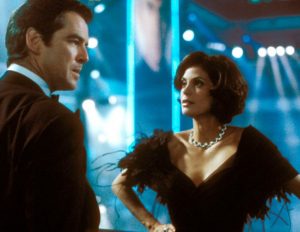 Known as one of the most handsome actors to play James Bond, Pierce Brosnan, while shooting for 'Tomorrow Never Dies', had a cold war with Teri Hatcher. The actress always turned up late for shoots and kept Brosnan hanging all the while, which annoyed the star. Once, when she came late to shoot, Brosnan said some nasty things to her, not realizing she was pregnant and wasn't keeping well. Hatcher, too, did not take it lying down and returned it to him in full, slapping him hard across his face while shooting for a scene! Teri Hatcher couldn't really bond with the best!
6. Debra Winger and Richard Gere (An Officer And A Gentleman)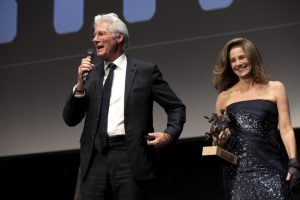 Many actors and directors in Hollywood had claimed that Debra Winger was one of the actresses that were tough to work with. Despite what he had heard in the industry, Richard Gere agreed to do 'An Officer And A Gentleman' opposite her and learnt his lessons the hard way! The two actors couldn't gel well with each other and the crew even revealed that both the stars would often yell at each other off screen and distance themselves when the cameras weren't rolling. Winger also said that shooting for the film was the worst experience of her life! The actress had given some harrowing time to one gentleman!