It's been almost 4 decades since the movie released but it remains fresh in the minds of movie lovers. What is it that makes this movie so iconic? Is it the two central characters, both natural antagonists, with one being a rule-breaker and the other, an emotionless, by the book individual? Or is it the plot, which portrays the struggle of an individual against an institution which concludes with an unexpected and gut-wrenching climax? Or is it the direction that efficiently manages to convey the message that everybody has the power to act without the constraints of fate or necessity? Well, the answer is simple: All of them, as evident from the fact that the film managed to win all 5 major Academy Awards (Best Film, Actor in a leading role, Actress in a leading role, Director and Screenplay), a feat which has been accomplished by only 3 movies till date. The other two being 'It Happened One Night' in 1934 and 'Silence of the Lambs' in 1991.
The movie kicks-off with Randle Patrick "Mac " McMurphy (Jack Nicholson) being transferred to a mental institution for evaluation after serving two months of his six month sentence for criminally assaulting a 15-year-old girl. McMurphy is a 38-year-old hell-raiser who believes in the concept of free will. He acts at his own discretion and can traverse any extent to shake up the system. McMurphy successfully feigns madness to avoid the hard labours of prison to serve the rest of his sentence in a more relaxed hospital environment. His ward is run by the stark-faced, non-indulgent Nurse Mildred Ratched (Louise Fletcher), whose methods of treatment are so extreme that it ends up doing more harm than good. She is a paradigm of dominatrix and has her life dedicated to duty and righteousness.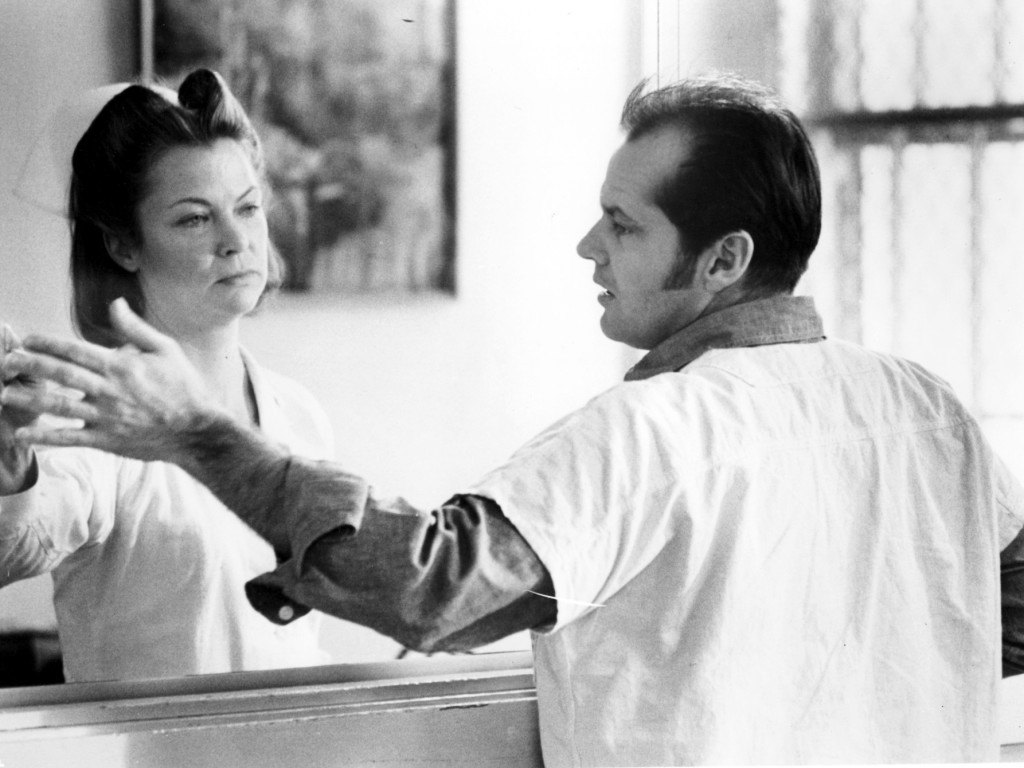 Guys like McMurphy are a certainty these days. Gather a group of five and you will find a McMurphy among them. They are the ones who don't follow the rule books. For them regulations are meant to be broken and systems are meant to be challenged. They represent free will and their calibre depends upon the strength of the enemy. On the other hand, Nurse Ratched are the ones who represent intense momism. They are adamant, do not take people at face value and sympathetic only if it reinforces their authority. This movie depicts Nurse Ratched as the system which all McMurphy's are trying to break.
During his stay in the asylum, McMurphy slowly realizes that life here is not as simple as he expected. The rest of the film is about the skirmishes that takes place between the two as McMurphy slowly establishes himself as the leader among his inmates which include Charlie Chiswick (Sydney Lassick), a man with a child like temper; Dale Harding (William Redfield), a paranoid; Jim Sefelt (William Duell), an epileptic; Max Taber (Christopher Lloyd), an aggressive blasphemous man; Martini (Danny DeVito), a neurotic; Billy Bibbit (Brad Dourif), a young boy who stutters under anxiety; and "Chief" Bromdem (Will Sampson), a man with a grand stature who acts deaf and mute to avoid attention.
What sets this movie apart from other individual-institution conflict movies is the climax which soaks you into it. It has one of the world's most tragic yet inspirational movie endings of all time. It is a state where you are at an emotional purge and yet feel invigorated.
Jack Nicholson as Randall Patrick McMurphy steals the show. Nicholson is so deeply into it that it makes you forget all other characters he has portrayed on-screen. McMurphy's transformation from a prisoner to a rebel and finally to a dejected man is so gracefully portrayed by Nicholson that it makes you feel that how the movie would have ended up had McMurphy been portrayed by Gene Hackman or Marlon Brando, both of whom were initially offered the role. Nicholson's acting prowess is visible throughout the movie but it reaches crescendo during the famous TV conflict scene with Louise Fletcher. Here, have a look.
Louise Fletcher as Nurse Ratched is equally good as Jack Nicholson. The name "Nurse Ratched" still terrifies people as much as it did back then. Though Fletcher's flawless performance was overshadowed by Nicholson's McMurphy, she did go on to win the Best Actress Academy Award thereby cementing "Nurse Ratched" as one of the most iconic movie villains of all time. Fletcher's portrayal as a self-righteous and stern woman is so preternatural but we hardly notice it because of our strong response towards her. The scenes depicting her uncompromising attachment to rules is so calmly acted like the one in which she rejects the suggestions of her male administrators to send McMurphy back to the prison by replying "We must not pass our responsibilities to someone else".
Other notable performances include that of Will Sampson and Brad Dourif both of whom are liberated in their own sense under McMurphy with the latter being nominated for Best Supporting Actor Academy Award for his portrayal of a young stuttering man with a fatal mother complex.
40 years since the movie released but the theme remains relevant. Neither has the movie aged nor has its characters. 'One Flew Over the Cuckoo's Nest' has carved a niche for itself as one of the finest movies of all time. In 1993, this film was deemed "culturally, historically, or aesthetically significant" by the United States Library of Congress and selected for preservation in their National Film Registry . 'One Flew Over the Cuckoo's Nest' is a near perfect movie which comes once in a lifetime and should not be neglected at any cost especially when you have two of the most iconic characters in world cinema at your disposal.