Every year there are certain movies that do not get detected by the radar, and end up being overlooked by most audiences despite their strong critical reception. This includes the likes of 'Blue Ruin', 'Killing Them Softly' or 'I Saw The Devil' which were released this decade but only became popular worldwide after rave reviews on Underrated Lists or cult movie sites. Though 90's can be considered the first decade after Hitchcock era that had a massive elevation in quality of thrillers, there are still a lot of them that went under appreciated. These films were either affected by bad marketing or release dates or similar movies that came around the same time. Shockingly the list contains big names like The Coens, Raimi, Lynch and Lumet. This films may not be the greatest from their respective sub genre, but they have developed it in such a way that their influence is felt in most thrillers nowadays. Now, I will not be dissecting most of them or share my opinions, since they are overlooked, a considerable amount of audiences wouldn't have watched them. Here is the list of overlooked thrillers from the 90s:
10. Ravenous (1999)
Imagine good ol' Begbie had all the freedom in the world to do whatever he wanted to, with no police around to arrest him while he's messing around with a "replica". Robert Carlyle is not a name you come across quite often, but the man despite his lean framework is like a molotov cocktail. You fill him up to the brim, and there's nobody as explosive as him on screen. He sports a similar charm, but lets his jaws do the talking in this cannibalistic thriller. The movie is based on a native Indian myth, and is not really for people who appreciate logical reasoning in thrillers. Though not being a typical slasher, it does have the structure and motives of one, and can be considered something along the lines of Wes Craven's 'Scream'. With its marvellous soundtrack and icy Nevadas setting, it's very effecting at providing the chills.
9. Q&A (1990)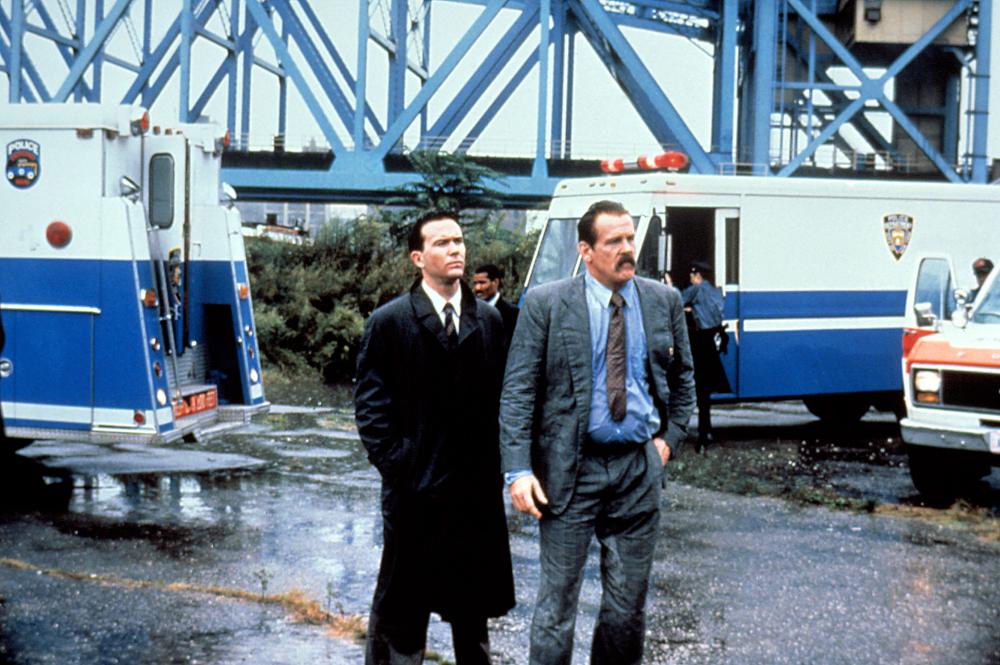 Sidney Lumet was probably the greatest example of how to construct a great movie with a conventional linear narrative. But, Lumet's story no matter how linear was always multi-faceted in its implications. Lumet could quite possibly explore every emotion and its consequence within 2 hours, and in the process sacrifice not even a single character. This was one of Lumet's boldest movies in years, and a very layered one that is a police thriller on the surface, and one of the dirtiest explorations of these protectors' worlds, exceeding his earlier film 'Serpico' in this aspect.
8. Bound (1996)
The Wachowski Brothers are known for their game-changing Matrix Trilogy. What many aren't aware of , is their directorial debut, a neo-noir thriller with a lesbian duo as the lead. It's a genre film, and like most thrillers from the 90's follows a similar premise of robbery which turns into an absolute clusterf*ck. What differentiates 'Bound' from the others is its slick style, something Wachowskis are famous for now. The action sequences are not all over the place like 'Matrix', and the two lust for each other, but not love, and knowing how much neo-noir dwells on instability, this detail always keeps you puzzled over the final outcome.
7. Twin Peaks : Fire Walk With Me (1992)
'Twin Peaks : Fire Walk With Me' was one of the most hated films at the Cannes Film Festival in 1992. The film was probably the worst Lynchian film in terms of critical reception. One of the biggest reason could be its endless production problems, with rifts between series creators Mark Frost and David Lynch, and disappointment among actors themselves. Another reason would be the standard Lynch had set for himself, after 'Blue Velvet' and the TV series. It is probably Lynch's bleakest visions, and according to me, though not as great, it is Lynch's 'A Clockwork Orange'.
6. State of Grace (1990)
It was 1990 and both Sean Penn and Gary Oldman were aiming to make a big statement in Hollywood. Oldman had done a terrific job as Sid Vicious and was exploring non-British characters, and his on-screen diversity since then has never been contested in Hollywood. Penn too was hyped up after his break-out performance alongside Christopher Walken in 'At Close Range'. There were two crime thrillers released that week in 1990, and Scorsese's 'Goodfellas' completely overshadowed 'State of Grace' and the latter's quality has got nothing to do with this. It's very character oriented, and to an extent Penn plays himself, entering a big world while being torn apart between his decisions and the people he cares about. Oldman slips effortlessly in his character's boots, and turns a not so well written role into a remarkable one.