Peter Dinklage is unarguably the most recognized and most popular dwarf in tinsel town today; thanks to HBO's fantasy drama "Game Of Thrones", where he plays the lead character of Tyrion Lannister. But the path to success was a rocky one and he wasn't immediately accepted into the fraternity, owing to his height. But when Peter Dinklage was signed on in his first ever role, he wowed filmmakers with his sheer talent and the rest, as they say, is history. Once rejected for being vertically challenged, Peter Dinklage is one of the highest paid actors on the small screen today. Here we bring you a list of twelve top 12 movies and television shows, where Peter Dinklage proved what mettle he is made of.
12. Rememory (2017)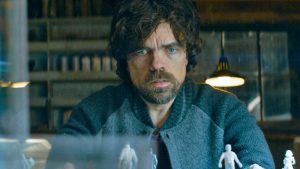 When a scientist mysteriously dies after he invents a cutting-edge memory-reading device, an amateur detective, who has lost his brother in an accident and is haunted by the memories, decides to take it upon himself to solve the case, only to get drawn into a vortex of lies and deceit. Peter Dinklage played the protagonist in the film and with his superb acting, floored the audiences in an otherwise insipid sci-fi thriller.
11. The Angry Birds Movie (2016)
When a group of green pigs sets foot on Bird Island, little do the flightless birds realize that it is a ruse, despite Red warning them of the same. When the pigs destroy the island and flee with three eggs, Red, along with his friends request the only flying bird, now in retirement – The Mighty Eagle – to help them bring back the eggs from Piggy Island. Peter Dinklage lent his voice to the Mighty Eagle in the animated comedy film and had children as well as elders in splits with his witty one-liners.
10. Three Christs (2017)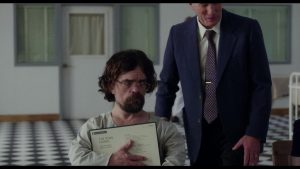 Loosely adapted from a book by Milton Rokeach, the psychiatric drama, inspired by real-life events, was based on three Schizophrenic patients at Ypsilanti State Hospital, each of whom believes that he is Jesus Christ and holier than the other. When Dr Alan Stone tries to initiate group therapy sessions, where an open dialogue could cure them of their false impressions, what comes out is a chain of comedic events that viewers could only deeply sympathize with. The dark comedy, which saw Peter Dinklage as one of the patients, was greatly appreciated at various international film festivals.
9. Ice Age: Continental Drift (2012)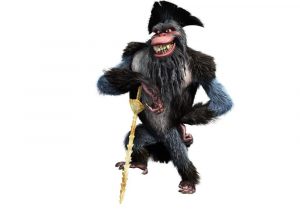 When the acorn-loving Scrat, accidentally starts the breakup of Pangaea, Manny, Diego and Sid drift away and are separated from their herd, landing into the open ocean, where they meet pirate ship captain Gutt, who tries to induct them into his band. 'Ice Age' has been a movie series that has entertained us through the years. One of the best in the series, 'Continental Drift' had Peter Dinklage behind the mike as the voiceover of the scruffy Gigantopithecus Captain Gutt.
8. Threshold (2005)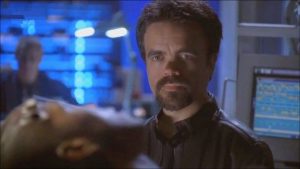 When a government crisis management consultant discovers one of her projects code-named Threshold has actually made first contact with aliens, she forms a secret team of top scientists, all experts in their own fields, to come together and delve deeper into the unlikely event of alien invasion. The television series, which had a total of thirteen episodes, featured Peter Dinklage as a mathematician and linguistics genius, who convincingly slipped into the role of the eccentric scientist.
7. Death At A Funeral (2007)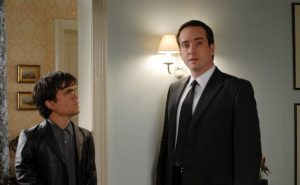 A British black comedy that inspired Bollywood to remake 'Daddy Cool' in 2010, 'Death At A Funeral' is a madcap caper, where during the funeral service of the protagonist's father, along with relatives and friends, a dwarf drops in, claiming to be the dead man's secret lover and demanding money to keep the relationship under wraps, until he is accidentally knocked out. Peter Dinklage played the American dwarf and was the main antagonist of the movie with funny undertones.
Read More: Best Sci Fi Thriller Movies