Apple TV+'s 'Physical' follows the story of Shiela Rubin, who transforms her life when she finds her love for aerobics. At the beginning of the show, we find her stuck in a marriage where she doesn't feel the same love for her husband anymore. She is constantly criticized by her inner voice, which keeps demeaning her at every turn, all while Shiela battles an eating disorder. Over time, Sheila gets out of that rut and builds a business empire.
With just one episode left in Shiela's story, the show takes a pause from doing something new and gives more space to Sheila and Danny's relationship, which had been ignored all this while. They broke up with each other in the second season, and both explore new relationships in this season. However, there is still something between them, and they acknowledge it before moving on. Here's what the events of this episode mean. SPOILERS AHEAD
Physical Season 3 Episode 9 Recap
At the end of the last episode, Sheila finds out about Danny's affair with Fidelia. He, in turn, discovered Sheila with John Breem and realized they'd been together. This episode picks up a few days after that incident. The entire episode takes place inside Sheila's house, with only her, Danny, and Maya in it. There is no other character involved, and this gives the space for us to see the family together, which hasn't happened in a long time.
As usual, Danny and Shiela are indulged in a fight. They are arguing over whose fault it is that they don't have the torch for the Maya's Statue of Liberty costume. Maya claims that she gave it to Danny with the rest of the outfit, while he claims that he never got it. Time's getting out of hand, and they must hurry or miss the whole thing. In between this, Shiela discovers that it was, in fact, her fault. She forgot to finish making the statue and then forgot to give it to Danny. Instead of coming clean about it, she throws the unmade torch in the bin and goes back to blaming Danny.
Seeing her parents fight, Maya acts out. She swallows a small toy, which creates more tension for her parents. Danny, especially, starts losing his mind because he doesn't know where the toy came from and whether it is made up of any toxic substances like mercury or barium. Sheila tries to calm him down and find a way to deal with this situation together. However, Danny realizes that there are some things that Sheila has been keeping from him.
Physical Season 3 Episode 9 Ending: Do Shiela and Danny Get Back Together?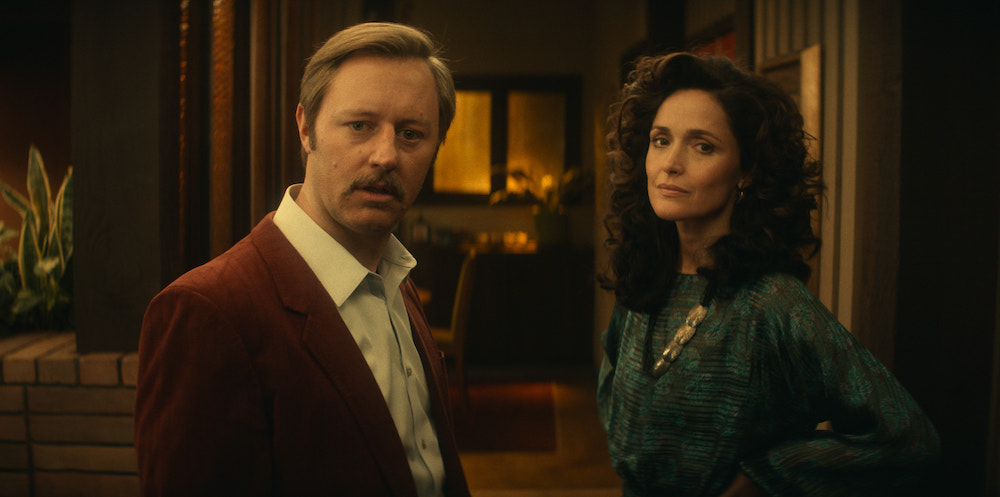 To get the toy out of Maya, her parents try to get her to a doctor, but she refuses. Instead, she asks for a family pizza party, and Sheila and Danny agree, hoping it will hasten the process and get the toy out of their daughter. When the pizza delivery man arrives, he points out that there was a "for sale" sign outside the house, which was thrown in the bushes. Danny is shocked to see the sign and realizes what Sheila's trying to do. She is leaving San Diego but didn't bother to tell Danny about it.
When Danny confronts her, she reveals she is going to LA. This infuriates him even further because years ago when they moved to San Diego, it was because Shiela said she hated LA and didn't want to live there anymore. Now, it seems like she has changed her mind. She says it's for the fresh start she desperately needs, while Danny worries that this will snap whatever bond remains between him and his family.
As their argument worsens, they blame each other for all the things that went wrong between them, especially when it comes to their affairs. Sheila reveals she has broken up with Carlos, and John Breem has left San Diego to be a fundamentalist with his family. So, it's clear that she is not moving to LA for any of them. This spirals into her talking about what a bad person she is and Danny trying to convince her that everyone is bad. Eventually, after they've both said their piece, they calm down, and Danny starts talking about the good old days when they were in college and life was simpler. This resurfaces old feelings between them, and they end up having sex.
However, this still doesn't mean that they are getting back together. For Sheila, it appears to be the closure she needed with Danny because no matter how much they'd drifted apart over the years, she still had a soft spot for him somewhere in her heart. She knows it was wrong of her to keep the moving-to-LA news from him, but this still doesn't change the fact that her career and business come first to her, and she will not abandon that for anyone, not even Danny.
Read More: Did Rose Byrne Lose Weight for Physical?