Since its inception, I was wary about the future of season 3 as it introduced way too many new characters and not to mention, even Arata's supernatural "mental trace" ability seemed a bit too overwhelming. But surprisingly, with each episode, Season 3 is just getting better and so far, it seems like, if not better, this season will at least be as good as the first one. The first two episodes of the season were quite intense and along with the introduction of many new characters, they also reinstated the current hold of some old ones.
In a short span of just 2 episodes, the series has also thrown some light on two very intricate crime cases which will probably have links with one another. Episode 3 takes more of a "side breath" and dwells deep into the development of its existing cast. Moreover, it also presents some gripping plot points that could potentially make or break this season.
Psycho Pass Season 3 Episode 3 Recap:
The episode starts off with another BiFrost meeting where they seem to have some links with Karina, who is a major candidate for the upcoming elections. Kei interrogates Kosuke—another election candidate who is competing against Karina—but he finds no useful information. Arata uses his "mental trace" ability again and finds himself on stage with Karina during one of her campaigns. Soon after this, the trace takes a toll on him and he falls to the ground, but he discovers that Karina is definitely hiding something.
The two agents, Arata and Kei, then continue their investigation and are somehow led to Kosuke's assistant, Lee Aki, who seems to have some links with Kojo. But soon after this, the facility is infiltrated by assassins who kill Lee and only one of them gets captured. As the suspicion of the general public begins to rise, people start feeling more inclined towards Kosuke as he is in direct opposition with Karina's anti-immigrant policy. With this, Kosuke's chances of winning the elections go up. The agents then try to track down the assassins and with Kazumichi's hunch, they are led to the slum area of Myogadani.
Haruki Enomiya, the prime leader of the Myogadani, seems like a promising suspect but no one is able to find any legit evidence to prove that. Meanwhile, Kei also gets suspended after he loses his cool and ends up punching his stepbrother. Out of sheer curiosity, the Enforcers try to investigate the past of Arata and Kei and to their surprise, they discover that Arata's father, who had later committed suicide, was responsible for killing Kei's brother. Even Temma looks back at his own past where he was genetically created to have the perfect psycho pass but he still ended up becoming a latent criminal. Out of shame, he was disowned by his own family and even his mother committed suicide. The episode finally ends with a post-credit scene where it introduces Ex-Enforcer—Yayoi Kunizuka.
Psycho Pass Season 3 Episode 3 Review: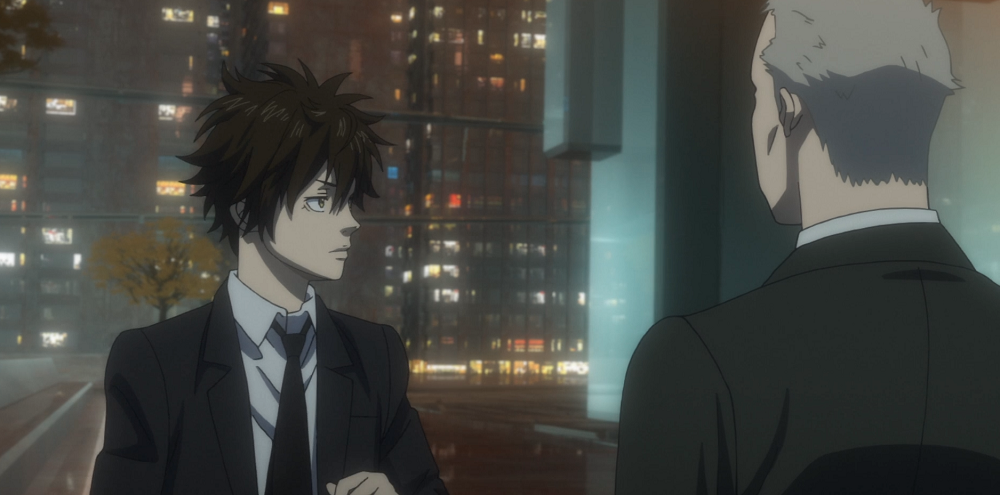 As mentioned earlier, episode 3 introduces us to several seemingly major plot points that need to be discussed later in the series, especially the part where the assassins attack Lee. According to the groundwork established by Season 1 and 2, this attack makes no sense right now and if this season does not explain this later, it will prove to be an evident plothole in the storyline. Furthermore, this episode expands on the Eugenics party and the anti-isolation policy. It also shows how two different leaders try to lure distinct sets of voters by making promises that are the polar opposites of each other. It also makes references to racism where a huge segment of the general public despises immigrants like Kei.
So far, the detectives have cues from two intertwined cases where one revolves around the murder of an immigrant in a plane crash and the other one is about a man's mysterious suicide. Both of these cases seem to involve major attempts to manipulate political and economic institutions. Along with this, the 45-minute format seems to be working out well as it's really helping with the development of its huge cast of characters.
After this episode, Arata's character feels more humanized and likable because, though he may possess a very superior ability, he, too, has to face the side effects of using it. There's also a scene where he highlights the fact that Dominators have triggers to them and the decision to them use them should not be purely based on one's hue. As Enforcers, they must all practice free will instead of just blindly using their weapons. Other characters like Irie and Temma also get some major development where their backstories are subtly instigated.
Arata and Kei always seemed like the guys Mika would despise but it is surprising to see how she recommended Kei to the agency. The fact that Akane suggested Arata's name also hints that maybe, behind the scenes, Mika and Akane are working on something together. Also, the links between Arata and Kei's past could be future plot points. Hopefully, the series will further expand on all of these. Meanwhile, the intentions of Bifrost/Roundrobin are still being presented as a riddle but its good to see that, unlike the villains of the previous seasons, these antagonists are not 3-Dimensional and their ulterior motives go way beyond a mere game of "cat and mouse".
This episode further hints that Akane has previously killed someone but we'll just have to wait to find out more about this. Finally, the post-credit scene reinstitutes an old character, Yayoi, who was previously an Enforcer but is now a journalist who will be replacing Kei for a while. Yayoi's character was sidelined for a very long time in the previous episodes but from the looks of it, she'll be getting some much-needed development in this season. All in all, Season 3, so far, is heading in a very good direction and hopefully, it will maintain its pace while expounding on all the mysteries it has presented us with.
Read More: Psycho Pass Season 3 Episode 2 Review