Warren Beatty is among the most brilliant minds in Hollywood. A few years ago I had the immense pleasure of interviewing Beatty while he was in Toronto for his wife's film Being Julia (2003). Though guarded, taking a long time to form his answers, gradually the guard slipped and we had a terrific conversation, talking mostly about Reds (1981) and Bulworth (1998), his two greatest films as a director-actor.
People often forget that Beatty was responsible for the beginning of the New American Cinema which swept through the period 1967-1980. By insisting he be permitted to produce Bonnie and Clyde (1967) he altered the course of his own career and Hollywood move making.
Warren Beatty had long wanted to direct an important film, believing it would give him credibility as an artist. He soaked up everything Arthur Penn could teach him on Bonnie and Clyde (1967) which Beatty produced, and watched the many other filmmakers he worked with in the years after. When he finally decided he was ready to direct a film he hired his friend Buck Henry to co-direct it with him to over see the scenes with Beatty on camera, and then did not let Henry do anything. A well known control freak, a perfectionist beyond belief when Beatty finally got the chance to direct he left nothing to chance. In remaking the forties fantasy Here Comes Mr. Jordan (1942) as Heaven Can Wait (1978), a lovely romantic fantasy, he was well aware if his star power and exploited that beginning with the famous poster showing him in a jogging suit with angel wings on his back. The film was a huge hit, with both audiences and critics, racking up nine Academy Award nominations including four for Beatty, the most by a person since Orson Welles did it with Citizen Kane (1941).
With Heaven Can Wait (1978) a solid hit, Beatty knew his time had come to go to Paramount and ask for the money to make his dream project. He was not yet fifty, still a major star, and possessed an intellect second to none in the business. He did nothing by accident, he thought out every act he did, including the answers to interview questions. When we met in the Four Seasons, he was polite, well groomed, and had a solid handshake. The moment he realized I was serious about talking to him as a filmmaker and not a movie star, he was in.
And all I wanted to talk about was his dream project, Reds (1981).
Paramount begged him not to make the film, in fact the story goes they offered him thirty five million to make the picture, told him to make a movie for one million, keep the thirty four and they would be OK with that, he had made them enough money. But Beatty was devoted to making Reds (1981) the story of John Reed and Louise Bryant, the two American revolutionaries who witnessed the Russian Revolution. Reed would document it in his seminal book Ten Days That Shook the World, one of the greatest reporting books ever written. They were Communists in the early 1900s at a time when America feared Communism like it feared the plague. Living in Greenwich Village were John Reed and his friends, ferociously dedicated to changing the world through art, through writing, paying attention to what was happening in the world. Among the people surrounding Reed were the anarchist Emma Goldman (Maureen Stapleton), the great poet-playwright Eugene O;Neil (Jack Nicholson) and Louise Bryant (Diane Keaton) who followed him from Portland. In their art, be it writing, plays or poetry they spoke of the injustice in the world, and the need for socialism in America., which of course made them radicals. Reed and Bryant would marry, despite Bryant having a torrid love affair with O;Neil, one that scarred the writer for the rest of his days. They would go back and forth, until finally Reed invites her to come to Russia with him to cover the 1917 Revolution. They go as friends, comrades, not lovers but are swept up in the romanticism of history happening right in front of their eyes. Watching history, they rekindle their romance and fall deeper in love. They watch as the Bolsheviks take control of Moscow, of the country and communism was born.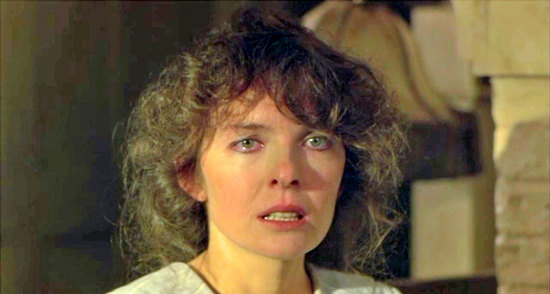 When they return to the United States they are feared by the government for their involvement in Russia. Against her wishes he goes back to Russia to help forge agreements between the communist party in America and the Soviets. Angry, she goes to O;Neil, but realizes the depth of her love for reed and decides to go to Russia and find him when she realizes he cannot get out. The Russians have decided he is too valuable to send back to America and instead send him to the Holy Land to spread the word of socialism.
And so she does, taking stowaway passage on a ship, walking across countries barely missing him in Siberia, until finally at a train station they find one another in what became the poster for the film. Walking towards him, we feel their longing for one another, their great love and she collapses against him, their embrace tight and long. A short time later Reed will die of kidney failure in a Russian hospital and will be honored with burial in the Kremlin.
The film opened in December of 1981 to strong reviews, and right away won the coveted New York Film Critics Award as Best Film. Beatty won the LA Film Critics Award as Best Director, and then the Golden Globe and DGA. On Oscar night, armed with twelve nominations, including four again for Beatty it was the favorite to win the top prize. Oscars went to Reds for Best Cinematography and Supporting Actress before Beatty, as expected won Best Director. But Best Picture did not go to Reds (1981) as it should have but rather to the little British film Chariots of Fire (1981) one of the greatest upsets on Oscar history. Though hurt by the loss, Beatty understood, he had made enemies within the business and the Academy and he knew that. He graciously accepted the awards they had won with thanks and said nothing, though inside was seething.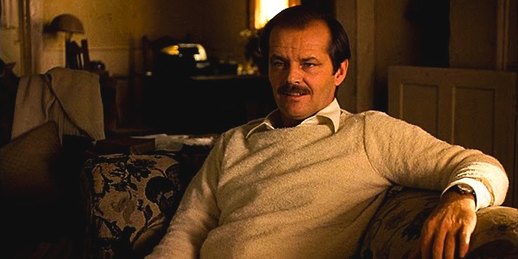 Today looking back at the film it holds up remarkably well, literate, powerful and loaded with a ton of in information that keeps you listening. The performances of Beatty, Keaton, especially Nicholson and Stapleton are superb, and the film contains small moments that pull us in with their intimacy and epic moments that leave us in awe. To the strains of the Internationale the Bolsheviks come to power, and Reed and Bryant watched moved to their souls. Incredibly so are we.
Using witnesses from the time of Reed and Bryant, elderly people who knew them, we gain an understanding into them, and Beatty keep the large film intimate but is able to open it up to epic scale when needed. One image at the end of the film tells us everything we need to know about Reed. When the train coming back to Russia is attacked, the military bursts from the train to fight. Reed, unarmed, chases the army, forever chasing history in hopes of recording it, understanding it, being a part of it.
An American masterpiece.