In 'Kanojo, Okarishimasu' 3rd Season or 'Rent-A-Girlfriend' season 3 episode 10 titled 'Spontaneous Trip and Girlfriend,' Kazuya is concerned about Mizuhara and does not know how to approach the situation, so he meets Sumi, hoping that she will have some advice for him. Instead of telling him something directly, Sumi takes him to Fujisawa where the two of them spend a lot of time on the beach. It seems like a fruitless exercise with the situation at hand but eventually, Sumi reveals some deep insights that Kazuya can draw from the entire experience. It inspires him so much that he immediately springs into action. Here's everything you need to know about the ending of 'Kanojo, Okarishimasu' 3rd Season 'Rent-A-Girlfriend' season 3 episode 10. SPOILERS AHEAD!
Rent-a-Girlfriend Season 3 Episode 10 Recap
Kazuya hires Sumi as a rental girlfriend for an hour as he needs her advice. When they finally meet, he informs her about Mizuhara's present crisis, hoping to get some actionable advice. But Sumi is so sensitive that she can't help but cry for Mizuhara. Interestingly, she suddenly takes Kazuya to the train station and takes the train to Fujisawa. Kazuya is confused as he does not understand why she would want to go to a beach right now.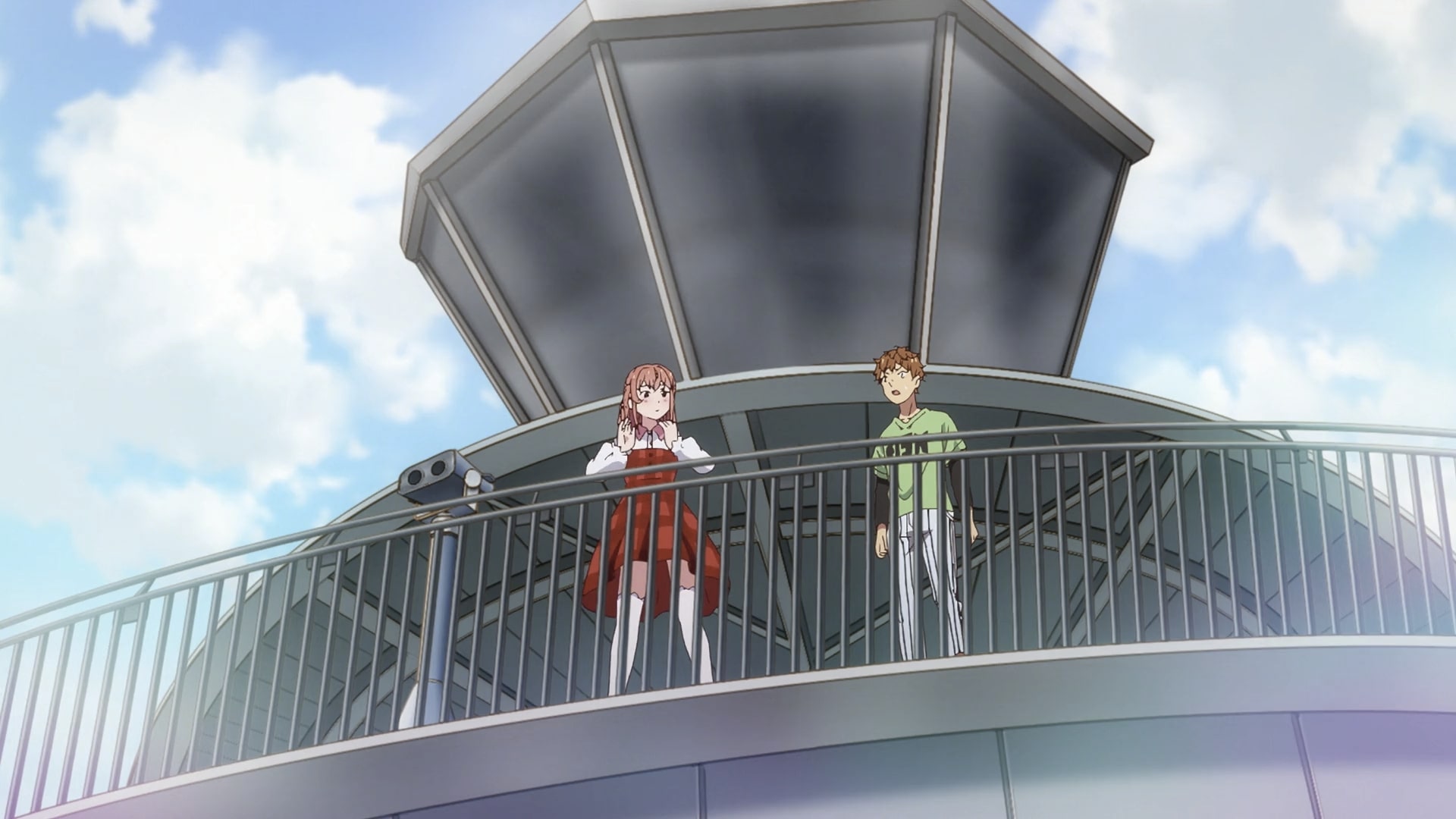 When they eventually get to Fujisawa, they head to the beach first. Kazuya mentions that there are only surfers there, which appears to disappoint Sumi, who was probably planning to wear her swimming suit. The duo then headed to the Enoshima Sea Candle and climbed a lot of stairs to get to the top. Kazuya is exhausted by the time they reach the scenic viewpoint. Sumi shows him the ocean view using the binoculars after which the duo try to enjoy each other's company as much as they can.
Rent-a-Girlfriend Season 3 Episode 10 Ending: How Does Kazuya Plan to Help Mizuhara?
Eventually, when Kazuya and Sumi-chan return to the beach, they sit down together to get some rest. Kinoshita is completely exhausted at this point while Sumi still seems to have some plans. She removes her shoes and shocks and heads towards the ocean shore. Sumi is in no mood to rest for now and starts playing on the beach on her own. She then points at Kazuya and calls him as well. Although Kinoshita is reluctant, he eventually joins her. Soon, he too starts enjoying Sumi's company and the two have a lot of fun playing in the ocean water.
Kazuya recalls his childhood days by doing so and completely forgets all his worries. Sumi does not talk like always but tries to communicate her feelings by writing them down on the sand. She tells Kazuya that positivity starts with a smile. Sumi then goes on to tell him that she does not consider herself to be particularly useful, so she wants people in pain to have some fun. Kazuya starts to realize that Sumi did everything to cheer her up as she wanted him to forget his worries. She was quite successful in doing so.
Kazuya thanks Sumi for everything she has done, but it turns out that she also has a lesson for Kinoshita in all that she has done today. Sumi then points out that no one except Mizuhara knows how she is feeling right now. But she is confident that no girl will react negatively to being cheered up. Kazuya suddenly has the realization that losing the only family member will naturally make Mizuhara feel miserable. So, not trying to cheer her up in such a situation is naturally a very illogical approach. As soon as Kazuya has the realization, he immediately stands up and starts to leave the beach as he wants to take some action for Mizuhara.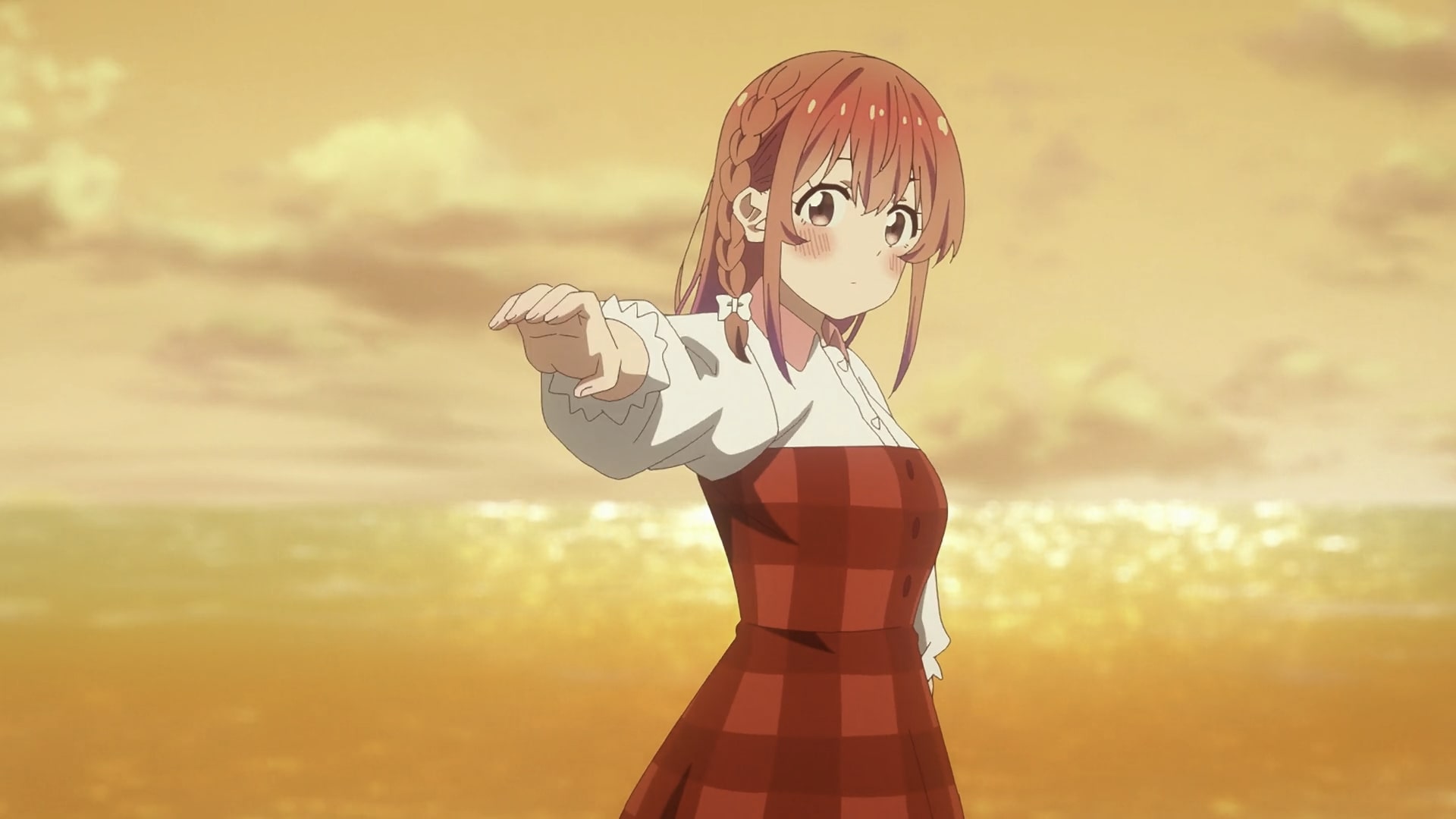 The following day at work, he shares the same with Ruka. Naturally, she is not happy as her boyfriend is investing too much time in other's girl's affairs, but she also has sympathy for Mizuhara. Eventually, Ruka allows Kazuya to go and cheer Mizuhara up on the condition that she takes her to an amusement park date, for which her boyfriend agrees. Later, Kazuya talks to his boss and asks for his permission to take his payment in advance. He plans to use it to hire Mizuhara as a rental girlfriend so that they can spend time together and he can finally cheer her up.
Read More: Rent-a-Girlfriend Season 3 Episode 9 Recap and Ending, Explained