Imtiaz Ali is hands down my favourite director of romances. May it be the love between two people who initially reject each other for an arranged marriage but fall for each other in his freshman effort 'Socha Na Tha', or the love of a captive for her kidnapper in 'Highway', Ali's romances always follow an unconventional angle and yet have a relatable vibe. Even with his latest outing 'Tamasha', while I was bummed about the overall film, I couldn't help but fall in love with protagonists. So, when the news of Ali teaming up with the indomitable badshah of conventional Bollywood romance surfaced. I could hardly contain my excitement for seeing how the conventional and the unconventional would blend and which way the scales would tip. For better or for worse, they tip a little too heavily towards the conventional in 'Jab Harry Met Sejal'.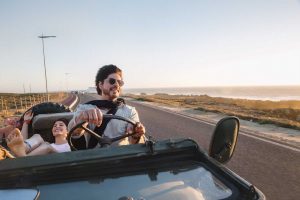 The film begins as a Europe tour full of loaded Gujjus comes to an end and Harry, their tour guide, the most typical image of a loudmouthed Punjabi, waves them goodbye with a sigh of relief. But his joy is short-lived as Sejal, the most typical visage of an affluent Gujju girl, annoying accent and everything, drags him to search for her engagement ring. But as the duo retrace their steps across the continents, Sejal behaving like an overgrown baby and Harry being her pacifier, the pair, faintly reminiscent of Aditya and Geet from the timeless 'Jab We Met', slowly grow on you. With gorgeous lenswork on picturesque locations, a moody, mellow score and not much happening except the duo slowly falling for each other, the film feels like an homage to Linklater's Before Trilogy, with just a little more drama added for good measure.
But like so many other Indian films (like Ali's own 'Tamasha') the film's charm starts to wane post the mandatory halfway point. But while 'Tamasha' gambled with the complex theme of identity crisis, 'Jab Harry Met Sejal' tapers off into full-blown YRF-Dharma romance mode as Ali's endearingly crafted characters are stranded in the middle of a predictable, convoluted plot. A barrage of cliches follow, ending with the couple obviously settling in Punjab with the mitti di khushboo et al! The second half carries virtually no mark of Imtiaz Ali.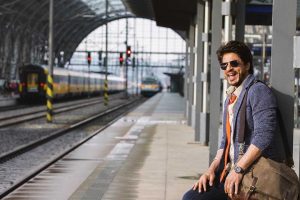 To their credit, SRK and Anushka run the show with fiery gusto as both of them eat up the roles given to them. Harry and Sejal, however stereotypical and typecast, are enviously lovable. This is the first time since Yash Chopra's swan song 'Jab Tak Hai Jaan' that SRK has donned an all-out romantic avatar. Though he just plays himself yet again, he is completely in his element as the adorable Harry and his irresistible charm will make all the girls go giddy yet again. I'd rather have him do this till he ends his career than play a wannabe action hero. Anushka's last outing as Alizeh in 'Ae Dil Hai Mushkil' had many a viewer enamored, and her triumphant run as her typecast bubbly, expressive self continues as Sejal. Though she might annoy you a little initially, she finds her footing pretty quick and is a darling in this as well.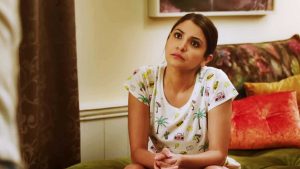 The cinematography and lenswork is a highlight and lets one behold quite the view of Amsterdam, Prague, Budapest, Vienna and Lisbon. Pritam's music blends in well with the tone of the film and is easy on the ears, never actually grabbing centre-stage, but savoury on the side of Europe's quaint scenery.
To sum it all up, you may not regret watching 'Jab Harry Met Sejal', but you won't remember watching it pretty soon. It is Ali's first truly mediocre attempt. Don't go in expecting an Imtiaz Ali film; go in expecting a Shah Rukh Khan film. SRK fans can go watch it for his return to charming their socks off in an act they'll gobble like hot pie, and the neutrals can watch it for the exquisite European vista with mellow music on the side and another adorable act by Anushka. Fun, but forgettable.
Rating: 3/5